Washington Redskins: The 7 Most Hated Players in Recent Team History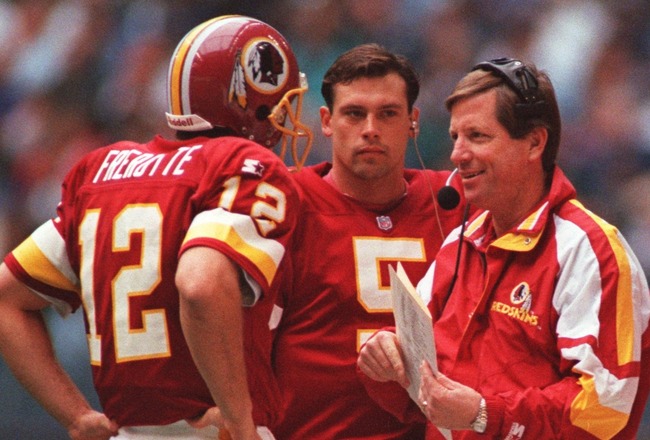 Brian Bahr/Getty Images
Recent history of the Washington Redskins and their organization isn't particularly bright. Whether it be the numerous playoff misses, the many failed free agent signings or the overall product put onto the field, the last 15-20 years of Redskins football isn't anything to write home about.
In order to put so many fans through the wringer, there has to be someone to blame. For the Redskins, there's a list of seven names that the franchise and fans could have either done without, or still could do without.
This list may miss a few people. In fact, I know it will. But with something like this, a lot of personal opinion helps to make it all up. I should also note that I'm considering a "player" any individual that had to do with the production of football for this franchise (players, coaches, coordinators, etc). I encourage you to comment with names that you believe should make the list and why. Let's try to keep it under 50.
7.) Gus Frerotte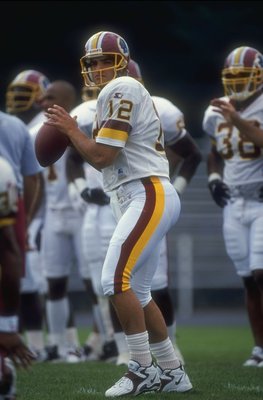 Doug Pensinger/Getty Images
It's hard to hate a guy that's dumb enough to slam his head into a wall during a touchdown celebration and give himself a concussion, but ol' Gus Frerotte was just a hot frustrating mess.
Frerotte was a seventh round selection by the Redskins, I understand that. But when on the field, Frerotte was an inaccurate bag of struggle with limited skills.
Frerotte's best season as a Redskin was in 1996 when he finished the season with his highest career rating as a starter (79). He also threw for 3,400 yards that season, adding 12 touchdowns.
Maybe it's just me, but Frerotte irked me. Even following his departure from the Redskins after the 1998 season, I continued to hold a grudge against Gus. I suppose it's just one of those "things" that really turns you off from a person.
Frerotte ended his five years in Washington with 9,769 yards, 48 touchdowns and 44 interceptions in 52 games.
And while his stats aren't really deserving of being labeled as "hated", I believe it's the whole smash-your-head-into-a-wall-because-you're-an-idiot thing that really bothers me.
6.) Heath Shuler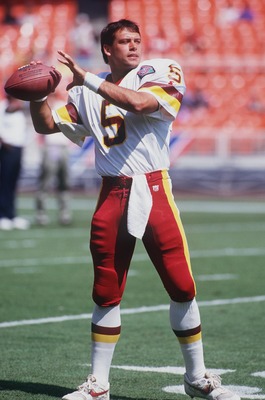 Doug Pensinger/Getty Images
Man, this is gross. I hate to even mumble the name, but Shuler is definitely one of the most hated players in recent Redskins history--simply by default.
After being selected third overall by Washington in 1994, Shuler was thought to be the quarterback of the future after such a stellar collegiate career at Tennessee.
Before even taking the field, Shuler put a bad taste into the mouths of Redskins fans when he held out of training camp until he received his demanded seven-year deal worth $19 million.
Shuler's adaptation to the NFL was one of the worst of all time, actually earning him a spot on ESPN's Biggest NFL Draft Busts at No. 4.
The Redskins' quarterback situation included a positional battle between Shuler and Frerotte, which was just about as promising as a sack of marbles fighting with a piece of beef jerky.
Of course, Shuler earns the label mainly due to failed expectations--but I wouldn't argue that it's not deserved. After just two seasons, the Redskins traded Shuler in 1996 to the New Orleans Saints, who also found out very quickly that Shuler wasn't cut out for the NFL.
Shuler finished his pro career with a rating of 54 and he is now a member of the House of Representatives from North Carolina's 11th District. Safely removed far away from football.
5.) Michael Westbrook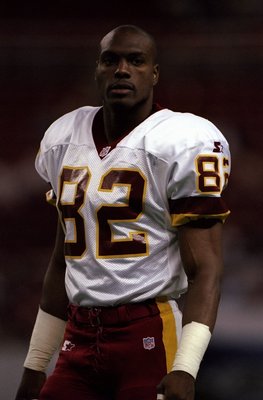 Otto Greule Jr/Getty Images
Another high draft pick that never panned out, Michael Westbrook really worked hard to earn his reputation as being a huge jerk.
Westbrook was selected fourth-overall in the 1995 NFL Draft by the Washington Redskins. As a rookie, Westbrook started nine games and recorded 522 receiving yards (15.2 avg). Not too shabby for a rookie.
The problem? Considering Westbrook would go on to play another six seasons in Washington and only hit the century mark once (1,191 in 1999), I think it's safe to say that the guy was a little bit of a bust. And besides that 1999 season, Westbrook's career-high receiving yards in one season was 736 in 1998.
Even more bothersome than Westbrook's production, or lack thereof, was his crappy attitude and pitiful relationship with the media and fans.
In 1997, a television camera caught Westbrook punching then-running back Stephen Davis in the face during a training camp session. Although it was never really detailed as to what started the fight, it was said that Westbrook got the better end of the deal--as he was storied to be standing over Davis and punching him.
Westbrook finished his eight-year NFL career with 285 total receptions, 4,374 yards and 26 touchdowns.
Following football, Westbrook is said to be an active martial arts fighter, even winning the International Brazilian Jiu-Jitsu Federation World Championship in 2008.
On Westbrook's Wikipedia page, he is quoted when discussing his new found career. "This is a lot easier and a lot more fun [than football]," he explains. "I don't have to worry about coaches and it's not nearly as dangerous. I don't have to worry about pleasing the public and the announcers. Or getting eggs thrown at my door because I dropped a ball. I don't have to worry about any of that."
No wonder he got the better end of Davis back in 1997. Jerk.
4.) Steve Spurrier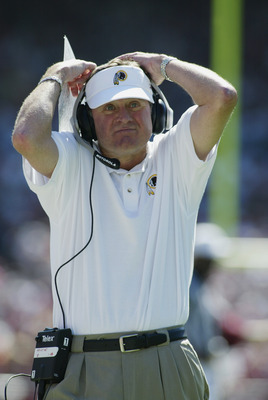 Jed Jacobsohn/Getty Images
"Some guys had pretty daggum good years. I think our kickers, John Hall and Bryan Barker, had exceptional years, they really did. And a lot of players played well. A lot of players."
That was a small selection of former Redskins head coach Steve Spurrier's final press conference, after finishing the 2003 season with a 5-11 record. Notice the players that he pointed out for having "daggum good years". Really? The best players on your squad were kickers?
Actually, it makes sense. Considering the Ol' Ball Coach attempted to win professional football games with guys like Shane Matthews, Danny Wuerffel, and Patrick Ramsey at quarterback; Chris Doering and Jacquez Green at receiver; a nonexistent offensive line; and Jeremiah Trotter and Jesse Armstead at linebacker; the team was destined for nowhere.
But what made Spurrier even worse than just his two seasons as head coach was the fact that he had received the NFL's most lucrative contract at the time, $25 million for five years, and he always seemed to be nonchalantly rubbing it into the faces of Redskins Nation. Was it just me, or did Spurrier always seem to be sneaking around with that questionable smirk?
Spurrier quickly realized that pro football wasn't college football and he returned to the collegiate ranks after that 2003 season.
As a college coach, I don't mind Spurrier and his way of doing things. As a head coach of my favorite sports team, I have a serious frickin' issue.
3.) Albert Haynesworth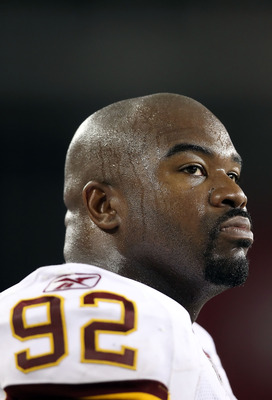 Christian Petersen/Getty Images
Perhaps surprising some people by being placed so far down the list, Albert Haynesworth comes in as my No. 3.
Fat Albert played his cards like so many footballers do, posting his best stats in the final year of his contract while playing for the Tennessee Titans.
As always, team owner Dan Snyder was overly impressed with the 6'6 man-beast and he offered Haynesworth a seven-year deal worth $100 million on the very first day of free agency in 2009.
Haynesworth agreed to the deal, obviously, and he has been nothing but crap ever since coming to Washington.
Once thought to be the most dominant defender in the NFL, people didn't seem to realize what kind of teammate/player Haynesworth was until he became a Redskin. In order to be the most dominant defender, you must 1.) play enough snaps to even be considered and 2.) sacrifice for the best of your team in order to get the win. Haynesworth hasn't/won't do either.
In his first season in Washington, Haynesworth played limited snaps and always appeared to be gasping for oxygen (also known as being out of shape). Then, Mike Shanahan was introduced as the Redskins head coach and the 3-4 scheme was implemented on defense. Haynesworth then began his crocodile tear saga in which he refused to play nose tackle because he didn't prefer the double-teams.
Mind you, Haynesworth was told by Shanahan that he would receive the bonus money of his contract if he agreed to play nose tackle and give the team 110 percent, otherwise the Redskins would look to trade him. Haynesworth agreed to Shanahan's agenda, accepted the bonus check, cashed it...and proceeded to screw the team while proving himself to be the selfish liar that he is.
While Haynesworth's current standing with the franchise could best be described as "in limbo", it should also be noted that Fat Albert has been accused of faulting on loans, impregnating a stripper in 2010 during Super Bowl weekend and leaving her with no financial assistance, punching a man during a traffic altercation in Virginia and feeling up a waitress at a rooftop lounge in D.C.--all while being employed by the Washington Redskins and raking in his millions.
In a combination of his attitude, production, off the field issues and contract, Haynesworth is easily one of the most hated Redskins in recent history--and arguably one of the most hated in all of team history.
2.) Vinny Cerrato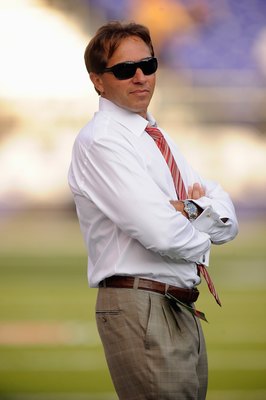 Mitchell Layton/Getty Images
I almost decided to not go with a photo for this slide, as the former VP of Football Operation's face is one that will haunt us Redskins fans for quite some time. However, I thought it important to remind everyone what Vinny looked like just in case Dan Snyder decided to bring him back yet again.
When Dan Snyder purchased the Redskins in 1999, he hired Vinny Cerrato to become the team's general manager of sorts. Previously, Cerrato had served as scout and eventually Director of Player Personnel for the San Francisco 49er's.
Cerrato turned on his awful talent early, bringing on aged veterans like Bruce Smith, Deion Sanders, Jeff George and Mark Carrier and paying them top-dollar.
Fortunately for all Redskins fans, Cerrato was fired by then-coach Marty Schottenheimer in 2001. Schottenheimer was a coach that had a hold of his football team and a guy that fans trusted to operate the organization.
It didn't take long though, as Schottenheimer was fired after just one 8-8 season and Cerrato was re-hired by Snyder--becoming the VP of Football Operations.
Cerrato continued to bring in lackluster free agents and the Redskins continued to struggle. For me, I always believed that Cerrato had some sort of incriminating photos against Snyder that forced the team owner to keep him employed. There's just no rational explanation as to why Cerrato was retained for as long as he was, all while beating the franchise to a pulp as if it was a pinata.
Some label Cerrato as the "yes-man" for all of Snyder's ridiculous roster moves, and that may be true. But regardless of if he was pulling the trigger himself or simply telling the owner, "Yes boss, I think bringing Roger Staubach out of retirement is a great idea," Cerrato deserves every bit of ridicule and criticism that he receives.
1.) Dan Snyder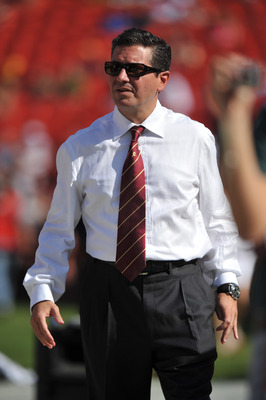 Larry French/Getty Images
Shocker, right?
Being the multi-millionaire owner that ultimately signs off on every move from free agent quarterbacks to parking prices at the stadium, there's no one else to hate more than Redskins owner Dan Snyder.
Rather than going into it with such detail, I'd encourage you to read my short article about Snyder and his wrongdoing with the beloved Washington Redskins. Check out Dan Snyder Sucks: An Insensitive Criticism of the Redskins Owner.
But to keep it brief, Snyder is responsible for the Deion Sanders and Jeff George signings, the banning of signs at FedEx Field, the petty charging of access to Redskins training camp, the suing of longtime season ticket holders when there's a reported 200,000+ fans on the waiting list, the attacking of a local columnist, and much more.
Since taking ownership of the Redskins in 1999, fans really haven't had much to be excited about. Snyder has had entirely too much influence on the team and its front office when really he should be sitting back and collecting the revenue.
Snyder began as a Redskins fan and, for some wild reason, believes that the best and only way to run an NFL franchise is to treat it as if it's a team in your neighborhood fantasy football league.
With the recent hire(s) of Mike Shanahan as head coach and Bruce Allen as general manager, it appears as if Snyder is turning the corner and finally realizing how to go about being successful. Even assuming this is true, Snyder will likely need more than a Super Bowl ring to prove that he doesn't deserve to be the most hated player in Redskins history.
Keep Reading

Washington Redskins: Like this team?