Oakland Athletics Become Definite Sellers After Sweep by Texas Rangers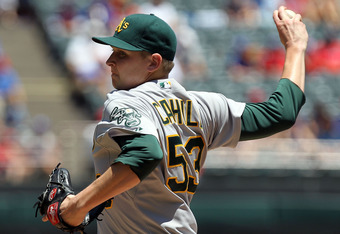 Ronald Martinez/Getty Images
The Oakland Athletics' season has been on life support for the better part of the last two months and finally has lost its battle.
As we know from watching any hospital TV show or movie, the doctor always has to record an official time of death when a patient loses his or her battle against whatever ailment has put them there and ultimately ends their life.
Today, we can finally make that call.
With a record of 39-53 following a four-game sweep by the Texas Rangers that pushed the A's to 12 games out of first place and 14 games under .500, the Athletics' season finally died on Sunday, July 10 at approximately 2:30 p.m. PST.
Cause of death? Horrific offense and defense that slowly strangled the life from an otherwise promising ball club.
So now, for the remainder of the season, the A's can take a look at the pieces they have and how they fit with the club moving forward.
Several players will find a second chance to salvage this season via trades to contending teams.
The following players are almost assured trade talk and potentially a ticket out of Oakland within the next three weeks: Josh Willingham, Coco Crisp, David DeJesus, Hideki Matsui, Conor Jackson, Grant Balfour, Michael Wuertz, Brandon McCarthy, Rich Harden and Brian Fuentes.
Ronald Martinez/Getty Images
Kevin Kouzmanoff could join the aforementioned players out of the Athletics system as part of a package deal.
Which Players Should Remain in the A's Plans for 2012?
Looking ahead to 2012, only a handful of Athletics should be assured of returning.
The starting pitchers are and will remain the key to future successes in Oakland. Trevor Cahill, Brett Anderson, Gio Gonzalez, Tyson Ross and Josh Outman all have a place on the 2012 roster unless one of them winds up involved in an offseason trade for an impact bat.
Brad Ziegler, Joey Devine, Craig Breslow, Fautino De Los Santos and Andrew Bailey all would continue to have value in the bullpen.
Among position players, only Jemile Weeks should be on the untouchable list. Scott Sizemore has earned a long look for the remainder of the year, but his status for 2012 should be determined by how he finishes the season.
The outfield is comprised of all free agents, none of whom should expect to stay beyond the trade deadline.
Jed Jacobsohn/Getty Images
Aside from Weeks, the infield is below average, and the A's should exhaust all options to find upgrades.
Cliff Pennington is an average major league shortstop, but if the A's can find an upgrade, he should be relegated to a utility role without second thought.
Chris Carter should now see plenty of opportunities in the second half, only for the purpose of giving the young slugger a chance to prove he is not the bust many fans have begun to fear he has become.
Kurt Suzuki may have the best value to the Athletics moving forward in a trade. He is a solid defensive catcher who handles the young pitching staff well, but he has lacked the offensive upside the A's desperately need.
I'd be in favor of keeping Suzuki based on his leadership and contributions to the pitching staff, but Oakland will need to drastically upgrade the rest of the diamond to make up for the lack of production offensively.
Time to Give the Prospects a Long Look
Christian Petersen/Getty Images
Following any moves that wind up being made, it is time to look at the prospects in Sacramento to see if they fill any of the voids in this ailing offense.
Michael Taylor (.273/.348/.454, 9 HR, 38 RBI) and Jai Miller (.296/.401/.670, 21 HR, 58 RBI) are deserving of a look in the outfield to wind down the season in Oakland.
Anthony Recker (.305/.400/.530, 12 HR, 36 RBI) has had a solid season behind the plate for Sacramento. Even if he does not replace Suzuki, Recker should be given a long look as the backup catcher to see what options the Athletics have heading into the offseason.
Adrian Cardenas (.305/.380/.407, 3 HR, 30 RBI) has continued to hit in Triple-A as well. Although his primary position is at second base, he can also play shortstop, third base, left field or DH.
Any promotions from Triple-A to the majors would open up some positions in Sacramento to further advance some other prospects into the upper levels of the minors.
Grant Green, playing in today's Futures Game, could be given the opportunity to advance from Double-A Midland to Sacramento.
Michael Spina, the A's power-hitting first base prospect in Double-A, should be promoted and played ahead of Daric Barton in Sacramento.
Michael Choice, destroying Single-A pitching in his first full season, could be promoted to Double-A and perhaps finish the season even higher if he continues to mash minor league pitching.
While the moves are not the direction the A's or their fans had envisioned when the season began, the infusion of youth into the 25-man roster as a result of their horrible first half and free fall from the standings should at least provide a little excitement in the second half of the season.
This article is also featured on Bayseball.com
Brandon McClintock covers the Oakland Athletics and Major League Baseball for BleacherReport.com. You can follow him on Twitter.

This article is
What is the duplicate article?
Why is this article offensive?
Where is this article plagiarized from?
Why is this article poorly edited?

Oakland Athletics: Like this team?