2011 Top Ten Defensive Tackles: Ngata Still Best, but Suh Becoming Great
August 3, 2011
Andrew Burton/Getty Images
1. Haloti Ngata, Ravens
The rarest athlete in football. There are no other 350-pound men who are as athletic as Ngata. He is the anchor that makes the Ravens defensive line almost impenetrable, and he is a scary pass rusher. He's big enough to bull rush any lineman, and fast enough to catch most QBs. He needed time to adjust to the NFL, but now he has grasped the playbook. One of the best defenders in the game.
2. Ndamukong Suh, Lions
If DTs are supposed to struggle when they are rookies, it's scary to think what Suh will become in his career. He is possibly already the best DT in the NFL, and he only is going to get better. Solid run-stop skills were overshadowed by his tremendous interior pass rush, producing double-digit sacks in his first season. The DROY may have bigger awards coming his way.
Had a bit of a down year and is exiting his prime, but he has been one of the best and most consistent defensive tackles for years. Instinctive player with great combination of athletics and technique. He is a solid run stopper with great strength, but also has quickness, agility and a variety of pass-rush moves to help against the pass. Still could return to the No. 1 DT in the league.
4. Vince Wilfork, Patriots
Possibly the best pure nose tackle in the game at this point. He has great size and gets great leverage, and he is especially good at defending two gaps. He is not the best pass-rusher, but he has an adequately effective bull rush to push the pocket. He is the centerpiece of the Patriots 3-4 defense, and plays with the awareness of a Belichick star to add on to his physical prowess.
5. Casey Hampton, Steelers
In the Steelers famed 3-4 defense of late, Hampton has been its unsung hero. He's not flashy, but he has been the most consistently elite nose tackle for years. His stout physique with his large mass makes him hard to move. He also has surprising quickness for his size. He's getting older, but the Steelers run defense was incredible this season. Hampton deserves credit.
6. B.J. Raji, Packers
A young, promising nose tackle who had a breakout year. A massive player at 350 lbs who has great athleticism for his size and a great jump off the ball. Outside of Suh, Raji is the likely the most promising young defensive tackle in the league, and has the most promise of any young nose tackle. He seems poised to make the leap to being among the elite 3-4 NTs this year.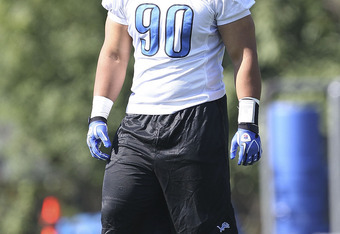 Leon Halip/Getty Images
7. Jay Ratliff, Cowboys
An interesting player who has played the role of a one-gap DT in Wade Phillips' defense very well. I'm sure new defensive coordinator Rob Ryan will find a use for him, but he may struggle with the change in defensive scheme. However, he has tremendous athleticism and rushing ability for someone out of the nose-tackle position while also being effective in run support with one-gap.
8. Kyle Williams, Bills
Williams was the anchor for one of the worst run defenses in football, but it hardly was his fault. Williams is a gifted athlete for a nose tackle who really didn't have help around him. He produced well even though his team was struggling, being one of the only consistent performers on that defense even while commanding significant attention from the opposing offenses.
9. Albert Haynesworth, Patriots
Considering the last few years, putting Haynesworth this high might be too bold a prediction, but at his best he would have topped this list. A massive man with pass-rushing ability, even if he isn't in the best shape all the time. I'm not a Pats fan, but I recognize Belichick's ability to take fallen stars back to their former selves (Randy Moss). He could be the way back to the Super Bowl for NE.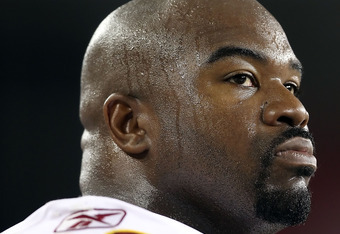 Christian Petersen/Getty Images
10. Aubrayo Franklin, Saints
He developed into an elite NT in San Francisco. He can take two blockers to a stalemate, the staple of an elite NT. The 49ers were amongst the best run defenses this year, with Franklin and superstar linebacker Patrick Willis leading the front of the defense. He has prototypical size and athleticism for a NT, and the accolades are starting to come for this player.
Also considered...
Jonathan Babineaux, Falcons: Just misses the list, underrated 4-3 DT on good D
Pat Williams, Vikings: Legendary defenseman, but at 38 skills are diminished
Shaun Rogers, Saints: Fell out of favor in CLE, but at his best he's high on this list
Fred Robbins, Rams: Good 4-3 DT who came back from injury admirably
Paul Soliai, Dolphins: Talented, young NT in Miami is emerging fast