Ranking the NFL's 10 Best Cornerbacks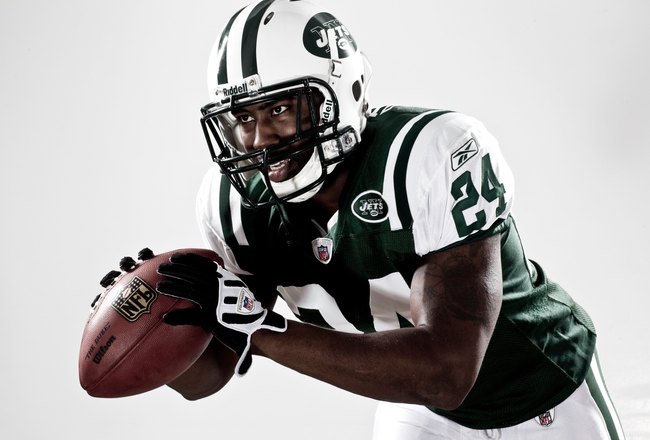 Chris McGrath/Getty Images
Now with five positions down (quarterback, running back, wide receiver, defensive end and defensive tackle) it's on to the cornerbacks.
cornerbacks tend to be some of the most athletic players in the league and they need to be. They usually match up against the most athletic offensive player and their job is to shut him down. The receiver knows the route, the cornerback doesn't. Because of this cornerbacks need to be quick and be very reactive.
The best cornerbacks are called "shutdown corners." Any cornerback could shut a receiver down for a play or two, but its the best of the best that can do that over the course of a game and even a season.
So here it is the league's 10 best cornerbacks.
Tomorrow I'm counting down the best middle linebackers in the game today.
10. Antoine Winfield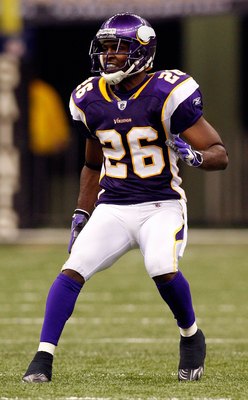 Chris Graythen/Getty Images
Antoine Winfield is a veteran who was played 12 seasons in the league. Usually players get worse with age while Winfield is just the opposite. He didn't make the Pro Bowl until he was 31 years old in his tenth season.
Winfield has made the Pro Bowl each of the past three seasons. He is a very good cover corner who doesn't allow many passes his way. At 5'9" 190 pounds he's a smaller player, but is a very good tackler. He has 231 tackles over the past three seasons and has forced six fumbles.
9. Brent Grimes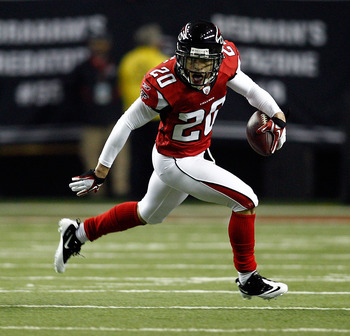 Chris Graythen/Getty Images
Brent Grimes was signed as an undrafted free agent in 2006 out of Shippensburg University and has developed into one of the league's best cornerbacks.
He played in 16 games in 2009, but last season was his first as a full-time starter. He had five interceptions and 80 tackles for the NFC best 13-3 Atlanta Falcons. Grimes also led the league with 23 passes defended and he made his first career Pro Bowl.
8. DeAngelo Hall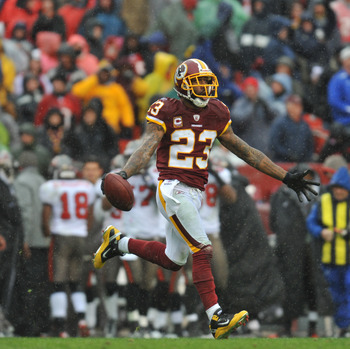 Larry French/Getty Images
It seems as though DeAngelo Hall has been in the league for years, and he's a veteran cornerback who doesn't have many years left. Yes, with seven seasons behind him he is a veteran, but he's still only 27 years old and has many good years ahead.
He made the Pro Bowl in his second and third seasons and there was a lot hype surrounding him. Before the 2008 season he was traded to the Raiders, but they released him just halfway through the season. The Redskins picked him up and he finished out the season in Washington.
Last season, Hall proved he still has it. He had six interceptions, including tying an NFL record with four picks in a game against the Chicago Bears. Hall also had 95 tackles which was fourth among cornerbacks. He was selected to the Pro Bowl, his first since 2006.
7. Tramon Williams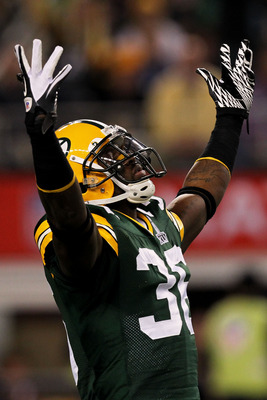 Ronald Martinez/Getty Images
Right now, Tramon Williams is in the shadow of teammate and fellow cornerback, Charles Woodson. Although it shouldn't be for long.
He is 28 years old and going into his fifth NFL season. Before the 2006 season he was picked up as an unrestricted free agent by the Houston Texans, but he was cut before the regular season. He was picked up by the Packers later that year, and earned a spot on the team for the 2007 season.
Last season was Williams' first as a 16 game starter and he proved to be one of the league's best. He made his first Pro Bowl and was a vital part of the Packers Super Bowl run. If it wasn't for him the Packers may have never won the big game.
In their first playoff game versus the Eagles, Williams intercepted a ball in the red zone to secure the victory. The next week he picked off Matt Ryan twice and returned one for a touchdown. Tramon Williams may have been last season's playoff MVP.
6. Champ Bailey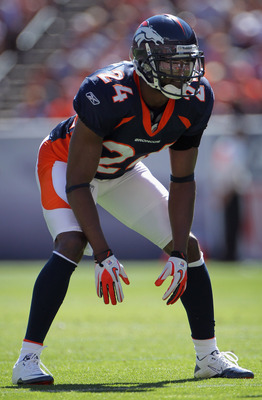 Doug Pensinger/Getty Images
Champ Bailey is one of the best cornerbacks to ever play in the NFL, but at 33 years old he isn't the player he once was. Even though this is true he still remains one of the best in the league today.
Everyone knows Bailey's past accomplishments so I'm not going to dive into all of them.
In 2009, Bailey did not allow a single touchdown in 80 passes thrown his way, and was named to the Pro Bowl. Last season he shutdown great wide receivers like Dwayne Bowe (zero catches) and Larry Fitzgerald (19 yards). He was selected to his 10th Pro Bowl, which is an NFL record for a cornerback.
5. Devin McCourty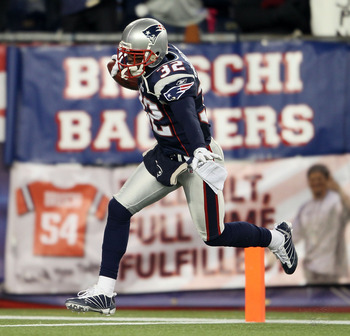 Elsa/Getty Images
As a rookie last season McCourty proved he's one of the league's best cornerbacks.
He made the Pro Bowl and was a second team All-Pro player, finishing two votes behind Revis for a first team spot. McCourty finished the season with seven interceptions which was tied for second in the league. He also added 73 tackles and defended 17 passes.
Expect McCourty to be an elite corner and regular Pro Bowler for the next decade.
4. Asante Samuel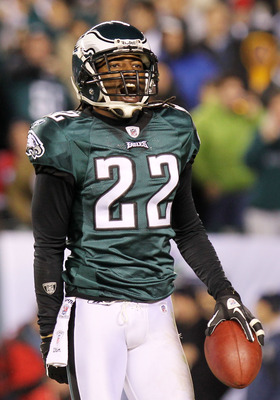 Nick Laham/Getty Images
Asante Samuel is a ball hawk.
The past five seasons, Samuel leads the NFL with 36 interceptions. In 2007 he made his first Pro Bowl and was named a first team All-Pro, after the season he entered free agency. The Eagles were in the need of a cornerback and signed him right away. In three seasons with the team he has made three Pro Bowls an in 2009 he led the league with nine interceptions.
Last season, Samuel started in only 10 games due to injury, but was second in the league with seven picks and made his fourth straight Pro Bowl.
3. Charles Woodson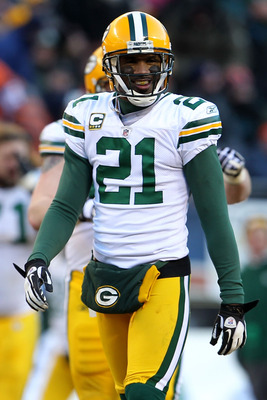 Jamie Squire/Getty Images
Charles Woodson joined Green Bay in 2006 and was thought of as a quality player who's career was fading quickly.
He had made the Pro Bowl in each of his first four seasons and was selected a first team All-Pro in 1999. Then for six straight years (2002-2007) he missed the Pro Bowl, and was far from the spotlight. In 2008 at 32 years old, Woodson once again made the Pro Bowl, and revived his career. The next season he led the league with nine picks, returning three of them for touchdowns, and also had two sacks and 73 tackles. He was named to the Pro Bowl, selected a first team All-Pro and was voted the NFL Defensive Player of the Year.
Last season, Woodson made the Pro Bowl for the third straight season, and helped lead the Packers to a Super Bowl title.
Here's Woodson's stats from the past three seasons: 48 games started, 18 interceptions, six defensive touchdowns, seven sacks, 10 forced fumbles, 225 tackles, three Pro Bowls, 2008 first team All-Pro player, and Super Bowl XLV champion. Not bad for a 32-34 year old player who was thought to be well past his prime.
2. Darrelle Revis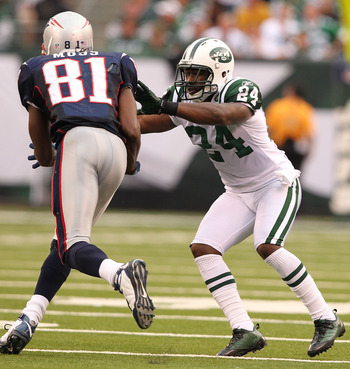 Al Bello/Getty Images
One of the last places a wide receiver wants to be is on "Revis Island."
Revis is a shutdown corner who takes big time receivers right out of the game. He's had a lot of publicity the past few years, and it's well deserved. He's the best player on a team that has made it to the AFC Championship two seasons in a row.
Revis has been a starting cornerback since his first game as a rookie in 2007. In 2008 he picked off five balls and made his first Pro Bowl. The past two seasons Revis has also made the Pro Bowl, and has been selected a first team All-Pro cornerback.
The Jets have been able to beat the Patriots the last couple of years, after getting owned by them the previous eight. The biggest reason for this is Darrelle Revis and his ability to lock-down opposing team's receivers.
1. Nnamdi Asomugha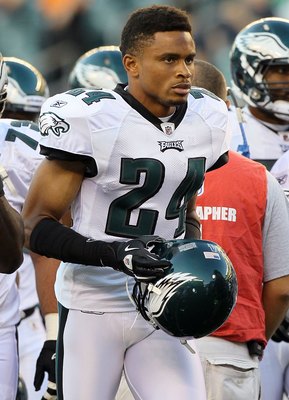 Jim McIsaac/Getty Images
Nnamdi Asomugha is the ultimate shutdown corner.
He played for a crappy Raiders team the first seven years of his career, he doesn't pick off a lot of balls, and his name isn't exactly easy to pronounce. These are the reasons the typical NFL fan (or even some hardcore fans and football experts) thinks Darrelle Revis or even Charles Woodson are better than Asomugha. Now that he is an Eagle, Asomugha should get the credit he deserves.
In 2006 his fourth season, Asomugha had eight interceptions. That would be the last season he would have more than one pick.
In 2007 31 balls were thrown at him with only 10 completions in the entire season. That season he was thrown at less than any defender in the past ten seasons, but somehow was snubbed from the Pro Bowl. The next season he only allowed eight completions, and his worst defensive game came against Randy Moss (three receptions for 40 yards). He would make his first Pro Bowl and was named a first team All-Pro cornerback. In 2009 he gave up 13 receptions and last season he gave up only 10, making the Pro Bowl each year (first team All-Pro last season).
In the past four seasons Asomugha has had only 112 balls thrown his way (1.9 per game) and has given up a mere 41 receptions (.68 per game or 10.25 per season). Now that's what I call shutting down a receiver.
Keep Reading