2011 NFL: Power Ranking the NFL's 12 Best Defensive Lines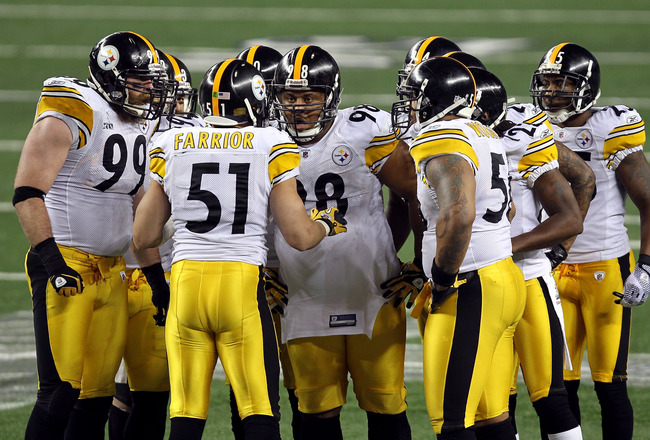 Mike Ehrmann/Getty Images
When you are faced with the task of power ranking the top 12 defensive lines in the NFL, you have to be able to approach this topic from a number of different angles. Right off the bat, you have to account for the advantages and disadvantages that a 3-4 front has over a 4-3 front and visa verse. Based on your scheme, or if you mix them up throughout a game and run a hybrid front, it is difficult to truly compare and rank all the various lines.
So, where do we begin? Definitely you need to study sack totals. Also you need to look at how much yardage a defense allows, because whether it is due to a softer pass rush that gives the quarterback more time to throw, or a porous run defense, everything begins with the penetration and pressure that a defensive line is able to bring to bear on their opponents.
You also have to look at the support the defensive line receives from the linebackers. In some cases, the defensive line serves primarily to tie up the majority of the offensive linemen, freeing up the linebackers to sack the quarterback or to have an easier path to the ball carrier.
Another factor we considered was the number of first downs allowed on running plays, as a stout defensive line will be able to turn back a number of short down and distance attempts, while a softer defensive line will allow more of those to be converted.
To be sure, as different as defenses are right now in the league, there does not exist a perfect formula or theory for trying to determine who has the best defensive line, that we know of. We looked back over the past two years to determine if there was a consistent theme, pattern or track record for each defensive line as well.
Due to the unique nature of the 2011 off-season, we don't know how much time the rookies will have in camp to be ready to take on a major role in the upcoming season. Nor do we know where any key defensive linemen free agents are going to land. So, that muddies things up for 2011 predictions. So, with all of the above serving as an overview, let's move on to the list.
Keep Reading