Pittsburgh Steelers Shouldn't Pursue Ex-Giants Plaxico Burress or Tiki Barber
July 6, 2011
Nick Laham/Getty Images
Two of the most intriguing free agents on the market this NFL offseason are running back Tiki Barber and wide receiver Plaxico Burress.
Now, despite the fact that the pair of former New York Giants stars are a) way past their prime and b) have been out of football for more than a few years, you shouldn't be surprised to see them garner significant interest from clubs
They come with high profiles and proven track records but aren't in a position to demand lucrative, long-term deals.
But one of the clubs that both players have been linked to, the Pittsburgh Steelers, should be a major head-scratcher.
First, we'll start with Tiki.
According to many prognosticators out there, including SI's Peter King, the Steelers might take a flier on Barber, whose twin brother Ronde worked very closely with Mike Tomlin in Tampa Bay a few years back.
And since the Steelers will probably lose Mewelde Moore to free agency, there is probably a spot for Barber on the roster.
But if Tiki has any thoughts of starting (which he seems to) then the Steelers are the wrong fit for him.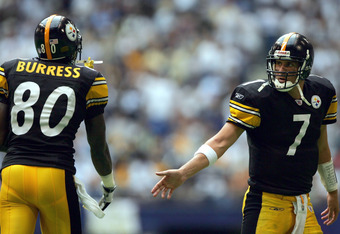 Harry How/Getty Images
Poorly thought-out tweets and a crippling Super Bowl fumble notwithstanding, Rashard Mendenhall is the Steelers workhorse for the foreseeable future.
And if you watched enough of the Steelers the last two years, you have to like the impact third-down back Isaac Redman made. It was his touchdown catch against Baltimore that paved the way for the Steelers to win the AFC North and eventually advance to the Super Bowl.
And as far as Tiki being a benefit inside the Steeler locker room, I just don't see it. He certainly seemed to be a distraction—questioning Tom Coughlin, stirring up controversy with Eli Manning—when he was the Giants star.
How would he respond to being, at best, a role player who gets a few touches per game?
Still, as strange as signing Barber might be, bringing in Plaxico Burress would be even more peculiar and I hate to say it, a bit hypocritical.
As a former Steeler (2000-2004) who had a strong friendship with Ben Roethlisberger, there's a natural connection, one that many in the media have cited. And Mike Tomlin hasn't ruled such a signing out.
So let me get this straight. The Steelers aren't willing to deal with the on- and off-field disciplinary issues caused by a Super Bowl MVP-winning wide receiver IN HIS PRIME (Santonio Holmes), but they are willing to bring in a wide receiver well past his prime, who was just released after two years in a federal penitentiary?
I know there was a habitual element to Holmes' departure from Pittsburgh in the spring of 2010—he had several incidents on his rap sheet—and Burress' crime, though severe, was a one-time incident.
Still, that doesn't exactly mesh with the "character" precedent they seemed to be setting when they shipped off Holmes and reportedly considered cutting Roethlisberger.
And even if the Steelers were to let bygones be bygones, what exactly do they need Burress for? They have Mike Wallace who is a star in the making, Hines Ward is still a very valuable player, and rookies Antonio Brown and Emmanuel Sanders both came up with some big catches in the playoffs.
I know the Steelers rode Roethlisberger's and his redemption train all the way to the Super Bowl, but they don't need to try it for a second straight year with Barber and/or Burress.