Matt Capps: Should He Remain the Twins Closer?
July 6, 2011
Hannah Foslien/Getty Images
In his last three outings Matt Capps is 0-1 without a save.
On Saturday he was torched by the Brewers on their come-from-behind victory, giving up five hits and four runs.
On both Sunday and Tuesday he was jumped on early and had to hand the ball to Glen Perkins, a former starter, to close the ballgame (Perkins would earn his first and second career saves on both days).
With Joe Nathan's strong performance in the eighth inning on Tuesday (he gave up one hit) and Perkins' new-found ability to close ballgames in close situations, Capps' role as the team's closer is in jeopardy.
"Capps is our closer," said manager Ron Gardenhire after the game. "Right now he's uncertain. He's just scuffling along. We'll deal with this in the next couple of days. Our big concern is getting Capps right moreso that who's going to finish games."
While Gardenhire assured the media he'll stay with Capps, he has no qualms about going to other players at the end of games until his closer returns to form.
"We'll finish games the best we possibly can," he said. "Nathan's throwing good, Perk's throwing good. Our big goal is to get Capps throwing good because if we don't have Capps throwing good we're going to have trouble. That's a big part of our bullpen and we need Cappy to get going here and right now he may be holding on to the ball a little too tight."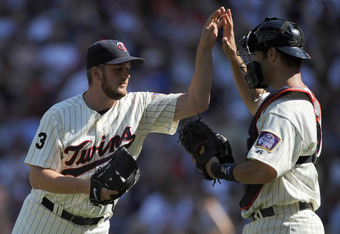 Hannah Foslien/Getty Images
The Minnesota faithful appear to have turned on Capps. They booed him mercilessly throughout his appearance after seeing B.J. Upton put his first pitch over the Best Buy advertisement in left field.
"We have great fans here and they have a right to boo if they want to," said Gardenhire, who said he felt terrible taking Capps out during a save situation for the second-straight time, "but they'll be cheering him again, he'll get going again. Right now they're booing a performance not a person."
Capps holds no hard feelings against the fans.
"I don't blame them," he said when asked about the fans' reaction to his performance. "It wasn't very good. I'd boo me too."
It should be noted, too, that he was the first player out of the bullpen to congratulate Perkins on his second save.
"He's my teammate. I'm happy for him," Capps said of Perkins. "I'm obviously pissed off and disappointed at what I've been doing, but he's my teammate and that's what it's all about. If the roles were reversed, he'd probably be the first one out there for me."
Capps claims he has viewed a lot of film and cannot isolate what is wrong with his game.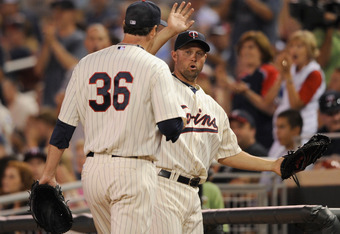 Hannah Foslien/Getty Images
"Saturday was the only day I felt I didn't have it, stuff-wise. It just was not there," he says.
"Sunday I felt I had some pretty good stuff. Today, like I said, other than the pitch to Upton, the first pitch of the inning, I felt I was throwing the ball down in the zone and, like I said, a check swing goes the other way and we're not talking about it."
Capps, and the fans in Target Field, felt that a check swing by Tampa catcher Kelly Shoppach should have been called strike three to end the inning.
The right thing for the Twins to do is to shut down Capps for a week and let him gather himself mentally. Minnesota has a setup man, Nathan, and a closer, Perkins and can wait for Capps to return to form.
Tom Schreier is a Featured Columnist for Bleacher Report. Unless otherwise noted, all quotes were obtained firsthand or from official interview materials from the Minnesota Twins.