Boston Red Sox: 5 Things the Club Must Do in July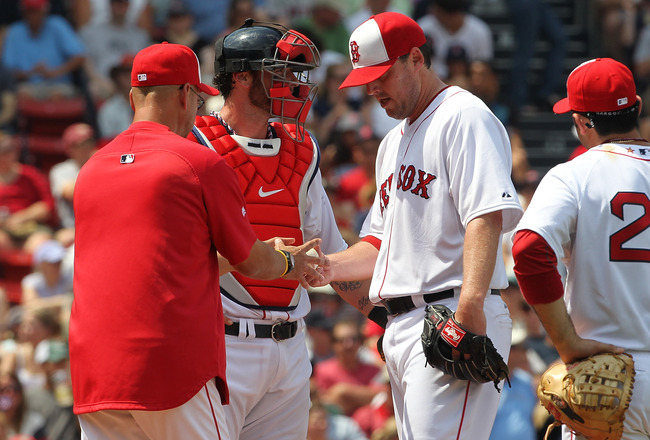 Jim Rogash/Getty Images
After enjoying a strong May and, for the most part, a solid June, the Red Sox have hit a rough patch.
Going back to June 18, a span of 16 games, the club has gone 8-8, losing series to the Padres, Pirates and Phillies. It's only a short stretch, and Boston is certainly good enough to weather some .500 baseball. But these recent performances do highlight some significant problems.
As the trading deadline of July 31 draws near, the Sox will almost certainly make some moves. They're unlikely to be blockbusters given how much money the club has on the books and how little flexibility its situation affords. But even small changes could go a long way toward creating lasting improvements.
Here are five things that the Red Sox should do in the month of July.
No. 5: Move Jonathan Papelbon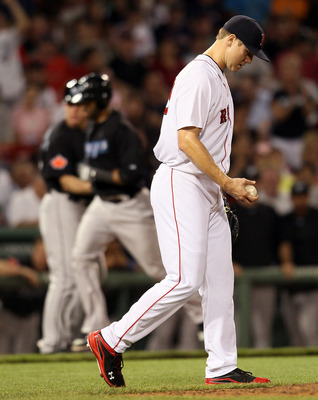 Elsa/Getty Images
On Tuesday night, Boston's closer survived by the skin of his teeth, picking up his 18th save of the season despite allowing two runs on four hits and a walk. Judging Papelbon on this one shaky outing would be foolish, but looking at the entirety of his season, a disturbing pattern emerges.
Pap compiled a lights-out 1.93 ERA in March and April. That rose to a pedestrian 3.38 in May. That in turn ballooned to a whopping 6.75 in June. And so far in July, he's carrying a 6.00 ERA through three appearances.
Remember that prior to 2010, Papelbon's worst season in terms of ERA was his rookie campaign of 2005. He posted a 2.65. From that point through 2009, he was outstanding. But in 2010, his numbers shot up and he finished with a 3.90. Thus far in 2011, his cumulative ERA is 3.58.
The point is that there's reason to believe his truly effective days are behind him. And given how much money he will command as a free agent after the season, it's a safe bet that he won't be back in Boston. It's time for the Sox to move him.
Before he can do any more damage to his value.
No. 4: Add a Quality Pitcher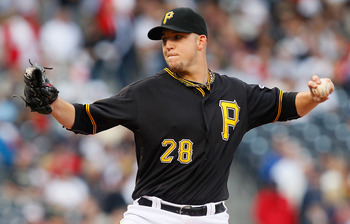 Jared Wickerham/Getty Images
The flip side of trading Papelbon is that the Sox must bring back a reliable arm, preferably for the rotation. Papelbon's departure will certainly leave a hole in the bullpen, but that gap is easier to fill.
At the moment, Boston's starters are in a shambles. Clay Buchholz is still feeling back soreness, and is seeking a third opinion from Dr. Craig Brigham, according to Rotoworld.com and WEEI.
Jon Lester left Tuesday's start after four innings with what is being called a lat strain. Early reports have him missing two weeks, but this type of injury can linger. It might be tricky for him to make it back in short order.
John Lackey's struggles are abominable and well-documented. Yet another disastrous start on Monday only reinforced the painfully obvious truth that Lackey is not fit for duty as a starting pitcher. If Terry Francona doesn't bench him, then he's flat out hurting his own cause.
Left to mop up these various messes are the likes of Andrew Miller, who has done pretty well in a handful of spot starts, Tim Wakefield, and Alfredo Aceves. Other pitchers like Felix Doubront and Kevin Millwood await callups from Pawtucket.
Despite these always willing and sometimes able bodies, Boston needs to add a consistent arm. L.A.'s Hiroki Kuroda will likely have too high a price tag, but someone like Pittsburgh's Paul Maholm (pictured) or Minnesota's Kevin Slowey could be a reasonably priced alternative.
Whatever the solution, this addition must happen.
No. 3: Add Offensive Depth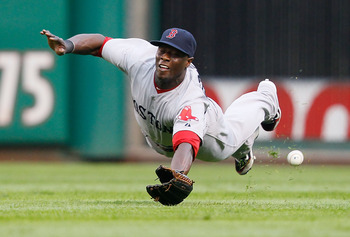 Jared Wickerham/Getty Images
Unfortunately, Theo Epstein has publicly stated that adding a pitcher is not the team's most likely next step. So while fans yearn for something dependable at the back of the rotation, they might have to keep on waiting.
The wait wouldn't be so bad if the Sox would actually give their young guns some chances. Doubront and Kyle Weiland are both pitching well for the PawSox, and as Theo indicated during his NESN appearance, both could see major league time as "reinforcements."
If this is the plan, then do it already.
Meanwhile, Epstein also said during his NESN interview that adding a bat is a strong possibility due to the "likely prohibitive" cost of starting pitching on the trade market. While it doesn't address the team's biggest weakness, it would nevertheless be helpful.
With the departure of Mike Cameron, who was designated for assignment and traded to Florida for a PTBNL or cash, the bench is looking a little thin.
Darnell McDonald has failed to hit in 2011, Ryan Kalish is still not physically fit, and Jed Lowrie has been in and out of the lineup. Josh Reddick has been a pleasant surprise, but Boston needs some additional help.
Depending on how much they want to spend, so to speak, players like San Diego's Ryan Ludwick and Minnesota's Michael Cuddyer could be useful adds.
No. 2: Make a Call to Arms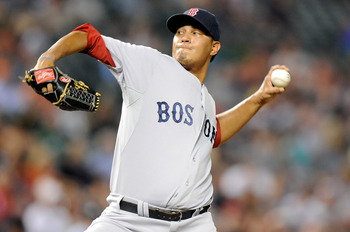 Greg Fiume/Getty Images
Regardless of whom they lose or add, the Red Sox should make some roster changes in July. It's time for Felix Doubront to return to Fenway, and he should probably have some company on the trip.
Kyle Weiland has earned the right to make his major league debut. With a 3.00 ERA and a 1.14 WHIP, the 24-year-old righty could be helping the club.
And it's probably time to give veteran Kevin Millwood a shot as well. His 4.15 ERA in Pawtucket isn't stellar, but if the organization is going to carry him, it might as well see what he has left in the tank.
At the least he could be a presence in the bullpen, someone who has plenty of experience pitching through the dog days of summer.
If Epstein is going to talk about the club's minor-league depth, then he may as well take the next logical step and put that depth into action now, while the team so clearly needs it.
No. 1: Bench John Lackey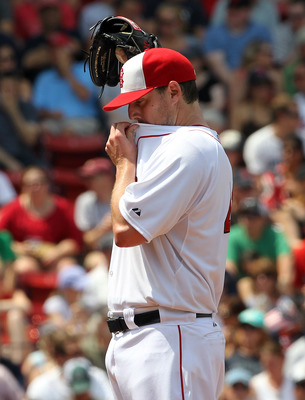 Jim Rogash/Getty Images
It's been a tough year for Lackey, and constant criticism won't make him pitch better. Unfortunately, as things stand, the team is throwing away wins.
Lackey's wife is battling breast cancer, a fight which obviously takes precedence over anything that's happening on the field. And if his head and heart are with her rather than focused on pitching well, then that's completely understandable.
He should be given time to be with her. But the club can't afford to continue trotting him out there to the tune of five or six runs allowed.
In his NESN interview, Epstein addressed Lackey's struggles in addition to covering trade possibilities. And he was maddeningly non-committal.
"As an organization we've got to find some answers. A lot of times this year, he just hasn't been good enough and has taken us out of games. We know he's working hard and we know he wants to get better. Right now, there aren't answers.

"Otherwise he would have applied some things and taken some steps forward. There are questions, not answers. It's our job to find the answers. We've got to keep working at it and get better. It's definitely got to get better.

"He has a chance to be an important part of this team, wants to be, and has the talent to. It's just not happening right now."

"I think that work that has to happen for him to improve can take different forms. It's something that can happen while he's pitching. If he's able to go out there and keep us in games, then yeah, he should get the ball. If he's not, then we've got to look deeper. But he's in the rotation. He's got a chance to go out there and make it better."
What this says is that the team is content to twiddle its thumbs and watch the status quo continue to unfold. Epstein's assurance that the team will "look deeper" if Lackey continues to struggle is, for now, cold comfort.
It doesn't matter how much he's paid or how big a name he is. If Lackey can't produce, he shouldn't be pitching. It's hurting the team. And the hurt goes beyond one loss here and there.
His appearances put tremendous pressure on the lineup, and we've already seen the tension boil over in the form of Lackey shouting at Carl Crawford.
Since the end of April, Lackey has had only one quality start in eight appearances. If anything, his struggles are getting worse, not better. There was optimism among his teammates and coaches that he was turning a corner when he put together some performances that the team characterized as effective.
These performances included 5.2 innings, three earned runs on June 5; six innings, four earned runs on June 11; and eight innings, four earned runs on June 17. Combined? A 5.03 ERA.
That's not effective. Not for $15.25 million.
Surely, Doubront or another arm could sustain an ERA below five. It's well past time to make a move and sit Lackey down, big contract or not.
Keep Reading

Boston Red Sox: Like this team?