Texas Rangers: Did They Trade Away Too Many Top Prospects for Cliff Lee?
July 6, 2011
Ronald Martinez/Getty Images
Last July Cliff Lee was shipped from the Seattle Mariners to the Texas Rangers. Justin Smoak—a switch-hitting first baseman labeled "can't miss" by most—was the centerpiece. 
It was the biggest trade in Texas Rangers history, and certainly the most successful—short term, at least.
No one can argue with Cliff Lee's impact on the Texas Rangers. Simply put, he was the reason the Rangers made it to their first World Series in franchise history.
Now that one year has passed since the Rangers acquired Lee, it's high-time to analyze the trade and ask ourselves—did the Rangers trade away too much talent?
Justin Smoak is tied for the team lead in home runs (12) for the Seattle Mariners. He's putting together a very solid sophomore season and will no doubt have a stalwart Major League career. However, he was the ideal centerpiece for the Rangers to get rid of for Cliff Lee. 
Smoak's departure paved the way for Mitch Moreland's emergence. Moreland truly came into his own in during the 2010 postseason—had it  not been for his home run off of Jonathan Sanchez in Game 3 of the World Series, the Rangers just might have been swept.
It's not often that a team can replace a former first-rounder (Smoak was drafted 11th overall in '08) with a former 17th-round crapshoot like Moreland and break even.  
Mitch Moreland vs. Justin Smoak
Smoak has the makings of a potential Rangers' killer. It's a small sample size—six games—but Smoak has put up big numbers: .375 BA, with four homers.  
There's no question that in terms of raw power, Smoak has a higher ceiling than Moreland.  Smoak is a classic gap-to-gap power prodigy with pop from both the right-side and left-side of the dish.
Smoak is the type of player that makes stats-geeks slobber: plus-pop with a high on-base percentage.
Mitch Moreland doesn't have the same kind of power as Smoak, but he's knocked out 11 big-flys so far this year, many of the eye-popping variety. Moreland is not a switch-hitter like Smoak, but has excellent power to the opposite field from the left-side.  
Moreland is also more versatile than Smoak—he can play a stellar first base and an above-average right field. Moreland's defensive adroitness meshes well with the Rangers—it allows for more playing time for both Michael Young and Mike Napoli.  
Who knows the types of numbers Smoak or Moreland will have when it's all said and done, but as of right now—I'll take Mitch Moreland.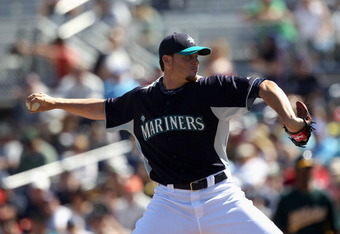 Christian Petersen/Getty Images

What about the other prospects that went to Seattle?
Clearly, to get a pitcher like Cliff Lee, it takes more than one future stud. The Rangers sent Blake Beavan, Matthew Lawson and Josh Lueke to the Mariners to finalize the trade. Of those three, Beavan is the only one that might be missed.
Beavan, the Rangers' first round pick the year before they took Smoak in 2008, has a classic power-pitcher's build with excellent control. Beavan's fastball has actually declined since his first year in professional ball. However, Beavan has proved to be the type of pitcher that actually improves while his velocity drops. Over four minor league seasons, Beavan had a 1.5 to 5.3 strikeout to walk ratio.
Beavan's efforts were rewarded by the Mariners on July 3 as the 6'7" right-hander was called up for his Major League debut. He pitched seven strong innings, striking out four and walking two as earned his first career MLB victory in his inaugural start.
The other two prospects—Josh Lueke and Matthew Lawson—haven't panned out quite as well as Beavan.
Lawson is a former Rangers 17th-round pick from 2007. He's a middle infielder who is no longer in the Mariners organization. He's currently in Double-A Akron in the Cleveland Indians organization. Josh Lueke, a right-handed pitcher, was taken in the 16th round by the Rangers in 2007.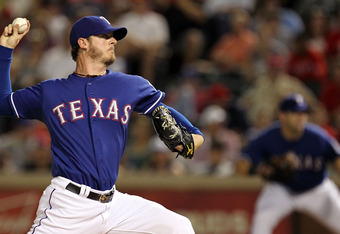 Ronald Martinez/Getty Images
He's currently in Triple-A Tacoma for the Seattle Mariners.  

The Mark Lowe Factor
Few fans remember that Cliff Lee didn't fly solo to Texas in last year's blockbuster trade. Mark Lowe came along with him.
Lowe is flame-throwing right-handed reliever that many think might have a future as a closer. With a fastball that sits at 95 but occasionally touches 99, the Arlington, TX native might have a very bright future with the Rangers.
Lowe had a rough start to the 2011 season, but has pitched well over his last 10 appearances, watching his ERA drop from 5.00 to 3.76 over that span.
He might be just what the Rangers have so desperately needed since Alexi Ogando's departure for the starting rotation—an eighth inning setup man for Neftali Feliz.

So, was the Cliff Lee deal worth it?
Is trading a switch-hitting first baseman and a potential No. 3 starter for a man that almost single-handedly got your team to the Fall Classic the right move?
Absolutely.