One Player from Every NFL Team Who Hopes To Redeem Himself in 2011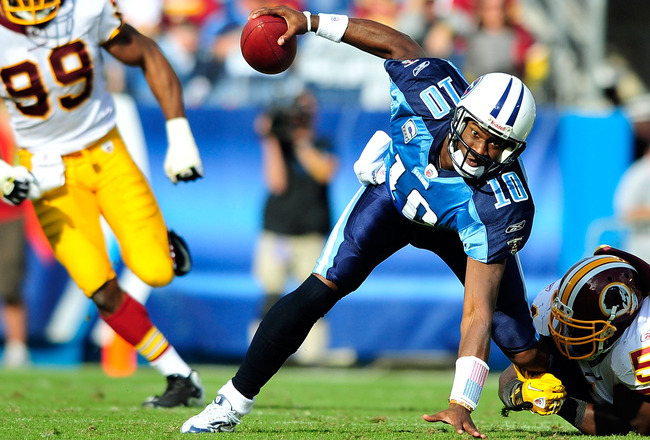 Grant Halverson/Getty Images
Every year there are a number of NFL veterans that are on the bubble of leaving the NFL or doing whatever they have to in order to convince coaches to keep their career hanging on for at least one more year.
While there might be a huge number of free agents hitting the market in the near term, as we await the final terms and conditions of the expected collective bargaining agreement, we will take a tour around the NFL and try to select one player from each 2010 roster that appears ready to redeem himself in 2011.
It doesn't necessarily mean that they will be redeeming themselves for their old employer, because as far as 2011 goes, there are a lot of factors that are still very much up in the air. But one thing is clear: None of these guys had a great 2010, so they are hoping to turn things around in the new season.
Arizona Cardinals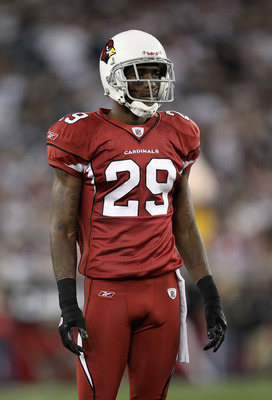 Christian Petersen/Getty Images
Cardinals cornerback Dominique Rodgers-Cromartie
It is well known that Rodgers-Cromartie is not a major tackling force in the NFL. Far from it—tackling is one of his least favorite things. After getting the losing end of his fair share of skirmishes, "DRC" decided to put on 10 pounds of muscle in his attempt to show that he is ready to stick his nose in there and be more productive on defense in 2011.
As it is, DRC was playing in 2010 as a 6'2" and 182-pound cornerback, so the 10 pounds are probably a welcome addition. Hopefully it doesn't slow him down too much.
Here is Pro Football Weekly's spin on the DRC weight issue:
Our Cardinals insiders believe the intriguing rumor that the team might trade CB Dominique Rodgers-Cromartie straight-up to the Eagles in exchange for Kevin Kolb—instead of relinquishing draft picks in a potential deal for the Eagles' QB—is probably more a case of good old-fashioned dot-connecting than anything else.

While the Cardinals are no doubt in dire need of a new quarterback, and the Eagles really could use a quality cornerback, we hear the Cardinals really feel positive about a starting CB tandem of "DRC" and first-round draft pick Patrick Peterson, with 2010 starting RCB Greg Toler also looking like a good fit as the team's third corner.

There are sources in the desert who believe the aversion to contact that Rodgers-Cromartie so frequently displayed last season might not sit well with new defensive coordinator Ray Horton, but the 10 pounds that "DRC" has added to his slender frame is viewed mostly as a positive sign.
Atlanta Falcons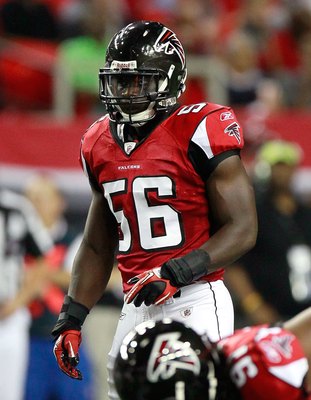 Kevin C. Cox/Getty Images
Falcons linebacker Sean Weatherspoon
Weatherspoon was the 19th overall draft pick in the first round in 2010 for the Falcons, but he didn't play up to that level in the 2010 season.
When you look at his stat line, the cupboard is essentially bare. Forty-two tackles is okay, but look at the rest: zero forced fumbles, zero fumble recoveries, one sack, zero interceptions and one pass defended. Ugh.
The Falcons would like to see more of a playmaker at linebacker, so expect Weatherspoon to take a leap up in his game in 2011 now that he has received a taste of what life is like in the NFL.
Baltimore Ravens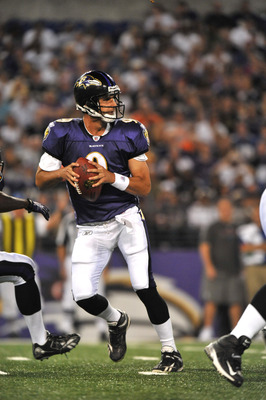 Larry French/Getty Images
Ravens quarterback Marc Bulger
In 2010, quarterback Marc Bulger essentially took the year off, serving as the clipboard holder for Joe Flacco. Let's put it this way: Sam Koch and Anquan Boldin had more passes in 2010 than did Bulger, and they each only threw one pass.
In the last five years, Bulger's pass attempts per season read like this: 588, 378, 440, 247 and zero. You can see that he is rested and ready to attempt to take the reins of an NFL offense. That offense will not be in Baltimore, as Flacco is the undisputed leader of the Ravens offense.
To run an NFL offense, Bulger will need to be picked up by some other NFL team, one that recently drafted a quarterback in the first or second round of the 2011 draft and is looking for a veteran to bridge the gap for a year or so.
Will Bulger have happy feet upon taking snaps under center again? We won't know the answer to that question until we see him in action again.
Buffalo Bills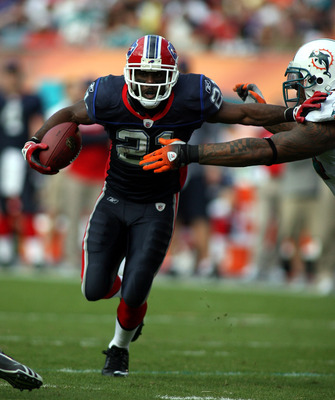 Marc Serota/Getty Images
Bills running back C.J. Spiller
Spiller was drafted with the ninth overall pick in the 2010 draft. For someone selected so high, you would have expected to see much more production than just two touchdowns in his rookie year.
From a comparison standpoint, Arian Foster was an undrafted free agent, and even he scored three touchdowns in his rookie year. Of course, Foster exploded for 16 touchdowns in 2010, so if Spiller, being the first-round pick that he was, can duplicate that effort, you can be assured the Bills will be delighted.
Maybe it was a case of Spiller being thrown into the fire too soon, as he was the Bills' starting running back in Week 1 last year due to injuries to Marshawn Lynch and Fred Jackson in the preseason. Maybe Chan Gailey didn't draw up enough plays for Spiller to show what he could do when he got his hands on the ball in the open field. Spiller himself said that he wasn't being patient enough with his blocks when he ran the ball.
One thing is certain: Spiller will be improving on his 2010 stat line, which resulted in 74 rushes for 283 yards, zero touchdowns and a 3.8-yard average per rush. He also caught 24 passes for 157 yards and one touchdown with an average of 6.5 yards per catch. Expect bigger things from Spiller in 2011.
Carolina Panthers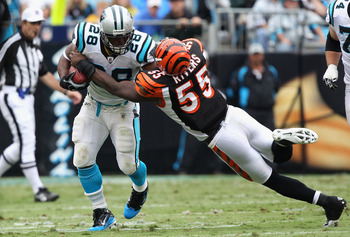 Streeter Lecka/Getty Images
Panthers running backs Jonathan Stewart and DeAngelo Williams
Both Stewart and Williams had down years in 2010 compared to what they did in 2009. Obviously Williams' season was cut short due to injury, but that does not account for the drop in production prior to the injury.
Since 2008, Williams' rushing yards have declined from 1,515 to 1,117 to 361. His average yards per rush have dropped from 5.5 yards to 5.2 yards to 4.1 yards. His touchdowns have gone the same way: 18 to seven to one.
Stewart saw a similar dip, as he went from 1,133 yards in 2009 to 770 last year. His average rush dropped from 5.1 to 4.3, and his touchdowns fell from 10 to two.
Perhaps if Williams signs with a new team in free agency, it will allow both players to rebound in 2011. Williams can only go up from what he did in 2010, while Stewart may blossom without Williams looming in the background.
Chicago Bears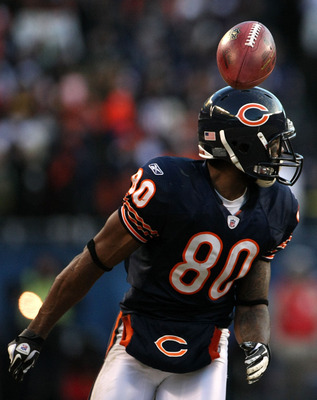 Doug Pensinger/Getty Images
Bears wide receiver Earl Bennett
NFL wide receivers are generally thought to be ready to break out in their third season. Somebody forgot to tell that to Earl Bennett.
Bennett's production in his third year actually dropped from his sophomore year. His catches went down from 54 to 46. His yardage went down from 717 to 561, and his average yardage per catch dropped from 13.3 to 12.2.
When you realize that this all happened with a much better quarterback at the helm in Jay Cutler, you understand that Bennett needs to redeem himself in 2011.
The talk now is that Bennett will play in the slot in 2011. The Bears hope that this will free him up to be more productive. He still has time to turn his career around, but if the drop continues in the way it was headed, he will be passed over by someone new.
Cincinnati Bengals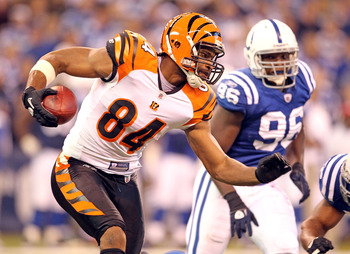 Andy Lyons/Getty Images
Bengals tight end Jermaine Gresham
Jermaine Gresham came into the NFL as a rookie in 2010 after an inactive 2009 season at Oklahoma due to injury. Gresham shook off the rust and showed some promise in the 2010 season but was sometimes lost in the shuffle due to Carson Palmer trying to keep receivers like Terrell Owens and Chad Ochocinco happy.
With Owens gone for sure and Ochocinco likely following him out the door, that means that Gresham should be in prime position to step up and take on a larger role in the 2011 offense. If Andy Dalton is the starting quarterback, Gresham will no doubt become one of his major targets all season.
The 21st overall pick in the 2010 draft, Gresham only scored four touchdowns in his rookie year. That number could easily hit double digits in 2011 if he becomes a go-to guy in the Bengals offense.
Cleveland Browns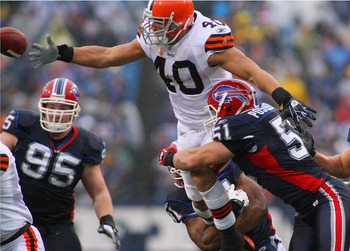 Rick Stewart/Getty Images
Browns running back Peyton Hillis
Okay, I realize that Browns fans are wondering, "What the heck is this guy thinking, naming Hillis for this distinction?" Well, after doing some research on his breakout 2010 season, I discovered the following little tidbits.
Hills cracked the century mark five times in the 2010 season en route to his 1,177 yards gained on the ground. In those five games, the Browns went 3-2. There were seven games last season when Hillis failed to crack even 50 yards rushing. The Browns' record in those seven games? 0-7. That leaves the other four games where he rushed for between 50 and 99 yards. The Browns' record then was 2-2.
Who led the NFL in fumbles in 2010? Peyton Hillis with eight.
So you see, there is method to my madness. If Hillis can do a better job of controlling the rock and avoid the disaster games (less than 50 yards on the ground), the Browns stand a better chance to compete and be in the game until the very end.
Dallas Cowboys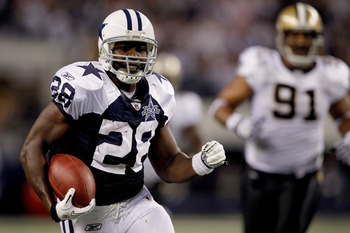 Matthew Stockman/Getty Images
Cowboys running back Felix Jones
I was debating whether to name Jones or Tony Romo as the player that needed to redeem himself in 2011 but ultimately went with Jones. Why would I even consider Romo, who obviously was hurt last year? Because until he can string together several playoff wins in the same year, he will remain a pretender and not a contender in my book.
Returning to Jones, it is up in the air who will start at running back for the Cowboys in 2011. It might be Jones, or it could be the rookie from Oklahoma, DeMarco Murray. However, I suspect that Jones will be carrying the ball enough to make an impact in 2011.
In 2010, Jones saw the most action that he has in his career to date, as the Cowboys handed him the rock 185 times for 800 yards. The totals on the surface are fine, as is the average of 4.3 yards per carry. But closer inspection shows that Jones' production from a big-play standpoint is going down.
His longest run from scrimmage has been steadily declining from 60 yards to 56 yards to 34 yards. His average yards per rush has dropped from 8.9 to 5.9 to 4.3. He scored three touchdowns in the first two years, yet despite 185 carries he only scored once in 2010. Simply put, Jones will have to become more of a big-play back in 2011 if he is to hold off Murray for the starting job.
As for Tony Romo, we don't want to say anything more about him out of concern that we will upset his honeymoon.
Denver Broncos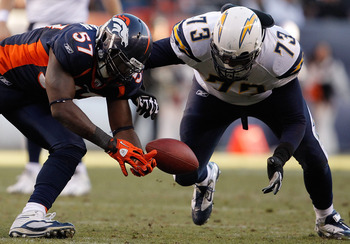 Justin Edmonds/Getty Images
Broncos linebacker Mario Haggan
When you have the worst defense in the NFL, there are lots of players that could qualify for redemption in 2011. Where do you start?
One player that put up the best numbers of his career is linebacker Mario Haggan. He registered 87 tackles, five sacks and one fumble recovery in 2010, all of which were career highs.
Yet according to this article in the Denver Post, Haggan could lose playing time to Nate Irving and may not actually be afforded the chance to redeem himself. Haggan can only hope that Irving is not ready to play due to the shortened training camp setting in 2011 and therefore has the chance to show that he belongs in the starting defensive unit.
Detroit Lions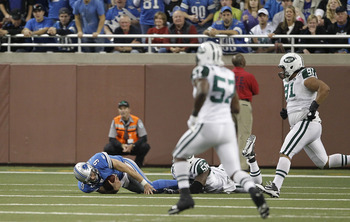 Leon Halip/Getty Images
Lions quarterback Matthew Stafford
After playing in 10 games in his rookie year, Matthew Stafford followed that up by only appearing in three games in 2010. Stafford has now caused some rather serious questions to arise about his durability. Can he be the type of player that the Lions can rely on to be there to lead the team, or will they have to go in a different direction?
If there is any one individual player that needs to put in a healthy 2011 season, it is Stafford. Any new major injuries that happens to him in 2011 will cause the Lions brass to think that maybe he is just too fragile to be a starting quarterback.
Here's to hoping Stafford turns things around in 2011.
Green Bay Packers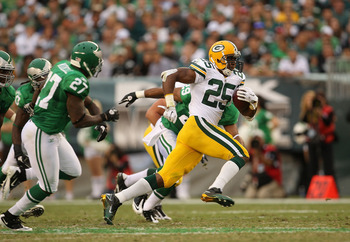 Mike Ehrmann/Getty Images
Packers running back Ryan Grant
After two straight 1,200-plus rushing yards seasons, Grant found himself missing out on being a part of the Super Bowl season due to injury.
The leading rusher for the Packers last year was Brandon Jackson, but in three of his four seasons, Jackson hasn't even cracked the 4.0 barrier for average yardage per rush.
James Starks showed a nice burst when he was awarded a chance late in the 2010 season, so Grant will need to come out strong in 2011 to show the Packers coaches that he deserves to gain his starting job back.
Let's face it: When you are the Super Bowl champions, there aren't that many players that need redemption, right?
Houston Texans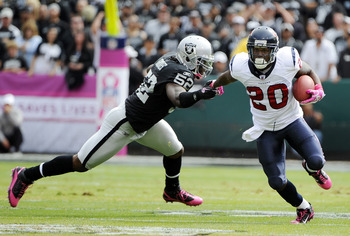 Thearon W, Henderson/Getty Images
Texans running back Steve Slaton
Sure, we could have gone with the entire Texans secondary, but that would have too easy a call. Instead we are going to put out an all-points bulletin to see if anyone can find out what happened to Steve Slaton and his career.
The No. 1 back in Houston right now is clearly Arian Foster, so Slaton may have to move on to get a chance to redeem his career. The drop in production is mind-boggling: from 1,282 rushing yards in 2008 to 437 in 2009 and then to just 93 in 2010 (and that was in 12 games).
His carries have dropped from 268 to 131 to 19. His touchdowns dropped from nine to three to zero. Pass receptions dropped from 50 to 44 to three. First downs generated have dropped from 60 to 26 to four.
Unless Slaton does something in 2011 to salvage his career, whether it is in Houston or another NFL city, he might be done. We will classify Slaton as someone that needs to redeem himself in 2011.
Indianapolis Colts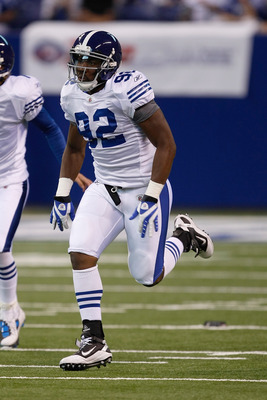 Scott Boehm/Getty Images
Colts defensive end Jerry Hughes
Jerry Hughes was the first-round draft pick of the Indianapolis Colts in the 2010 draft. In his rookie campaign, Hughes appeared in two games and made six tackles. As far as the rest of his stat line goes, it is a sea of zeroes.
Hughes will be expected to redeem himself with a much bigger 2011 season. He got his feet wet in 2010 and really needs to take a big step up in production to justify being a first-round draft pick.
Jacksonville Jaguars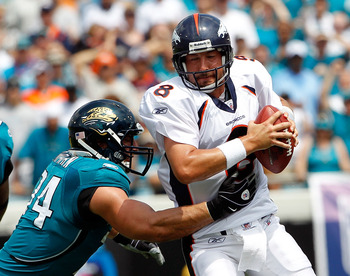 Sam Greenwood/Getty Images
Jaguars defensive end Aaron Kampman
Aaron Kampman was the Jacksonville Jaguars' big free-agency purchase in the 2010 NFL offseason. Once the 2010 season arrived, the Jaguars were expecting big things from Kampman. Unfortunately, a torn ACL cut his season short.
So what did the Jaguars have to show for their investment?
In eight games, Kampman registered 25 tackles, two defended passes and four sacks. The rest of his stat line is zeroes. That means that the Jaguars really didn't get that much in production from Kampman in 2010, and he needs to redeem himself in 2011.
Kansas City Chiefs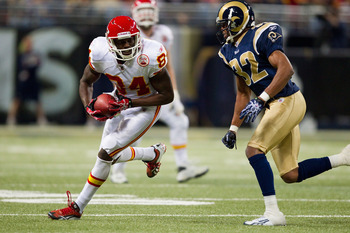 Dilip Vishwanat/Getty Images
Chiefs wide receiver Chris Chambers
According to a story by Adam Caplan of Fox Sports, the word is that Chris Chambers may find his job in jeopardy in 2011 in Kansas City.
Caplan wrote:
Chambers signed a three-year, $13 million deal in March of 2010, which included $5.9 million guaranteed, a source confirmed to FOXSports.com. The guaranteed money came in the form of a $4 million roster bonus in the first year of the deal and $1.9 million in base salary for the 2010 season. So Chambers was practically guaranteed to stay on the roster last season despite his reduction in playing time.

Chambers was a healthy inactive for the Baltimore game and he only participated in 481 out of the 1103 offensive snaps last season. He's listed with a base salary of $2.9 million for 2011 along with a $500,000 roster bonus.
Chambers went from 36 catches for 608 yards and four touchdowns in 2009 to 22 catches for 213 yards and one touchdown in 2010. The Chiefs drafted Jonathan Baldwin, which was their way of putting Chambers on notice. If Chambers wishes to continue his career, in Kansas City or elsewhere, he will need to redeem a poor 2010 with a solid 2011.
Miami Dolphins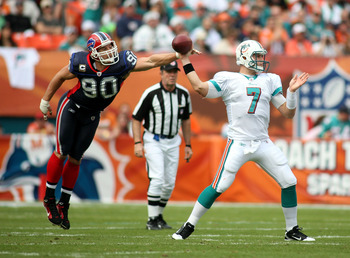 Marc Serota/Getty Images
Dolphins quarterback Chad Henne
It is not a surprise that the Dolphins drafted a talented running back in Daniel Thomas to help rectify a running game that went AWOL last year with Ronnie Brown and Ricky Williams carrying the load. It was somewhat of a surprise that the Dolphins did not draft a quarterback to challenge Chad Henne.
Since they did not, we can then assume that the 2011 upcoming season is going to be Henne's make-or-break year. Unfortunately, due to the NFL lockout, he will not have the benefit of a full offseason regimen to practice and get used to his new teammates on offense. Then again, this could be a strange season for the Dolphins anyway, seeing how they are still being coached by Tony Sparano.
In his three seasons in Miami, Henne has continued to operate in a small QB passer rating window of 74.0-75.5. In 2009, he threw 12 touchdowns to 14 interceptions, and he followed that up in 2010 by throwing 15 touchdowns to 19 interceptions. The light bulb needs to go on over his head this year, or the Dolphins will surely invest a first-round draft pick to replace him.
Then again, Vince Young is a free agent, so Henne should be motivated to perform at a higher level in 2011. We shall see.
Minnesota Vikings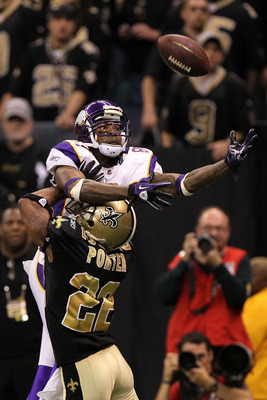 Jed Jacobsohn/Getty Images
Vikings wide receiver Bernard Berrian
In the past three seasons at Minnesota, wide receiver Bernard Berrian has watched his production drop across the board. He went from 964 yards in 2008 to 618 in 2009 and then only 252 in 2010. His average yards per catch has dropped from 20.1 to 11.2 and then just 9.0 last year. Finally, his touchdowns have fallen from seven to four to zero.
If Sidney Rice leaves Minnesota due to free agency, the Vikings will need Berrian to step up and redeem himself. Berrian is still under contract with Minnesota until 2013.
New England Patriots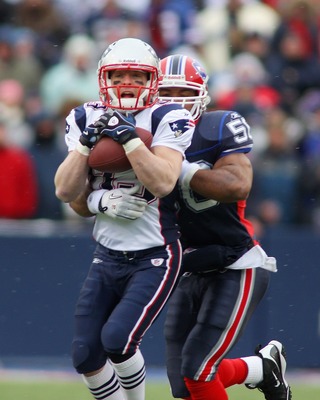 Rick Stewart/Getty Images
Patriots wide receiver Wes Welker
We all know Welker was rehabbing from a bad leg injury in 2009, but he was healthy enough to come out of the gate in 2010 to catch 14 passes over the span of the first two weeks. By the time the 2010 season ended, Welker had a noticeable drop-off in production from what he did the year before.
He had a streak of at least three straight years of 100 catches broken by catching 86 passes. His streak of three straight 1,000-plus-yard seasons was also broken when he gained only 848 yards. But to me, the most telling stat is in his ability to be a go-to guy to move the chains.
In 2009, 71 of his 123 catches resulted in first downs. In 2010, that ratio dropped to 47 first downs out of his 86 catches. One other area of concern is that Welker led all NFL receivers in dropped passes last year with 14, according to this article from Pro Football Focus.
Look for a rebound across the board from Welker in 2011 as he looks to redeem himself.
New Orleans Saints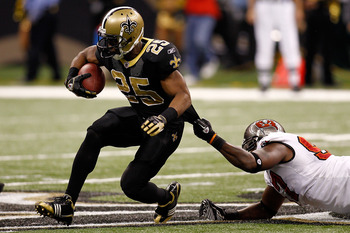 Chris Graythen/Getty Images
Saints running back Reggie Bush
Reggie Bush said that maybe it was time to leave the New Orleans Saints on the night of the draft when the Saints selected Mark Ingram from Alabama in the first round. Maybe the feeling was mutual.
In looking at the production that Bush has generated lately, this is one player that needs to redeem himself in 2011. Here is his production in the last four consecutive years: rush attempts: 157, 106, 70 and 36; rushing yards: 581, 404, 390 and 150; rushing touchdowns: four, two, five and zero; rushing first downs: 32, 20, 19 and six; pass receptions: 73, 52, 47 and 34; reception yardage: 417, 440, 335 and 208.
As you can see from the above evidence, Bush's production is going down across the board. The funny thing is that while the stats continue to slide, the number of games that he was healthy enough to play in was actually trending in the right direction until the 2010 season: 12, 10, 14 and then eight.
We are not positive where Bush will play ball in 2011, but as young as he is, he needs to start resurrecting his career sooner than later.
New York Giants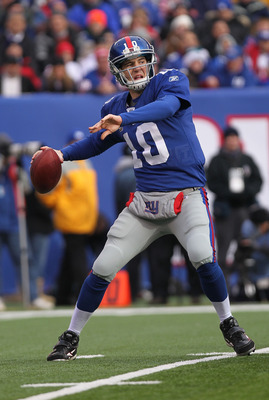 Nick Laham/Getty Images
Giants quarterback Eli Manning
Eli Manning has been at the helm for some great games as the leader of the New York Giants. However, despite having seven years of experience in the NFL, Manning continues to make some poor decisions with the football or can't seem to control the football.
During the past two years that the Giants have been on the outside looking in when it came to the playoffs, it is not a coincidence that the number of turnovers that Manning had increased dramatically from the 15 he had in 2008. In 2009, the number of interceptions and fumbles jumped up to 23, and then there was another spike up to 30 turnovers in 2010.
For the Giants to have a realistic shot at becoming a playoff team, Manning has to do a better job of deciding where he is going to throw the ball and not fumbling as often as he does. Unless he improves, this could be another long year for Giants fans.
New York Jets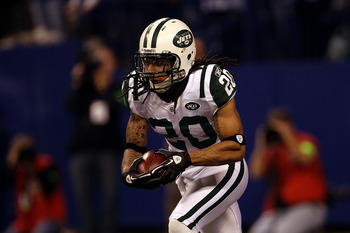 Jonathan Daniel/Getty Images
Jets cornerback Kyle Wilson
According to a story run by Rotoworld, Pro Football Focus has Kyle Wilson rated as the 53rd-best corner in the NFL, which translates to not very good.
Wilson was a first-round pick of the Jets in the 2010 draft, and they would like to see him live up to the higher level of expectations that they placed on him when they selected him with the 29th overall pick.
Rotoworld went on to state:
Wilson certainly could've benefited from OTAs and minicamps to restore his confidence after a rough rookie year. The off period has also given Jets brass more time to contemplate upgrades at the position opposite Darrelle Revis

ESPN New York's Rich Cimini calls the extended NFL lockout a "huge setback" for second-year CB Kyle Wilson.
Hopefully Wilson has been asking Darrelle Revis lots of questions and watching tape to get ready for his sophomore year, because he needs to redeem himself after his poor showing in his rookie year.
Oakland Raiders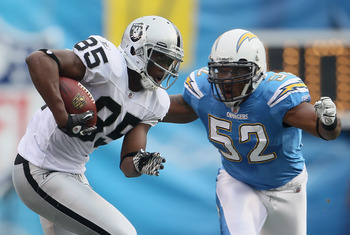 Jeff Gross/Getty Images
Raiders wide receiver Darrius Heyward-Bey
Is this the magical third-year breakout for wide receiver Darrius Heyward-Bey? So far he has to be considered to be a disappointment. He has only scored one touchdown in each of his first two seasons, so the light bulb has not gone off above his head yet.
Maybe 2011 will be the year. He has 35 total catches in two years for 490 yards. Not very impressive. There is a need for somebody to step up and be the leading receiver for the Raiders this year. Can Heyward-Bey be that guy?
Philadelphia Eagles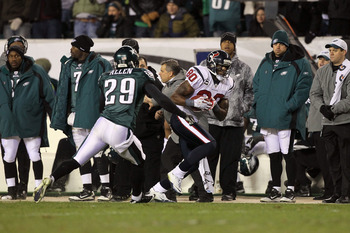 Jim McIsaac/Getty Images
Eagles safety Nate Allen
Nate Allen, safety for the Philadelphia Eagles, had an interesting start to his rookie season in 2010. He came roaring out of the gate by intercepting three passes in the first four games. Allen appeared in 13 regular-season games but did not intercept a single pass after the fourth contest.
He also defended six passes in his first five games, but that number dropped to only two passes defended in the final eight games. True, Allen missed some time with an injury and was a little banged up. But the second-round draft pick needs to show more consistency through the whole season, not just the beginning. He is one that should be able to redeem himself in 2011.
Pittsburgh Steelers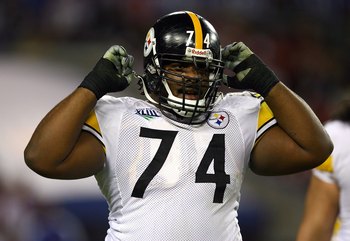 Jamie Squire/Getty Images
Steelers tackle Willie Colon
After five years of service with the Pittsburgh Steelers, Willie Colon might be allowed to walk. That is the gist of a story coming out of the Pittsburgh Post-Gazette.
Colon's agent said the Steelers haven't called about Colon in three years and he doesn't expect they will now. Thus, it is up to Colon to play elsewhere and show that he deserved a contract extension.
There are plenty of teams that still need tackle help, so once free agency starts, Colon's agent will want to make sure that operators are standing by.
San Diego Chargers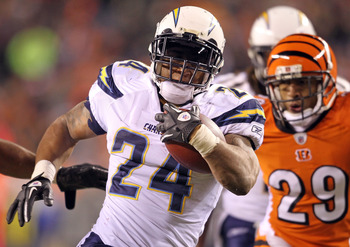 Andy Lyons/Getty Images
Chargers running back Ryan Mathews
When Ryan Mathews was selected with the 12th overall pick in the 2010 NFL draft, the Chargers thought they got a steal. By the time his rookie season ended, the Chargers would admit that they were expecting to get more out of him.
Mathews received 20 carries in the season opener and then never saw that many rushes again until the final week of the season, when he was asked to carry the ball 26 times. That was the way his rookie year went. When the dust settled, Mathews had 158 rushes for 658 yards, seven touchdowns and an average of 4.3 yards per rush.
If he does not crack 1,000 rushing yards in 2011, it would be considered an upset. Look for Mathews to bounce back in 2011.
San Francisco 49ers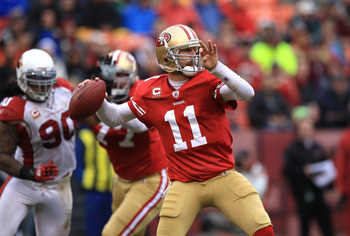 Jed Jacobsohn/Getty Images
49ers quarterback Alex Smith
During this wacky 2011 offseason, quarterback Alex Smith is apparently starting to show greater signs of leadership and taking charge than in any earlier part of his career with the San Francisco 49ers. Maybe it has something to do with the drafting of rookie Colin Kaepernick, or maybe not.
Either way, it is clear that Smith has gone through more than his fair share of different head coaches and offensive coaches on the carousel ride. His head must be dizzy from all the new plays and schemes being thrown at him year after year. However, Smith must share some of the blame for a career mark of 51 touchdowns to 53 interceptions.
If he turns out to have a great 2011 season, it may be that he has learned how to look at things differently and attempt to take charge of what is happening in his immediate environment.
Seattle Seahawks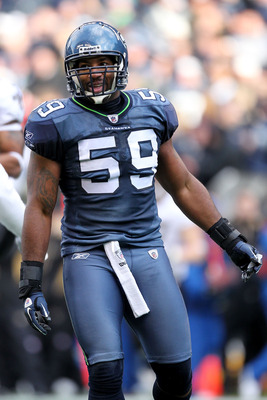 Otto Greule Jr/Getty Images
Seahawks linebacker Aaron Curry
There is a story run by the Tacoma News Tribune that shares that Seahawks head coach Pete Carroll has been disappointed with the pass rush out of linebacker Aaron Curry.
According to the story, Carroll stated that Curry will be used on the strong side at the line of scrimmage on early downs again. Carroll likes his physicality and ability to cover tight ends but said, "He wasn't able to factor in the pass rush as we hoped. He wasn't able to break into the top two rushers."
In his two years in the league, Curry has made 134 tackles, forced four fumbles and made 5.5 sacks, but Carroll thinks that he can do more. I expect him to take this news and use it for motivation and prove that he can step up his game in 2011.
St. Louis Rams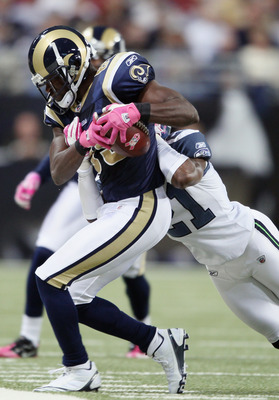 Elsa/Getty Images
Rams wide receiver Mark Clayton
The Oklahoma Sooner connection of Mark Clayton and Sam Bradford looked to be alive and well when the duo connected for 10 passes and 119 receiving yards in the season opener in 2010. But an injury to Clayton changed their fortunes, and Clayton wound up with only 23 catches for the year.
That number is a shame, because it is even a drop in production from the numbers Clayton put up in Baltimore. His receptions there the last four years went from 67 to 48, 41 and 34. Then he got 23 with the Rams.
Hopefully he is healthy coming into the new season, as he will have to battle new Rams rookie wide receivers Austin Pettis and Greg Salas. Expect Clayton to rebound with a better 2011.
Tampa Bay Buccaneers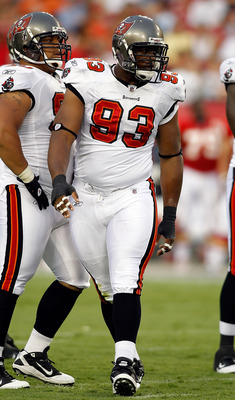 J. Meric/Getty Images
Bucs defensive lineman Gerald McCoy
When you are selected with the third overall pick in the draft, big things are expected of you. That was not necessarily how things turned out for rookie Gerald McCoy and the Tampa Bay Bucs in 2010. When his rookie year ended, McCoy was credited with only three sacks for the year, which was not what the Bucs were envisioning.
So what exactly did the Bucs get from their investment? McCoy made 28 tackles as a rookie, forced two fumbles and defended four passes to go along with the three sacks. Not exactly what you would call Ndamukong Suh numbers, who went one pick before him. Expect McCoy to step up his game and redeem himself in 2011.
Tennessee Titans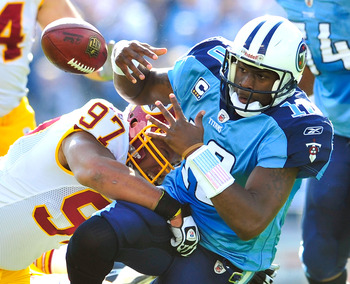 Grant Halverson/Getty Images
Titans quarterback Vince Young
As everyone expects, Vince Young will probably be playing elsewhere in 2011. Maybe that is all he needs—a little change of scenery. Or maybe he simply needs to be far away from Jeff Fisher. Whatever the reasons are, the bottom line is that Young is looking to redeem himself and resurrect his career in 2011.
Young started off playing in 30 of a possible 32 games during his first two years with the Titans. Then things got weird, as he appeared in only half of the games over the next three years (24 out of 48). When you look at his production, his touchdown to interception ratio is not very pretty—42 touchdowns and 42 interceptions, an exact 1:1 ratio, which is far from ideal.
The funny thing is that his 2010 season saw his QB passer rating rise to the highest level of his career, as he finished at 98.6, something that Eli Manning would be proud to claim as his own. So we know there is some talent there. Can Young find a team that will give him the chance to redeem himself in 2011? I have a feeling that it will happen.
Washington Redskins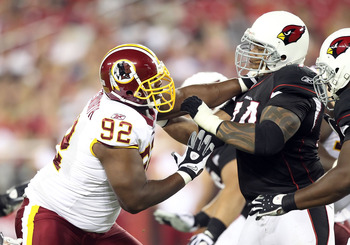 Christian Petersen/Getty Images
Redskins defensive lineman Albert Haynesworth
Is there any one player that needs more redemption in the NFL than Albert Haynesworth? Maybe there is, but it is beyond me. Haynesworth signed the mega-deal with Daniel Snyder and then did everything he could possibly do to make life miserable for Mike Shanahan and the rest of the Redskins organization.
It is still very much up in the air where Haynesworth will be playing in 2011. It seems clear that he has worn out his welcome in Washington. But will he have a short or long career left in the NFL going forward? I think a large part of that answer will be determined by how he follows up his horrid 2010 season and if there is a notable change in his attitude.
The jury is out on this one, but safe to say buyer beware.
Keep Reading