Eli Manning Belongs on the NFL Network's 2011 Top 100 Player's List
July 1, 2011
Chris Graythen/Getty Images
Eli Manning: 4002 yards, 31 touchdowns, and a 62.9 completion percentage. Those numbers belong to a top 100 player in the NFL, right? No, the NFL Network's top 100 list of 2011 says otherwise.
Donovan McNabb: 3377 yards, 14 touchdowns, 15 interceptions and a 58.3 completion percentage. A quarterback with those numbers surely doesn't belong in the top 100? Wrong again: McNabb makes the cut at #100, ranking as the 12th best quarterback on the list.
The NFL Network vote left Eli Manning off of their top 100 players of 2011 list, which includes Donovan McNabb and 11 other quarterbacks. The method and construction of the list has sparked controversy from the onset. There is no set criteria that states whether it is based off of 2010 performances, career performances or a predictor of future performance. Either way, Eli Manning belongs on it.
The biggest argument against Eli being on this list is simply his 2010 performance. Critics will say he turned the ball over too much last year, citing his 25 interceptions last year and five lost fumbles.
However, Drew Brees, a player who will officially make the top 10 on this list, threw 22 interceptions himself in 2010. Brees arguably has some of the most explosive weapons in the league with Marques Colston, Robert Meachem, Devery Henderson and Jeremy Shockey. On the other hand, Eli played without his main targets, Steve Smith and Kevin Boss for significant portions of the year and was forced to turn to unproven wide-outs Hakeem Nicks and Mario Manningham.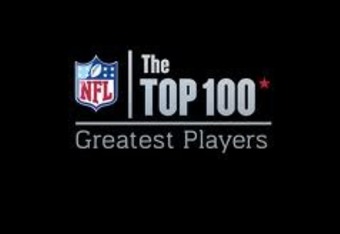 Eli also had to deal with a banged up offensive line with several moving parts: Sean O'Hara, David Diehl and Shawn Andrews all missed time due to injury in 2010. Despite all of this, Eli was still the leader of the fifth ranked offense in the NFL and finished fourth in passing touchdowns and fifth in passing yards among all NFL quarterbacks.
If the top 100 list factors in career success, then Eli's success in the 2008 playoffs greatly enhances his case to be on the list. He led his team to three road wins (Tampa, Dallas, and Green Bay), and then a Superbowl win against an undefeated Patriots team. Not only was this a difficult stretch of play for a wild card team to win a Superbowl, but he also outplayed Tom Brady, Brett Favre, Tony Romo and Jeff Garcia.
Wild Card Round vs Tampa
Manning: 20/27, 185 yards, 2 TD                                                                                            
Garcia: 23/39, 207 yards, 1 TD, 1 INT
Division Round vs Dallas
Manning: 12/18, 163 yards, 2 TD                                                                                         
Romo: 18/36, 201 yards, 1 TD, 1 INT
NFC Championship vs Green Bay
Manning: 21/40, 254 yards
Favre: 19/35, 236 yards, 2 TD, 2 INT
Superbowl vs New England
Manning: 19/34, 255 yards, 2 TD, 1 INT                      
Brady: 29/48, 266 yards, 1 TD
Going into 2011, Eli Manning is coming off a season in which he threw for over 4000 yards and 30 touchdowns, he has a Superbowl win on his resume and a receiving core that has now more depth, talent and experience. Eli deserves to be on this top 100 list.