Matt Schaub: 2011 Breakfast of Fantasy Champions or Just Another Marshmallow?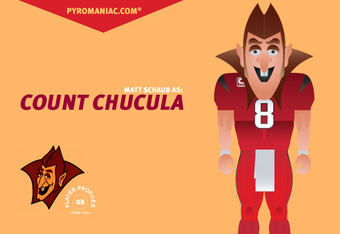 2010 Review: Matt Schaub, No. 8
I wouldn't call Matt Schaub's 2010 season a bust by any means, but coming off his first Pro Bowl selection the year before, it sure was disappointing.
Under normal circumstances, Schaub's 4,369 passing yards and 24 touchdowns would be considered a really good year. However, I suspect fantasy owners would be on opposite sides of the spectrum on this, just as Schaub was during his first two weeks of the season.
In Week 1, Schaub tossed up the least amount of attempts (17), completions (9) and yards (107) he ever has in an injury-free game. Luckily, one of those completions went for a touchdown, so not all was lost for fantasy owners that day.
In Week 2, Count Chucula (as he is sometimes referred to for his propensity to simply chuck the ball up in the air and hope Andre comes down with it) came out to throw the most completions (38) and yards (497) he's ever thrown for en route to a career-best 32.1 fantasy points on the day.
So at this point, the question was which Houston QB would we see for the remainder of the season? Would it be the Week 1 deadbeat who fell on his face and could barely scratch out third-string fantasy stats? Or would it be the Week Two wizard who prompted fantasy owners to get jiggy with their joystick when he single-handedly won them their week?
Will Schaub finally get over the 30-TD hump and put himself back among the Top-5 fantasy QBs?
Turns out owners would get both, though it ended up a long, tough wait for the good stuff as Schaub put together just two decent games between Week 3 and 12.
The beauty of the fickle Houston QB, however, is that over the past few years, Count Chucula has actually become one of the better fantasy closers in the league.
2010 would only add to this reputation.
During the fantasy playoffs over the last three seasons (weeks 14–17; a total of 12 games), Schaub has averaged 323.6 yards, 1.6 TDs and 19.4 fantasy points per game.
In 2010 alone, Schaub would average 320.3 yards, 1.75 TDs and just over 20 fantasy points per game.
Stats like these can win you a fantasy Super Bowl, but only did so if you were one of those super-confident owners who stuck it out with him through thick and thin.
As long as Schaub has Andre Johnson to throw to and a bunch of average to above average complementary players to fill in the gaps (such as Jacoby Jones, Kevin Walter and Owen Daniels), he should have no problem remaining amongst the top tier of fantasy QBs. He might never find himself mentioned alongside Rodgers, Manning or Brady, but if you can hold off on drafting a QB until six or seven other teams have, then Matt Schaub is the guy you'll want to target in 2011.
(Brought to you by PYROMANIAC.COM)
Pros and Cons for 2011
(+) Fantasy Playoffs Stud!!! During the last three fantasy playoffs (Weeks 14–17; 12 total games), Schaub has averaged 323.6 yards, 1.6 TDs, and 19.4 fantasy points per game
(+) Houston still has the most talented WR in the game (Andre Johnson); Schaub knows this and has never hesitated to use him in any situation
(+) Matty seems to be over his "Glass Joe" syndrome as he's now coming off his second straight year without any health/injury problems
(+) Despite Arian Foster's emergence, Houston continues to be a high-volume passing team (seventh, fourth & 10th in passing attempts the last three years)
(+) Owen Daniels should be back at full strength while Jacoby Jones' upside remains high
(+) Though 2010 was considered to be a "down-year" for Schaub, he still put up a total of 4,370 passing yards and 24 TDs while tossing up seven 300-yard games and eight multi-TD games
(+) The surprising birth of superstar RB Arian Foster will force defenses to stay in the box while giving receivers more room to run in the secondary
(–) At the same time, though Foster's abilities may open up space in the secondary, he also demands more touches, thus taking opportunities away from Schaub
(–) Schaub has never been a very mobile quarterback and is starting to take too many sacks because of it
(–) He isn't blessed with the strongest of arms, which not only keeps him from tossing many long-distance touchdowns, but can also lead to too many interceptions
For the rest of Matt Schaub's Player Profile, CLICK HERE
Follow Pyro® on Twitter: https://twitter.com/pyroman1ac
This article is
What is the duplicate article?
Why is this article offensive?
Where is this article plagiarized from?
Why is this article poorly edited?

Houston Texans: Like this team?