New York Yankees: Is Time Running Out for Jesus Montero?
June 29, 2011
Al Bello/Getty Images
It is hard to think that time may be running out for a 21-year-old prospect, but that just may be the case for the New York Yankees' catching prospect, Jesus Montero.
Jesus Montero entered spring training with a great shot at making the MLB roster but it didn't work out for him. Instead, he was sent back down to AAA Scranton. While his batting average is around .290 he isn't hitting home runs like he did last year and he's only throwing out base-stealers at an 18 percent clip.
Montero has also been benched twice this season for lack of hustle and/or energy. He was benched in May and then again for two games in June.
Scranton hitting coach Butch Wynegar believes it's because he's bored at AAA because he believes he should already be at the MLB level.
This is probably very true. Montero has been one of the top prospects in all of minor league baseball for awhile now, so it's not surprising that he may have bought into the hype too much. After his fantastic 2010 season in AAA where he batted .289 with a .517 slugging percentage and 21 home runs, he probably fully expected to be promoted to The Show this season.
However, his lack of defense behind the plate and surprising lack of offense in spring training showed the Yankees that he just wasn't quite there yet.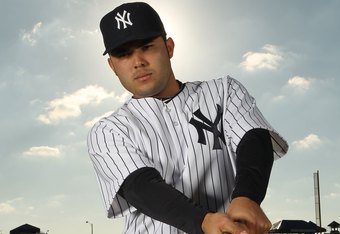 Nick Laham/Getty Images
Montero has missed out on two chances to be brought up: Francisco Cervelli's broken foot and the lack of production by Jorge Posada as the DH. Yes, the Yankees probably believe that being a full-time catcher at AAA is better for his development than being a backup catcher or platoon DH at the MLB level, and they wouldn't be wrong.
What that also means, though, is that time just might be running out on Montero being promoted to the Yankees this season. Jorge Posada is doing much better at the plate in June than he has in the first couple of months of the season so any thought of Montero being used as a DH is slowly going away. If he hasn't shown enough improvement to warrant some time at the MLB level by now, the chances get fewer as the season progresses.
The Yankees can't wait for Montero to be ready because his bat would be a great addition to the lineup. However, the Yankees also have flaws in their roster that will have to be addressed if they want to succeed in October, such as starting pitching. Montero will be the primary player other teams ask for when discussing trades with the Yankees. If the Yankees try to obtain a top-flight starter from another team, chances are they'll have to give up Montero to get him.
I know as a Yankees fan, I'd hate to see them give Montero away. I keep going back to how the Yankees lost Fred McGriff because they had Don Mattingly playing first base. McGriff went on to have a borderline Hall of Fame career and wasn't bothered by injuries the way Mattingly was. Imagine if they kept McGriff and had him DH instead of trading him away. That's the last thing I want to see happen with Montero—have him go somewhere else and become a Hall of Famer.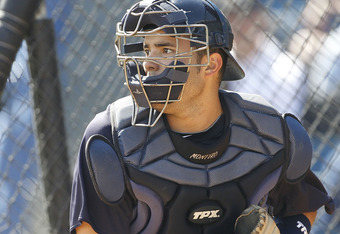 Leon Halip/Getty Images
The Yankees haven't had a hitting prospect like him in a very long time so it would be great if they kept him. However, the realist in me also realizes that he's developing slowly defensively (granted, slowly is a relative term because he's still only 21 years old), there's no clear spot for him in the roster right now and the Yankees do need to address other concerns that Montero may be central to obtaining so. If he is still on the Yankees come August 1, I would be surprised. 
If he's still with the team after the trade deadline, though, it will also be a great sign for the future. Either he has continued to develop so they didn't want to lose him or they weren't willing to give him up for just any starter (meaning the Yankees are trying to make the best deal, not just any deal).
Here's hoping Montero is able to live up to the hype, that he realizes there's still time left for him to prove he belongs (not many players make The Show before the age of 22) and that the Yankees allow him the chance to develop. Montero just might join the ranks of the Yankees catching greats that started with Bill Dickey, then moved to Yogi Berra, Elston Howard, Thurman Munson and recently Jorge Posada.