Boston Red Sox: Opener in Philly Highlights Club's Primary Weakness
June 29, 2011
Drew Hallowell/Getty Images
Baseball is a sport in which even the best hitters fail nearly two-thirds of the time. It is a sport that demands consistency and requires limitless patience and short memories. And it is a sport in which good pitching truly does beat good hitting.
The Boston Red Sox were taught this lesson again on Tuesday, courtesy of Philadelphia's Cliff Lee. With apparent ease, the lefty tossed a complete game shutout, yielding only two hits to MLB's highest scoring team.
Through 76 games, the Sox had scored 409 runs. That's just shy of 5.4 per game, despite the team's terrible April. And yet Lee mowed them down while barely breaking a sweat.
One game doesn't mean all that much, and were the same matchup to be repeated, there is little doubt that Boston would win its share over time. But this one loss is still significant, because it points to what matters most in the playoffs.
Offense will win you the regular season. Offense will earn you a playoff spot. But once the short series begin, it's often the teams with the best rotations that come out on top. Philadelphia is going to be extremely difficult to beat in October because of its top arms:  Roy Halladay, Cliff Lee, Cole Hamels and Roy Oswalt form what is probably the most potent one-through-four combo that baseball has seen in years.
On the other hand, Boston's own rotation is in real trouble.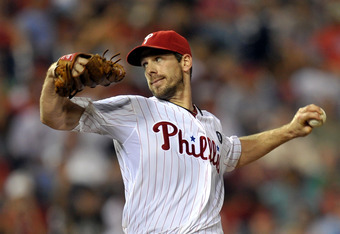 Drew Hallowell/Getty Images
This isn't just about Josh Beckett stumbling on Tuesday. Or about Clay Buchholz's sore back. Or about Jon Lester's uncharacteristic late-spring struggles. It's not just about John Lackey's abominable 2011 or Daisuke Matsuzaka's injury-turned-sayonara.

Rather, it's the cumulative effect of all of these factors combined that should have Sox fans tossing and turning at night.
Despite all the setbacks, things have actually worked out about as well as any of us could have hoped. So far. Tim Wakefield has been mostly solid in his spot-start duties, although he does have an ugly 5.01 ERA in the month of June. Andrew Miller has done everything asked of him in two starts since being called up from Pawtucket; with an ERA of 3.09 over 11.2 innings, he's been just the shot in the arm that the club needed.
But look at the big picture. While Lester will almost certainly improve in the second half of the season, Beckett is likely to experience some regression. Assume for a moment that those two balance one another out, even as both remain generally effective. Buchholz has to prove that his back trouble won't be chronic. Lackey has to prove he can still find the plate.
In short, the Red Sox rotation needs help. And while the team has enough offensive firepower to force its way into the playoffs, making a postseason run will probably require some tinkering.
At this year's trade deadline, Boston must bring in an additional arm. Someone dependable. Someone who is going to throw some good innings with consistent success, and someone who has the durability to avoid the injury bug.

If it's a short-term rental, a guy like the Dodgers' Hiroki Kuroda would be a great addition, and L.A. has made it clear that he's on the block. The cash-starved Dodgers might just be willing to work a bargain-basement deal.
But if the Sox want to take the longer view, they need to dig up someone younger, someone who could stick with the team moving forward. Because Wakefield is almost certainly at the end of the line, and Lackey is a huge, flashing question mark.

A pitcher like Pittsburgh's Paul Maholm might be the answer. At age 29 he's showing some real upside, which suggests that he might be a good back-of-the-rotation type arm in the A.L.
Josh Reddick is hitting enough to help ease the pain of J.D. Drew's failures; once Carl Crawford returns, the Sox could shift Reddick to right field and call it good. And the hope remains that Ryan Kalish will get healthy enough to play this year, which further lessens the pressure in terms of acquiring another bat.
Boston has enough hitting.  With Adrian Gonzalez threatening the Triple Crown, and David Ortiz slugging away, the runs will be there. 
But as solid as Miller has been, and even with Felix Doubront pitching well in Pawtucket, Boston needs an insurance arm. Pitching is the club's biggest weakness, and it must be addressed.