David Ortiz: Not a Real Baseball Player?
June 28, 2011
Claus Andersen/Getty Images
Opinions are great. They fuel debate and are a significant reason why watching and talking about sports are such enjoyable activities.
But an opinion has to make sense. And it has to be defensible. Especially if you're going to throw it out there and share it with the public at large.
Enter the Observer-Reporter's John Steigerwald.
By now you may have seen his latest journalistic endeavor, a piece intent on ripping David Ortiz specifically and the designated hitter in general.  If you haven't, I wouldn't trip over yourself to get to it. But if you have, then you've borne witness to an opinion gone horribly wrong.
It's not that opposing the DH rule is out of line. Plenty of baseball fans want to see it go away, and that's understandable. Purists cite the sport's tradition, some even going nearly as far as Steigerwald in suggesting that to be a complete player, one must both hit and field. So it's not as if Pennsylvania's finest scribe is complete wrong in the idea he's trying to convey. It's his method that leaves so much to be desired.
First, his dissatisfaction is misdirected. He starts off well enough: "I still don't like the designated hitter," he wrote. "I like it even less after hearing Boston manager and New Brighton native Terry Francona whining about it on the radio Friday morning, a few hours before the Red Sox lost to the Pirates."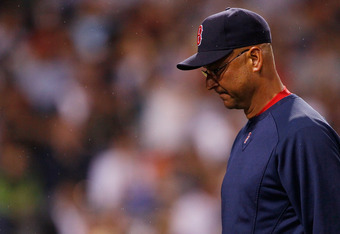 Jared Wickerham/Getty Images
Completely understandable.
Unfortunately, the train then jumps the tracks. Because instead of sticking to the topic at hand, that being the rule itself, he launches a personal attack on Ortiz.
"How pathetic is it that Ortiz is either so fat or uncoordinated that his manager can't find a place for him to play?

Francona also said that the Red Sox had a lot of money invested in Ortiz, and he wasn't going to be responsible for getting him hurt.

Who is this guy, John Daly?

He's such a clod that he risks injuring himself simply by stepping on the field without a bat?

Sorry, if that's the case, David Ortiz is not a baseball player."
I can guarantee Mr. Steigerwald that if Ortiz were to be traded the the Pirates, a reality that few would wish for, he would instantly be the best offensive player on the team. He would absolutely find a home at first base even if his glove work wasn't perfect. There's no question that Ortiz is a baseball player, and a very good one at that.
The National League may be older, but it doesn't hold a monopoly on the definition of the game. Like it or not, the DH rule is part of baseball, and those who play the position (yes, the position) are whole players. They are not, as Steigerwald implies, lazy, out of shape or incomplete.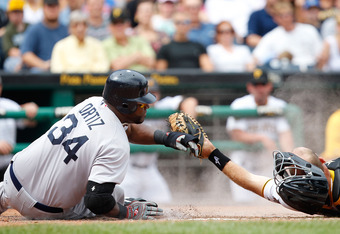 Jared Wickerham/Getty Images
Which is my second issue with Steigerwald's piece.  
If the DH isn't a real player, what about relief pitchers? Many never hold a bat in their hands, even in the N.L. Are they not real players either? What about the guys at the end of the roster who fulfill needs like pinch-hitting or pinch-running or late-inning defensive replacement services. They are often suited to a specific and predefined role that doesn't allow them to undertake all baseball activities. Are they not real players?
Fielding is a part of baseball, just like pitching and hitting. The three primary dimensions. But not everyone participates in all three.
Besides, has Steigerwald never heard an N.L. manager grumble about his starting pitcher spending too much time on the basepaths as a runner? Is he unaware that such situations cause coaches to worry about their hurler's arm and overall well-being?
Managers are paid to worry about their guys and make sure they are put into situations that will allow them to succeed while minimizing risk. All managers. 
The third problem with this nonsense is that Steigerwald's argument is simply flawed. It's not that Ortiz can't play the field, but rather that he doesn't. I can assure Mr. Steigerwald that, having seen Ortiz man first base with my own eyes, he's roughly 1,000 times better than I would be. Even if he was the worst defender in the major leagues he would still be plenty good.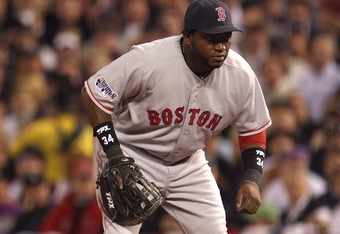 Jamie Squire/Getty Images
Terry Francona's point isn't that Ortiz is incapable of picking up a glove. His point is that because Big Papi doesn't do so regularly, it would be putting him in a risky position. It would also be a detriment to the team's overall defense to have an unpracticed player taking grounders and receiving put-out throws at first.
One needn't be John Daly to get hurt. In fact, I'm not sure that insulting John Daly was necessary or relevant.
In baseball more than in any other sport, the nature of the game leads to injuries. The lack of continuous movement, the stopping and starting, the burst of sudden activity increase the likelihood of muscle pulls, for example.

Bad hops, dives, stretches...they're all fine if you're accustomed to dealing with such moves, but it's unreasonable to expect a player who, by rule, doesn't engage in such activities to be ready and raring to go simply because interleague play has rolled around.
Francona's complaints might have been out of line, and if Steigerwald wanted good fodder for a column, he should have stuck to Tito's whining. Because that, at least, was possibly worth of criticism. Ortiz's talent on the diamond is not.
If Mr. Steigerwald doesn't like the DH, I wonder how he feels about the various other changes to the game. Does he have a problem with relief pitching? Five-man rotations? Night games? Bi-coastal road trips? The 162-game schedule?  Instant replay?  QuesTec? Free agency? Immediate access to video scouting reports?   
Or is his beef with the one rule that happens to apply to the league that doesn't field a team in his area of readership?
His post was little more than a lame and misguided attack on the A.L. and Ortiz.  
We shouldn't be surprised. Sensationalism appears to be Steigerwald's bread and butter, as evidence by the article he wrote about the beating of Giants' fan Brian Stow. In that post he more or less blamed Stow for inviting the attack by wearing a San Francisco jersey. The post has since been removed, but was mentioned by Craig Calcaterra on HardballTalk.com.
The Ortiz bashing is certainly less egregious. But it's cut from the same cloth. And in the end, it is almost as absurd.