2011 Fantasy Football Outlook: Early Fantasy Predictions
June 29, 2011
Ezra Shaw/Getty Images
With the possible acceptance of a new CBA lurking in the not so distant future, football fans are being more optimistic that this long and agonizing NFL lockout will terminate. Hopefully, with the addition of a 2011 NFL season, the game that 20 million Americans obsess over will also resume. 
2011 Preseason Fantasy Predictions
 Studs
QB: Aaron Rodgers (GB)
Aaron Rodgers is a fantasy owner's dream. Forget about all of the Brett Favre talks, Rodgers is building his own legacy in Green Bay. Rodgers has strung together three season in which he has been in the top two in fantasy scoring, pretty impressive if you ask me. He's flawless. he's durable, he's consistent, and he's accurate. Rodgers can also extend the play and make plays with his feet which is an extremely valuable commodity. With an abundance of weapons at his disposal, this is a guy who you know is going to produce every Sunday. 
RB: Adrian Peterson (MIN)
Here's another guy who you know is going to produce every Sunday. Adrian Peterson's astronomical numbers speak for themselves. Averaging just over 1,445 yards and 13 touchdowns a seasons over his last four years, AP is the obvious focal point in this Vikings' offense. Most importantly, it looks like the fifth year guy out of Oklahoma has found a cure to his Fumbleitis that has been bothering him for the past two seasons. 15 fumbles combined in the 2008 and 2009 seasons  has dropped down to one in the 2010 season. A deteriorating offensive line is my only concern.
WR: Calvin Johnson (DET)
Measuring in at 6'5" and weighing 236 pounds, Megatron is a absolute freak. Arguably the most talented wide out in the league, Megatron's speed and strength have fantasy football owners buzzing and NFL secondaries terrified. Not very often do you see a receiver with that size run a 4.3. Detroit's inconsistent play from the Quarterback position is the only thing keeping Johnson away from a incredible season in 2011. Stafford's injury problems are a concern, however, if he can pull of 12-14 games in 2011, watch out for 1,400 yards and 14 touchdowns
Duds:
QB: Matthew Stafford (DET) 
We all know that Stafford has a cannon, however, the inability stay healthy is a concern. Stafford has played 13 games since being drafted by Jim Schwartz and the Lions with the No. 1 pick in 2009. The potential is there, its just that i can't trust Stafford until he proves that he can bang it out for a whole season.
RB: Peyton Hillis (CLE)
After having an incredible start to the 2010 season, the Hillis train really slowed down rushing for a combined 272 yards and zero touchdowns the last five games of the season. I believe that Hillis' best is behind him. With a new Cleveland Offense and Montario Hardesty back in the mix after coming off a season ending injury Peyton Hillis leaves a number of questions unanswered for fantasy owners including myself. Durability and holding onto to the football are enough to keep fantasy owners away.
WR: Brandon Lloyd (DEN)
Like Hillis, Lloyd came out of nowhere last year and had a spectacular season in 2010 with nearly 1,500 receiving yards. With that being said, Josh McDaniels is out of Denver and in comes a conservative John Fox. Lloyd will have to adapt to a new system and possibly unproven Tim Tebow whose only good for making plays with his feet. 
Sleepers
QB: Josh Freeman (TB)
I love Josh Freeman this season. The sky is the limit for Freeman. The young Bucs QB had a spectacular year throwing for over 3,400 yards and 25 touchdowns while only throwing 6 picks on 62 percent completion percentage. Freeman will only grow in '11. He has the size and speed to evade tackles and make plays with his feet, surprisingly he ran for under 350 yards but had no rushing touchdowns, he is deemed to find the end zone at least a couple of times in '11. Gifted with a young and talented receiver in Mike Williams, Freeman will continue to grow in 2011.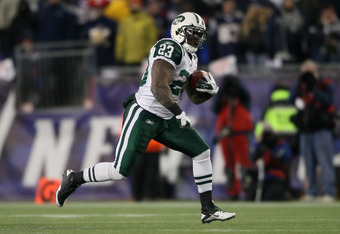 Elsa/Getty Images
RB: Shonn Greene (NYJ)
Coming off a sub par performance in 2010, Greene only saw the end zone twice. I believe that Greene will bounce back in 2011. Sitting behind one of the greatest running backs of this era in LaDanian Tomlinson, he might have picked up a few things. With LT making public that he wants a lighter workload in 2011, and offensive coordinator Brian Schottenheimer saying that "Greene is without a doubt the team's primary ball carrier." Shonn Greene will be the man in Rex Ryan's run heavy Jet offense. Look for Greene to take this opportunity by the horns and have a bounce back season in 2011
WR: Mike Williams (TB) 
I'm all in for this Buccaneers offense. Mike Williams had a fantastic rookie season catching 64 balls for 964 yards and 11 touchdowns. He has extraordinary athletic ability and has great hands. Mike Williams is the deep threat that this offense needs, combined with one of the hottest and developing quarterbacks in the league, this combination will take the league by storm hooking up for a plethora of touchdowns.