Andre Johnson: Why the Houston Texans Receiver Is the Best in the NFL
June 27, 2011
Bob Levey/Getty Images
Since the draft, the NFL Network has filled the lack of programming options in an offseason mired by labor unrest with the Top 100 Players of 2011.  The program, as the name suggests, is a countdown from 100 to one of the best players in the league as voted by the players.
The show has not been without controversy.  Several players including Brian Urlacher and Eric Winston have said on Twitter that they never voted and didn't know anyone who had.  This has led to even more dissention over a list that was sure to create a fair amount of disagreement without any help.
For the most part, the list has been what you would expect.  There are a few players that are lower than they probably should be (Joe Thomas), some players notably snubbed from the list (Matt Schaub), and players that don't deserve to be on the list at all (Donavon McNabb).  Otherwise, there aren't too many surprises.
Every episode, which reveals 10 players at a time, has aired except for the last installment.  Given who has been named and who hasn't, it's easy to tell the remaining players.  Next week will disclose players like Tom Brady, Peyton Manning and Ray Lewis, the only unknown is what order they will be in.
The position that has dominated the list has been wide receiver.  So far, 16 wide outs have been listed, and while Devin Hester and Josh Cribbs probably made the list more for their kick and punt return abilities respectively, WR is by far the most represented group in the elite 100.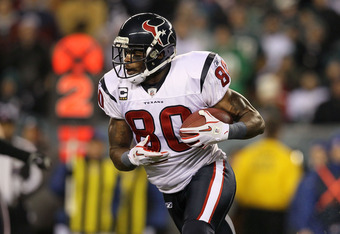 Jim McIsaac/Getty Images
Only one more player from the position is left to be named; Houston Texans receiver Andre Johnson.  This puts him as the highest-rated receiver by both the players, and the fans who have voted on their own list of 100.  While the fans list has yet to be completely announced as well, only the spots left outside of the top 10 are 14th and 18th, which would be an injustice to Johnson.
Is he the best receiver in the league though?  Some would say Larry Fitzgerald (14) would be better if he had a decent quarterback throwing to him.  Others claim that Calvin Johnson (27) is more physically gifted.  Still others laud Reggie Wayne for his consistency.  Is Johnson better than this trio and all the other receivers in the NFL?
Johnson only ranks 10th among active players in both receiving yards (9,164) and receptions (673), though he is at least three years younger than every player who ranks 1-9.  Furthermore, he is the only active receiver who has led both categories for a season twice.
If you take a further look at Johnson's accomplishments, you see that he is in rare company.  Only Hall of Famers Don Hutston, Raymond Berry and Jerry Rice have gained the most yards receiving two years in a row as Johnson did in 2008 and 2009.  Also, Johnson is the only player to accomplish that feat with two totals over 1,500 yards.
One knock you commonly hear from those championing another receiver is the system that Johnson plays in.  The Texans offense under Gary Kubiak is known for producing gaudy statistics that are beloved by fantasy football players everywhere.  Should this be held against the two time All-Pro receiver?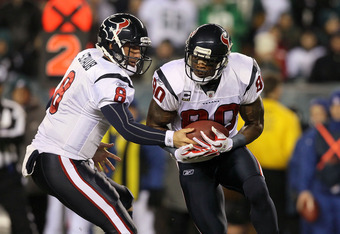 Jim McIsaac/Getty Images
Discounting this theory is that Johnson is currently the all time leader in yards per game with 79.7.  That includes the three years he played in a non-Kubiak offense, and the four years when David Carr was throwing to him which might be an even more amazing feat. 
In fact, despite playing under five different offensive coordinators over his career, he has failed to gain 1,000 yards only twice.  Once was his rookie year in which he was 24 yards short, and the other was in 2007 when his season was cut short with seven games left due to injury.  In that season, by the way, he had 851 yards through nine games.
Johnson has been so consistent on a team whose coaching staff has been anything but is because of his skill set and his attitude.  He can run every route in football effectively from the slant to the nine, and he doesn't mind going over the middle in order to move the chains.
Throughout his career, Johnson has been the opposite of the diva that wide receivers in the NFL are often known to be.  Prior to 2010, when he briefly held out of voluntary offseason workouts to leverage a new deal, he quickly came back to practice and apologized to the coaches and his teammates before an eventual new contract was awarded to him.
Going back to how Johnson stacks up to the best that have ever played the position, he is technically on pace to break Jerry Rice's records of 1,549 receptions and 22,895 yards in 11 and 12 seasons respectively.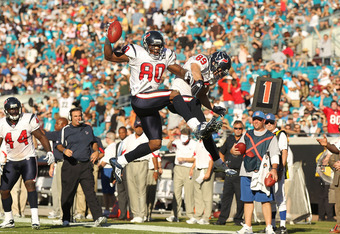 Mike Ehrmann/Getty Images
These records may or may not be obtainable considering that while his pace has increased with Kubiak's offense and Matt Schaub delivering the ball, the older he gets the more susceptible he will be to injury.  This is especially so with Johnson, who as stated before does not shy away from contact.
Even though he may not set records in either category, I bring up Johnson's standing against the man who is regarded as the best receiver of all time for a reason.  What other active receiver would you feel comfortable even mentioning in comparison to Jerry Rice?
He may not be the best of all time when it's all said and done, but if you couldn't answer the question I just posed, then he certainly must be the best right now.
I truly believe that Texans fans are watching the first ever Hall of Fame player from their franchise, which is an extraordinary thing.  After all, the common voting criteria for the entrance into the Hall is that you must have been considered the best at your position during the prime of your career.  I'd say it's safe to say that Andre Johnson fits that category right now.
Don't agree with me that Johnson is the best?  Make your case either in the comments below, or let me know on Twitter (@JakeBRB).