Denver Broncos: The Fans Need New Heroes and These Are Your Candidates.
June 28, 2011
Stephen Dunn/Getty Images
We Broncos fans need new heroes.
When I was a child there was never a shortage of supremely awesome athletes, in orange and blue, that could inspire. The obvious names were John Elway, Shannon Sharpe, Karl Mecklenburg and Steve Atwater.
Terrell Davis was a superstar in his own right, but he came along later.
One of my best childhood friends had a Three Amigos poster on his wall. Not the Amigos that included Chevy Chase, Steve Martin and Martin Short—though they were equally legendary—but the Broncos version: Ricky Nattiel, Vance Johnson and Mark Jackson.
There always seemed to be "those guys," but where have they all gone?
And this question, at least in my mind, ties into the myth that Denver, and all of its quarterbacks in the post Elway era, are doomed to the impossible feat of "replacing" No. 7.
Griese, Plummer, Cutler and Orton did not fail because they weren't John.
Because the real void has never been about replacing Elway: It's really just about finding new heroes who can inspire us the way that John, Shannon, Karl and Steve could.
I know that's hard to imagine in today's sports climate; athletes like Brandon Marshall can dazzle on the field, but then disgrace the uniform by making bad decisions off the field.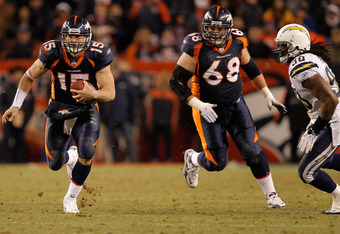 Justin Edmonds/Getty Images
But finding new heroes is still necessary.
That's especially clear after watching Kyle Orton play quarterback for the better part of two seasons.
So who then are the biggest candidates?
We know Tim Tebow is one. He already has enough stardom to bring a lot of attention to the Denver Broncos, and trust me, Pat Bowlen won't overlook this. We already know Tim can sell some jerseys, land an interview with Jon Stewart and the NFL was willing to give a team that finished 4-12 in 2010 quite a number of prime-time games in 2011, including a Monday night showing in the opener against Oakland.
That's all Tebow.
The second part comes when Tebow lives up to the hype, and perhaps more importantly, puts a sock in the mouth of many a critic.  There is reason to believe that Tebow will, and for those who cared to watch with an objective eye, his 2010 season is reason for optimism, not doubt.
In my opinion there has never been an athlete who has been downgraded so much despite overwhelming evidence suggesting he or she is a special kind of athlete. The draft experts were so preoccupied with finding reason to label Tebow a bust-waiting-to-happen that they forgot to lend him the fair treatment that every other prominent draft pick would receive.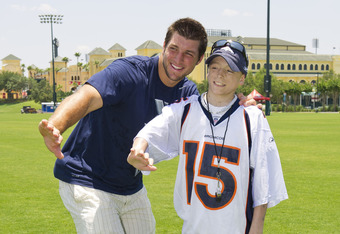 Handout/Getty Images
But Tebow would make a wonderful football hero here in Denver. He lacks the immaturity and petulance that doomed Cutler, and in fact, he's extremely likable if you set aside any and all prejudices. He is also an ultra-talented athlete who is making good on his promise to "get better," forget "mechanics" for just a second here. Oh, and by his own admission, he has been discounted at every level, but now his new goal is to prove all the doubters wrong and be the next great Broncos quarterback.
What's not to love about that?
If we had the Three Amigos in the golden age of Broncos football, it sure looks like we are having a renaissance at that position in this new era of football.
Brandon Lloyd had a remarkable 2010 season, and he has enough ability, speed and agility to best some of the top cornerbacks in the league. He twists, contorts and reaches for a lot of passes that most wouldn't be able to handle. And he made many Broncos fans forget about Brandon Marshall.
So, yes Lloyd is a candidate on this list. Eric Decker and Demaryius Thomas could combine with Lloyd to be the Three Amigos 2.0. Decker is a smart-route runner and has the kind of work ethic and toughness that make him an instant fan favorite. Like Tebow, Decker has a lot of early buzz; he hasn't had enough opportunity to show it on the field, but 2011 could be his year.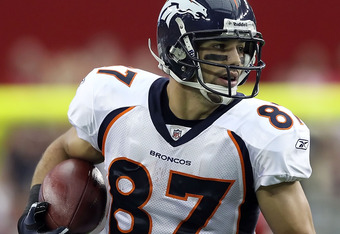 Christian Petersen/Getty Images
Meanwhile, Thomas was been hampered by injuries since he was drafted. He will also miss a good portion of the 2011 season, but when given the opportunities in 2010, Thomas looked the part of a would-be star wide receiver. He has to heal up and stay healthy, but it's too early to give up on his potential.
I left Eddie Royal out of this grouping for a reason; he's been very inconsistent. Plus, he's better situated as a slot-receiver, but my money is on Eric Decker establishing himself as a starter at that position. Royal has speed, and he is a decent option in the return game, but the other guys combine speed and athleticism with good size. I can see Royal getting pushed out.
On the other side of the ball the choice is easy: Von Miller. Miller is the most hyped-up draft pick since, well, Tim Tebow. And like Tebow, Miller has a lot of work to do before he can be recognized as a true NFL superstar. But his athleticism, speed and ability were so impressive that the Broncos had to pass up on taking a player at their biggest position of need, defensive line.
Miller has cornerback speed, but can put the POWTHUMP! on a quarterback like the best of them. Maybe it's fair to say that Miller is Champ Bailey at the linebacker position. Or at least he could be.
Safety Rahim Moore is a ball-hawk and if he makes enough big plays he could find his way into a lot of hearts the same way that Steve Atwater did when he put that crushing hit on Christian Okoye.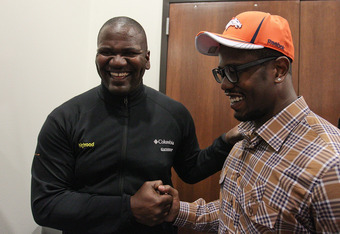 Justin Edmonds/Getty Images
But if you want a sleeper look no further than the last Broncos pick in the 2011 draft—Jeremy Beal. Beal fell in the draft because of a poor combine performance and a supposed lack of speed, but was once considered one of the best defensive ends and pass rushers in college football.
Beal finds his way to the quarterback, and he makes a lot of plays. He can drop back in coverage, he can cause fumbles, he can intercept a pass. The poor combine performance will be a non-issue for Broncos fans the first time he gets his hands on Philip Rivers and spins him around for a 10-yard loss.
It all starts with a successful 2011 season.
Let's hope that Beal, and others, can make a bigger name for themselves starting this year. It's time for a new crop of super cool Broncos, and it's time to replace that Three Amigos poster with something a bit more modern.