MLB Trade Speculation: Phillies and Padres Are Match Made in Heaven
June 26, 2011
Scott Cunningham/Getty Images
Anyone who's watched a game played by the Philadelphia Phillies this season knows the story. In fact, it's been like some sort of recurring nightmare, where you sit down before the game and think to yourself, "I already know what's going to happen." Lately, this team is almost hard to watch, because the theme has been the same: Tremendous starting pitching wasted by a lack of offense.
If that were the lone problem, we may be able to overlook the offensive slump with hopes of a light at the end of this dark tunnel, but low and behold, offensive production is only one of a few maladies for the Phigtins'. They've also been battling injuries since day one, and while the lineup has seen its big names return, the pitching staff is beginning to fall apart.
By now, we've all heard Brad Lidge's story a hundred times over. He hasn't thrown a pitch this season, and while some believe that his return to the bullpen will provide some depth, we don't even know how effective he'll be upon his return.
To add insult to injury, Jose Contreras is on the disabled list with arm troubles for the second time this season, and interim closer Ryan Madson has been unavailable for the last couple of games because of swelling on the back of his right hand, where he took a line drive in that series against the Texas Rangers.
The bullpen, which has actually been one of this team's strong points, is slowly falling to shambles. With Lidge, Contreras and Madson all battling their own demons, moving Kyle Kendrick to the rotation in place of the injured Roy Oswalt only makes matters worse. Now, with almost no veteran presence, the Phillies must rely on young guns like Mike Stutes and Antonio Bastardo to keep them atop the NL East.
While the strength of this starting staff is likely to keep them in ball games, the concern of Charlie Manuel and Ruben Amaro Jr. is well placed. As Bob Brookover pointed out last week, the two do not necessarily agree on the direction the team would like to head in, however. While Manuel has been vocal about the need for a right-handed bat to bring some stability to the lineup, Amaro has been vocal about the need for a veteran arm in the bullpen to provide some late inning relief.
For most teams, adding two pieces that will make an impact on the Major League roster is a tall order, but the Phillies are backed into an exceptionally dark corner. Not only are there few places on the 25-man roster where a move can be made, but with an uncertain financial situation, taking on a lot of salary is not an option. So unlike last year's deadline, taking on a player with a ton of money left on his contract, a la Oswalt, is not an option, even if the player's former team decides to throw some money this way.
So if the Phillies are going to make a deal for both a right-handed bat and a late innings reliever, they'll probably have to come from the same team, and luckily enough, if there is one team that has both types of players and is already in selling mode, it is the San Diego Padres, whom at 33-45 are already 10.5 games out of first place in the NL West.
Very rarely, though, does a team feature two available players that the Phillies need, and in this case, Ryan Ludwick and Heath Bell would seem to make the Padres a match made in heaven. Ludwick, who swings a right-handed stick with power, would bring a bit of balance to the Phils' lineup, while Bell has been one of the best closers in baseball over the last few seasons.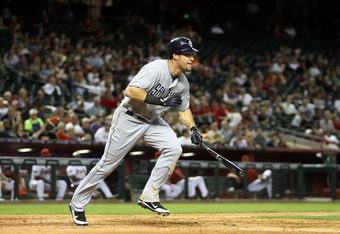 Christian Petersen/Getty Images
Make no mistake about it—PETCO Park in San Diego has gotten inside of Ludwick's head.
The Padres acquired the powerful from the St. Louis Cardinals at last season's trade deadline hoping to get another offensive threat into the lineup, but Ludwick, who's game is predicated on power to the gaps, was never a fit for the Padres. In just under a full season with the Padres, Ludwick has posted a .236 / .313 / .365 line, with just 15 home runs.
Let's not forget, this man was a serious threat for the Cardinals before they had traded him. Before Matt Holliday arrived in St. Louis, he was tasked with protecting Albert Pujols in that lineup and had done a nice job. With the Cardinals, he posted a much more impressive line of .280 / .349 / .507 with 84 home runs over four seasons.
Moving out of PETCO Park and into Citizens' Bank Park, two ball parks on different ends of the offensive spectrum, could pay dividends for Ludwick. As the likes of Pat Burrell and Jayson Werth have shown us in the past, right-handed outfielders who hit the ball in the air are often rewarded here in Philadelphia, and Ludwick, who boasts a 49.8 percent fly-ball rate this season, would likely see a rise in his numbers.
Bell, on the other hand, has been flat out dominant since joining the Padres in 2007. After reaching his Major League low with the New York Mets prior to the '07 season, the Phils' divisional rivals traded him to the Padres for very little in what has become one of the best trades in franchise history for them. He joined the team as a set-up man for then closer Trevor Hoffman, and with the all time saves leader's departure, succeeded him as the Friars' closer.
Since joining the Padres, it seems like all that Bell has done is make quality appearances. He's posted a record of 26-18 with an ERA of just 2.58, converting 110 saves. In each of the last two full seasons he has saved more than 40 games, and in those years, he has been selected to the All-Star Game and won the Rolaids Relief Man Award, which, of course, rewards each league's top reliever. Perhaps more importantly to the Phillies, though, he provides a veteran presence and shut-down mentality to back the core of aces in Philadelphia.
The real question is: What would it take to land this pair of Padres? Bell, who makes $7.5 million for the 2011 season, would cost about $3.75 million if acquired at the trade deadline, and Ludwick, who makes $6.775 million this season, would cost about $3.4 million. Normally, $7 million in salary is a worthwhile investment for a team making a postseason run, but for the Phillies, who are dangerously close to the luxury tax threshold, that could be too much.
The only way that the team would be able to reel in both guys would be if the Padres were willing to pay some of their salaries, and, of course, that would cost the Phillies better prospects. That leads us to wonder what it would  cost the Phils', in terms of prospects, to land this pair, and for that, we look to precedent.
Last season, the Washington Nationals moved their closer, Matt Capps, to the Minnesota Twins for a top prospect in Wilson Ramos. The situations between Capps and Bell were different, but balance out. The Nationals were able to land Ramos because he had two years on his contract, but the Padres should be able to land a top 10 prospect for Bell because of the sheer fact that he is leaps and bounds better than the relievers available.
Ludwick will be much cheaper. If precedent has shown us anything, it's that struggling right fielders with just a few months of time left on their contract will not bring in much, and the Padres, who didn't give up much to land the outfielder, should be happy with a few fringe prospects for him. So with all of the intangibles in mind, proposing a trade turns into a guessing game.
One of the players that would almost assuredly be included in any deal is one of the Phillies "young aces"—the quartet of Jarred Cosart, Brody Colvin, Trevor May and Jesse Biddle, all of whom are in the Phils' top 10.
By process of elimination, you can probably narrow down the most expendable to May. Cosart is the best of the bunch, Colvin is struggling this season and Biddle is a local prospect that the Phils' would like to keep around.
The biggest roadblock after that would be filling out the deal. The Phillies, who have a plethora of talented outfielders in the system, would probably be more inclined to include one or two of them in a deal. While they would fit nicely into the outfield in PETCO Park, rumor has it that the Padres are interested in catching and middle infield prospects—neither of which the Phils' would be inclined to deal, thanks to a lack of depth.
That's a small roadblock, though, and if it came down to having to trade guys like Sebastian Valle or Cesar Hernandez to land Bell and Ludwick for cheap, I imagine the Phillies would jump all over that deal.
In the end, it looks like the Phillies and Padres are trade partners made in heaven. The Phils' are desperate for right-handed offense and a shut-down reliever, and the Padres are rumored to be willing to include salary in any deal if it leads to better prospects.
It's almost hard to imagine a deal not getting done between these two clubs.