Seattle Mariners: Ranking Nick Franklin and Top 10 Prospects Post-Dustin Ackley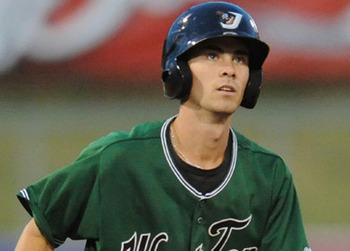 Looking back to spring training this year, the Seattle Mariners' farm system at that point was loaded with potential impact players. Fast-forward to June, and a few of them have gone to play significant roles in the Mariners' season (meanwhile, AAA Tacoma is taking a big hit this season).
Even Dustin Ackley has been called up, so at this point, many would assume that the farm system is effectively devoid of talent. Of nine players to make their rookie debuts this season, five are currently on the ball club. But right now, thanks to some impressive depth in the system, there are still plenty of players honing their skills in the minors, and some may even be able to contribute later this season.
Without further ado, let's take a look at the top minor leaguers after Ackley's ascension to the major league level.
No. 1: Nick Franklin, Shortstop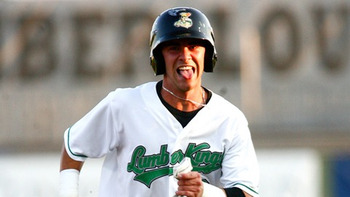 Age: 20
Expected Rookie Year: 2012
Franklin was the other first-rounder the M's had in 2009. Opting to address the infield (think back to Yuniesky Betancourt, Jose Lopez, etc.), they added both Ackley and Franklin. Of course, Franklin, coming out of high school, was expected to take longer than Ackley to develop.
Franklin's strength is his combination of power and speed—he has 20 HR-20 SB upside. He's an instinctual player defensively with good range, although more valuable for his bat. Regardless, Franklin is one of the best young prospects, ranking 31st.
He has had a somewhat slow start down in Class-A High Desert but has since picked it up and was hitting .275 with a .365 OBP and five home runs before he was promoted to AA Jackson. Though he has yet to even play in AAA, he's been a fast riser, and I'd expect him to see major league action partway through next year.
Brendan Ryan seems to have shortstop locked down for now, with Jack Wilson providing bench insurance, but Ryan should just be a placeholder for Franklin until he can take over. However, Franklin could potentially be even better at second base should Ackley (who was drafted as a 1B/OF) feel uncomfortable at second, as has already been hinted at.
No. 2: Taijuan Walker, RHP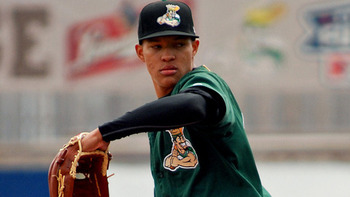 Age: 18
Expected Rookie Season: 2014
Walker was drafted last year with the 43rd overall pick, so he probably won't be reaching the majors for a while. With Single-A Clinton, Walker has posted a 2.40 ERA in 45 innings with a 56:16 strikeout:walk ratio.
For such a young prospect, he has impressive command of his pitches and a fastball in the mid 90s. I haven't gotten much of a look at Walker yet, but from what I've heard his breaking pitches are well developed for his age, and he possesses a good curveball.
He and James Paxton form a nice one-two punch down in Single-A, but he is the superior talent and should be in the M's rotation within a few years.
No. 3: Guillermo Pimentel, Outfielder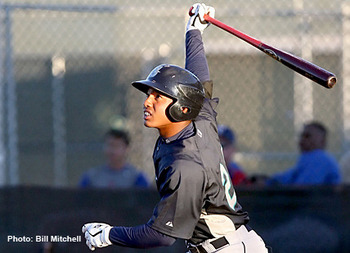 Age: 18
Expected Rookie Year: 2014
Granted, he's as raw and inexperienced as a prospect can possibly get, but the pure power and offensive ability Pimentel has was the reason why Seattle went out and signed him in the first place.
Like many other young hitters, he's going to have to refine his approach at the plate (especially with strike zone discipline), but the upside is sky-high with Pimentel. He played 51 games in a rookie league last year and is just starting up another short-season rookie league this year. That gives him a couple years to rise up through the minors.
Of course, Ichiro is aging, and by 2014 Pimentel could very likely be his heir in right field. It's somewhat possible that he could be an enticing trade piece if the M's were to feel confident in both Greg Halman and Carlos Peguero.
No. 4: Alex Liddi, Third Baseman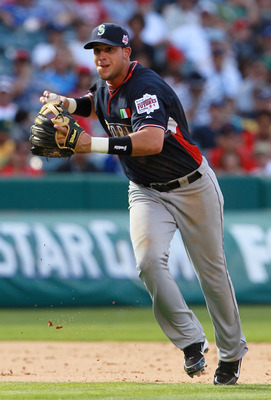 Jeff Gross/Getty Images
Age: 22
Expected Rookie Year: 2012 (Possibly 2011?)
Alex Liddi's a guy I've been high on since the Mariners organization went out and got the Italian. At 6'4", 230 lbs., he's a big player, and that translates well into power in his swing. So far this season in AAA Tacoma, Liddi has 13 home runs, hitting for a .265 BA. Like other prospects, though, he does have the high strikeout problem that will need to be fixed.
Liddi's one of the most probable prospects to be called up during or before September, offensively at least. I don't think it would do him too much good to be sitting on the bench in the majors, but it would benefit him to be seeing major league pitching for a bit.
For now, Adam Kennedy seems to be getting good playing time at third in place of the ineffective Chone Figgins, but Liddi has a chance of being the third baseman of the future.
No. 5: Mauricio Robles, LHP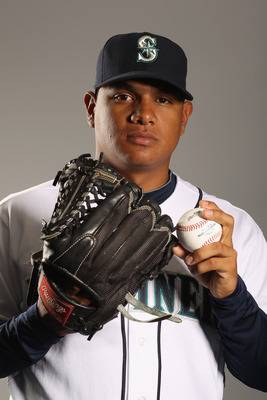 Ezra Shaw/Getty Images
Age: 22
Expected Rookie Year: 2012
Mauricio Robles came over as part of the Jarrod Washburn deal with former Mariner Luke French. He was just activated from the 60-day DL about a week ago, having recovered from surgery to his left elbow.
Robles was actually pretty close to being a Mariner before the surgery, most likely as a back-of-the-bullpen option. I'm not exactly certain if the organization projects him to be an end-of-the-rotation starter or a setup man, but that type of dilemma comes often when dealing with young pitchers.
No. 6: Blake Beavan, RHP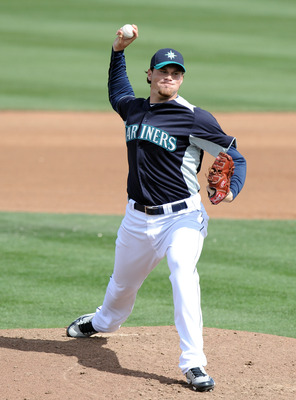 Harry How/Getty Images
Age: 22
Expected Rookie Year: 2011
As you probably remember, Beavan was a smaller piece in the deal that sent Cliff Lee to Texas. At 6'7", 240 lbs., Beavan has a sizable frame—although, if I remember correctly, he does not rely on velocity. Rather, he has an arsenal of three above-average pitches that he can locate for strikes and attacks the zone when he pitches.
Beavan has arguably been AAA Tacoma's best starter, and there's been speculation he might be called up sooner to help take some stress off the shoulders of the fantastic rotation, which really needs some rest if it is to carry the team down the stretch.
Let's just say I'm pretty high on Beavan and believe he has No. 4-5 potential as a future starter in the M's rotation.
No. 7: Johermyn Chavez, Outfielder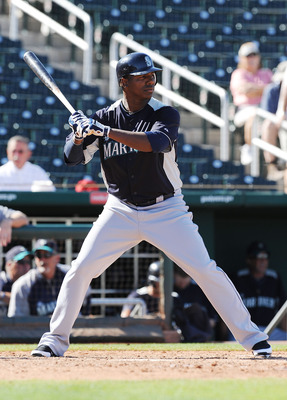 Norm Hall/Getty Images
Age: 22
Expected Rookie Year: 2012/2013
At first glance, Chavez's 2010 numbers were very impressive (32 HRs, 96 RBI) until we take into account that it was in High Desert, where offensive numbers are often inflated. His actual power isn't faux, but he has had a tough time catching up to AA-level pitching (.227 avg.)
Chavez will be a project, but I think with him and Pimentel, the Mariners may take an approach where they basically throw the two against the wall and see who sticks.
No. 8: Dan Cortes, RHP
Ezra Shaw/Getty Images
Age: 24
Expected Rookie Year: 2011
Dan Cortes got an inning of major league pitching experience last year, so he's not the definition of a prospect in its purest form. I'm not terribly high on him either, and personally I think he'll be a decent bullpen arm, but nothing phenomenal.
Cortes hasn't put up noteworthy stats in AAA Tacoma this year, but his power makes up for occasional stints of lack of command. It was a good decision to move him from a starter to reliever—I'd expect Cortes to come up this year at some point and help soak up some innings as a reliever at the least.
No. 9: Kyle Seager, Second Baseman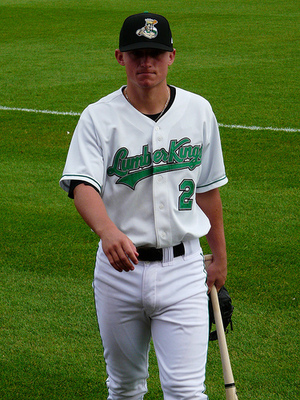 Age: 23
Expected Rookie Year: 2012/2013
Kyle Seager is an infielder who has flown under the radar with Dustin Ackley being hyped as the future of the Seattle infield.
Seager is a prospect I do like quite a bit because, as another writer broke down a while ago, Seager is one of the few prospects who don't strike out a whole lot. Despite being a bit older, he is well polished and makes consistent contact with the ball. He's also got a good eye for the strike zone and has walked more than he's struck out for several seasons.
No. 10: James Jones, Outfielder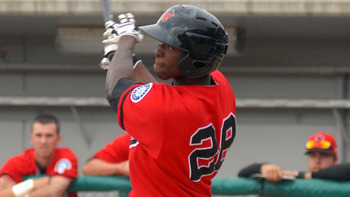 Age: 22
Expected Rookie Year: 2013
At No. 10, I decided to throw in a little "sleeper" of mine, if you will. Jones is an outfielder, but he's also pitched before. At 6'4", 195 lbs., he's a tall guy, and I wouldn't be lying if I told you he is one of the best athletes in the entire organization.
Like many of the players on the list, a lot has to do with speculation and the limited looks we get to have, but Jones has the upside comparable to Pimentel. In other words, he has some of the highest potential in the Mariners organization.
From what I've been able to see, Jones has incredibly quick feet and hands, translating into an all-around speedy skill set. Perhaps if Jones can develop as an outfielder, he could even make Pimentel expendable at some point.
Final Thoughts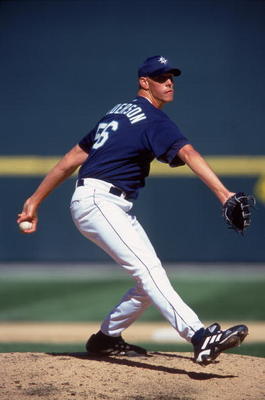 Prospects are young and represent the future of a team. However, it's important to keep in mind that a sizable percentage never realize their potential. In fact, many of the talented players on this list will never achieve success in the majors.
Think about players like Josh Fields and Carlos Triunfel, who are still getting tossed around in the minors (or on the disabled list)—they were once highly heralded prospects, but these days I'm sure the M's would love to unload them for whatever they can get. It's part of the risk, but the reward is a stud like Michael Pineda.
Hope you enjoyed, and I'd love to get feedback and hear your opinions on this group of players.
Keep Reading

Seattle Mariners: Like this team?