NFL Free Agency 2011: Odds These Players Join the Pittsburgh Steelers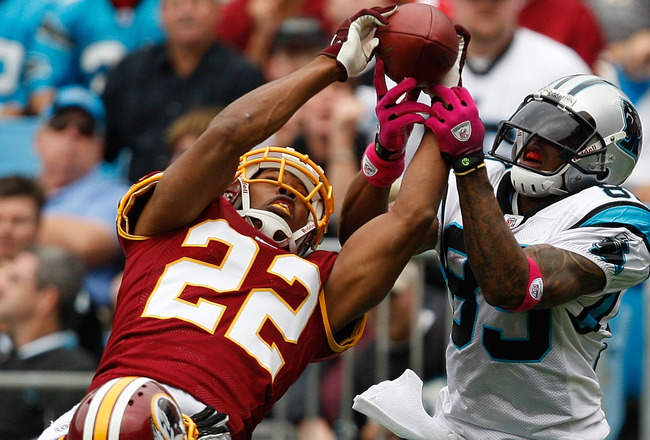 Streeter Lecka/Getty Images
As the NFL season begins to draw near, most of the talk (after the Collective Bargaining Agreement) is about who the Pittsburgh Steelers should sign via free agency for the 2011 NFL season.
Knowing the Steelers were only one TD from winning their record seventh Lombardi Trophy and not having many free agents they need to re-sign, what do the Steelers have to do, and will they do it to make the run at Lombardi No. 7 in 2011?
Here is my list of top free agents and the odds of any of them joining the Black and Yellow.
Included in this list will be the Steelers' current free agents and what I believe will happen with them, then from the rest of the NFL.
In this, I am assuming the new CBA will be based on NFL players needing four years of accrued service prior to free agency, unlike 2010. Basically, the same rules of 2009.
Ike Taylor, CB (Steelers)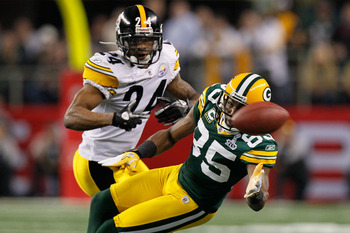 Kevin C. Cox/Getty Images
Yes, the Steelers' best corner back of the last decade, Ike Taylor, is set to become a free agent.
Yes, one of the Steelers' biggest areas of weakness is their secondary.
Yes, Ike Taylor is one of the best available options for the Steelers at this point.
No, the Steelers should not break the bank to re-sign him.
As I pointed out in THIS article, as great as Taylor has been for the Steelers, the reality is his best days are in the rear-view mirror. There is more than likely going to be a team willing to give Taylor Redskins-type of money to join their team.
Taylor brings a good deal of experience to any roster and two Super Bowl rings that will make him an instant locker room leader.
The reality is though, Taylor could not catch a cold if he was soaking wet in downtown Pittsburgh on a January night in below-zero temperatures.
He has benefited from having an amazing defense in front of him, and when he no longer has that, he will be exposed as average at best. With a team probably willing to pay Ike in the neighborhood of $10 million per season, it is better to let Taylor walk away than to over pay him and lose someone like LaMarr Woodley or Lawrence Timmons after the 2011 season.
Odds of Taylor Returning to the Steelers: 30 percent
Willie Colon, OT (Steelers)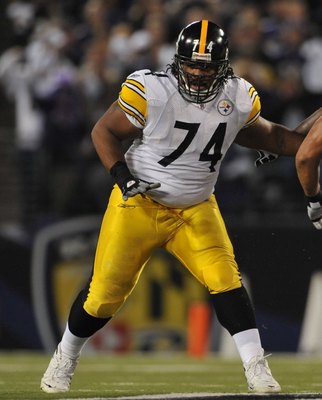 Larry French/Getty Images
The Steelers drafted Willie Colon in the fourth round of the 2006 NFL Draft. After not playing most of his rookie season, Colon started 50 straight games for the Steelers prior to being injured before the 2010 season and not playing a snap.
Some people believe Colon is one of the best linemen the Steelers have—sorry, I just don't see it.
The reality is the Steelers' offense was as good, if not better, WITHOUT Colon than it was WITH him. Yes, the addition of Flozell Adams made a world of difference, but if a 35-year-old man who many thought was washed up could be an improvement over Colon, then maybe it is best to leave him alone, and let him walk away.
Colon stated, through his agent, when the Steelers tendered him prior to the lockout that he would not be coming back to Pittsburgh; so, odds are, he won't be.
Colon will be free to look for employment elsewhere, and I am sure he will find it. Some team is going to sign him despite coming off a torn Achilles tendon for a lot more than the Steelers are going to be willing to pay him, and he will go elsewhere.
And when he gets there, he will be exposed for being average and now, overpaid.
Odds of Colon Returning to the Steelers: 5 percent
Chris Hoke, NT (Steelers)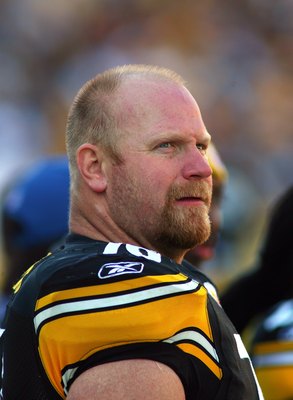 Rick Stewart/Getty Images
Chris Hoke has been a valuable back up to Casey Hampton for the last decade, but there are a lot of teams that have switched to the 3-4 base defense, which makes Hoke more valuable.
Even though Hoke was drafted in 2000, he didn't see any playing time until his fourth season, at which time he became the solid back-up for the Steelers.
Though Hoke is getting up there in age, the reality is the Steelers have no one to replace him at this point. The only way Pittsburgh doesn't try to get Hoke back is if they bring in another player who is younger and cannot only do as well as Hoke, but could be the eventual replacement for Hampton.
Odds of Hoke Returning to the Steelers: 75 percent
Plaxico Burress, WR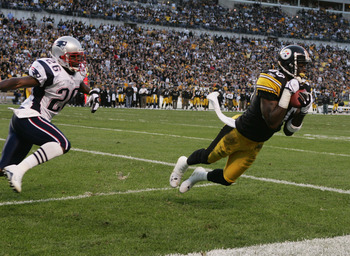 Andy Lyons/Getty Images
Plax is one of the players I have a hard time gauging. Though the Steelers may be set at the WR position, odds are the Steelers are going to take a look at him once the lockout is over.
Burress is still friends with Ben Roethlisberger, along with other players still on the team—Hines Ward included. He brings something to the table the Steelers have not had since, well, he left to join the Giants: a big target who is a red zone threat.
He is also going to come in on the cheap, and a coach like Mike Tomlin, who has a great relationship with his players, can give Burress something he has yet to have as a professional: a coach who respects him.
Cowher and Coughlin are two coaches cut from the same mold. Burress needs a coach who is more than someone who gets him.
Tomlin will, and Burress will shine again with a return to Pittsburgh.
The only real question is, will Plax take the kind of money the Steelers are going to offer him?
Odds of Burress Joining the Steelers: 45 percent
No-Chance Players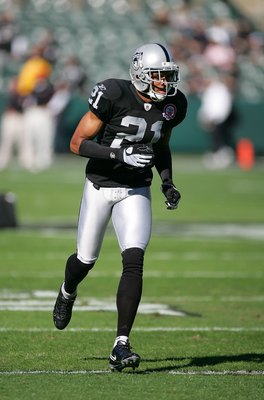 Ezra Shaw/Getty Images
There are some players, regardless of ability, whom the Steelers simply won't even talk to. Those players, as talented as they may be, WILL NOT be in Black and Yellow in 2011.
Nnamdi Asoumugha, CB: No way are the Steelers going to get into a bidding war with the likes of the Washington Redskins, Dallas Cowboys or Philadelphia Eagles. It is just not going to happen.
Logan Mankins, G: As a franchise player for the Patriots, the Steelers would have to give up two first-round picks. They would not go after him even if it would only cost them a single first-rounder.
Santonio Holmes, WR: If the Steelers wanted him, they would have kept him.
DeAngelo Williams, RB: With Rashard Mendenhall as the starter and Isaac Redman proving he is a quality backup, there is no need for Williams.
Reggie Bush, RB: See DeAngelo Williams.
Cornerback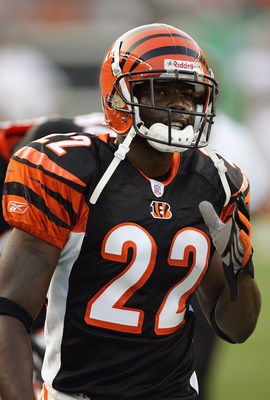 Gregory Shamus/Getty Images
Assuming the Steelers allow Ike Taylor to leave via free agency, they are more than likely going to be looking for his replacement in the free agent market.
The odds of the Steelers signing ALL of these players is 0 percent; instead, the percentage is based on each individual.
Jonathan Joseph (Bengals): Joseph would be a quality replacement for Taylor because he is similar to the style of player Taylor is; good at coverage, not afraid to hit someone and taking a player from the Bengals would only be a plus.
Odds: 30 percent
Antonio Cromartie (Jets): Cromartie likes to talk, not only on the field, but off it as well. He is not the type of player the Steelers are going to pay top dollar for.
Odds: 10 percent
Carlos Rogers (Redskins): Rogers spent most of 2010 in the shadow of DeAngelo Hall, even though he spent most games covering the other team's best WR.
Odds: 30 percent
Brent Grimes (Falcons): Grimes has improved every year since joining the Falcons as an undrafted player. Atlanta's defense was not exactly their strong point, which hurts Grimes' value, but could be a reason the Steelers go after him.
Odds: 25 percent
Richard Marshall (Panthers): One of the few bright spots for the Panthers in 2010, Marshall was one of the best players on a bad team. Like Grimes, that could increase his odds of joining the Steelers.
Odds: 35 percent
Offensive Line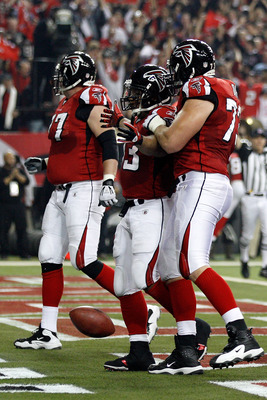 Chris Graythen/Getty Images
The Steelers have finally found the link to their offensive line for the next decade-plus by drafting Maurkice Pouncey. Every other position, however, could use an upgrade.
Tyson Clabo (Falcons): A quality starter on the right side for the Falcons, odds are Clabo is going to be their top priority once the new CBA is agreed upon.
Odds: 10 percent
Jamaal Brown (Redskins): Brown is not exactly what the Steelers need, as they already have enough aging, average players on their line. If he were to join the team for depth, that would be one thing. As a starter though?
Odds: 10 percent
Doug Free (Cowboys): One of the reasons the Cowboys allowed Flozell Adams to leave was because of Free's play. Free would be a great addition to the Steelers and would again push Adams out of a job.
Odds: 25 percent
Jared Gaither (Ravens): In talking to Ravens fans, Gaither is really no better than Max Starks. If Starks is healthy, then there is no use for Gaither; if Starks is healthy, the odds go down.
Odds: 20 percent
Defensive Tackle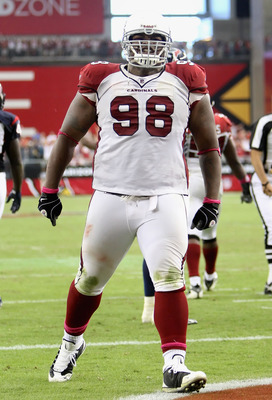 Christian Petersen/Getty Images
The Steelers' defensive line is set into the future with the first-round selection of Cameron Heyward on one side, and Ziggy Hood on the other.
The Steelers' real need is in the middle, so that is the only position I can see Pittsburgh addressing in free agency.
Gabe Watson (Arizona Cardinals): Watson has not exactly had an amazing career to this point with the Cardinals, and he is set to become a free agent. Remember, Watson has played with the Cardinals, and they are not exactly known as a defensive powerhouse.
Odds: 50 percent
Aubrayo Franklin (San Francisco 49ers): Having started his career in the AFC North with the Baltimore Ravens, Franklin knows what it would take to be a Steeler. He has the size to eventually replace Casey Hampton in the middle of the Steelers' 3-4.
Odds: 30 percent
Barry Cofield (New York Giants): Though he would have to bulk up to play the middle of the 3-4, Cofield is no longer needed in New York and could join the Steelers.
Odds: 10 percent
Wild Cards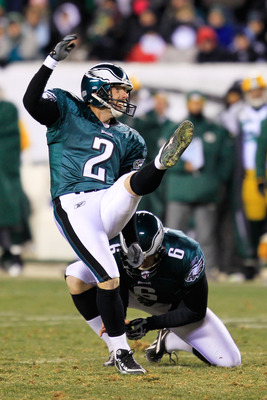 Chris Trotman/Getty Images
The following is a list of players who could end up on the Steelers' roster. None of them are at a position of need, but the Steelers' way is to bring in players PRIOR to actually needing them.
Here are players at other positions the Steelers COULD consider signing.
Running Back
Le'Ron McClain (Baltimore Ravens): A power back who could be used as a blocker and short-yardage back, taking McClain from the Ravens would help the Steelers and hurt the Ravens, making him worth twice what most other players are worth.
Safety
Dewan Landry (Baltimore Ravens): Though safety is not really considered a need with the Steelers, if Troy Polamalu gets injured, the Pittsburgh defense suffers. Though Landry is not NEAR the quality player Polamalu is, he is better than any other option the Steelers currently have on the roster.
Kicker
David Akers (Philadelphia Eagles): Akers has had a great career, and the Eagles—having drafted his replacement—don't need him anymore. Don't be shocked if the Steelers bring him in for a tryout.
Keep Reading

Pittsburgh Steelers: Like this team?