Simply Amazin': 5 Reasons Why Mets Manager Terry Collins Is Best in Baseball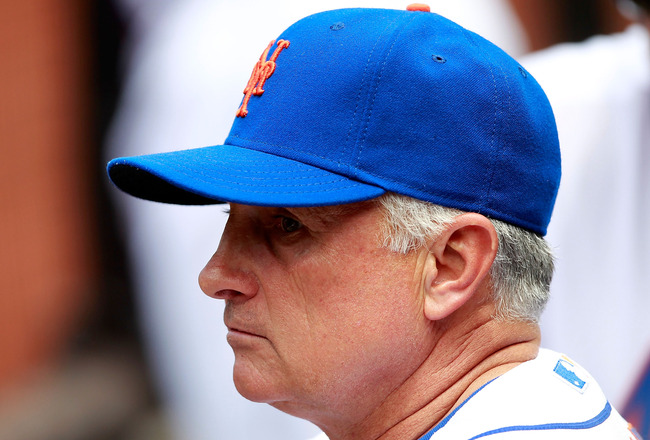 Chris Trotman/Getty Images
Coming into 2011, expectations were about as low as they could be for the Mets, five seasons removed from their 2006 NLCS run. Around New York, the team was a joke. Experts were picking the team to a fourth place finish, maybe 70-75 wins. Manhattan Mini Storage even centered their advertising campaign around the futility of the Mets by asking fans "Why Leave a City that has Six Professional Sports Teams and Also the Mets?" They were basically a joke.
It appears as if someone forgot to tell Terry Collins. The first year manager has taken this team, mismatched with a slew of players who should be in the minors and put them into wild card contention. Even with their disappointing loss last night at the hands of the Braves, the Mets are just 4.5 games out of the wild card and are very much alive as 92 games remain in the season.
Here are five reasons why he deserves the manager of the year award for the National League.
5. No Wright? No Davis? No Santana? No Problem.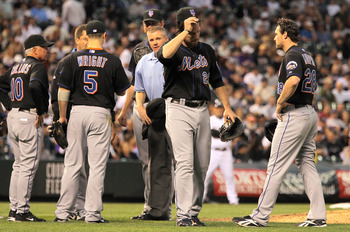 Doug Pensinger/Getty Images
You would think that when a team centered around players such as Ike Davis and David Wright both went out with prolonged injuries that the team would suffer? That makes sense, doesn't it?
Well, that has not been the case exactly. Since the injuries to Ike and Wright, the Mets are 17-15, which is somewhat miraculous, seeing as nearly their entire offense is based around the production of those two players. The Mets also have to deal with Jason Bay, who, although he has been healthy for most of the year, has just 12 RBI's on the season and is hitting near the Mendoza line. With these three key players not producing, you have to give Collins credit.
They have also suffered injuries with Chris Young, who was the best pitcher in the rotation in the beginning of the year before he had season ending surgery. Also, their ace pitcher Johan Santana has been on the DL all year.
4. Resiliency After Early Season Struggles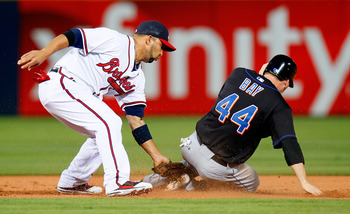 Kevin C. Cox/Getty Images
The Mets started out 5-13, the worst record in the Major Leagues. Everyone was saying, "here we go again", and "I told you so", but somehow, the team fought and made their way back to .500 with a 22-22 record on May 20th. They then continued to struggle, losing eight of their next 11 games. However, they kept clawing back in the standings despite dropping so many games with late inning bullpen meltdowns to get back to .500 at 34-34.
It seems that every time they lose a heartbreaker, they come back the next night and post a statement win. With baseball, you have to have a short memory or tough losses will linger, and Terry seems to have relayed this message along nicely.
3. Winning Despite off-Field Distractions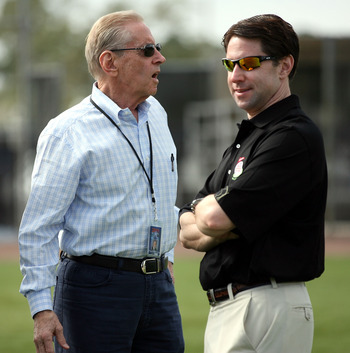 Marc Serota/Getty Images
You would think that when the owner of team tells the media that he think the team is not only "s**tty" but is also cursed, that there might be some lingering effect.
Not so much it seems.
Jeffery Toobin's article in the New Yorker with Jeff Wilpon highlighted an amazing career for the Mets owner, but it also showed a lack of respect for the team that he is fielding. He said that Jose Reyes, who is in the final year of his contract with the Mets, will not receive "Carl Crawford Money", which is in reference to the 140 million dollar contract that the Red Sox gave Crawford. He said that David Wright was a good player, but not a superstar.
Someone better try to tell Reyes he isn't worth Crawford money. He is currently leading the NL is batting average, hits, triples, second in doubles to Carlos Beltram, and second in steals to Michael Bourn.
2. Triple-a Players on Major League Team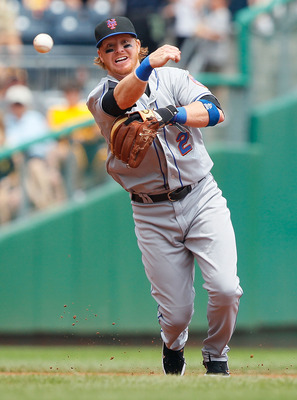 Jared Wickerham/Getty Images
During spring training, the focus was on second base and who would get the job. It was between Brad Emaus, Daniel Murphy. Justin Turner and Ruben Tejada.
We can all look back on that now and have a good laugh.
Within the first one and a half months of the season, they all played second base, including Emaus, who was released because of poor hitting. Murphy, Turner, and Tejada are all in the lineup for the Mets, with Murphy at first, Tejada at second and Turner at third. With the injuries to Wright and Ike, these three have contributed a lot. When Pagan went on the DL with an oblique injury, Jason Pridie came up and played great defense and hit the ball really well, crushing three homeruns, including a game-winner against the Dodgers.
1. He Can Relate to the Players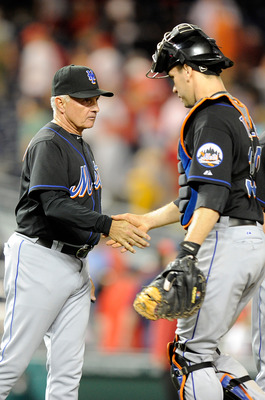 Greg Fiume/Getty Images
One of the major criticisms with Collins when he was managing with the Angels was that he was too distant, too intense, too focused on winning. Not to say that it has changed in New York...he is still the firey man that got him ousted in Anaheim.
However, he seems to have found a way to be that passionate man but relate it to the players. He is a players manager now and listens to them. He gets them days off when they need them, and he gives the bench players games when they need to build confidence. If a player is struggling, then he gives them a fair shot to prove that they are capable.
But at the same time, if they don't produce, he understands that this is a business and that player will likely be spending some time in Buffalo. He gets worked up, but it's all to motivate his team. He seems to have really matured and now understands that baseball is played by people, which is without a doubt a key reason the Mets are playing as well as they have.
Keep Reading

New York Mets: Like this team?