L.A. Dodgers: The 10 Best Draft Picks in Team History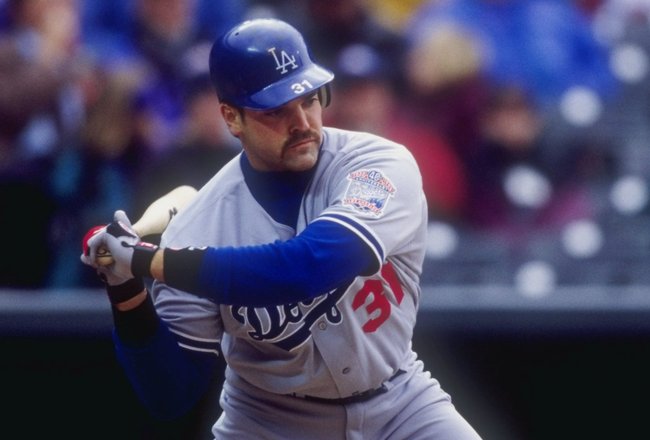 Brian Bahr/Getty Images
Selecting the right players in the MLB Draft can be nearly impossible.
As opposed to a sport like basketball where a seven-foot frame and great athleticism can just about guarantee NBA success, baseball is a whole lot trickier.
If you think that Michael Olowakandi, the No. 1 overall pick in the 1998 NBA draft, was a bust, for example, then what can you say about Bryan Bullington? Bullington was the No. 1 overall pick of the 2002 MLB Amateur draft, but he was just 1-9 in his major league career before being released by the Kansas City Royals last November.
Since the first Major League Baseball Amateur Draft was held in 1965, there have been countless examples of athletes being drafted in the first round, only to spend their entire career in the minor leagues. However, at the same time, there have been numerous players selected anywhere between the ninth round and the 75th round that have gone on to have successful major league careers.
After all, there are so many factors to look at when drafting a baseball player that even the best scouts and general managers tend to be wrong most of the time.
The Los Angeles Dodgers, like all other teams, have had their share of busts. However, the following 10 guys were great draft picks.
10. Bob Welch, SP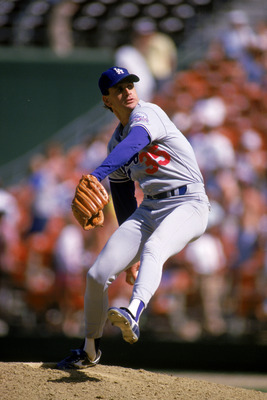 Stephen Dunn/Getty Images
Welch is perhaps best remembered for his impact on the great Oakland A's teams of the late 1980s and early '90s. However, he spent the bulk of his successful career with the Los Angeles Dodgers.
Originally drafted by Los Angeles in the first round of the 1977 amateur draft, Welch was 115-86 as a Dodger with an impressive ERA of just 3.14. He pitched in four different postseasons for the Dodgers, including the 1981 World Series-winning team.
However, the Dodgers traded Welch in 1987, when he was 30 years old and still very much in the prime of his career, for Alfredo Griffin, Jay Howell and Jesse Orosco. Welch went on to pitch in three different World Series for Oakland, including the 1989 championship team. He also won the AL Cy Young Award in 1990.
Welch's 27 wins in 1990 with the A's are the most of any pitcher in a single season since Denny McLain had 31 with the Detroit Tigers back in 1968.
9. Clayton Kershaw, SP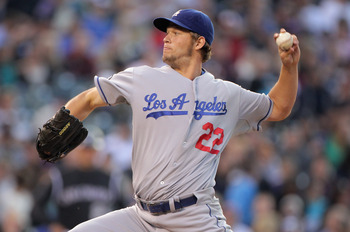 Doug Pensinger/Getty Images
Kershaw didn't turn 23 years old until this past March, but he seems like a lock to eventually go down as one of the best Dodger draft picks of all time.
The Dodgers selected Kershaw with the seventh overall pick of the 2006 amateur draft, and he flourished right off the bat. He pitched very well at the Rookie level, Single-A and Double-A before being called up to the big leagues when he was just 20 years old.
Since making his major league debut in the middle of the 2008 season, Kershaw has been excellent. He has a great career ERA of 3.21 and has consistently been among the leaders in strikeouts and batting average against.
Kershaw is already the clear-cut ace of the Dodgers pitching staff, and along with some other talented young pitchers like Felix Hernandez, Tim Lincecum and Josh Johnson, he is expected to continue to dominate the league over the next decade.
8. Steve Sax, 2B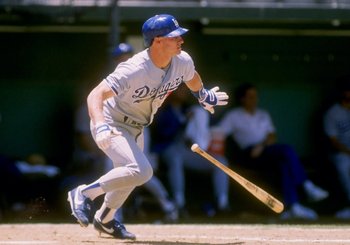 Stephen Dunn/Getty Images
Sax was never a great hitter, or even a very good fielder, for that matter, but he was a key member of several successful Dodgers teams during 1980s.
A ninth-round draft pick of the Dodgers in the 1978 amateur draft, Sax enjoyed success very early on. During his rookie season in 1982, Sax hit .282 with 49 stolen bases. That was enough to earn him Rookie of the Year honors, as well as a spot on the NL All-Star team.
However, in Sax's second season, he really struggled in the field, committing 30 errors at second base. He improved slightly in the field as his career went on, but still committed a lot of errors for the second base position.
Throughout his Dodger career, Sax was viable as the leadoff man. He consistently hit between .280 and .290 and almost always finished among the NL leaders in stolen bases.
Overall, Sax played on four different Dodger playoff teams. He is perhaps best remembered for being the leadoff man on the 1988 World Series-winning team.
7. Matt Kemp, CF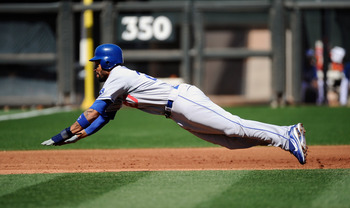 Kevork Djansezian/Getty Images
Despite his incredible athleticism, Kemp wasn't drafted by the Dodgers until the sixth round of the 2003 amateur draft.
A true five-tool player, Kemp is one of the most prolific athletes in the game and seems to be getting better each season.
Currently in his sixth year with the Dodgers, Kemp has been fantastic all season (.332, 20, 56) and is an early candidate to win the NL Triple Crown.
He currently leads the NL in slugging percentage (.641), OPS (1.052) and wins above replacement (4.4). Best of all, he seems to never get injured, having only missed three games in the past three seasons combined.
Kemp is still just 26 years old and may still have his best years ahead of him, which is a scary thought.
6. Ron Cey, 3B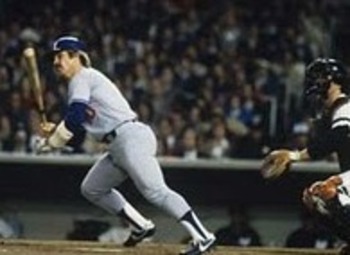 Cey was drafted by the Dodgers in the third round of the 1968 draft, and before he was traded to the Chicago Cubs after the 1982 season, he had already become the all-time L.A. Dodger leader in home runs.
Nicknamed "penguin," due to his unique running style, Cey was amazingly consistent for the Dodgers year after year. Despite never hitting more than 30 home runs in a season, Cey still managed to hit 228 home runs with Los Angeles and was a six-time All-Star. He also had a great eye, which contributed to his solid on base percentage (.359) despite a mediocre batting average (.264).
Along with Steve Garvey, Bill Russell and Davey Lopes, Cey is famous for being a part of the Dodger infield of the 1970s and early '80s, which remained the same for a record nine consecutive seasons.
After 12 seasons and three failed trips to the World Series, Cey finally earned a World Series ring with the Dodgers in 1981. He hit .350 in the series and earned World Series MVP honors.
5. Eric Karros, 1B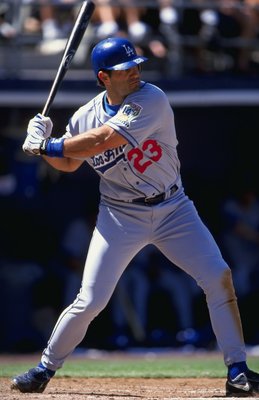 Todd Warshaw/Getty Images
Karros was never an All-Star, but he enjoyed several big seasons with the Dodgers.
The pride of UCLA, Karros was a sixth-round pick of the Dodgers in 1988. He was a consistent 30 home run, 100 RBI hitter, accomplishing the feat four times in a five-year stretch between 1995-2000.
Throughout his major league career, Karros consistently got off to slow starts, which was one of the main reasons he was never selected to an All-Star team. However, in 2000, just the opposite occurred. He hit 25 home runs and drove in 70 runs before the All-Star break, but really struggled the rest of the way (six home runs, 36 RBI).
After the 2000 season, Karros was never able to regain his power stroke and went on to spend the final two seasons of his career with the Chicago Cubs and Oakland A's. However, before is departure from Los Angeles, he had already become the all-time Los Angeles Dodgers leader in home runs with 270.
4. Davey Lopes, 2B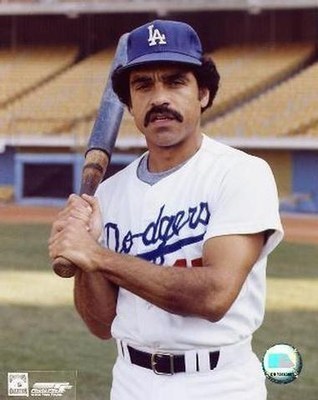 1968 was a great year for the Dodger franchise.
Although they finished 21 games behind Bob Gibson and the St. Louis Cardinals, they drafted several vital pieces for their successful 1970s and early 1980s teams. This includes the likes of Steve Garvey, Ron Cey, Bill Buckner, Bobby Valentine and Davey Lopes.
A second-round pick in the January 1968 draft, Lopes was the everyday leadoff man for the Dodgers from 1973-1981. He was a complete player that could hit for power, steal bases, play good defense, and draw walks.
Perhaps Lopes' most impressive skill was his ability to consistently steal bases at an efficient rate. During his Dodger career, he stole 418 bases in just 503 attempts (83 percent), which is a better percentage than Rickey Henderson, Lou Brock or Ty Cobb.
Currently serving as the Dodgers first base coach, Lopes is an all-time Dodger great, as well as one of the best draft picks in franchise history.
3. Mike Piazza, C
Jed Jacobsohn/Getty Images
In the 46-year history of the MLB First-Year Player Draft, Piazza might be the biggest steal ever.
After being selected by the Dodgers in the 62nd round of the 1988 draft, Piazza tore it up in the minor leagues. With Triple-A Albuquerque, back in 1992, Piazza hit .341 with 16 home runs, which really impressed the Dodgers.
Before the start of the 1993 season, Piazza was named the Dodgers' starting catcher. He thrived in the majors right away, hitting .318 with 35 home runs and 112 RBI, while earning NL Rookie of the Year honors.
After his great rookie season, Piazza continued to put up excellent numbers, highlighted by a 1997 season that is arguably the greatest hitting season for a catcher of all time. That season he hit .362 with 40 home runs and 124 RBI, while finishing second in NL MVP voting to Larry Walker (.366, 49, 130).
Overall, during Piazza's five full seasons with the Dodgers, he hit above .300 every year, while averaging 33.4 home runs and 105 RBI per season. However, he was eventually traded, towards the beginning of the 1998 season, in a deal that brought Gary Sheffield to the Dodgers.
Piazza is generally regarded as the greatest hitting catcher of all time, which is unbelievable for a 62nd-round pick.
2. Orel Hersheiser, SP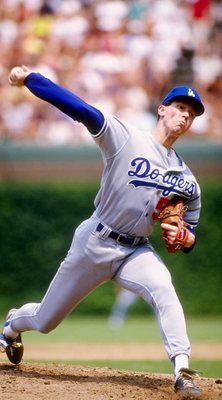 Jonathan Daniel/Getty Images
Originally drafted by the Dodgers in the 17th round of the 1979 amateur draft, Hersheiser was for a six-year stretch between 1984-1989. However, he will forever be remembered for everything that he accomplished during the 1988 season specifically.
In 1988, Hersheiser led the NL in wins (23), shutouts (eight) and innings pitched (267), while earning NL Cy Young honors in the process. That season, he won a Gold Glove Award and also pitched a major league record 59.1 consecutive scoreless innings to close out the season.
Once the 1988 postseason started, Hersheiser managed to become even more effective, earning both NLCS MVP and World Series MVP honors.
Besides doing it all in 1988, Hersheiser finished among the top four in NL Cy Young voting three other times and was a pretty good hitting pitcher as well.
Hersheiser eventually signed as a free agent with the Cleveland Indians in 1995 and had some success there. However, his legacy will seemingly always revolve around the 1988 season.
1. Steve Garvey, 1B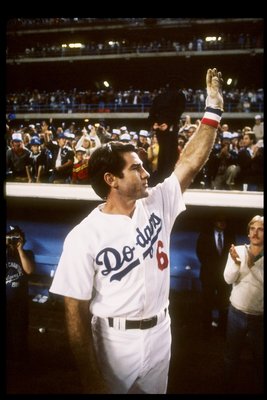 Getty Images/Getty Images
Garvey was very popular during his time in Los Angeles and is certainly one of the most accomplished L.A. Dodgers ever.
Originally taken by the Dodgers in the first round of the 1968 amateur draft, Garvey was an integral part of the successful 1970s and early '80s Dodger teams.
During his 14-year Dodger career, Garvey was an eight-time All-Star, a four-time Gold Glove winner, a World Series champion in 1981, as well as the 1974 NL MVP.
However, Garvey is perhaps most famous for playing in an NL record-1207 consecutive games from 1975-1983.
Garvey is the all-time L.A. Dodger leader in RBI (992) and doubles (333). He also ranks second in hits (1968) and third in runs (852).
Keep Reading

Los Angeles Dodgers: Like this team?