Josh Cribbs: The Cleveland Browns Return Specialist's Top Career Moments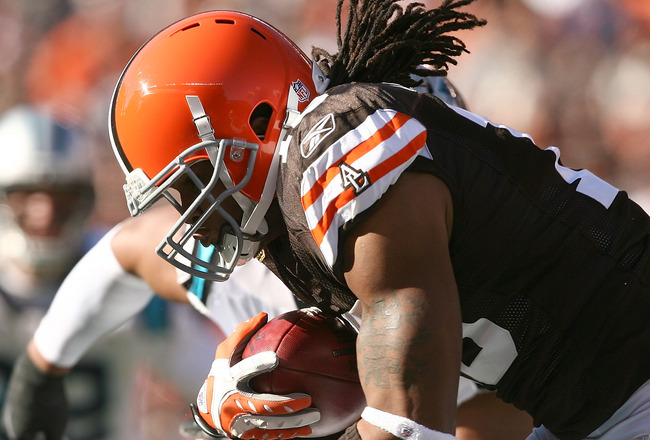 Matt Sullivan/Getty Images
Once upon a time in 2005, a quarterback from Kent State University shattered just about every school passing record there was. He became the all-time offensive yardage leader with 10,839 yards, the leader in passing yardage with 7,169 and the leader in touchdowns with 41.
He broke countless other school records as well, but alas, when the 2005 NFL draft came around, he was not selected by any team.
His name? Josh Cribbs.
Obviously the tale gets far more pleasant from there. Cribbs was signed in April of 2005 by the Browns as an undrafted free agent and quickly established himself as the team's premier kick-returner. More records were shattered, and Cribbs' contract was extended twice, keeping him with the Browns to this day.
While the Browns faithful have, with good reason, faith that Cribbs will be able to be a star for the team going forward as a wide reciever, the changes to the kickoff rule suggest that Cribbs' glory days may be behind him.
Obviously, we all hope that isn't the case. Still, in light of those circumstances, it seems an appropriate time to pay tribute to Cribbs' phenomenal career as a kick-returner by making use of our video slideshow feature here on Bleacher Report.
Following are several videos showing Cribbs' best moments for the Browns. My original intent was to provide a power ranking style countdown of Cribbs' greatest kick returns, but unfortunately video resources don't allow for that kind of specificity at the moment.
So kick back, relax and enjoy some of the best of what Cribbs has shown us over the years, and if you have additional video of any of Cribbs' many accomplishments, please feel free to share the links in the comments below.
1. 2005-2006
In his rookie season with the Browns in 2005, Josh Cribbs set a franchise record for the highest number of kick return yards with 1,094.
He went on to eclipse that mark in 2006, leading to a six-year contract extension from the Browns.
2. 2007
In 2007, Cribbs broke his own record for kick-return yardage yet again with 1,809 yards. He also logged 405 punt-return yards and made the Pro Bowl for the first time as a kick-returner.
3. 2008
Cribb posted another 1,110 kickoff-return yards in 2008, as well as 228 punt-return yards. As you can see in the above video, he even got an ultra-rare compliment from Bill Belichick for his skill as a return man.
4. 2009-2010
In 2009, Cribbs broke the record for kickoffs returned for touchdowns with eight. He also logged an impressive 1,542 kickoff-return yards for three TDs, as well as 452 punt-return yards for one TD. He was a Pro Bowl selection and first-team All-Pro again for the season.
His numbers dropped in 2010 due to injury, and Cribbs logged just 814 kickoff-return yards and 168 punt-return yards. In other words, an off year for him.
Still, his numbers were impressive considering that despite having four dislocated toes, he made it onto the field for 15 of the 16 games of the Browns regular season.
Keep Reading

Cleveland Browns: Like this team?