2011 MLB Draft Grades: Rating Gerrit Cole, Anthony Rendon & Each 1st-Round Pick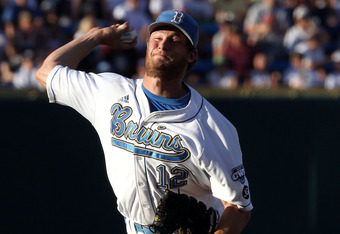 Christian Petersen/Getty Images
After months of expert speculation and mock drafts, the first round of the 2011 MLB Draft is upon us. While the names of over 1,500 kids will be called over the next few days, tonight we figure out where the stars of tomorrow will wind up.
It has already been leaked that UCLA right-hander Gerrit Cole will be the Pittsburgh Pirates' selection with the No. 1 pick, but the rest of the draft is wide open. Cole was the Yankees' first-round pick in 2008 but refused to negotiate as he was committed to attending college.
Looks like his decision will earn him a considerably higher signing bonus.
Other top draft prospects include Rice third baseman Anthony Rendon, Cole's teammate Trevor Bauer, and top prep pitcher Dylan Bundy. All will likely go in the top 10. However, contract demands could change all of that.
Which teams will draft for signability, and who will take a risk on the two-sport players committed to football powerhouses? Follow along here to find out whether your favorite team passed or failed its first-round test.
***
First-round results:
1. Pirates: Gerrit Cole, RHP, UCLA
2. Mariners: Danny Hultzen, LHP, Virginia
3. D-backs: Trevor Bauer, RHP, UCLA
4. Orioles: Dylan Bundy, RHP, Owasso (Okla.) High School
5. Royals: Bubba Starling, CF, Gardner-Edgerton (Kan.) High School
6. Nationals: Anthony Rendon, 3B, Rice
7. D-backs: Archie Bradley, RHP, Broken Arrow (Okla.) High
8. Indians: Francisco Lindor, SS, Montverde (Fla.) Academy
9. Cubs: Javier Baez, SS, Jacksonville (Fla.) Arlington Country Day
10. Padres: Cory Spangenberg, SS, Indian Rivers Junior College
11. Astros: George Springer, OF, Connecticut
12. Brewers: Taylor Jungmann, RHP, Texas
13. Mets: Brandon Nimmo, RF, Cheyenne (Wyo.) East
14. Marlins: Jose Fernandez, RHP, Tampa (Fla.) Alonso
15. Brewers: Jed Bradley, LHP, Georgia Tech
16. Dodgers: Chris Reed, LHP, Stanford
17. Angels: C.J. Cron, 1B, Utah
18. Athletics: Sonny Gray, RHP, Vanderbilt
19. Red Sox: Matt Barnes, RHP, Connecticut
20. Rockies: Tyler Anderson, LHP, Oregon
21. Blue Jays: Tyler Beede, RHP, Auburn (Mass.) Lawrence Academy
22. Cardinals: Kolten Wong, 2B, Hawaii
23. Nationals: Alex Meyer, RHP, Kentucky
24. Rays: Taylor Guerrieri, RHP, North Augusta (S.C.) Spring Valley
25. Padres: Joe Ross, RHP, Oakland (Calif.) Bishop O'Dowd
26. Red Sox: Blake Swihart, C, Rio Rancho (N.M.) Cleveland
27. Reds: Robert Stephenson, RHP, Martinez (Calif.) Alhambra
28. Braves: Sean Gilmartin, LHP, Florida State
29. Giants: Joe Panik, SS, St. John's
30. Twins: Levi Michael, SS, North Carolina
31. Rays: Mikie Mahtook, OF, LSU
32. Rays: Jake Hager, SS, Las Vegas (Nev.) Sierra Vista
33. Rangers: Kevin Matthews, LHP, Richmond Hill (Ga.) High
That's it for me folks. Hope you enjoyed the first-round of the draft and found my blog informative. Be sure to take a look at all the rest of the best slideshows and analysis at Bleacher Report.
For more 2011 MLB Draft coverage, including updated MLB Draft results and MLB Draft grades, stay tuned to Bleacher Report.

With the 33rd and last pick of the first round before the sandwich picks, the Texas Rangers take high school lefty Kevin Matthews out of Georgia.
For a full scouting report on Matthews check out Baseball America.
Grade: C-
With the No. 32 pick of the draft, the Tampa Bay Rays select shortstop Jake Hager out of Hampton, Va.
Finally, the Rays mess up. Because they have so many picks, they couldn't have expected to draft over-slot with every selection but this pick is way too early.
Hager was Baseball America's 122nd-ranked prospect and at No. 32 that's just way too quick to come off the board.
Grade: C-
With the No. 31 pick of the draft, the Tampa Bay Rays select Mikie Mahtook out of LSU.
Mahtook is a pure centerfielder with above-average power and plus,plus-speed. The Rays just got another steal snaring Baseball America's eighth best hitter on the draft board. With B.J. Upton approaching free agency, is Mahtook proves he can hit in the minors, he may end up in the majors sooner rather than later.
Excellent pick by the Rays.
Grade: A
With the No. 30 pick of the draft, the Minnesota Twins select Levi Michael out of the University of North Carolina.
Jim Callis immediately tweeted that he didn't think that Panik would go before Michael although the UNC infielder was hurt for much of the year.
Michael left high school after three years and hit .290 as a freshman. Two years later, Michael is a great late-round value pick for the Twins. Had he not been hurt his junior season, the switch-hitter would have been a top 20 pick easily.
Grade: A-
With the No. 29 pick of the draft, the San Francisco Giants select Joe Panik, a shortstop out of St. John's University. Wait...who?
He isn't a guy I've heard much about but it seems the Giants may have "Panik"ed on this pick.
Grade: C
For more 2011 MLB Draft coverage, including updated MLB Draft results and MLB Draft grades, stay tuned to Bleacher Report.
With the No. 28 pick of the MLB Draft the Atlanta Braves select Florida State lefty Sean Gilmartin. A surprising pick, Gilmartin doesn't have nearly the upside of some of the other pitchers on the draft board. However, because lefties are hard to come by, it immediately becomes a more reasonable pick.
Gilmartin projects as a back of the rotation guy but he's got great makeup and projects to move through the minors quickly. Decent slot pick for the Braves.
Grade: B-
For more 2011 MLB Draft coverage, including updated MLB Draft results and MLB Draft grades, stay tuned to Bleacher Report.

With the No. 27 pick of the draft, the Cincinnati Reds select Robert Stephenson, a right-handed pitcher out of Alhambra High School in the California.
Stephenson was Jim Callis' fifth-rated high school pitcher and a great value pick in the late-first round. He broke out on to the scene this season after throwing back-to-back no-hitters. Stephenson has a live-arm and dominated the high school ranks with 132 Ks in just 64 innings pitched.
Great pick by the Reds who have done a great job at developing young arms.
Grade: A-
With the No. 26 pick of the MLB draft, the Boston Red Sox take high-school catcher Blake Swihart out of New Mexico.
He has plenty of upside as the best hitting catcher in the draft but there are questions of whether he can stay behind the plate. A lanky switch-hitter, he should end up being an everyday catcher with average power and an above-average arm from behind the dish.
Grade: B
For more 2011 MLB Draft coverage, including updated MLB Draft results and MLB Draft grades, stay tuned to Bleacher Report.
With the No. 25th pick of draft, the San Diego Padres take high school right-hander Joe Ross out of Oakland, CA.
Ross' brother Tyson pitches for the Oakland Athletics, but the younger brother has a higher ceiling. Joe has a smooth delivery and fastball that tops out at about 93-MPH. He's got a plus-slider and a developing changeup but the Padres will likely take their time developing this young prospect.
Real nice high-value pick by the Friars.
Grade: A-
For more 2011 MLB Draft coverage, including updated MLB Draft results and MLB Draft grades, stay tuned to Bleacher Report.
With the No. 24 pick, and their first of 10 picks of the first round, the Tampa Bay Rays select right-hander Taylor Guerri. Wow. That's all I can say.
I didn't think the Rays would be willing to pick high-bonus guys because they had so many early picks, but they seem to ready to take the best-player available. They absolutely got that in a guy that could have gone top 10 if it weren't for his contractual demands.
Grade: A
With the 23rd pick in the draft the Washington Nationals take power righty Alex Meyer out of the University of Kentucky.
At 6'9" Meyer has an electric arm and has reached the upper 90's. Though he was a starter at Kentucky, the Nationals will now have to decided whether he'll stay in the rotation or move to the bullpen as a power arm.
Either way the Nationals are having a great draft picking potential over signability. Coupled with Anthony Rendon, the Nats draft rivals the D-Backs two picks.
Grade: B+
With the No. 22 pick in the draft the St. Louis Cardinals get an absolute gamer in University of Hawaii second baseman Kolten Wong.
Wong was MVP of the exclusive Cape Cod League last year and is a natural-born leader with a plus-glove. He won't hit many home runs in the big leagues but he projects as a high average hitter with great speed.
The Cardinals just got themselves a great late-round pick.
Grade: B+
With the No. 21 pick of the draft the Toronto Blue Jays take Vanderbilt commit Tyler Beede. The Massachusetts native has a plus fastball that runs up to 96-MPH but is a major risk in terms of signability.
Check out Pro Draft Central for a full scouting report.
Grade: B
For more 2011 MLB Draft coverage, including updated MLB Draft results and MLB Draft grades, stay tuned to Bleacher Report.

With the 20th pick of the MLB draft the Colorado Rockies select Tyler Anderson out of the University of Oregon.
The Oregon baseball team hasn't been around in awhile but it didn't take them long to develop a top prospect. Anderson has a good sinking fastball that sticks in the low-90s and a nice changeup to go along with it.
Ceiling is most likely a No. 2 but more likely to settle in the backend of the Rockies' rotation.
Grade: B
At pick No. 18 of the MLB draft, the Boston Red Sox take University of Connecticut right-hander Matt Barnes.
Tough to argue with this pick as he's got a high upside and plenty of polish. He went 11-3 with a 1.11 ERA his junior season at UConn and has two plus pitches with a 96-MPH fastball/curveball combo. As a guy could have gone as high as No. 10, once again the rich get richer.
Great pick by the BoSox.
Grade: A
With the 18th overall pick in the draft, the Athletics take Vanderbilt right-hander Sonny Gray.
Jim Callis says that Gray has the best fastball/curveball combo in the draft and that if he was 6'3" he could have been the No. 1 pick in the draft.
As it turns out he is only 5'11" and he is questionable to stick as a major league starter. That said, it wouldn't be surprising to see him turn into an elite bullpen arm where he wouldn't have as many innings put on his smaller frame.
Grade: B
With the 17th pick of the draft, the Los Angeles Angels take C.J. Cron, first baseman out of University of Utah.
Cron has been described as the best power hitter in the college draft class and slammed 15 homers in 187 at-bats last year with a .444 average.
Since he's in the Angels' organization he has the ability to move to designated hitter as he doesn't have a good glove and lacks mobility. Decent mid-round pick for the Angels.
Grade: B
With the 16th pick of the MLB draft the Los Angeles Dodgers take Chris Reed, the closer for Stanford University. Basically, the deeply in-debt Dodgers take a guy that they completely over-reached on and won't have to overpay.
He has three pitches so he could end up starting at the next level but this was a reach by anyone's standards with pitchers like Matt Barnes and Daniel Norris still available.
Ugly pick for the Dodgers.
Grade: D
The Brewers double up on college pitchers taking Georgia Tech lefty Jed Bradley. He doesn't have ace stuff, but could develop in to a solid No. 2.
Bradley was the second best left-handed prospect in the draft and has three-plus pitches. He dropped considerably after being projected originally as a top-five pick, but it's not surprising the Brewers saw something in him.
In a couple years it looks like the Brewers are going to have a stud rotation.
Grade: B+
At No. 14 the Florida Marlins take Cuban-native Jose Fernandez out of Alonso High School in Tampa, Fl.
Fernandez has an electric arm and a plus-bat but the Marlins decided to take the home-town boy as a right-handed pitcher. He tops out at about 98-MPH and he racked up 134 Ks in just 93 innings pitched.
The Marlins have an excellent history in developing high school pitchers such as staff ace Josh Johnson. He's got big upside and at No. 14 he could end up a great pick.
Grade: B+
The New York Mets make a surprising pick in Wyoming high school outfielder Brandon Nimmo at No. 13.
This is a class boom-or-bust pick by the Mets and what makes it even crazier is that Nimmo high school didn't even have a baseball team. He has a high ceiling, but it's tough to give the Mets a top grade because of how risky it is.
Grade: B-
With the No. 12 pick of the draft, the Milwaukee Brewers take University of Texas right-hander Taylor Jungmann.
He doesn't have electric stuff, usually sticking to a low-to-mid 90s fastball, but has a devastating curveball that he uses as an out-pitch. He was drafted two years ago by the Los Angeles Angels of Anaheim in the 24th round and they may end up regretting not getting that deal done.
Jungmann should move quickly through the Brewers' farm system and could wind up in the rotation by 2013. With Yovani Gallardo, Shawn Marcum and Zach Greinke already in the rotation he won't be as pressured to develop in to a No. 1/2 pitcher.
Grade: A-
University of Connecticut outfielder George Springer goes to the Houston Astros at No. 11.
The toolsy outfielder is projected to stay in centerfield and has plus-speed on the base paths. He fell on draft boards throughout the season but in the end, the Astros get a solid outfielder with five tools.
The Astros would love to see Springer's power develop in the minors but if he can develop in to a 15 HR/30SB guy, Houston just drafted a steal.
Draft Grade: B+
Yikes! A big reach by the San Diego Padres as they draft Cory Spangenberg at No. 10 overall.
He was a college third baseman but reports say that he was mostly worked out at second where his average power should project a bit better. Keith Law had him at No. 10 overall but there were several college hitters that should have been taken before him.
It's an unusual pick, but we'll see if the Padres prove heroes or failures as the youngster develops through the minors.
Grade: C+
This article is
What is the duplicate article?
Why is this article offensive?
Where is this article plagiarized from?
Why is this article poorly edited?