San Francisco Giants: 8 Players They Won't Include in a Jose Reyes Trade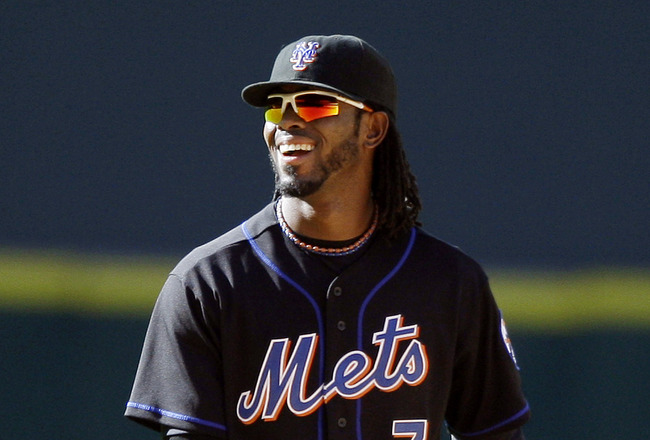 Jose Reyes Is the Top Player on the Trade Market
Bob Levey/Getty Images
Jose Reyes is the marquis name available on the trade market. The New York Mets' shortstop is in the final year of his contract, and the cash starved Mets will not attempt to sign him for the future.
There are two critical questions the Giants must consider as they look to acquire Jose Reyes. First off, what are we willing to give up for him?
The second question is will we be able to re-sign Reyes for 2012 and beyond?
A three- or four-month rental player is not as attractive to the Giants as a player they can potentially keep for three or four more seasons beyond 2011.
The Giants will likely want to know from Reyes' agent, Peter Greenberg, what he will want to sign a contract extension, prior to making any kind of trade.
Reyes will be 28 years old in June, so a four-year deal would be a very appropriate and realistic expectation. I would expect Reyes to demand something in the range of $60 to $70 million for a four-year deal.
That price tag will be a lot for the Giants to swallow, but I don't think they'll be willing to give up the talent the Mets will demand, unless they're willing to make that investment.
Let's take a look at eight players that we can be fairly certain would not be part of any deal involving Jose Reyes.
8) Barry Zito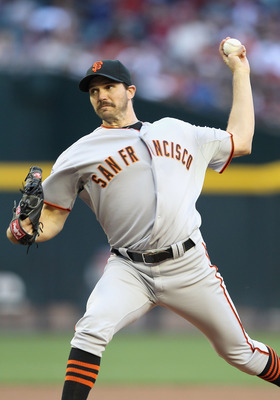 Barry Zito's Contract Is A No For The Mets
Christian Petersen/Getty Images
The Giants would love to get rid of Barry Zito, but there's no way the Mets would make a deal involving Zito, unless the Giants ate probably 80 percent of his huge contract.
The seven-year, $126 million contract still has two full years remaining, after this season. This is unfortunately one that the Giants will need to live with until it runs its course.
The Zito contract has $18.5 million which would be pro-rated for 2011, plus another $39 million for 2012 and 2013. In order to move Zito in June or July, the Giants would be on the hook for roughly $35 to $38 million. The Mets simply wouldn't do that.
7) Brandon Belt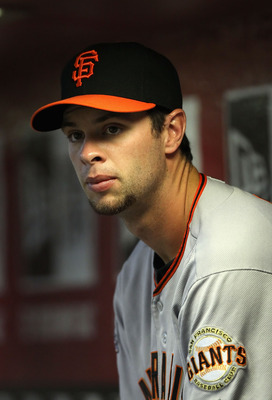 Brandon Belt Could Still Make A Big Impact In 2011
Christian Petersen/Getty Images
Brandon Belt is the type of player the New York Mets would covet in a deal for Jose Reyes. He is a young player with a world of talent, poised to make a big impact in the Major Leagues.
Belt is also making only $414,000 and is several years away from arbitration eligibility.
This is exactly why the Giants will not trade him for Reyes. They view Belt as their next up-and-coming young position player who is destined to be a star.
The Giants are hoping that, much like Buster Posey in 2010, Belt will join the team in the summer and provide a much needed jolt of offense. Belt is currently getting more seasoning in Fresno, the Giants' Triple A ball club.
Belt, who has played most of his career at first base, is also honing his skills as an outfielder.
Belt began the season as the starting first baseman for the Giants, but that put regular first baseman Aubrey Huff in the outfield. That was a move that did not pay off, as Belt struggled and lost his confidence at the plate and Huff had problems in the outfield.
The move to Fresno has also helped Belt regain his confidence at the plate. He is currently hitting near .400 with an OBP above .500.
Belt will not be traded, as the Giants want him all for themselves.
6) Pablo Sandoval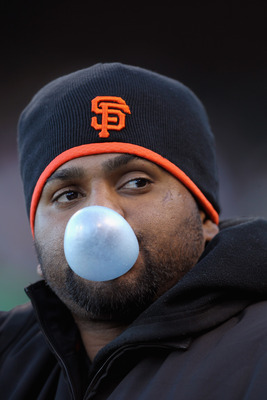 The Kung Fu Panda Is A Fan Favorite In SF
Ezra Shaw/Getty Images
Pablo Sandoval will not be a part of any package the Giants put together to go after Jose Reyes. He is a fan favorite in San Francisco and has some tremendous offensive skills.
When Sandoval came up to the Giants in 2008, he hit .345 in 145 at-bats. He proved that was no fluke in 2009 with a batting average of .330 to go along with 25 home runs and 90 RBI.
2010 was a frustrating year for the player affectionately nicknamed the Kung Fu Panda. The lovable, happy-go-lucky Panda was criticized for being woefully out of shape and swinging at terrible pitches. As his weight soared, his batting average and defense suffered.
Last year, the Panda hit only .268 and was so bad in the field that he was benched late in the year and into the post season. GM Brian Sabean warned Sandoval that if he was not in good physical condition coming into the 2011 spring training, he would find a bus ticket to Fresno in his future.
Sandoval took that threat to heart, as he worked out hard in the offseason and also got on a strict dietary program. Entering spring training, the almost svelte Sandoval had lost 45 pounds.
In the first month of the season, Sandoval hit .313 with five home runs and 14 RBI. His bat looked much quicker, and he was by far the Giants' best offensive player in April. A broken bone in his hand has put Sandoval on the DL, but he will return in another four to six weeks.
Defensively, the weight loss also helped Sandoval's mobility and instead of being a defensive liability, he became an above average third baseman.
In addition, Sandoval is still just 24 years of age and is currently making only $500,000. Although arbitration eligible for the next three years, he is under the Giants' control and cannot become a free agent until 2015.
The other thing is if the Giants traded Sandoval, what would they do with the thousands of panda hats they sell to young and old alike at the ball park?
All kidding aside, as long as Sandoval keeps his weight down and produces like he is capable, he and his infectious smile will be staying in San Francisco.
5) Madison Bumgarner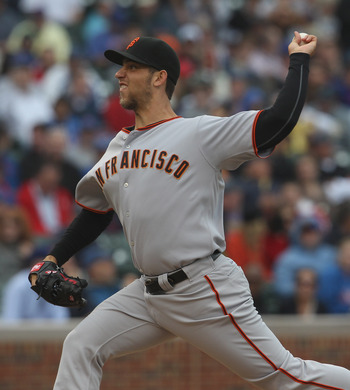 Madison Bumgarner is still only 21 years old
Jonathan Daniel/Getty Images
Madison Bumgarner exploded on the scene in 2010 and helped the Giants win the NL West, get through the playoffs and win the World Series. I don't know how many 0-6 pitchers are untouchable, but the Giants will not be trading this one for Jose Reyes.
At only 21 years old, Madison Bumgarner is coming off an excellent 2010 season which saw him go 7-6 in the regular season with an ERA of 3.00. His post season was even more impressive as the youngster showed remarkable poise and determination.
Bumgarner's post season amounted to four appearances, including three starts. He was 2-0 with a 2.18 ERA and 1.113 WHIP ratio.
On the grandest stage of all, the World Series, Bumgarner threw eight shutout innings, giving up only three hits to the high powered Texas Rangers, as the Giants took a commanding 3-1 lead in the series.
Although Bumgarner has had trouble staying out of the big inning in 2011, his ERA is still a respectable 4.25. He has also pitched with a lot of bad luck as the Giants have failed to score him many runs.
Bumgarner is making only $450,000 and has shown signs of improvement in his last few starts. He will almost assuredly turn his season around. The Giants will not trade this great young arm for Jose Reyes.
4) Brian Wilson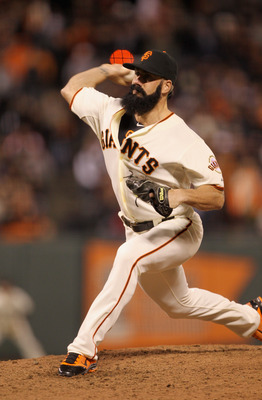 Brian Wilson is the top closer in the National League
Ezra Shaw/Getty Images
Brian Wilson has captured the hearts and imagination of San Francisco Giant fans everywhere.
Whether he's painting his spikes, fraternizing with a leather clad individual known as "The Machine," showing off his mohawk, cracking jokes with David Letterman or growing his freakishly full and dark beard, Wilson has become a San Francisco treasure.
Oh, and by the way, Wilson is also the best closer in the National League and arguably the best in all of baseball.
The Giants entrust the ninth inning and sometimes even the eighth inning to Wilson. He has responded with an amazing level of consistency and success. In 2010, Wilson had his best season with 48 saves. He threw a career high 74.2 innings, striking out 93 and finishing the regular season with an ERA of 1.81.
His post season was even better, as Wilson earned six saves to go along with one victory. In 11.2 innings of work, Wilson struck out 16 batters and did not give up an earned run.
Wilson enjoys a cult-like following in San Francisco, an area that can really appreciate his esoteric personality and off the wall sense of humor. He has an IQ at the genius level and is a self-proclaimed "mental assassin" and certified ninja. He is truly an interesting and entertaining character.
None of this would go over well if Wilson was not closing out ballgames but he does. He often escapes jams that he created, but somehow gets the big outs when he needs to. Giant announcer Duane Kuiper coined the phrase "torture," when it comes to nail-biting Giant victories.
Wilson relishes his place as the king of the "torture," but it seems that he always gets the job done. The Giants will not be trading Brian Wilson for Jose Reyes.
2) Matt Cain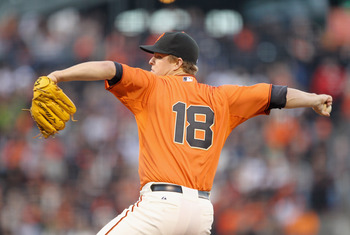 Matt Cain Gives the Giants Two Ace Pitchers
Ezra Shaw/Getty Images
I must admit there was a time a couple of years ago that I was clamoring for a Matt Cain for Prince Fielder trade. I felt the Giants needed a big bat and Cain was a decent, but not great pitcher.
I am so glad Brian Sabean did not listen to what I and many others were pleading. Matt Cain has developed into a star pitcher, a second ace for the Giants. There is no way the Giants will be trading Cain for Jose Reyes at this stage.
Cain was the most consistent and reliable pitcher for the Giants in 2010. He went 13-11, with an outstanding ERA of 3.14 and threw a career high of 223.1 innings.
His post season was even more impressive. Cain threw 21.1 innings and did not allow an earned run, going 2-0 with a 0.938 WHIP.
At 26 years old, Cain is in the prime of his career, and although he will be making over $15 million in 2012, the Giants will not be trading him for Jose Reyes. The real key will be if the Giants can find a way to keep both Cain and Lincecum following the 2012 season.
2) Buster Posey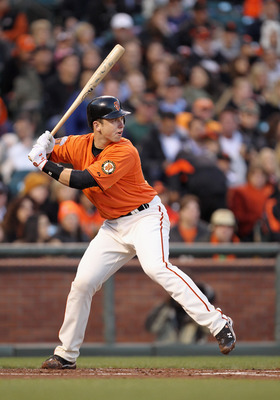 2010 Rookie of the Year Buster Posey
Ezra Shaw/Getty Images
Buster Posey was the 2010 NL Rookie of the Year. He and Tim Lincecum are the faces of the Giants' franchise. Posey will definitely not be traded to the Mets for Jose Reyes.
Although Posey is off to a slow start with the bat this year, currently hitting around the .250 level, he is too good a hitter to stay at this range. Posey hit .305 with 18 home runs and 67 RBI, after being called up in late May to the majors.
Posey has also developed into a solid defensive catcher, calls a good game and throws extremely well. He stalled opposing base runners who were stealing bases at will on the Giants prior to his emergence as the starting catcher midway through last season.
At only 24 years old, Posey is in his first full major league season. He is a bargain at $575,000 and will not be eligible for free agency until 2017. Posey is a budding superstar, and the Giants will have him as one of the cornerstones of their team for many years.
1) Tim Lincecum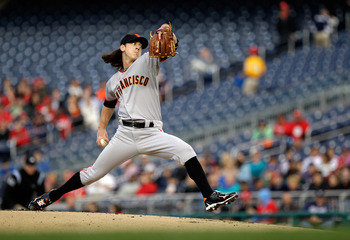 Two Time Cy Young Winner Tim Lincecum
Rob Carr/Getty Images
Tim Lincecum is obviously not going to be traded for Jose Reyes or anyone else for that matter. The two-time Cy Young award winner is throwing the ball extremely well and is one of the best pitchers in baseball.
Lincecum has led the NL in strikeouts the past three years in a row and has a career ERA below 3.00. He will be 27 years old in June and is in the prime of his already illustrious career.
Lincecum was 5'11" and a waif-like 155 pounds when he joined the Giants. He has recently bulked up to around 170 to 175 pounds, and the added muscle has improved his stamina and his ability to maintain his velocity over an entire game.
Lincecum, who is now in his fifth season with the Giants, has also learned how to pitch and utilize all of his pitches effectively. He has tremendous talent and the competitive nature to go along with it.
Known in San Francisco as "The Freak" or "The Franchise," Lincecum also fits in perfectly in the Bay Area. He loves the area and the fans love him. San Francisco is also a good fit for his somewhat offbeat personality.
He is a Giant now and will be one for many years to come.
Who Might Be Available for Jose Reyes?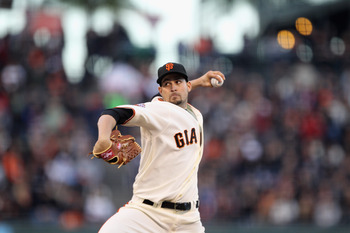 Jonathan Sanchez Has Tremendous Talent
Ezra Shaw/Getty Images
If none of the eight players mentioned are options in a deal to acquire Jose Reyes, who might be possibilities?
The biggest name to come to mind is Jonathan Sanchez. The enigmatic left-hander has a world of talent but can frustrate his manager Bruce Bochy with his inconsistency and lack of focus. 2012 is the final year of arbitration eligibility, and Sanchez can become a free agent in 2013.
Sanchez will be expensive to keep and would signifcantly bolster the Mets pitching staff. However, unless the Giants feel confident they can sign Reyes to a long-term deal, I doubt that Sanchez will be traded.
Other options include relievers Dan Runzler and Santiago Casilla. Both have major league experience, and the Mets bullpen is thin. Manny Burriss is a middle infielder who has played a little in San Francisco and could also be part of a package for Reyes.
Some of the strong minor league talent the Giants might be willing to part with include their top young pitcher in the minors, Zach Wheeler. He was the first selection of the Giants in the 2009 draft.
Others who could be included in a deal are infielders Ahire Adrianza and Brandon Crawford, outfielders Thomas Neal and Francisco Peguero and promising young pitcher Craig Clark.
When the Jose Reyes sweepstakes are over, do I see the Giants ending up with him?
The only way I see the Giants with Reyes is if he is willing to agree to a contract extension prior to making a deal. If he is, then the prospects are higher.
If Reyes wants to test the free-agent market, I don't believe the Giants will be willing to give up what the Mets will want in return for him. The Giants have been burned by large "rent-a-player" deals before and I doubt they would do that again.
There are other potential shortstop candidates the Giants will consider. Jack Wilson, J.J. Hardy and Marco Scutaro are all possibilities. These options will be much less expensive in terms of money and prospects.
If Miguel Tejada does not turn it around in the next month, I fully expect one of these three players to be wearing a Giant uniform in July.
Keep Reading

San Francisco Giants: Like this team?