2011 Top Ten Outside Linebackers: Ware Edges Harrison & Matthews
May 11, 2011
Tom Pennington/Getty Images
1. Demarcus Ware—Dallas Cowboys
He has basically no weaknesses and a rare combination of athletic abilities to be possibly the best defender in football. He has rare balance and strength when engaged with a blocker, allowing him to create more opportunities to tackle or sack in the box. He has excellent acceleration off the edge, making him one of the best pass-rushers in football. He has great awareness and technique in all aspects of the game.
2. James Harrison—Pittsburgh Steelers
Probably the most terrifying player in the game, he is a complete outside linebacker as a solid run stopper and a QB's nightmare. He is surprisingly undersized, but he sure doesn't play like it. He plays with great awareness and production in the famous Pittsburgh defense. He has a variety of pass-rush moves, and can also just bull rush his way in to the backfield. 
3. Clay Matthews —Green Bay Packers
He is a legitimate argument for best outside linebacker now, and he seems to be pushing to be a perennial all-pro. He has the strength and speed to scare all offenses, and he is versatile to line up in multiple places in his defense's complex schemes. He also is nowhere near his prime, and is currently on track to end up in Canton at the end of his career. He had health issues, but still produced a ton of sacks.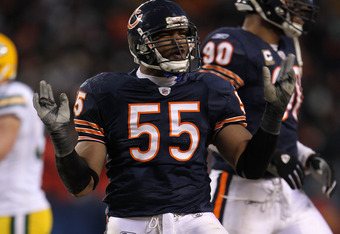 Jamie Squire/Getty Images
4. Lance Briggs—Chicago Bears
He's the best 4-3 OLB in the game. His athleticism makes him great in all aspects of the game, especially as a coverage linebacker and run stopper. He also is a natural playmaker who will produce a few picks, fumbles and sacks for his team. He is a veteran leader to the Bears defense and a integral piece to their defense.
5. Terrell Suggs—Baltimore Ravens
He bounced back from an off year in 2009 and had a great 2010. He is a great pass-rusher, but he may be even a better run stopper on the Ravens defense. As good as the Ravens defense is, he is really the only legitimate rusher on their roster. He doesn't have elite top end speed, but he has everything else a great linebacker needs. He has become very aware with his veteran status.
6. Tamba Hali—Kansas City Chiefs
Hali has developed into the super athletic outside pass-rusher the Chiefs envisioned. He is great at run support, and his 14.5 sacks were essential in the young and improving Chiefs defense. He also had to deal with double teams because of the Chiefs' lack of other dangerous pass-rushers. Awareness is still improving and combined with his athleticism, he looks like a perennial Pro-Bowler.
7. Shaun Phillips—San Diego Chargers
An underrated pass-rusher who explodes off the edge and is a great playmaker. In 2009 he went down in sacks, but forced seven forced fumbles. This year he went back up in sacks but produced no forced fumbles. A decent run defender, but not great in pass coverage. However, he is an aware player who is the primary rusher for 2010 best pass defense. He consistently has good seasons.
8. Cameron Wake—Miami Dolphins
A new starter who the Dolphins claimed would be a breakout start this season. They were very right. He gets a great start off the snap with good quickness, acceleration and closing speed off the corner. He still has some learning to do, but there are no glaring weaknesses in his game, and he has great upside going forward. A person to scare Brady is important for any team in the AFC East.
9. Mario Williams—Houston Texans
Williams will make the shift from 4-3 DE to 3-4 OLB this season, and while he is one of the best 4-3 DEs, it's hard to gage how he will transition to the new position in Wade Phillips' defense. He is prototype for the position in terms of size and speed, and he is an exceptional edge rusher. He'll need some time to improve in pass coverage and just overall awareness of the spot. Still, he's one of the best.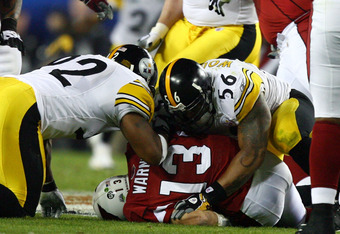 Al Bello/Getty Images
10. LaMarr Woodley—Pittsburgh Steelers
Hard-working pass-rusher who produces for a great defense. He has a high motor and a variety of pass-rushing moves. However, having James Harrison on the other side, getting a lot of attention from the pass protection helps him. He is great in run support, but for the most part his athleticism is only average. However, he certainly plays a big role for his team.
Also Considered...
Brian Orakpo—Washington Redskins: just misses list, very hard not to put in top 10, rising star at OLB
Chad Greenway—Minnesota Vikings: just missed list, underrated, and 3rd in NFL in tackles
Brian Cushing—Houston Texans: was DROY in 2009, but suspension hurt his appeal
Thomas Davis—Carolina Panthers: great range vs. the run, too bad he was injured this year
Curtis Lofton—Atlanta Falcons: emerging young star on emerging defense, could be top 10 soon
Kamerion Wimbley—Oakland Raiders: under-the-radar player who produced a lot of sacks this season