Washington Redskins 2011 Draft Picks: Analyzing Results and Expectations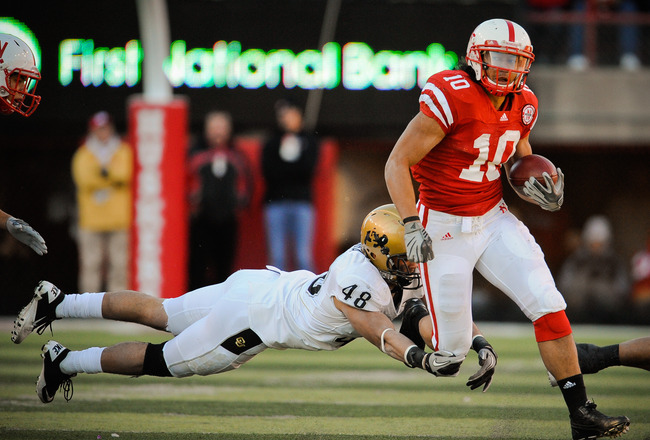 Eric Francis/Getty Images
For the first time since 1995, the Washington Redskins had at least one selection in all seven rounds of last weekend's NFL Draft. To put that in Redskins time: we haven't seen this deep of a draft for Washington since they started Gus Frerotte, since Terry Allen ran for 1,300 yards, since Michael Westbrook was a rookie, since Ken Harvey recorded 7.5 sacks and pawed in two fumble recoveries, since Eddie Murray was still kicking field goals, since….well, you get the idea.
After the Redskins executed their first trade of the draft on the first night within the top-10 picks, I knew Shanahan and the front office had a strategy in place that would make sense, fill needs and satisfy the fan base — something that Redskins supporters really aren't familiar with.
Now that the draft is over and the lockout has returned, we have plenty of time to analyze the 2011 Washington Redskins Draft Class. And from all assumptions and predictions, I'd say it's going to be a pretty solid one.
Round 1 (16) : Ryan Kerrigan, OLB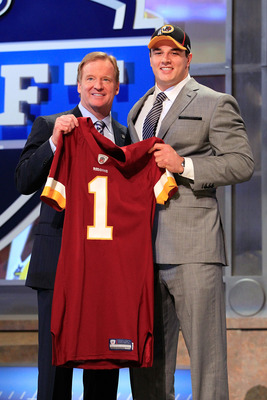 Chris Trotman/Getty Images
As I explained on Draft Night, Kerrigan was not necessarily the sexiest prospect on the board at No. 16 (and that has absolutely nothing to do with his physical appearance), but no one will be disappointed with this selection after seeing the type of production he brings to the field and the type of character he brings to a locker room.
Defensive coordinator Jim Haslett didn't need to tell Shanahan that he needed more talent on defense in order for him to realize it; the lack of production was enough evidence to make that obvious. But either way, Haslett got his wish and the team adds a relentless pass-rusher to line up on the opposite end of Brian Orakpo.
Kerrigan is a blue-collar-like worker coming off the end and his pursuit has only one speed — full speed. Combine that with the fact that Kerrigan has great football instincts, a very high game IQ and one of the best work ethics you'll ever see. Suddenly you've got yourself a perennial Pro Bowler.
To me, I see Kerrigan as one of the those guys that offensive tackles HATE going against on gamedays. Because he never quits and is always grinding, Kerrigan is bound to cause fits for opposing blockers this season. My only area of concern with Kerrigan is his ability to drop back into coverage. I think his ideal position is the end in a 4-3 scheme, but the Redskins coaches were very impressed with Kerrigan's coverage drills at the Combine and RK is the type of guy that will continuously work to get better at everything.
2011 Expectations: Starting at pass-rushing linebacker.
Round 2 (41) : Jarvis Jenkins, DL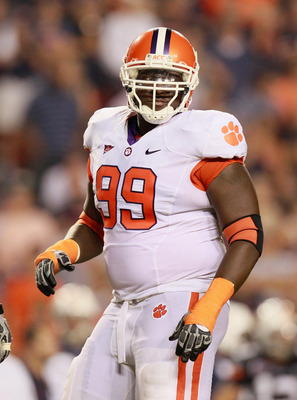 Kevin C. Cox/Getty Images
While I didn't think the team would go for defensive line in the second round, I don't think it was the wrong move by any means. Last year's front seven was nowhere near as productive as it needs to be and the Redskins youth movement is absolutely necessary.
Jenkins is a gigantic man on the defensive line (6'4 / 310) with the potential to play either the end spot or the nose tackle spot. According to Jenkins' Twitter responses, he says, "…there's nothing like playing the nose." Now if that doesn't give football nerds goosebumps, I don't know what will.
Basically, the second-round rookie who has yet to sign any kind on contract is inviting the double-teams and is admitting that he loves to tear apart the interior of offensive lines, while the overpaid and under-performing Albert Haynesworth refuses to play the nose position because of double-teams.
Jenkins possesses a lot of athleticism for a man his size and he has great explosiveness coming off the line. Regardless of his position as a pro, Jenkins will use his strong ability to continuously shed blocks and collapse the pocket in order to cause disruption. I'm a little concerned with Jenkins' overall strength (just 17 reps at the Combine), but I think his instincts, leverage and awareness will help a lot.
2011 Expectations: Two-down anchor that could beat out Anthony Bryant for the starting nose tackle gig.
Round 3 (79) : Leonard Hankerson, WR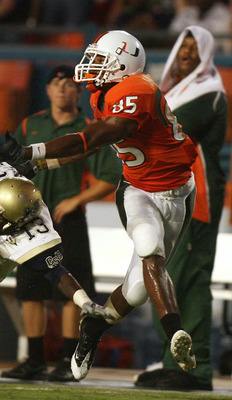 Doug Benc/Getty Images
Because I didn't think Hankerson would be available anywhere after the second round, I think this is one of the Redskins' most valuable picks.
After performing extremely well at the Senior Bowl, Hankerson's stock shot sky-high and some even mocked him as a first-rounder. Hankerson is a big target (6'2) with great leaping ability and the combination of control and speed to really get the better of his opposition. And without a clear No. 1 receiver on the current roster, the Redskins found a gem that has more than a lot of potential to be the team's future top-receiving target.
Hankerson has been criticized a lot for his inconsistent hands. Although his hands are as big as those on a sasquatch, he has been known to drop some easy ones — thus causing the numerous Braylon Edwards comparisons. Fortunately, and unlike Edwards, Hankerson has a great work ethic and is always doing whatever he can to get better. I would bet that Hank's hands improve every year in the NFL and I really like his chances of becoming the team's No. 1 receiver in three years or less.
2011 Expectations: Starter, regardless of what happens to Santana Moss.
Round 4 (105) : Roy Helu Jr., RB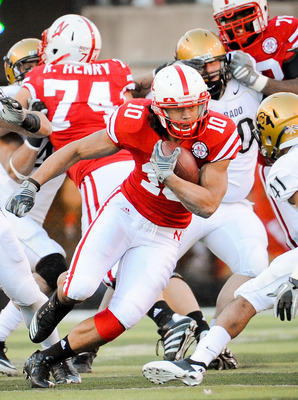 Eric Francis/Getty Images
And another one (in my Biggie voice).
We are all well aware of Mike Shanahan's obsession with running backs and I'd assume we're all in favor of his work after seeing him produce true talents out of no-namers. But this situation is a little bit different, as Roy Helu is far from a no-namer.
Helu is a very explosive back that has the opportunity to strive in Shanahan's scheme/system. With just one cut, Helu turns on the burners and he can make tacklers look silly in the open field. Although Helu's numbers at the Combine were very impressive, I had heard that he was on Shanahan's "good list" well before late February. Unlike what we've seen in Washington lately, Helu brings potential home-run plays on every carry. Additionally, Helu is a very hard worker and his ethic will hopefully add something to a very young backfield rotation.
There's no question that Helu has the potential to be a Redskins starter very soon. While he is joining a crowded backfield with a lot of potential, Helu's explosiveness and speed could push his card. I would say that Helu is the Redskins' starter by game six, but that's assuming that Torain suffers his normal injuries. I should also note that Helu's durability isn't really anything to brag about either. And while I wouldn't necessarily call it a concern — because I don't think he'll be a big factor in the passing game — Helu's pass-catching abilities are untested at this point in his football career. That being said, Redskins fans shouldn't expect any significant play from Helu in pass-protection (we've been spoiled by CP for too many years).
2011 Expectations: Starting by Week 6 (assuming a Ryan Torain injury) (I fully support Torain as our team's starter — just being real).
Round 5 (146) : Dejon Gomes, SS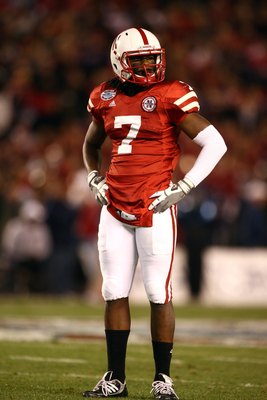 Donald Miralle/Getty Images
If I was Shanahan, I may have chose to try and address the quarterback position. However, the talent wasn't there (Stanzi and Yates went in this round) and the Shanahans appear to be satisfied (at least temporarily) with John Beck as the Redskins' starter.
Gomes is a junior college transfer (City Coll., San Fran) that doesn't have a true position on the field. Many have described Gomes as a tweener between the linebacker and safety positions, more commonly known as a gunner, but he'll have to rely on his coaches to put him at his most effective football position. Gomes increased his tackles each year at Nebraska and he was quite the ball-hawk throughout his Cornhusker career (seven interceptions, five forced fumbles in two years).
The obvious concern regarding Gomes is his size. At just 6-foot and 190 pounds, Gomes is undersized for both the linebacker and safety position, but would have his better route at safety. Some scouts have also claimed that Gomes' coverage skills are good enough to play corner, perhaps making him an interesting possibility for a very thin cornerback corps.
2011 Expectations: Starter on special teams because of impressive tackling and hunting ability, perhaps even some cornerback play on nickel coverage.
Round 5 (155) : Niles Paul, WR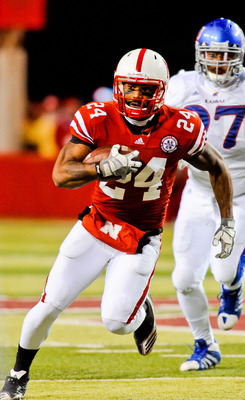 Eric Francis/Getty Images
Choosing to continue upgrading a weak receiving department, Shanahan went on to draft Niles Paul, a potential No. 2 receiver with the ability (I believe) to also work effectively in the slot. Paul is viewed as more of a possession style receiver, with great explosiveness and strength to help him work effectively in the middle. I also think that Shanahan liked the fact that Paul is a good blocker and he has the ability to return punts.
Some are more critical of Paul's two alcohol-related incidences, but my gut says that he's a good guy that made a couple of mistakes. According to teammates, Paul is great in the locker room and he's always willing to help his team win. In my opinion, Paul's small hands are his main issue. Because of his hands, Paul has been known to miss some easy catches from time-to-time and his ball security is questionable. However, as an easy offset, Paul is fearless and his strong body will bruise defenders on a regular basis.
2011 Expectations: Makes the team, but his playing time could depend on the future of Santana Moss. If Moss is out, Paul could start in the slot.
Round 6 (177) : Evan Royster, RB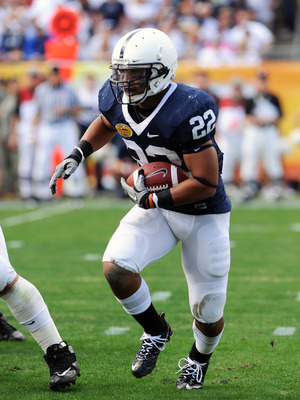 Al Messerschmidt/Getty Images
Although I had seen Royster going to the Redskins in a lot of Mock Drafts, I didn't think Shanahan would take another running back before taking a single offensive lineman. But, again, we know how much Shanahan likes his running backs and Royster fits the one-cut scheme.
Fitting the role more so as a bruiser, Royster is not going to burn anyone with his speed or elusiveness. The upside to that, however, is that Royster could become very effective around the goal line. I'm mainly concerned with Royster's running style, as he tends to allow his body to lengthen too high at times. He also isn't a very reliable receiving option out of the backfield, so his potential redzone job could become limited.
Royster's ability to keep his legs moving and run downhill between the tackles are his strong points. I don't think he'll ever be a starting back for the Redskins, but I do think he'll be a solid backup and he'll get some carries. Plus, I wouldn't doubt what Shanahan can get out of ANY running back. I'm also rooting for Royster due to his local roots — #DMVLove.
2011 Expectations: With a very crowded backfield, Royster will not have an easy road. Shanahan is obviously looking for good competition within the position and he may opt to go with shiftier backs like James Davis and/or Andre Brown.
Round 6 (178) : Aldrick Robinson, WR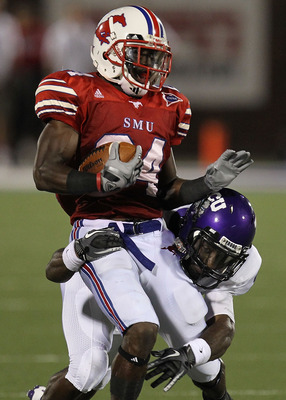 Ronald Martinez/Getty Images
At this point in the draft, I believe Shanahan found great value by drafting a huge-play threat. Perhaps tired of being torched by the Eagles' DeSean Jackson, Shanahan decided to go for his own home-run receiver with blazing speed.
I've read in some places that Robinson doesn't have the size to play on the outside, but I'd argue that he's the same size (maybe bigger) than DeSean Jackson. And we have to also remember that these small-frame receivers have a way of getting down the field, whether that be burning past a corner or using effective route-running ability — two attributes of Robinson.
The glaring weakness in Robinson's game is his size, but I will stick to my guns that guys like him can succeed in the NFL. Hell, we got one of our own on the current Redskins roster (see: Brandon Banks). Robinson also offers punt returning ability and I think Redskins fans will be surprised with what they see out of this guy.
2011 Expectations: Special teams for his rookie season, with a few looks in big-play opportunities. He seems to be a guy you want to keep around and he could really push himself ahead in training camp — with a starting job at the slot relying solely on his small hands.
Round 7 (213) : Brandyn Thompson, CB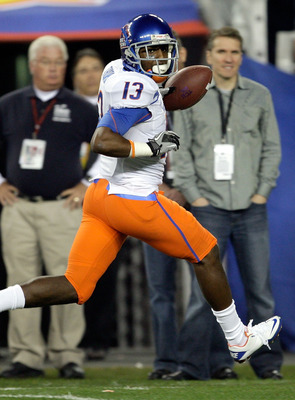 Jamie Squire/Getty Images
This may be an odd situation for Thompson, as he comes from being a lockdown corner in college to likely struggling to make the Redskins roster. It's not that Thompson doesn't have the talent — he's very good — but he may lack the physicality, size and strength necessary to be a reliable cover corner in the NFL.
Thompson knows the game, he understands how to blanket a receiver, but he may be best-suited as a nickel corner in the NFL. Thompson also has great speed, helping his value as a contributor on special teams. And luckily for Thompson, the Redskins secondary is very thin.
2011 Expectations: Because of his natural talent, Shanahan would find him a place on the practice squad — special teams at best for his rookie season.
Round 7 (217) : Maurice Hurt, OL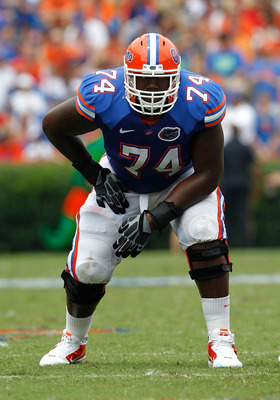 Sam Greenwood/Getty Images
Going against the best competition in the country last season, Hurt started games at right tackle, right guard and left guard. As the first and only offensive lineman taken by Shanahan in this draft, I would assume that the coach likes Hurt's versatility and athleticism in the trenches. But before a decent performance at his Pro Day, I wonder if Hurt would have been drafted at all last weekend.
2011 Expectations: Being the only lineman in this class, I'd have to think that Shanahan doesn't cut him. After a free agent signing for the line, Hurt could hit the practice squad.
Round 7 (224) : Markus White, OLB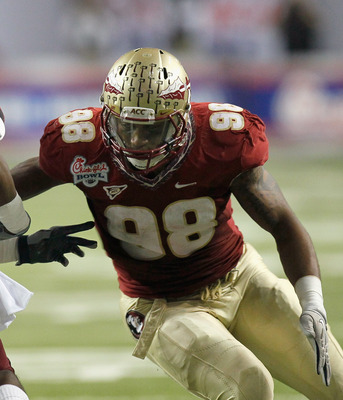 Kevin C. Cox/Getty Images
Because he's just 266 pounds, I'd guess that Shanahan sees White as a project for the outside linebacker position. White looks pretty comfortable in coverage and his pass-rushing moves are there, but he doesn't really bring the explosiveness. In order to make a living in the NFL, White will have to do his best to replicate his production in 2007 when he attended Butler Comm. College and earned NJCAA Player of the Year.
2011 Expectations: Unlike most, I think White can make this roster as a sub and emergency guy. I'm optimistic.
Round 7 (253) : Truck Neild, NT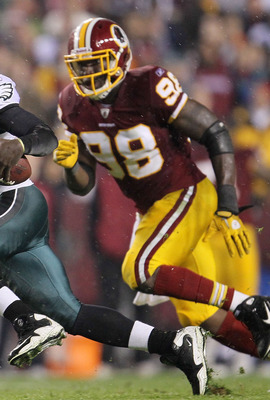 Chris McGrath/Getty Images
There is reason to believe that Neild will surprise a lot of people next season. Truck Neild (real name, Chris) is an anchor on the defensive line with three years of experience as a 3-3-5 nose tackle. While pass-rushing isn't his specialty, Neild does a great job of eating space and making it hard on blockers to move him.
You'll never see any flashy stats from Neild, but his hard work and activity along the line will keep his name relevant. I think his lack of speed and explosiveness keeps Neild out of some lateral plays, but Orakpo and Kerrigan on the outside should help.
2011 Expectations: He makes the team because of hard work and experience. Prepare to be surprised.
Conclusion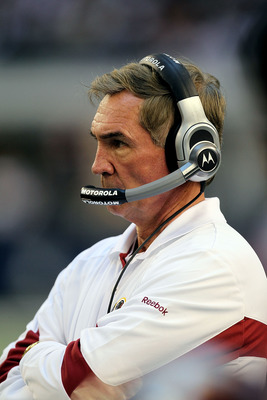 Ronald Martinez/Getty Images
As I've said throughout my posts and gabbed on Twitter (@BetBigDC), I am overly ecstatic about the Washington Redskins' draft class. Not only do I believe that a majority of the players have a real chance of making the team, but I also believe that Mike Shanahan and the front office had a plan for the draft and they executed it flawlessly. Isn't it nice to hear something from Redskins personnel and then actually see it being done? Shanahan and Bruce Allen said they wanted to build through the draft, and that's now believable after the Redskins entered Thursday with eight total picks and finished on Saturday with twelve new players.
But perhaps the talent shared by all twelve guys isn't really what's most impressive and exciting about this draft class at all. Instead, each of these players have been scouted and labeled as young men possessing good character, strong work ethic, hard working tendencies and the potential to be leaders. That alone shows that the Vinny Cerrato Era is finally over for good in Washington and that adults are now running the franchise. This team is headed in the right direction.
Hail.
Shae Cronin is a Redskins Featured Columnist for Bleacher Report and the founder of Bet Big DC.com, a sports website focusing on the D.C., Maryland and Virginia region. Be sure to check-in frequently and follow @BetBigDC on Twitter for the latest rumors, sports picks, mock drafts and more.
Keep Reading

Washington Redskins: Like this team?