2011 NFL Draft: How Reggie Bush and Mark Ingram Can Coexist in Saints Backfield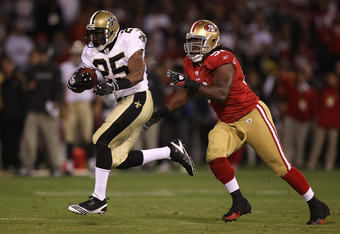 Jed Jacobsohn/Getty Images
Almost as soon as the New Orleans Saints traded back into the first round of Thursday's first round to select Alabama running back Mark Ingram, fans and commentators alike assumed this meant the end of the Reggie Bush era in New Orleans.
Of course, Bush himself believed so too as he tweeted, now infamously, "It's been fun New Orleans". One witty sports writer quickly pointed out that Reggie should save himself by explaining that he was talking about the end of the New Orleans Hornets basketball season.
But we all know Reggie wasn't speaking of the city's other sports team. He was talking about himself and the Saints.
What Reggie—and all the commentators and fans—seem to be forgetting is that the Saints are simply sticking to their M.O. as they have done for years under Sean Payton. Heck, fans and commentators thought pretty much the same thing when the Saints drafted Bush. They assumed that move meant the end of Deuce McAllister's run in the Crescent City.
Instead, McAllister had one of his best seasons as a pro and was an integral part of the Saints' run to their first NFC Championship Game in 2006. In fact, it was Payton's ability to brilliantly include both players in each game plan by using their respective strengths to move the football and score points.
Five years later Bush is on the other end of this spectrum, believing that his time in New Orleans has come to an end. Unlike 2006, the Saints do have other players at the position besides Bush who require attention and desire large amounts of playing time.
Chris Trotman/Getty Images
Pierre Thomas and Chris Ivory join Bush and Ingram as players expecting to see significant amounts of playing time next season. It is possible that one of the first three will have to be in another uniform to have that wish granted.
It seems very unlikely that player would be Thomas, as the Saints re-signed him—prior to the expiration of the Collective Bargaining Agreement—to a four-year contract extension. And Ivory is only a second-year player with lots of upside.
Clearly Bush is the most likely to be headed out the door. But I have to caution you from that opinion. Bush ain't goin' nowhere!
Similar to 2006 with McAllister, the Saints need what Bush can provide to the offense. Bush's ability to line up in the slot or out wide present a mismatch—regardless of who the defense uses to cover him. When he does line up in the backfield, there are an extra couple of eyes in the backfield than there normally would be. In addition, we can't forget Bush is clearly still one of the best and most dangerous punt returners in the entire NFL.
Pierre Thomas, while versatile, is not going to gain the same kind of attention out wide as Bush. Ingram can catch the ball out of the backfield, but he's not going to return punts like Bush will. Chris Ivory can carry the ball effectively on the goal line but isn't going to threaten a defense vertically the way Bush does.
In short, Bush is the type of player the Saints should be begging to stay. Yes, they should be begging him to stay at a reduced cost, but begging nonetheless.
I do not recommend listening to the video. I would mute it and watch the elegance and beauty of Reggie running free.
It is absolutely true that Mark Ingram is going to take away carries from Reggie Bush, and the rest of the backs. But it's not as if Bush was getting tons of carries anyway. At some point, Coach Payton and Co. recognized Bush is not a running back, as is typically defined.
Yes, he should still line up in the backfield, but only as often and with the same intentions that Percy Harvin did the last couple seasons with the Vikings.
This will allow Ingram to get 10-15 carries a game, along with 10-15 carries from Pierre Thomas, and some goal line carries will be awarded to Ivory. It also gives Payton the option to go with the "hot back." No longer does he have to rely exclusively on one guy as his runner and another as his receiving guy.
Because Ingram does everything well, defenses won't know what's coming just because he's in the game. Last season, it became painfully obvious that when Ivory was in the game, it was either a power run or a pass. Creativity was pretty much thrown out the window.
Just as McAllister and Bush would play in "21 Pony" packages, Ingram and Bush or Thomas and Bush or even Ivory and Bush can make up the new "21 Pony" packages. Defenses will be so confused trying to keep up with the personnel packages, they won't even be able to prepare for the particular plays they're getting.
Let's not forget the primary reason the Saints made this move, though. Against Seattle in the last playoff game, the Saints were down to their eighth-string running back by the end of the game. The offense had no more gas. It was dead. And had they pulled out that game, who knows who would've played running back the next week.
Jonathan Ferrey/Getty Images
By adding a first-round back to their rotation, there are three guys the Saints feel extremely comfortable with as "the guy," and another who as the fourth guy in that rotation can do the job if called upon (Bush). The depth at the position is now ridiculous.
Of course, with the selection of Louisville DB Johnny Patrick, the Saints were trying to do basically the same thing at the defensive back position. Because those positions have suffered such attrition in the past couple years, additional depth was required.
Depth cost the team games in recent seasons. That should not be the case in 2011. Nor should the Saints lack for creativity in their game plans as they did a season ago. But if Bush is gone, they just might.
This article is
What is the duplicate article?
Why is this article offensive?
Where is this article plagiarized from?
Why is this article poorly edited?

New Orleans Saints: Like this team?