San Francisco Giants Desperately Need a Big Bat in 2011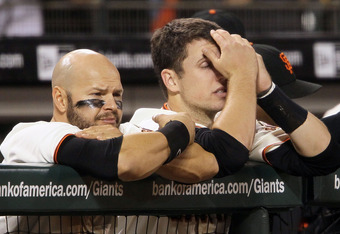 Cody Ross was clutch throughout the 2010 postseason, but the Giants are in need of consistency from their offense during the regular season.
Justin Sullivan/Getty Images
The San Francisco Giants heard it throughout 2010.
"Not enough hitting. There's no way they'll even make it to the postseason with such a stagnant offense."
92-70, NL West Champions.
"So what, they made the playoffs. Let's see them try and score runs against Derek Lowe, Roy Halladay, Roy Oswalt…"
NLDS: SF – 3, ATL – 1
NLCS: SF – 4, PHI – 2
"Wow, their pitching absolutely carried them to the World Series. Too bad they won't be able to score against Cliff Lee and C.J. Wilson."
2010 World Series: SF – 4, TX – 1
Silence.
The Giants ranked in the bottom half of the National League in runs scored in 2010, hitting a modest .257 and stealing an anemic total of 55 bases, which ranked them 15th in the NL.
However, it was, as many Giants skeptics, doubters and haters will eagerly point out, the Giants' pitching that carried them through the 2010 season, ranking first in the National League in ERA, saves, earned runs, hits and strikeouts.
Who would you rather see wear a Giants uniform in 2011?
While the doubters continued to take shots at the Giants' offense (and rightfully so, at times), the Giants continued to grind out wins, emerging from the wreckage of the NL West with a division title that came on the last day of the regular season after having been down by 7 1/2 games on July 4.
With 52 (yes, 52) one-run games in the book, Giants fans and players alike had become accustomed to their patented "torturous" style of victory.
The torture carried over into the postseason, with every single game of the NLDS and two games in the NLCS coming down to one-run games, with the Giants going 6-1 in the razor-tight contests.
However, come World Series time, the consensus was that the explosive Texas Rangers offense would prove to be too much for the Giants pitching staff, who were expected to get paltry run support from a Giants offense that had squeaked through the playoffs thus far.
I'm sure you can recall how the World Series turned out.
I don't think I'll ever forget.
The Giants amassed twenty runs in the first two games of the World Series to jump out to a 2-0 lead before splitting the first two games in Texas. In a fitting finish to a season filled with torture, Brian Wilson closed out Game 5 in Texas, giving the Giants their first World Series victory since 1954, and their first in San Francisco after having made the move to the Golden Gates in 1958.
Christian Petersen/Getty Images
Come 2011, what are the experts saying?
"Not enough hitting," says an anonymous NL scout.
"I just don't see their pitching carrying them again this year. I don't even have the Giants making the playoffs."
However, the Giants have something to say about that. With an NL second-best twenty two home runs and an influx of first-inning outbursts, the Giants' offense is showing pop that it notoriously lacked in 2010.
Will it be enough, though?
With a stacked Phillies rotation and a hot-hitting Rockies team that also features a solid pitching staff, many experts and average fans alike don't even have the Giants winning their division, let alone making a run reminiscent of their 2010 world championship.
Although the Giants rotation is once again stellar and the offense looks to have improved to a degree this year, look for Brian Sabean to be active prior to the trade deadline in search of offensive weapons.
The players that the Giants would possibly pursue include:
Phillies shortstop Jimmy Rollins, who is in the last year of his contract and could be dealt by Philadelphia in an attempt to rid themselves of an aging veteran.
Mets shortstop Jose Reyes, who is also in the last year of his contract and could take the place of aging (and ailing) Miguel Tejada, who would likely be included in the deal.
And Mets left-fielder Carlos Beltran, who is in the final year of a seven-year, $119 million contract and has surging outfielders ready to overtake him in the Mets' organization.
Look for the Giants to possibly make an offer to the Mets in search of a temporary, one-year lease on an offensive weapon the likes of Beltran.
Michael Manbert is a reporter for SFGiantsInsider.com.
Follow Michael on Twitter at @MichaelManbert!
This article is
What is the duplicate article?
Why is this article offensive?
Where is this article plagiarized from?
Why is this article poorly edited?

San Francisco Giants: Like this team?