2011 Washington Redskins: An Interview with Inside Linebacker Robert Henson
April 29, 2011
NFL Photos/Getty Images
The Washington Redskins added one hell of a punch to their linebacker core when they drafted Ryan Kerrigan 16th overall last night. For a defense that struggled through much of last season, adding a solid piece next to two-time Pro Bowler Brian Orakpo was a big time step in the right direction.
Meanwhile, with the lockout at least temporarily lifted, the rest of players are getting back to work. Though Kerrigan was a great move, the Redskins have a few more holes they need to fill. 
One man who hopes to help is Redskins inside linebacker Robert Henson.
Henson was a sixth-round pick of the Washington Redskins in 2009 and has been steadily trying to make his way onto the team. He saw game action in 2009 and looked solid, and looked even more so in the 2010 preseason.
Henson seemed to be all over the field. Particularly in week four of the 2010 Preseason, Henson seemed to have his name called on every play. While Albert Haynesworth played at half-speed (at best) up front, Henson was playing like a madman behind him, seemingly right there on every play.
Had Henson finished the game, he likely would have earned himself a roster spot, no to mention a whole legion of fans that would've demanded his presence on the field. Unfortunately for everyone, Henson suffered an injury and had to watch the Redskins 2010 season from the sideline.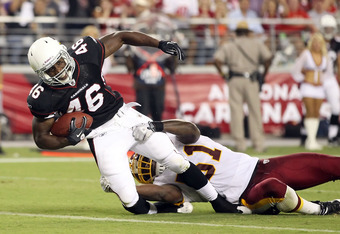 Christian Petersen/Getty Images
Now, however, a new day is dawning and Robert Henson is more ready than ever to play. With open competition at the inside linebacker position next to London Fletcher, Henson is prepared to make an impact.
I had the chance to e-mail back and forth with Henson before the draft. We discussed his injury, his plans for the season and his thoughts on his former quarterback at TCU, Andy Dalton.
KC: Can you explain what injury you sustained in Week 4 of the 2010 preseason against the Arizona Cardinals? What was the first thought that ran through your head when you were coming off the field? Are you back to 100 percent? 
RH: In the third quarter of the last preseason game I tore my meniscus, I also had a cartilage defect. The doctors went in and got everything all cleaned up for me, after some extensive rehab and working out my knee is back in great shape.
KC: During your rookie season, you got in a little bit of trouble for calling out fans on Twitter, to the point where you closed your account. What encouraged you to reopen your account and start interacting with fans again? 
RH: I decided to get off of twitter so that I could have a chance to adjust to NFL life and what that means. I wanted to really learn more about the organization, it's history and fan base so that I didn't make judgments after only being around for a few months. I did my history and I realize how loyal, respectful, and kind Redskin fans are throughout the country. Not the type of situation any player, not just rookie should find themselves in. I love interacting with fans and being accessible to them, it makes me work harder and keeps me hungry. 
KC: Do you have a good relationship with head coach Mike Shanahan? What do you think is the biggest difference between the Mike Shanahan-led Redskins and the Jim Zorn-led Redskins? 
RH: I have a good relationship with Coach Shanahan, he is a fiery guy with great work ethic and demands perfection. Zorn and I had a good relationship too, he was a little more passive and delegated responsibility among the team captains. He was definitely a quiet storm, yet a storm nonetheless. 
KC: Right now, the Redskins have you and Perry Riley on the roster. Rocky McIntosh and H.B. Blades are free agents. What do you think you can do to ensure that on September 11th you'll be the inside linebacker starting next to London Fletcher?
RH: Our linebacker room is overwhelmed with talent. Our guys are athletic, passionate, and intelligent. I can't imagine what that room looks like without Rocky or HB. They both bring separate strengths to the table. They really took me under there wing and helped me to tap into another side of athleticism, especially in my sophomore preseason. Hopefully that legacy will continue as we welcome new linebackers to the Redskins. Perry Riley and I progressing into starting LB's would be a powerful combination, especially with Coach Haslett, Coach Spanos, and London continuing to help us by sharing knowledge and being patient.
KC: You probably get sick of answering questions about this, but the people want to know: what were your thoughts on the Donovan McNabb saga? Any thoughts about Rex Grossman and John Beck potentially starting?
RH: If Coach Shanahan has a guy on our roster it's because he believes in him and believes that we can win. I trust Coach's decisions, even if I don't always understand them. I know that we all want to win and I admire that we are willing to step on toes and make people uncomfortable in order to achieve that goal.
KC: You got a whole article devoted to you tweeting your case for the Redskins drafting TCU quarterback Andy Dalton. Who are some other TCU teammates coming out this year that you feel could help the team improve? 
RH: The Horned Frogs are hard working guys, we're use to being overlooked and underrated. The guys coming out of there this year have changed the reputation that our program couldn't compete with the larger schools. They are talented, motivated, and will contribute anywhere they play. 
G/T Marcus Cannon huge guy, nasty run blocker
QB Andy Dalton the guys a winner, a cerebral assassin
Safety TJ Johnson hard worker, smart player,plays fast!
DE Wayne Daniels gets to the ball!
KC: While you were injured, did you still attend meetings and practice and stay in the playbook? Do you think you'll be prepared to compete when training camp starts?
RH: I will definitely be prepared to compete in training camp. I sat in on meetings and continued to learn the defense. The NFL has specific rules about IR that prohibited me from being on the field during practice. It was frustrating to not be able to help my team this year.
KC: Who are some of your teammates right now that you think will end up surprising people this season?
RH: Darrel Young and I are close, we work out together and push each on the field. I believe he will step into a bigger role. Kevin Barnes is another guy that works his tail off and is primed for an even better season. I also have to cast a vote for myself. I need to take it up a notch, and I will work hard to do so! 
KC: How have you been keeping focus during the lockout? Has it been hard getting back in "football shape" and back into a football mindset without minicamps and OTAs and being able to work out at Redskins Park?
RH: I've been in my Training Camp notebook and working out. No one is ever in football shape until they start playing so, I'll have that curve but I'm ready.
KC: The draft is a day away. You had to wait until the third day and the sixth round to get drafted. Any memories of what it was like, waiting to hear your name called, and to get a phone call? What was your reaction when you finally got picked? Have you reached out to any of your Horned Frogs teammates and told them what to expect?
RH: When I got drafted the draft was two days, I'm not sure my nerves would have made it through waiting three days! Getting that call from the Redskins is one of my life's most treasured memories. I have reached out to a few teammates and told them to try and get away from the TV, and not be anxious.
KC: What do you think is one thing fans don't know about you that they should?
RH: I will do whatever I have to, to help us win! Punt the ball? Ok! Jump over a RB to hit Matt Leinart? Hell yea!
KC: What are your goals for the 2011 season and beyond?
I want to show the fans as well as the coaching staff that I can be a starter for the 'Skins. I'm Robert Henson I celebrate when I make plays, because I'm genuinely happy to do my part for my team. I'm vocal and I want to let teams know when they step in FedEx it will be dog fight! 
KC: Where can fans reach you if they want to follow what you're doing on-line?
My website is currently under construction, but I'm always interacting with fans on twitter (@Mr_Henson51). Hit me up let's talk football, PR, whatever. It's important to me to be there for people who are there for me!
Follow me on Twitter @kcclyburn.