2011 NFL Draft: 5 Teams Looking to Offset Last Year's Draft Disaster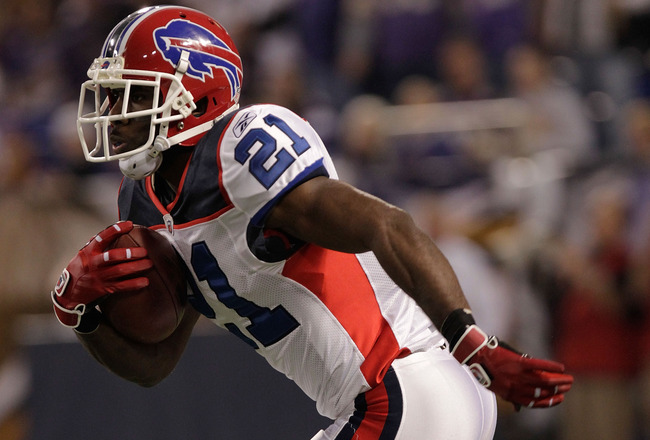 Nick Laham/Getty Images
Today's "win now" mentality provides precious little room for a National Football League team to simply dismiss a bad draft.
The jury remains in doubt for the class of 2010, but in the case of the following five teams, last April's failure adds more pressure for them to dot every 'I' and cross every "T" when the draft begins on Thursday night.
One bad class is (somewhat) forgiving, but another crop of empty promises dressed in pads and a helmet will translate into pink slips and moving vans for the general managers and scouts who fail to redeem themselves over the following three days.
Excuses be damned, the course of these five franchises will be changed one way or the other based on their decisions from Thursday night to late Saturday afternoon.
5. San Diego (First Selection: 18th Overall)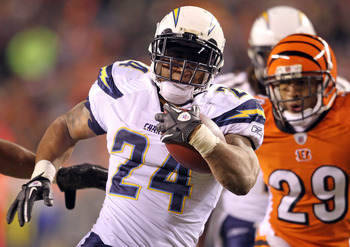 Andy Lyons/Getty Images
Why Last Year Was a Disaster: Injuries kept RB Ryan Matthews (first) from justifying why the Chargers moved up to select him. Matthews rushed for 678 yards and seven touchdowns but also dealt with fumbling issues as well.
ILB Donald Butler (third) had his rookie season wiped out by a torn Achilles, while SS Darrell Stuckey (fourth) suited up only once. The team has hope that NT Cam Thomas (fifth) can continue his slow but certain progress. QB Jonathan Crompton (fifth) and TE Dedrick Epps (seventh) were released.
How Can the Chargers Redeem Themselves? The first-round focus appears to be toward adding a DE, with Wisconsin's J.J. Watt and Purdue's Ryan Kerrigan atop the wish list. With WRs Vincent Jackson, Malcolm Floyd and Legedu Naanee set to become free agents, San Diego will look to bolster the position in the second round, with Pitt's Jonathan Baldwin and Leonard Hankerson of Miami (Fla.) possible options.
TE Antonio Gates remains one of the elite players at the position, but he spent much of 2010 hobbled with a variety of injuries. The Chargers could find lightning in a bottle on the third day in the form of Portland State's Julius Thomas, who—like Gates—has a basketball background.
4. Chicago (First Selection: 29th Overall)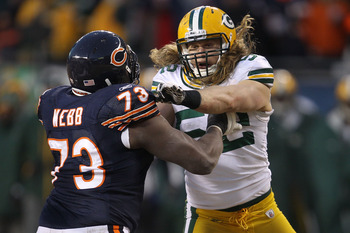 Jonathan Daniel/Getty Images
Why Last Year Was a Disaster: Still paying shipping and handling charges to the Broncos for their 2009 trade for QB Jay Cutler, the Bears did not pick until they chose FS Major Wright mid-way in the third round. Wright appeared in 11 games as injuries hampered his progress.
Seventh round LT J'Marcus Webb worked his way into the starting lineup and held his own, but is still raw and may be better suited for the right side. DE Corey Wootton (fourth) played in just six games, CB Joshua Moore (fifth) spent much of the year on the practice squad while QB Dan LeFevour was cut late in training camp and found his way to the Bengals.
How Can the Bears Redeem Themselves? Despite finishing with the fourth-stingiest defense in the league, all indications are that Chicago will look to retool the unit, with the interior getting top priority. Releasing DT Tommie Harris is a void that could result in the Bears taking North Carolina's Marvin Austin or South Florida DT Terrell McClain, who has shot up the charts.
Depth at LB and the secondary need to be addressed as well. Don't be shocked if the Bears use an early pick on a wide receiver who can give the offense a boost.
3. Houston (First Selection: 11th Overall)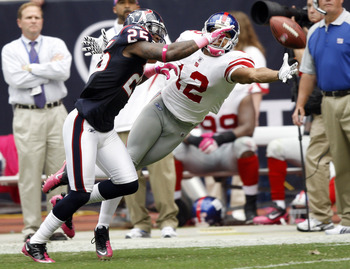 Bob Levey/Getty Images
Why Last Year Was a Disaster: CB Kareem Jackson (first) started all 16 games, but became the NFL's version of Diary of a Whimpy Kid after being picked on repeatedly. OLB Darryl Sharpton (thirrd) started six games and showed signs of improvement. Beyond that, the Texans failed to get much of a nine-player class, although the injury to RB Ben Tate (second) opened the door for Arian Foster to snatch the starting job en route to becoming the league's top rusher.
How Can the Texans Redeem Themselves? Head coach Gary Kubiak and GM Rick Smith received stays of execution; another poor draft could lead both to walk the NFL's edition of The Green Mile. The club is rumored to be considering a trade up in order to nab LSU CB Patrick Peterson, but should they stay put, Nebraska CB Prince Amukamara and Missouri DE Aldon Smith are prime targets to help improve the league's worst pass defense.
New defensive coordinator Wade Phillips will install a 3-4 scheme and will count on Rick Smith to add players who can thrive in the system. The Texans will use an early pick to find a FS that will allow SS Bernard Pollard to play closer to the line.
2. Buffalo (First Selection: 3rd Overall)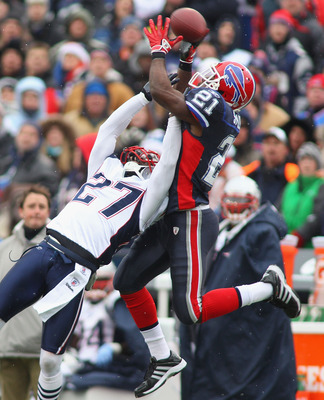 Rick Stewart/Getty Images
Why Last Year's Draft Was a Disaster: The Bills used the ninth overall pick on RB C.J. Spiller, who started just one game and amassed 448 yards on 98 touches from scrimmage. Spiller showed flashes of his potential, but looked more like a poor man's Reggie Bush. He lacks the size to handle a full workload and may turn out to be a very expensive return specialist.
OLB Arthur Moats (6th round) will forever be known as the player who ended Brett Favre's career, but did show some potential with 2.5 sacks. Beyond that, Buffalo got little production from its draft class as DT Torrell Troup (second) and DE Alex Carrington (3rd) failed to make significant contributions. WR Marcus Easley (fourth) spent much of the year on IR, while QB Levi Brown (seventh) is more of a project.
How Can the Bills Redeem Themselves? Buffalo's best case scenario would be Auburn QB Cam Newton falling to the third spot, but the Panthers are all but certain to make the Heisman winner the first overall choice. The Bills would then look at either Alabama DT Marcell Dareus or Texas A&M OLB Von Miller as players who can immediately make amends for the flop that 2009 first-rounder Aaron Maybin has become.
Dareus would instantly improve a run defense that ranked last in the league last season. The Bills will also look at adding a LT and a QB that can emerge as a long-term starter.
1. Washington (First Selection: 10th Overall)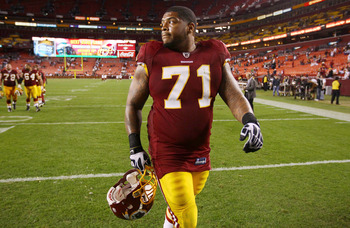 Win McNamee/Getty Images
Why Last Year Was a Disaster: OT Trent Williams (first) was the only contributor of a class that again lacked a either a second or third-round choice. ILB Perry Riley (fourth) played in eight games, while WR Terrance Austin made five cameo appearances. Seventh-rounders C Erik Cook and OT Selvish Capers spent the entire season on the practice squad. FB Dennis Morris was dealt to St. Louis for a conditional pick.
How Can the Redskins Redeem Themselves? If available, the temptation to select Missouri QB Blaine Gabbert will be alluring, but the team has to address a defense that finished 31st overall. New coordinator Jim Haslett's 3-4 scheme is similar to the Steelers, so finding a pass rusher will be the top priority. North Carolina's Robert Quinn and Wisconsin's J.J. Watt are both versatile enough to play either OLB or DE and will be available when Washington goes on the clock.
The Redskins failed with WRs Malcom Kelly and Devin Thomas, so the need for a big wideout (Pittsburgh's Johnathan Baldwin?) still exists. A young, developmental quarterback is also a critical need, which means Nevada's Colin Kaepernick, Florida State's Christian Ponder and TCU's Andy Dalton will be strong considerations on day two.
Keep Reading