2011 NFL Mock Draft: Detroit Lions Nab Impressive Haul in 'War Room' Live Mock
Joel Auerbach/Getty Images
Not all 2011 NFL Mock drafts are created equal.
More impressive than first round mock drafts are full seven round mock drafts. One man making 254 picks for 32 teams is pretty unrealistic, but many do it and some do them very well. Bleacher Report writers like Matt Miller and Eric Galko are both accomplished scouts and as are as knowledgeable about Mr. Irrelevant as Heisman Trophy winners.
The new rage in 2011 has been collaborative live mocks, facilitated through Twitter.
"Mock Three" was described by its facilitators this way:
"#MockThree is built on the success of #MockOne and #MockTwo. It strives to be the most realistic Twitter NFL Mock Draft on the net. In the "War Room Edition", we are assigning multiple GMs to each team to add a sense of realism. In the same vein, trades are allowed. We encourage our GMs to try to emulate their real-life GM and fill their team needs."
In this "War Room Edition," I was made general manager of the Detroit Lions, joining other writers like Evan Silva (NBC Sports), Akshay Anand (Pro Football Focus), Phil G. (I Hate J.J. Redick.com), Aaron Aloysius (Draft Breakdown), Brian Carriveau (CheeseheadTV) and many others.
Assistant GM's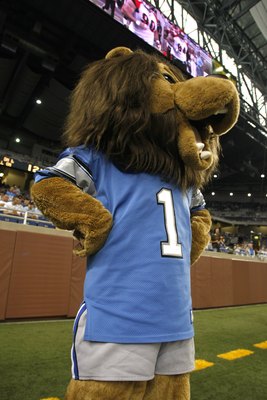 Scott Boehm/Getty Images
Ty Schalter: The owner/blogger of "The Lions in Winter." Ty is ridiculously knowledgeable and talented when it comes to the Detroit Lions and football in general. He describes himself in this way:
Having said that, I'm a happily dedicated husband, who's hopelessly devoted to my three young kids. I love food, beer, music, and toys that go 'beep'. I'm a professional IT nerd, semi-pro musician, and wholly amateur Lions writer/blogger/fan/enthusiast.
Zac Snyder: The lead writer of "The Side Lion Report," Zac often presents a fresh and knowledgeable slant to Lions coverage that I've come to wholeheartedly enjoy. Zac spent some of his formative years in the same neck of the woods as me and is a graduate of Calvin College.
1) Da'Quan Bowers (DE Clemson)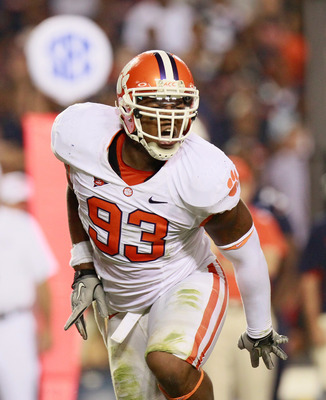 Kevin C. Cox/Getty Images
Scouting Report:
Bowers is a NFL-ready prospect with size, strength, and speed to beat the band. Oh, he also has enough production to satiate any NFL personnel guy. His greatest strength is his explosion and violence with which he brings down ball carriers.
He displayed work ethic concerns before 2010 but those seem to have cleared up. His only red flag is a meniscus injury, but the Lions (and the Browns) have cleared him.
Why He Fits The Lions:
If they've truly cleared him medically, the Lions would be fools to pass on a top-5 Bowers. Next to Suh, Bowers would be a Pro Bowler almost immediately and would make the rest of the line better as well.

Peek Inside The War Room:
Tyron Smith (OT Southern Cal) was also available, and each of us thought he would be a valuable addition to the Lions. Since the three of us don't know whether Martin Mayhew was on the level or not when he claimed Bowers was healthy, we took him at his word. If Mayhew was blowing smoke, Smith should be the pick.

2) Brandon Harris (CB Miami)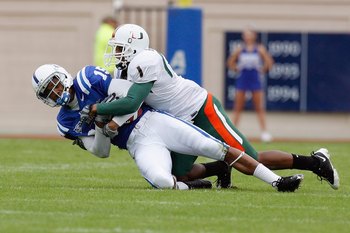 Kevin C. Cox/Getty Images
Scouting Report:
Harris is a spectacular athlete with good instincts and solid technique. He is a "safe" cornerback, in that he often plays the man rather than the ball leading to plenty of incompletions but few interceptions.
A common misconception about Harris is that he was lit up by Notre Dame's Michael Floyd who torched Miami for 110 yards and two touchdowns. In reality? Harris was rarely covering Floyd during the Sun Bowl, sticking to one side of the field.
Why He Fits The Lions:
Best in man coverage, Harris would be a great number two corner and his ability to keep receivers locked down in space would lead to far more coverage sacks than the Lions enjoyed in 2010.
Most importantly, the Lions have on gambler in the backfield corps in Alphonso Smith, they certainly don't need another.
Peek Inside The War Room:
Bruce Carter and Ras-I Dowling were both considered until we all realized that Harris had (somehow) dropped to the second round.
Two teams wanted to trade up but felt our demands (a mid-round and a late-round pick) were too steep. Both then claimed that Harris was their target.
TRADE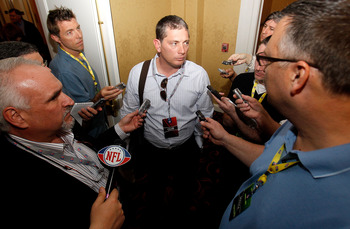 Sean Gardner/Getty Images
Detroit Lions Traded #75 to New England for #92 and #159.
New England's GM (Akshay Anand) was very bullish in this draft, with the assumption that Belichick needs to use these stockpiled picks eventually. The Patriots used the ammo to move up into the first round (in addition to their two current picks,) ending up with Aldon Smith, JJ Watt, and Tyron Smith.
In the third, the Lions were ready to select Will Rackley or DeMarco Murray but could not pass up getting an extra pick with so many needs.
3) DeMarco Murray (RB Oklahoma)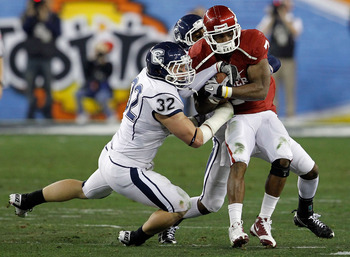 Tom Pennington/Getty Images
Scouting Report:
Murray is a tall slender back who is tougher than he looks and faster than most linebackers expect. He is an exceptional receiver out of the backfield and an extremely tough blocker.

Why He Fits The Lions:
The Lions have been rumored to be looking at goal line/short-yardage backs. That isn't Murray. However, the Lions have three backs that are essentially question marks--Jerome Felton, Aaron Brown, and Maurice Morris.
Adding Murray means Aaron Brown becomes expendable and losing Maurice Morris to the post-30 injury bug won't be as severe.
Peek Inside The War Room:
Both assistants initially wanted a defensive player but the Lions have rarely spend so much draft capital on one side of the ball in the Mayhew era. After two defensive picks, offense had to be the pick here. Ty didn't want a running back but was talked into the value of Murray (who was an option before the trade.)

TRADE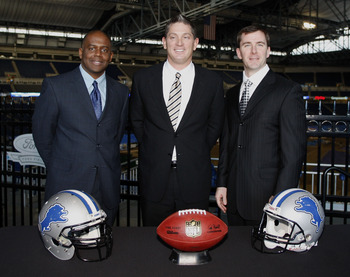 Gregory Shamus/Getty Images
Detroit Lions Traded #107 to Green Bay for #129, #163, and #233
Always hard to pass up a three-for-one.
Green Bay coveted Luke Stocker (TE Tennessee) who had no business falling to #107 and quite a few teams had been trying to move up for the talented tight end.
Before the trade, two players were talked about: Lawrence Wilson (LB UConn) and Brandon Fusco (C Slippery Rock).
4) Brandon Fusco (OC Slippery Rock)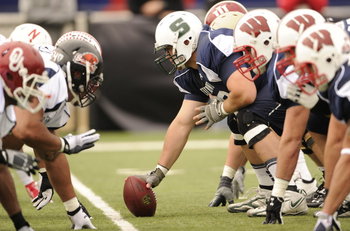 Scouting Report:
Fusco is a four-year starter and a premier blocker regardless of his small school status. At Slippery Rock, Fusco dominated. Projecting to the NFL, Fusco could be an adequate run blocker right away in the NFL if not an elite road-grader. In pass protection, Fusco could struggle initially but should take to coaching sooner rather than later in the pros.
Why He Fits The Lions:
Dominic Raiola isn't going to last forever. In fact, he may not last past 2012. His play has fallen off the map--which is saying a lot for a guy who was never more than a Pro Bowl alternate.
Fusco, immediately, could upgrade the Lions interior run blocking and is the type of smart line captain that the coaching staff loves.

Peek Inside The War Room:
Neither assistant GM knew a whole lot about Fusco, which is probably true for a lot of NFL war rooms early in this draft process. I had seen Fusco up close at the Senior Bowl and interviewed him at the Combine. The assistants trusted (and you should too) that the Lions are going to have their sights on this kid.

5) Buster Skrine (CB UT-Chattanooga)
Scouting Report:
After he ran a 4.37 at the combine, everyone found out Buster Skrine is fast.
What people don't know is that he's one of the more accomplished man-cover corners in the draft and able to excel in zone as well. Few corners have Skrine's athleticism and versatility in coverage.
What tantalizes coaches about Skrine most is the upside he has moving from Tennessee-Chattanooga to an NFL-caliber strength program.
Why He Fits The Lions:
The Lions have room in their defensive backfield for two prospects and after selecting Brandon Harris, Skrine would be a wonderful second addition. He wouldn't get a ton of burn in his first year out of a small school but should be able to contribute on special teams while working his way into the rotation.

Peek Inside The War Room:
Corner wasn't the position our team had been targeting but couldn't pass up the value of Skrine. In fact, the second best value on our board was another corner, Jalil Brown. Thankfully, two players on our short list ended up falling to us later in the fifth.

5) Casey Matthews (LB Oregon)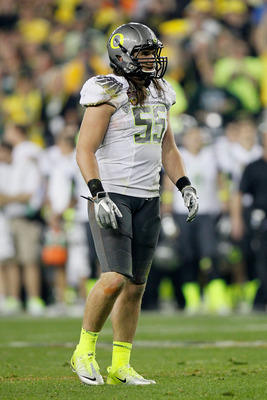 Kevin C. Cox/Getty Images
Scouting Report:
Casey isn't Clay. Once that is understood by everyone, Matthews can be judged fairly on his own merits.
The best word to describe Casey Matthews is "ubiquitous." On tape, Matthews manages to be in every pile and on every loose ball. Above average athleticism is augmented by elite instincts and ball skills.
The downside of Matthews is lack of upside and overall explosiveness. He'll never be in the conversation for NFL's best, but he could easily start in this league for a long time.
Why He Fits The Lions:
It's no surprise that the Lions need a linebacker, but various people have ideas about what sort of linebacker the Lions covet.
Matthews isn't going to immediately beat out Bobby Carpenter or Ashlee Palmer into the starting lineup, but also wouldn't kill the team if he had to fill in. Down the road, Matthews could easily be a high caliber special teams player and log heavy minutes as a WLB.
Peek Inside The War Room:
Somehow, in a draft where linebacker needs to be a priority, linebacker just didn't fall to the Lions and Matthews was the first time where need met value. Since the team had Matthews at the top of our board in the beginning of round five, it was easy to select him here.
5) Ronald Johnson (WR Southern Cal)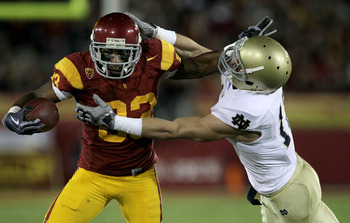 Stephen Dunn/Getty Images
Scouting Report:
The Muskegon, MI native is best known to Lions fans as the guy who spurned Michigan and ended up a Trojan.
As an athlete, Johnson is phenomenally talented and is maturing as a wide receiver. His route running was much better in 2010 and his ability to high point the ball has been under-appreciated.
Johnson doesn't project as an elite outside receiver in the pros but can play flanker in a pinch. Most believe he'll fit best in the slot getting starters targets.
Why He Fits The Lions:
Lions fans seem to be sorting wide receiver preferences by 40-times and stopping there. In reality, the Lions want a fast guy, but probably also want a guy who can work the middle of the field for much of the game but alternate with Burleson who needs to be inside during clutch situations.
Ronald Johnson has the ability to be the sort of player the Lions wanted when they picked up Bryant Johnson.
Peek Inside The War Room:
Johnson was another player high on the war room's list at the top of round five. The consensus was that "RoJo" was the last wide receiver on this board with decent upside and potential to become an impact player.

7) Chris Conte (S California)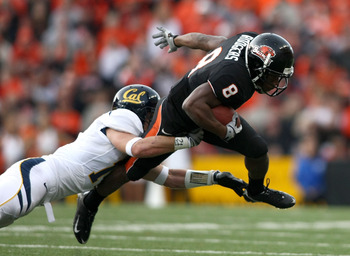 Jonathan Ferrey/Getty Images
Scouting Report:
Conte is a safety who plays like a linebacker against the run and has cornerback ball skills against the pass. He'll fall down many draft boards because he has the body of a "tweener," but it shouldn't surprise if some teams have him valued much higher in day three.

Why He Fits The Lions:
The Lions love what they have in Caleb Campbell but haven't been able to get him on the field as soon as they'd like. With Conte, that shouldn't be a problem.
Don't misunderstand and think that Conte is Campbell 2.0. Conte is about 20lbs lighter and is better in pass coverage than Campbell has ever been. Conte upgrades the safety corps, making C.C. Brown expendable while also helping out special teams.

Peek Inside The War Room:
With a fifth round grade on Conte, I pushed hard to select him here even though safety isn't a need position. Conte is a Schwartz-type player and that sold the assistants.

7) Darren Evans (RB Virginia Tech)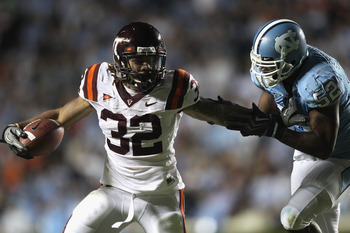 Streeter Lecka/Getty Images
Scouting Report:
Evans spent most of his time in Blacksburn backing up Ryan Williams.
This year, Williams is liable to go in the second round while Evans could end up undrafted. However, Evans fills the same niche he did at Virginia Tech—a big back with plenty of speed to burn and just enough wiggle to succeed at the next level.
Why He Fits The Lions:
Although the Detroit Lions want a big back to complete Jahvid Best, they aren't going to take a guy who can't extend plays.
The Lions got a great running back earlier in the draft in DeMarco Murray, but (as said earlier) numerous roster spots can be upgraded in the corps and Evans is a great guy to bring along slowly as Maurice Morris finishes out his career in Honolulu Blue.
Peek Inside The War Room:
Ty initially had concern with selecting a second running back but Zac was the driving force behind this pick. The Lions don't use a traditional fullback very often and Evans could end up making Jerome Felton all-but-expendable. Great value at the end of the draft.
Michael Schottey is an on-call editor for the Bleacher Report College Writing Internship, as well as an NFL Featured Columnist and an NFL Labor/Draft Expert. A member of the Pro Football Writers of America, he has professionally covered the Minnesota Vikings and the Detroit Lions, as well as NFL events like the Scouting Combine and the Senior Bowl. Follow him on Twitter.
Keep Reading

Detroit Lions: Like this team?