2011 NFL Draft: 5 Bizarre Moves Al Davis Could Make on Draft Day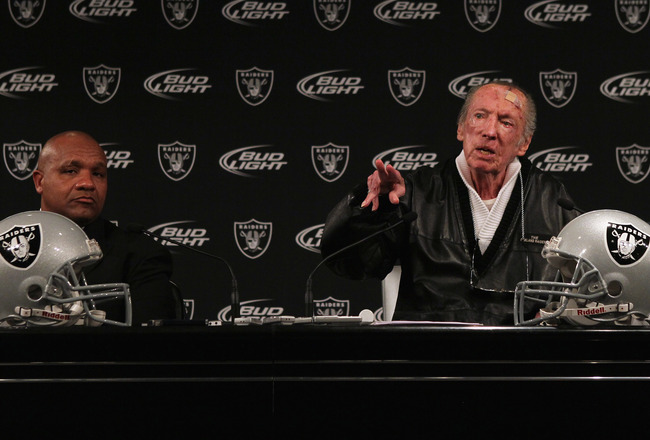 Justin Sullivan/Getty Images
Al Davis has had plenty of solid draft picks in recent years and has had his share of misses as well. Davis loves speed, size and strength and that has proven to be a weakness at times.
Davis wants his guys no matter what anyone else thinks of him. If a player impresses with his speed or performance in the NFL Combine, they could find themselves in an Oakland Raiders uniform.
Let's take a look at five bizarre moves the Oakland Raiders can do on draft day.
Raiders Select Taiwan Jones in Second Round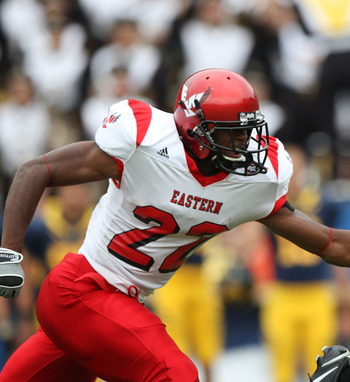 Jed Jacobsohn/Getty Images
Oakland Raiders fall in love with Taiwan Jones speed and draft him in the second round.
Jones recently had a pro day that made everyone in the league look his way.
Could his 4.27 40 time be enough to make Al Davis select Jones in the second round?
Raiders Trade Third-Round Pick for Vince Young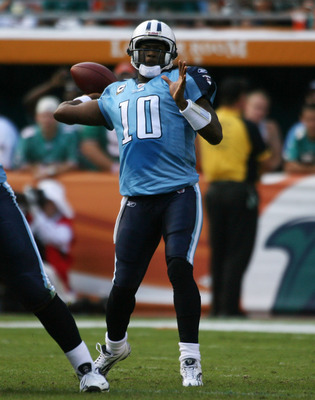 Marc Serota/Getty Images
Would the Raiders be willing to part with a third or fourth round pick to get Vince Young on the team?
Perhaps Al Davis will be conVinced that Hue Jackson can turn Young's career around.
Campbell only has one year on his contract and maybe Davis thinks having Young as a back up would only make him better?
Raiders Trade Second-Round Pick for Chad Ochocinco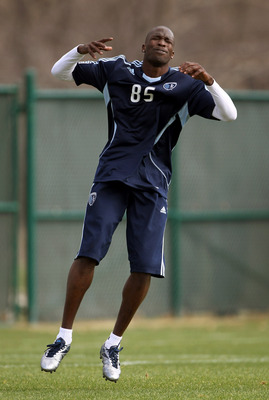 Jamie Squire/Getty Images
While the Raiders have a bunch of young receivers that have potential it would be smart for them to add a veteran guy who's proven he can do the job.
Would Al Davis consider trading a second round pick for Chad Ochocinco?
Is a second rounder too much for Ochocinco? Would he change his name back to Johnson or would Darrius Heyward-Bey change his name? So many questions not enough time.
Draft Ryan Mallett in Second Round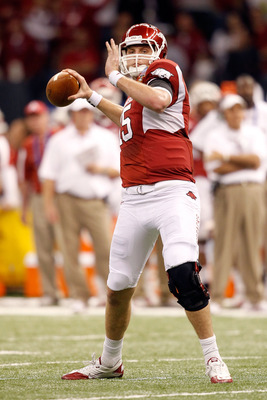 Matthew Stockman/Getty Images
Could the Raiders fall in love with another quarterback out of the SEC? The Raiders drafted JaMarcus Russell out of LSU in 2007 and then added veteran Jason Campbell who played in Auburn.
Ryan Mallett played his college career in Arkansas and his size and arm strength fit the mold for a Raiders quarterback. Where he is a second round pick there wouldn't be a lot of pressure on him to start right away.
Could Davis draft another QB from the SEC?
Draft DeMarcus Van Dyke in Second Round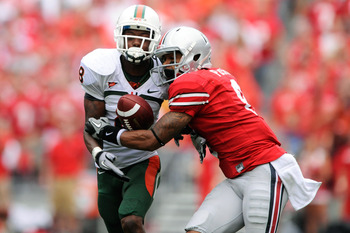 Jamie Sabau/Getty Images
Al Davis loves speed and he loves defensive backs. As a matter of fact, Al Davis has drafted more than twice as many defensive backs than offensive linemen since 2007.
Demarcus Van Dyke was the fastest defensive back at the NFL combine running a 4.28. With Nnamdi Asomugha's future in question, could the Raiders turn to Van Dyke to replace him?
These moves are five bizarre moves that could happen on draft way. Will they happen? Only times will tell.
If you love the Raiders follow me on Twitter: Click Here
Keep Reading

Oakland Raiders: Like this team?