MLB Trade Speculation: 7 Starting Pitchers Who Could Become Available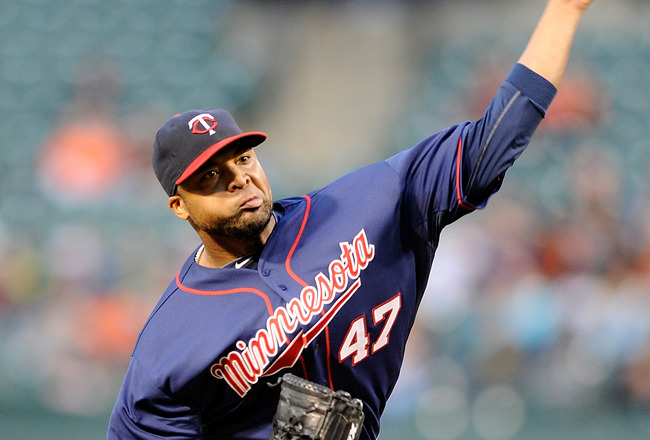 Greg Fiume/Getty Images
Even though we are just a few weeks into the season, it is not too early to begin thinking about the trade deadline. It seems as if every team is always looking for starting pitching help.
This year, it is possible that there will be some big-name pitchers on the move.
Each of these guys are ones that could help a team win a playoff series or help bring them to the playoffs.
Edwin Jackson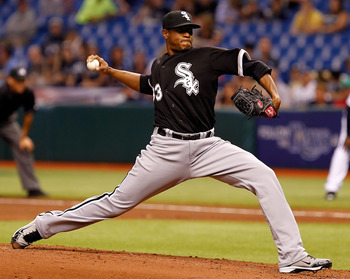 J. Meric/Getty Images
Jackson was one of the big names moved at the trade deadline last season and he could be back on the move again this year.
The White Sox are struggling and are currently sitting in last place in the AL Central. If the team fails to be in contention in the next few months, they will be sellers.
The team could get a decent haul for Jackson, who is a free agent after the season. The 27-year-old has seen his strikeout rate increase this year. His ERA is currently a bit high, but this comes as a result of a .370 BABIP.
Mike Pelfrey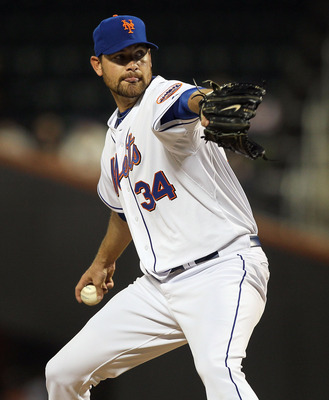 Jim McIsaac/Getty Images
Even after this weekend's sweep of the Arizona Diamondbacks, it appears as if it will be a long season for the New York Mets.
The most prominent trade rumors regarding the team have been focused on Jose Reyes. However, it is likely that Reyes would not be the only player to move if the team's struggles continue.
Mike Pelfrey is a prime trade candidate. Pelfrey has never developed into the No. 2 starter that the Mets were hoping he would become. Instead, he has a career 4.41 ERA and has struggled in his five starts this season.
Considering the fact that Peflrey had a strong season last year and the fact that he will not be a free agent until 2014, the Mets could get solid value for Pelfrey if he can turn things around.
Fausto Carmona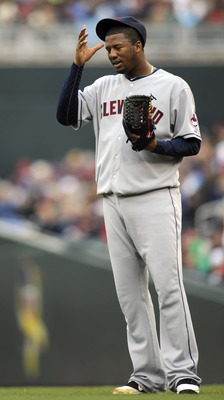 Hannah Foslien/Getty Images
Some teams had interest in Fausto Carmona over the winter. That interest should carry over to the season.
Carmona has struggled a bit this season, but if he gets back on track, he could get traded at the deadline.
At the moment, the Indians would likely not deal Carmona because they are in first place. If the team drops back to the middle of the AL Central, there is a good chance that Carmona will be on the move.
Carmona is signed to a team-friendly contract and he should bring back a few strong prospects.
Francisco Liriano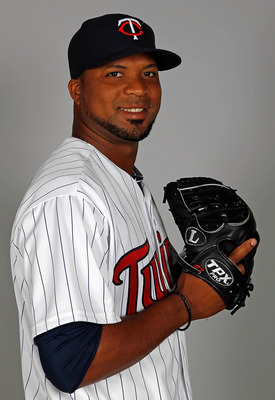 J. Meric/Getty Images
Liriano's name has already been linked to the Yankees after Phil Hughes went on the disabled list.
That talk will likely continue if the Yankees rotation continues to struggle.
Bartolo Colon and Freddy Garcia have done well in the opportunity that they have had, but they are not the solution the Yankees are looking for.
It will be interesting to see what type of value Liriano can bring the Twins if he is moved. It seems as if the most likely destination for Liriano is New York, but other teams will certainly be involved in the bidding if he is put on the market.
Mark Buehrle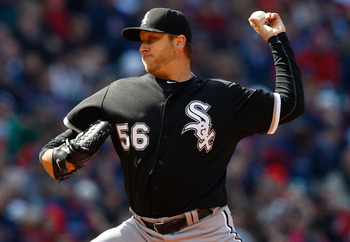 Jared Wickerham/Getty Images
Buehrle has spent his whole career with the career with the Chicago White Sox.
That, however, could change at the trade deadline this year.
Buehrle is set to become a free agent after this year, and the White Sox, who are struggling to contend, could look to move him.
Buehrle has a World Series ring from 2005 and would bring playoff experience to whatever team acquired him.
Chris Carpenter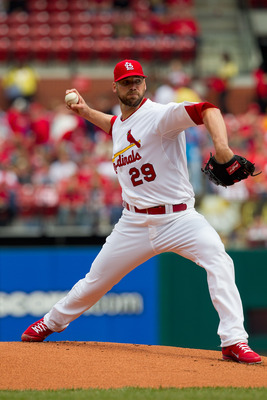 Dilip Vishwanat/Getty Images
If the Cardinals decided to move Carpenter, the move will likely have more to do with the Albert Pujols contract situation than anything else.
Carpenter has a $15 million option for next season. The team may look to free up this money to re-sign Pujols.
If Carpenter is traded, the Cardinals can expect to receive a top prospect in return. The decision whether or not to trade Carpenter will be a difficult one for the Cardinals to make.
Anibal Sanchez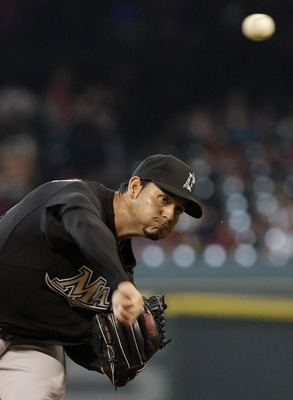 Thomas B. Shea/Getty Images
The Marlins tend to trade away many of there top players when they are due for big raises in arbitration. Sanchez is making just $3.7 million this year and that number should at least double for next season.
It does not seem to fit in with the Marlins' strategy to keep Sanchez, since they have recently signed Ricky Nolasco and Josh Johnson to big extensions.
Sanchez will bring back a nice haul for the Marlins. If he is made available, Sanchez will be one of the hottest commodities available this July.
Keep Reading