2011 NFL Draft: Top 15 Mock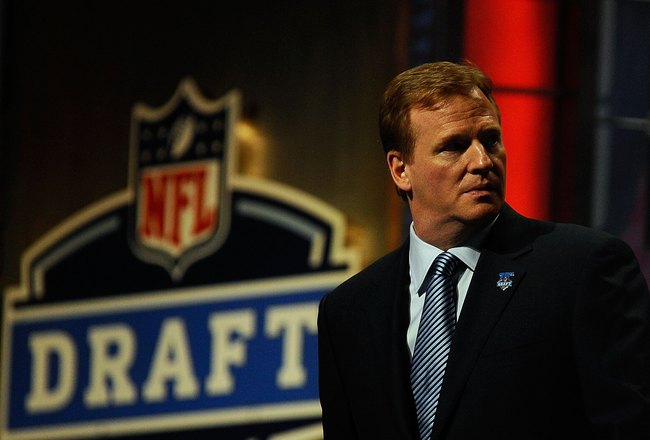 Jeff Zelevansky/Getty Images
*This Mock Draft was co-authored by fellow BleacherReport columnist Max Minsker*
To see the corresponding 25 player Big Board (recommended) and more in depth analysis on the 2011 draft click here.
The NFL drafts is one of the most heavily predicted and analyzed event in all of sports. Every year hundreds of mock drafts and big boards are produced. The draft builds teams and the league for its future
My fellow columnist and I have decided to collaborate a mock draft for the top 15 picks in the upcoming NFL draft. This mock draft based on player talent and team needs is how the 2011 NFL Draft will shake out.
I hope you are as excited for the draft as we are and enjoy!
15. Miami Dolphins: Mike Pouncey, C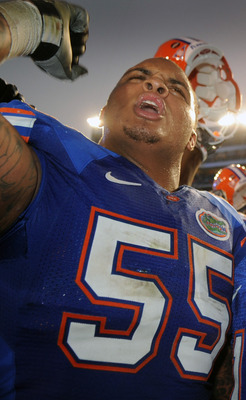 Al Messerschmidt/Getty Images
Mike Pouncey would add immediate stability to the interior offensive line for the Dolphins.
If Mike is anything like his twin brother, the Dolphins will be getting an elite center. A top center would help keep their backfield healthy.
The other option here was running back Mark Ingram. They desperately need a running back since their backfield has been plagued by injuries.
14. St. Louis Rams: Muhammad Wilkerson, DT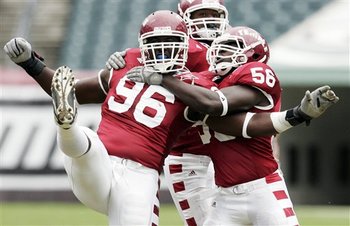 Muhammad Wilkerson could help a St. Louis front seven that has struggled greatly over the last few years.
Wilkerson is an outstanding run stopper who can immediately improve the Rams' defense. His size will help clog up the middle.
Other options for St, Louis would be to trade up and draft wide-receivers Julio Jones or A.J. Green to help out young Sam Bradford if one falls. They could also draft DE Da'Quan Bowers.
13. Detroit Lions: Da'Quan Bowers, DE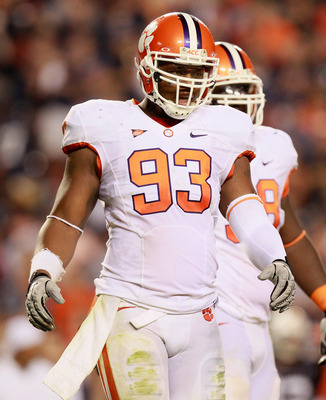 Kevin C. Cox/Getty Images
If the Lions drafted Da'Quan Bowers they will have one of the best defensive lines in the NFL consisting of Bowers, Suh, and Vanden Bosch.
Bowers is top-three talent, but a knee injury has caused him to drop in the draft. If he can stay healthy, he should be an elite pass rusher.
Other options for the Lions include drafting Amukamara if he is still available. They could also take offensive tackle Anthony Castanzo filling a never ending need at offensive line.
12. Minnesota Vikings: Prince Amukamara, CB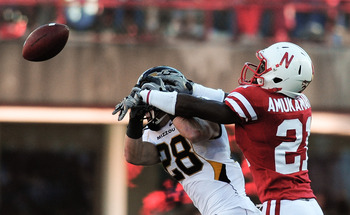 Eric Francis/Getty Images
Prince Amukamara was considered the best cover corner in college football season last year and he would add some much needed youth to an aging Vikings defense.
Amukamara has the ability to translate his game to the NFL.
The Vikings could also decide to go defensive end and draft Watt, Jordan, Bowers, or Quinn if he falls. They could also go offensive line and draft Costanzo or Smith.
The most interesting decision the Vikings could make, would to be to trade up or down and draft a quarterback.
11. Houston Texans: Robert Quinn, DE/OLB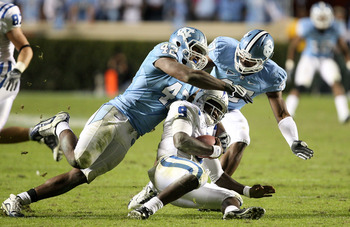 Streeter Lecka/Getty Images
Quinn sat out during the 2010 season due to suspension, but he is an elite pass rusher coming off the corner.
He would fill a need in a defense that struggled last season. Quinn would be a nice counter to Mario Williams.
The Texans have many needs on defense and could draft Amukamara, Cameron Jordan, or Wilkerson would all help improve one of the worse defenses in the NFL last season.
10. Washington Redskins: Cameron Jordan, DE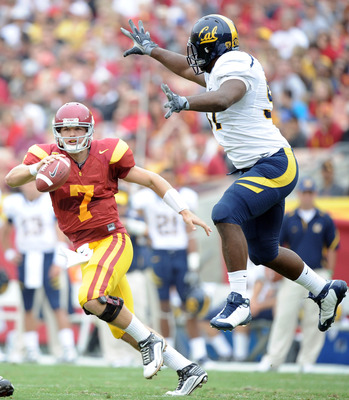 Harry How/Getty Images
Cameron Jordan is solid defensive end that would perfectly into the Redskins' scheme.
He is not a great pass rusher, but is superb in stopping the run, where Jordan will fit nicely into their 3-4 defensive end. With Orakpo rushing around, the Redskins will have a nice front seven.
Other option for the Redskins include drafting offensive tackle Anthony Castanzo or Tyron Smith. If Gabbert or Newton falls the Redskins will definitely take a good look at either of them.
9. Dallas Cowboys: Tyron Smith, OT
Kevork Djansezian/Getty Images
The Cowboys desperately need a right tackle and Smith fits that bill perfectly. Smith played only right tackle in college. He his undersized, but is very athletic.
He could make an immediate impact for the Cowboys' offense.
Prince Amukamara would also be a good fit for the Cowboys. I would also not be surprised to see the Cowboys draft either Cam Newton or Blaine Gabbert if either falls.
If Julio Jones falls, they would think about drafting him.
8. Tennessee Titans: Patrick Peterson, CB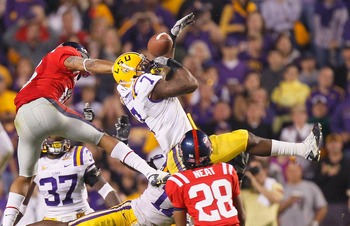 Kevin C. Cox/Getty Images
Patrick Peterson is in many scout's opinions the best player in the draft.
The Titans would have no problem drafting him he fell into their laps. He would give the Titans a dominant two corners with Peterson and Cortland Finnegan.
The Titans could possibly go quarterback of Newton or Gabbert falls.
They could also could draft Bowers or Quinn to give them an elite pass rusher. Julio Jones is another possibility for the Titans.
7. San Fransico 49ers: Von Miller, OLB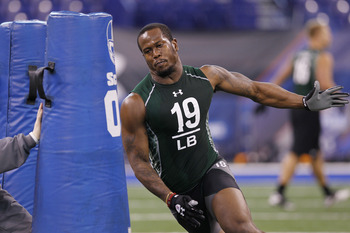 Joe Robbins/Getty Images
San Francisco has a nearly impossible decision to make with this pick. They could take Patrick Peterson who is possibly the best player in the draft, or Miller who is right there with him.
In the end, the pick should be Miller.
Patrick Willis is undoubtedly one of the best linebackers in the NFL. He is a rising star who has absolutely dominated the game.
Putting a dominant outside linebacker like Miller alongside him could form one of the most dominant and feared linebacker tandems the NFL has seen in a long time.
6. Cleveland Browns: Julio Jones, WR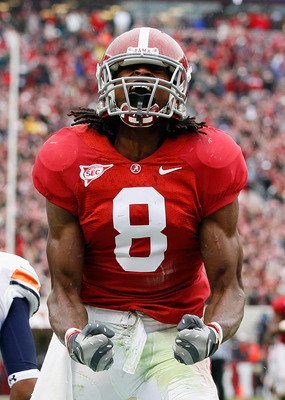 Kevin C. Cox/Getty Images
Colt McCoy really needs some help out on the field these days. The players currently on the Browns roster simply aren't getting it done.
They need to bring in someone who can be a legitimate playmaker and downfield threat to open it up for guys underneath. Jones can be that guy.
Jones is an extremely athletic and talented receiver that was a top recruit coming out of high school. After AJ Green, Jones is the best offensive skill position palyer in this draft and should be a great NFL receiver.
The Browns have quite a few needs to fill, but they need offense so desperately that they need a receiver here. Miller will get a look here, as well as Robert Quinn, but ultimately they need offense.
5. Arizona Cardinals, QB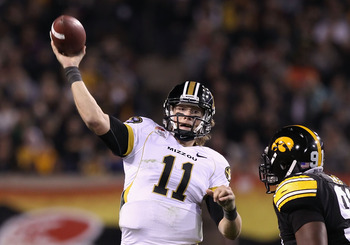 Christian Petersen/Getty Images
Blaine Gabbert is definitely the most refined quarterback in the draft as far as passing skills go. He has excellent accuracy and has above average arm strength.
He can make all the necessary throws and will develop into a solid NFL quarterback given the right situation. Having Larry Fitzgerald in his corner can't be a bad thing.
In a draft without a definite No. 1 at quarterback, Gabbert is the most likely to succeed.
Arizona needs to improve on both the offensive and defensive line, but if they have a chance to take a potential franchise quarterback like Blaine Gabbert they have to take advantage.
4. Cincinnati Bengals: A.J. Green, WR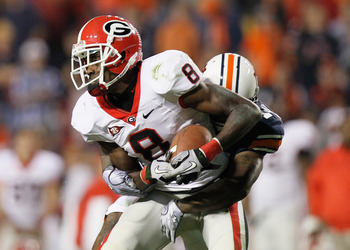 Kevin C. Cox/Getty Images
AJ Green is the most complete receiver in this draft because of his refined skill set and elite athleticism. He is nearly 6'4" yet still has remarkable coordination.
His ball skills are elite, and he is a solid route runner. He is also a decent run blocker. He does almost everything well and has no real weaknesses. He will probably be able to contribute right away.
There have been rumors that Carson Palmer has played his last game as a Bengal, so Cincinnati may turn to a quarterback with this pick, but if they take a receiver like Green with their first pick, they might be able to patch things up.
3. Buffalo Bills: Cam Newton, QB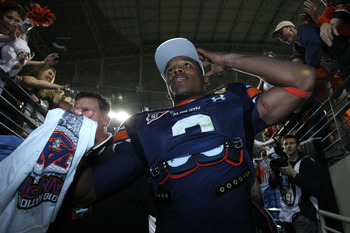 Jonathan Ferrey/Getty Images
Many people believe that Cam Newton will be off the board by the time the Bills pick, but if he is still available, there is little to no doubt he will be taken with this pick.
Newton is a physical freak who can take over a game with his arm or his athleticism. He needs to keep developing his decision making skills, but that will come with time.
It may take a little while, but with Newton's skill set he will find a place in the NFL. If Dareus slips here he will get a look, as will Miller but Newton should be the pick.
2. Denver Broncos: Nick Fairley, DT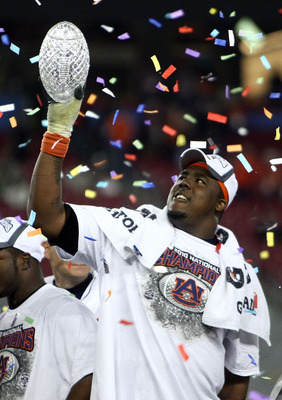 Jonathan Ferrey/Getty Images
This may be a bit of a stretch, but remember Fairley was No. 1 on the big board for a while there, and there is no doubt he is extremely talented.
He may not be the second best player, but the Broncos need someone to stop the run.
They had an absolutely terrible defense last year especially concerning the ground game. They need someone like Fairley to come in and stop someone on defense.
Fairley is the perfect kind of player for this. He is extremely strong and can help anchor the Broncos defensive line. They could also look at Von Miller here, but taking an OLB this high would be dangerous.
1. Carolina Panthers: Marcell Dareus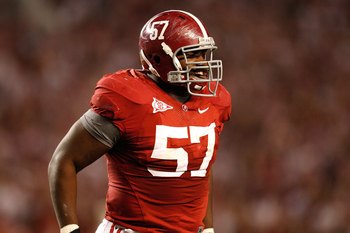 Kevin C. Cox/Getty Images
Many People feel as if Cam Newton will be the pick here, but there are too many question marks surrounding him and his game translating to the NFL to take him first overall.
They need someone who can come in and have an impact right away, and that is Marcell Dareus.
Dareus is the complete package. He is big, strong, and quick for his size. He is an excellent pass rusher, but can be a great run stopper as well. He can do it all out on the field, and should start for the Panthers from day one.
He may be the best player in this class and he should be the No. 1overall pick. The Panthers have many options with this pick, but Dareus should be the guy.
Keep Reading