Minnesota Twins: 4 Moves the Twins Must Make by Season's End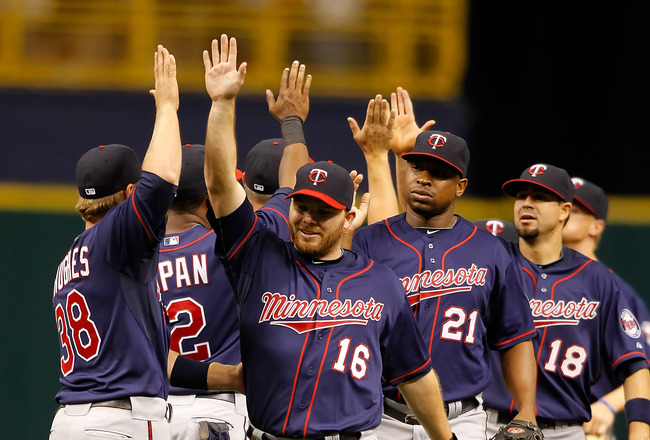 J. Meric/Getty Images
It's been a rough start to the season for the two-time defending American League Central champions.
The injury bug has hit the Twins big time already, and players who are healthy have done little to pick up the slack from those injured.
With the 6-12 start to the season, the Twins are looking to win ballgames any way possible, and that should include looking into moving some players.
Ahead are four moves I feel the Twins have to make by season's end to be competitive, not just this season, but in years to come.
1. Move Alexi Casilla Back into a Utility Player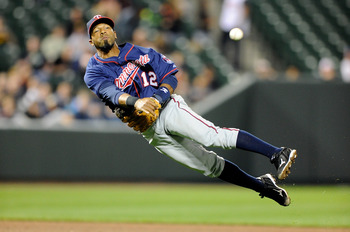 Greg Fiume/Getty Images
Since this is baseball, I feel that a three strike rule should be in effect here.
Alexi Casilla has been given the reigns to a starting position three times in his career, and every single time has been a swing and a miss.
This third go around has been maybe his worst run yet as a starting player.
In 16 games this season, Casilla is hitting .128 with a .190 OBP. This is obviously not what the Twins were hoping for out of Casilla when they traded away incumbent starter J.J. Hardy to the Orioles in the offseason.
The glaring holes in offense may be easier to overlook, as Casilla was flashing brilliance with his leather. Casilla is ranked 19th out of 27 shortstops in MLB defensivley. Below average at best.
Overall, Casilla is showing he can't handle being an everyday shortstop at this level.
Solution:
Move Casilla back to bench as a role player who can pinch run in late innings. Move Nishioka to SS once he returns from injury. Have Luke Hughes take over second base.
2. Trade Francisco Liriano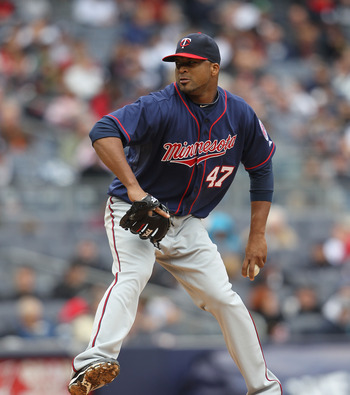 Nick Laham/Getty Images
Trade rumors surrounded Twins southpaw Francisco Liriano this offseason, and I was in support of moving him.
Following his first few starts of the season, the Twins may regret moving him when his stock was still high.
Through his first four starts to 2011, Liriano has only managed 20.1 innings with an ERA sitting at 7.40.
Liriano's average fastball has dipped from 93.7 MPH in 2010 to only 91.7 in 2011. Add this to his complete lack of control suddenly (14 BB in 20.1 innings), and suddenly, you have a very hittable pitcher.
On top of the pitching problems, Liriano is set to cash in big next season. He could be in line for a bump in salary close to $9 or $10 million through arbitration for 2012, assuming the Twins don't sign him to an extension before then.
Solution:
Trade Liriano to the Yankees for one of their two catching prospects (Jesus Montero or Gary Sanchez). This would open up the door for top pitching prospect Kyle Gibson as well.
3. Trade Michael Cuddyer
Hannah Foslien/Getty Images
Like most of the Twins' hitters this season, Cuddyer has struggled to get the bat going.
Cuddyer recently bumped his average up to .254 on the season to go with his one RBI this year.
This type of production out of a 32-year-old right fielder making over $11 million this year is not acceptable for a team looking to compete for a division title.
Cuddyer has been Mr. Twin, as he is the longest tenured player and is loved within the clubhouse, but I don't believe Cuddyer will be in the Twins plans beyond 2011.
If the Twins keep Cuddyer the whole season, they risk not getting anything in return for him should he walk during free agency.
Unless Cuddyer plans on taking a cut in both pay and playing time next season, the Twins should unload Cuddyer and bring up either Joe Benson or Ben Revere to replace him.
If the Twins bring up Benson, he could slot into right field. He has a rocket arm and above average speed and power.
Revere could take over left field, and Delmon Young could slide over to right field where his great arm would be better suited then Revere's.
Solution:
Trade Cuddyer and save millions while giving a shot to a younger player who would be hard pressed to do worse then Cuddyer has done so far this season.
4. Trade Kevin Slowey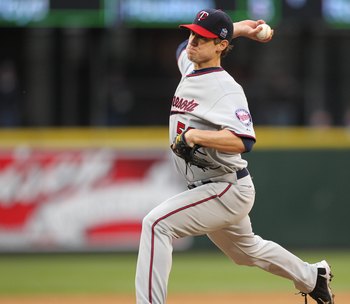 Otto Greule Jr/Getty Images
Kevin Slowey is a weird case. On paper, he is the epitome of a Twins pitcher. He shows command like few in baseball have, he rarely walks anyone and he gets the ball in play for his defense to make plays behind him.
This is why it is so weird that he has somewhat fallen out of favor in the Twins clubhouse.
Apparently, Slowey has been somewhat of an outsider to many players and the coaching staff. This may be why Slowey wasn't given a spot in the starting rotation following a spring training where he pitched very well.
He was moved to the bullpen and was trying to figure out what his role would be when he went down to injury (again).
Slowey doesn't have a spot in the rotation as of now or the foreseeable future.
Solution:
There are many teams looking for starting help. The Toronto Blue Jays would be a natural trade partner. They need a fifth starter, and they have a plethora of relief help that the Twins could definitely use this season.
Keep Reading

Minnesota Twins: Like this team?