NFL Draft 2011: New England Patriots' 5 Biggest Needs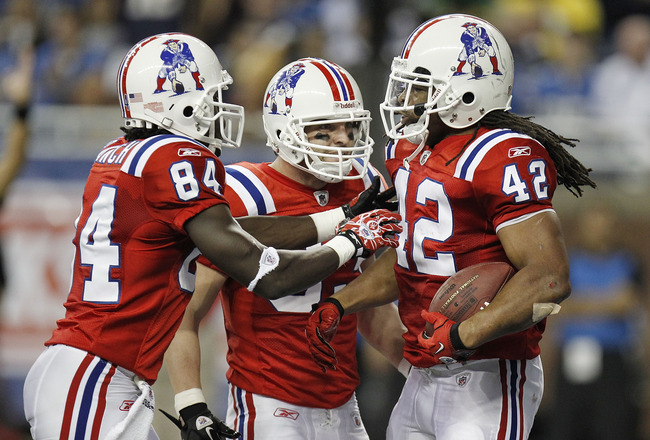 Gregory Shamus/Getty Images
Every NFL team could have its needs under a microscope during the 2011 NFL draft. With the unsettled collective bargaining agreement and a lack of free-agent acquisitions before the draft, teams could be handcuffed into using the draft as their sort of free agency. Those teams will be more likely to draft for need rather than value.
Having watched Bill Belichick draft over the years, I can tell you for sure he's not going to let the Patriots be one of those teams.
Still, there's no way he'll completely ignore the team's overall needs for the entirety of the draft. Thus, it's worth our attention to address the top five needs the Patriots should keep their minds on during the draft.
Follow Erik Frenz on Twitter @erikfrenz
5. Wide Receiver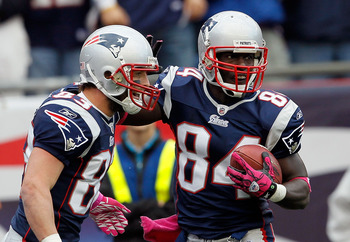 Jim Rogash/Getty Images
Deion Branch and Wes Welker proved to be a formidable duo throughout the regular season. Even without Randy Moss, people were talking about how talented the Patriots receiving corps was. Then, all of a sudden, the Jets shut them down and suddenly, the Patriots desperately need a wide receiver?
Sorry, I'm not buying it.
The Patriots' top three wide receivers (not including the tight ends) had 157 catches for 1,986 yards receiving last year for an average of 12.6 yards per catch. Not lethal numbers by any means, but nothing to sneeze at.
Sure, the Patriots could use another body on the outside. The primary weakness that was exposed was the lack of physicality on the outside. Both Welker and Branch are smaller, more nimble guys who like to beat you with quickness. If the Patriots could get a receiver who may not "stretch the field" but can win those one-on-one matchups against a solid jam, their offense would be even more lethal.
Welker is 29 coming into his second year after knee surgery. His contract is up after this year, so he may be one of those hard-decision, non-renewal guys like Willie McGinest. Branch is known for being injury-prone, and is beginning to go ripe at 31 years old. Both are nowhere near done, but both will need to be replaced at some point.
4. Running Back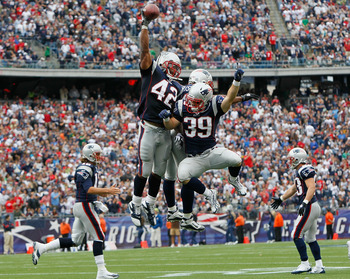 Jim Rogash/Getty Images
With Danny Woodhead and BenJarvus Green-Ellis in the backfield, why would the Patriots need another running back? The answer is simple: depth.
The Patriots love to have a stable of backs who are all good at different things and can be used effectively in different ways. Green-Ellis does the bulk of his damage between the tackles, churning out those extra yards after contact. He has proven to be a more decisive version of Laurence Maroney, and with better ball security, too.
Woodhead is easily the more versatile of the two, racking up 547 yards rushing and 397 yards receiving. He's explosive, but not necessarily a home-run hitter on the outside. He gets by more on his shiftiness and slipperiness than on speed.
That's where the Patriots should focus at running back in the draft. A guy who can find the edge and explode through the secondary would be a valuable asset for the Patriots.
3. Defensive End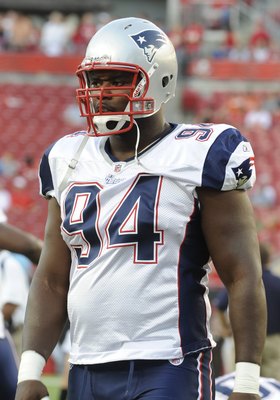 Al Messerschmidt/Getty Images
I know what many of you may be thinking, and yes, most mock drafts have the Patriots selecting a defensive end with their first overall pick. How, then, could it only be their third-biggest need? Well, in terms of a 3-4 defense, the ends are the much safer pick compared to the outside linebackers.
Even still, the Patriots could use a legitimate three-down defensive end to put opposite Ty Warren upon his return. More to that point, it's still uncertain as to whether Warren will be back to form or fall off the map. Ian Rapoport of the Boston Herald seems to think Warren might have a tough time even making the roster, but that remains to be seen.
Vince Wilfork is the only sure thing the Patriots have on the defensive line and, other than he and Ty Warren, the cast of characters is mainly rotational players. They do their jobs well, but they don't do as many things well as the Patriots typically ask of their linemen.
The need at outside linebacker would also be somewhat diminished if the Patriots were to take a talented five-technique defensive end, who would consistently collapse the pocket and demand double-teams. That could open up space for linebackers behind him to make plays.
There are, however, many developmental prospects that could turn out to be starters. Watch out for Myron Pryor and Brandon Deaderick next year, as both made strides in 2010 and could be counted on again in 2011.
2. Interior Offensive Line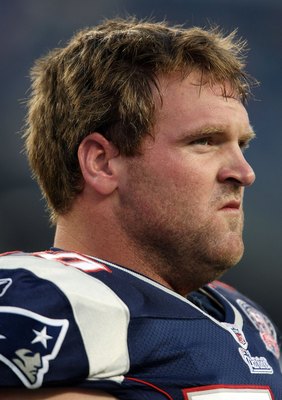 Elsa/Getty Images
Logan Mankins is unhappy, Dan Koppen has one year left on his contract and Steve Neal just retired. Even if the Patriots are able to keep Mankins around in 2011, they will likely need to address the growing need on the offensive line.
The value of an interior offensive lineman can be severely underrated, too. As pure of a pocket passer as he is, Tom Brady won't be able to step into his throws with intense pressure up the middle. As much as Dan Connolly has become a hometown hero for his 71-yard kickoff return, he may not be suited to start at guard for the long-term.
Either way, the worst-case starting interior trio of linemen in 2012 would be Dan Connolly at left guard, Rich Ohrnberger at center and Ryan Wendell at right guard. They call alcohol "liquid courage" but you'd have to be hammered to have confidence in those three starting 16 games.
Look no further than the New Orleans Saints, who have one of the most talented interior lines in the NFL and one of the best pass attacks to show for it.
1. Outside Linebacker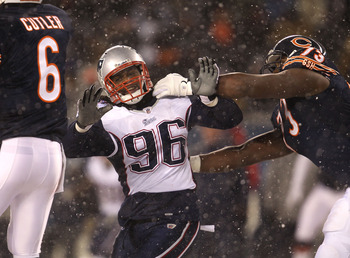 Jonathan Daniel/Getty Images
Without question, this has been a hole on the roster far longer than any other position on the roster.
They need to bolster their pass rush. Outside linebacker seems like the weakest spot on the roster in that regard. As a unit, outside linebackers only recorded 11.5 of the team's total 36 sacks last year. As the primary pass rushers in a 3-4, the number should be higher than that.
The problem is the Patriots are looking for someone who can do it all. They need a player who can not only rush the passer, but is also strong enough to set the edge in run defense, and light-footed and smooth enough to drop into coverage.
In short, they need a player that may or may not exist in this draft.
Jermaine Cunningham is a solid prospect, and could have an impact if he grasps the system, but I think he really needed this offseason to continue his growth into the 3-4. Without workouts, he's at a huge disadvantage. Eric Moore is another name to keep your eye on, but falls into the same boat as Cunningham.
I think Patriots fans are sick of seeing Tully Banta-Cain, who is not much more than a situational pass rusher.
Keep Reading

New England Patriots: Like this team?