NFL Draft History: Ranking the NFL's 1st Overall Picks Since 1980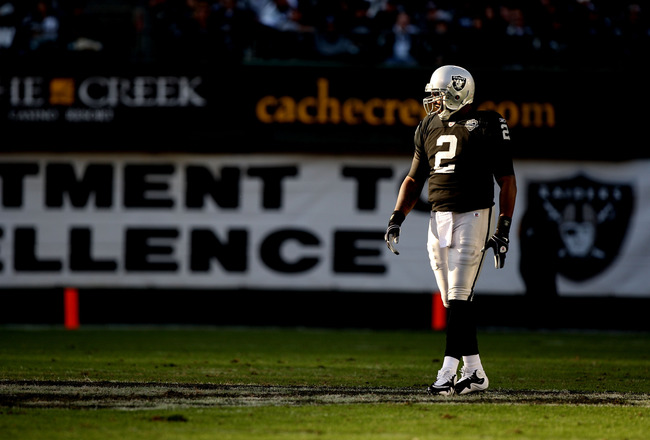 Jed Jacobsohn/Getty Images
Psalms 25:8 says the "meek shall inherit the earth."
Teams in possession of the first overall pick in the National Football League draft are well-heeled believers in the scripture, but damned if it doesn't work every time.
Since 1980, only two teams have have been able to claim their franchise savior was able to live up to lofty expectations, as Buffalo's Bruce Smith (1985) and Dallas' Troy Aikman (1989) guided their team to the Super Bowl en route to the Hall of Fame. A third—John Elway (1983)—needed a trade from Baltimore to Denver to claim his gridiron manna from heaven, while Peyton Manning (1998) is in the midst of redefining the role of quarterback on his road to Canton, a process that Orlando Pace (1997) will achieve in a couple of seasons.
Unfortunately, being christened number one has been cratered with flops; injuries have destroyed more than its share of promising careers, while in the case of at least two selections, the word "bust" is about the most kind word one can say on this site.
How do they rank over the last 31 years? One can only guess who rests at the bottom.....
31. JaMarcus Russell, QB, LSU (Oakland, 2007)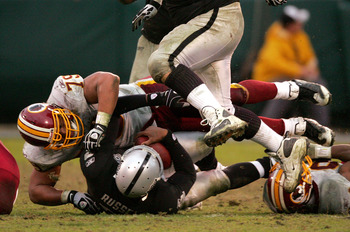 Ezra Shaw/Getty Images
Expecting someone else?
A quarterback in name only, the sloth-like Russell conned the Raiders into giving him $31 million in guaranteed money, which translated into seven wins, 18 touchdown passes and 25 interceptions over three years before Al Davis finally released him prior to the 2010 campaign.
Russell now dwells in the Houston area, having burned nearly all bridges for a possible comeback while redefining the word "draft bust."
30. Tim Couch, QB, Kentucky (Cleveland, 1999)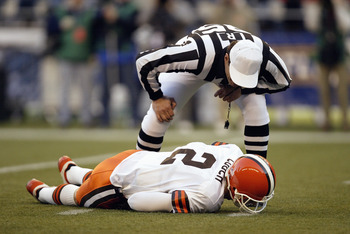 Otto Greule Jr/Getty Images
He looked the role of franchise QB, but the leader of the revised version of the Browns was DOA after four miserable seasons. Despite flashes of brilliance, Couch finished 22-37 as a starter with a 64-67 TD/INT margin to boot. To his defense, he struggled behind an offensive line that made the French Army's resistance to Hitler's panzers in 1940 look like an epic struggle.
All was not lost for Couch, though. He did manage to marry a Playboy model, which shows that—in some cases—being a flop has its perks.
29. David Carr, QB, Fresno State (Houston, 2002)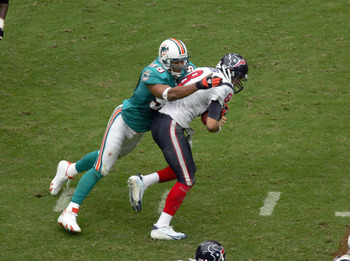 Ronald Martinez/Getty Images
In his five years with the Texans, Carr spent more time on his back than a Kardashian sister, being sacked 249 times, including an NFL-record 76 takedowns during the franchise's initial campaign in 2002. Shellshocked to no end, Carr was never able to emerge as the foundation that owner Bob McNair and then-general manager Charlie Casserly envisioned, despite the fact everyone thought they should have taken North Carolina DE Julius Peppers with the pick.
Carr managed a pathetic 22-53 record with the Texans before embarking on his current run as a journeyman, which has included stops with the Panthers, Giants and 49ers. One of the league's good guys, he probably has another team or two before he's done.
28. Kenneth Sims, DE, Texas (New England, 1982)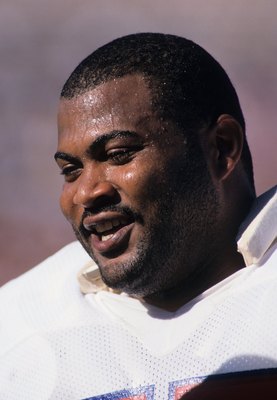 George Rose/Getty Images
The 6'5, 272-pound Sims was a pure terror at Texas, earning consensus All-America honors. His size, speed and pedigree screamed "Hall of Fame," which is why the Pats grabbed him.
Injuries crippled Sims throughout his career; only in 1984 did he played a full 16-game schedule. His production was paltry when he was suited up, as he recorded only 17 sacks in his eight-year stint in the league before the compilation of nicks and bumps forced his departure after the 1989 season.
27. Alex Smith, QB, Utah (San Francisco, 2005)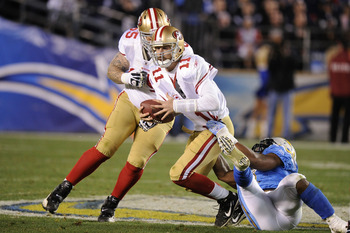 Harry How/Getty Images
Expected to carry the mantle of great Niners field generals like Brodie, Montana and Young, the only thing Smith has excelled in has been gaining bigger paychecks.
A string of offensive coordinators and coaches have hampered his progress, but it doesn't excuse Smith's sub-.500 record as a starter and a pedestrian 57.1 percent completion rate. An injury cost him the 2008 season, and while it looked like the light was about to come on with a promising 2009 campaign, Smith reverted back to flop status with another shaky effort.
Only 26, there is still time for Smith to live up to his promise, but he's down to his last chance in San Francisco, as new head coach Jim Harbaugh won't waste time with replacing him at the first opportunity.
26. Dan Wilkerson, DT, Ohio State (Cincinnati, 1994)
Andy Lyons/Getty Images
"Big Daddy" didn't live up to the hype that belied the 6'4, 335-pound behemoth, but Wilkinson did forge together a decent 13-year career between the Bengals (1994-97), Redskins (1998-2002), Lions (2003-05) and Dolphins (2006). A pretty durable performer, Wilkinson started 182 of his 194 games, but never earned any postseason honors.
Wilkinson finished with 54.5 sacks and was able to record five interceptions in his career, including an 88-yard return that resulted in his only NFL touchdown in 1999.
25. Ki-Jana Carter, RB, Penn State (Cincinnati, 1995)
Doug Pensinger/Getty Images
One of a long, long line of first round misses by the Bengals throughout the 1990s, Carter's future was dashed when he tore his knee in an exhibition game during his rookie season. He never regained the speed and explosiveness that made him an All-America at Penn State and was all but done when a second injury early in the 1997 season rendered him a tragic footnote.
Carter never ran for more than 464 yards in his star-crossed seven seasons with the Bengals, Redskins and Saints. He started in only 14 games and finished with a mere 1,144 yards on 319 mostly forgetful carries.
24. Courtney Brown, DE, Penn State (Cleveland, 2000)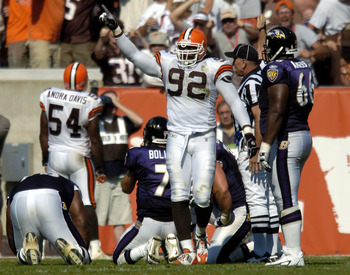 David Maxwell/Getty Images
Between Couch and Brown, is there any wonder why Cleveland has managed just one playoff trip since returning to the NFL in 1999?
Expected to be the defensive cornerstone of the franchise, Brown's career took a nosedive in 2001 when injuries limited him to just four games. He produced just two sacks in 11 games in 2002 and spent two more unproductive seasons in Cleveland before signing with the Broncos in 2005. He appeared to have turned the corner with a strong postseason run, but when Brown tore his ACL in the 2006 exhibition campaign, the book was finally closed on him.
23. Steve Emtman, DE, Washington (Indianapolis, 1992)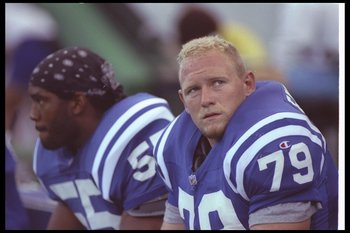 Gary Mook/Getty Images
A freak of nature, the 6'4, 290-pound Emtman was built like an explosion from a Brock Lesnar factory and the speed of a linebacker to go with it. Indianapolis had no misgivings on taking the All-American lineman, who finished fourth in the 1991 Heisman Trophy race.
Emtman blew out both knees during his first two years before rupturing a disc in his neck in 1994. The latter injury spelled the end of his all too brief career, which ended in 1997 as a member of the Dolphins.
Indy had the first two picks in the 1992 draft; after selecting Emtman, the Colts grabbed Texas A&M LB Quentin Coryatt, whose career also fizzled early. Between the two expected franchise-changers, the Colts got only 14 sacks.
22. Aundray Bruce, LB, Auburn (Atlanta, 1988)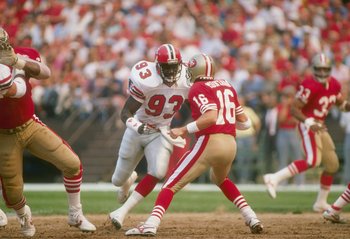 Otto Greule Jr/Getty Images
Everyone sought the next Lawrence Taylor throughout the 1980s, hoping to find their own beast of an outside linebacker. In Bruce, the Falcons felt they had LT, version 2.0 in the form of the 6'5", 265-pounder with running back speed and the attitude of a lion searching for meat after a three-day fast.
Bruce had six sacks in each of his first two seasons, but his off-field demeanor and lack of focus combined to watch his career implode. His stint in Atlanta hit rock bottom when coach Jerry Glanville thought converting him into a tight end would be a novel idea. Umm...nope.
Signed by the Raiders in 1992, Bruce spent the last seven seasons of his career as a situational pass rusher, never coming close to the potential he once had. He started only 35 times in his 142-game career and finished with just 32 sacks.
21. Matthew Stafford, QB, Georgia (Detroit, 2009)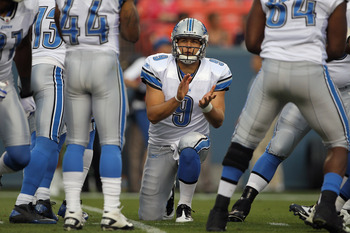 Doug Pensinger/Getty Images
The jury is still out on the big gunslinger, but if Stafford is to lead the rising young Lions to the next level, he'll first have to prove he's durable enough to withstand the rigors of the season.
Stafford's 91.3 passer rating last year showed his potential, but he missed all but three games due to injuries. Detroit finished the 2010 season on a high note, and a healthy Stafford could be the difference between the team's first playoff appearance in more than a decade or another long winter of discontent in the Motor City.
20. Jeff George, QB, Illinois (Indianapolis, 1990)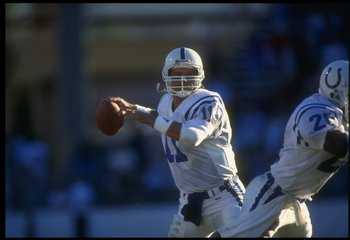 Stephen Dunn/Getty Images
His physical tools were unrivaled; it was the mental aspect that helped derail the golden-armed George, who almost immediately took the starting reins for the Colts. A promising rookie season (16 TD passes) was instantly offset the following year when he took an NFL-worst 56 sacks while guiding one of the most pathetic campaigns in recent memory as Indy went 1-15.
George never really recovered from the brutal 1991 season and was shown the door out of the Midwest in 1994. Banished to Atlanta, he briefly showed his potential in guiding the Falcons to the 1995 playoffs while throwing for 4.143 yards and 24 TDs. He wore out his welcome in a public dispute with head coach June Jones during a nationally televised game in 1996 and was benched after four games.
After a stop in Oakland (1997-98), George played his best stretch of football with the Vikings in 1999, going 8-2 as a starter while firing for 2,816 yards and 23 touchdowns. His career quietly ended with the Redskins (2000-01), where he finished his starcrossed run with a 46-78 mark.
19. Sam Bradford, QB, Oklahoma (St. Louis, 2010)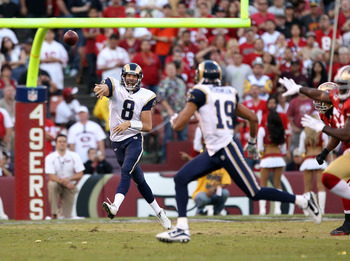 Ezra Shaw/Getty Images
So far, so good for the 2008 Heisman Trophy winner, who started all 16 games for the Rams and nearly led them to the playoffs, throwing for 18 touchdowns and 3,512 yards.
Bradford has shown the traits that suggest stardom. As St. Louis continues to add offensive pieces around him and Pro Bowl RB Steven Jackson, he'll definitely work his way up the rankings as time goes on.
18. George Rogers, RB, South Carolina (New Orleans, 1981)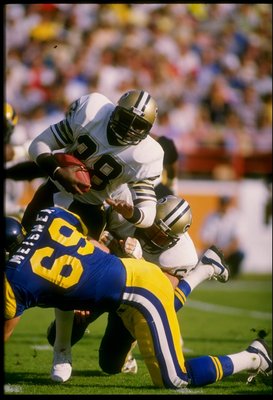 Rick Stewart/Getty Images
The 1980 Heisman Trophy winner was Earl Campbell Lite, a big (6'2, 228), brutal runner whose style caused him to burn out quickly. Like Campbell, Rogers led the NFL in rushing as a rookie (1,674), but the 378 carries behind a poor line helped cause his quick demise.
Rogers rushed for 1,144 yards in 1983 but found his way out of New Orleans when head coach Bum Phillips acquired Campbell—his workhorse in Houston—to be the Saints' featured back. Rogers then moved to Washington, where he recorded consecutive 1,000-yard campaigns (including a 1,203-yard, 18 TD effort in 1986), but injuries and the compilation of his workload led to his retirement following the 1987 season at the mere age of 29.
17. Russell Maryland, DT, Miami (Fla.) (Dallas, 1991)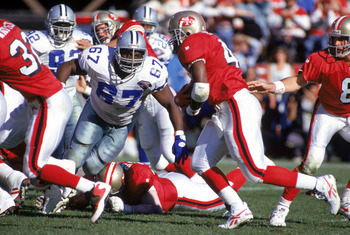 George Rose/Getty Images
Drafted by his former college coach Jimmy Johnson, Maryland served as an interior anchor for three Super Bowl winners in Dallas before heading to Oakland following the 1995 season. From there, the 6'1, 300-pounder spent four less than spectacular years with the Raiders and ended his career with the Packers in 2000.
Maryland made the Pro Bowl after the 1993 season and had 14 of his 24.5 career sacks with the Cowboys.
16. Bo Jackson, RB, Auburn (Tampa Bay, 1986)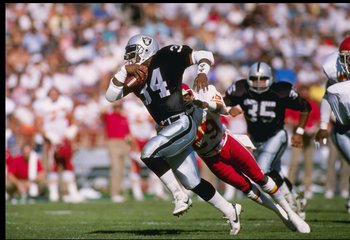 Mike Powell/Getty Images
Oh, Bo. What could have been....
Jackson never played a down with the Buccaneers, choosing baseball's Kansas City Royals over slagging away with Tampa Bay and owner Hugh Culverhouse (whom Jackson did not like). Shrewd Raiders owner Al Davis invested a seventh-round pick on the 1985 Heisman Trophy winner the following year and convinced the 6'1, 227-pound freak of nature to don the silver and black shortly after the 1987 baseball season ended.
The phenomenon that became marketing gold for Nike last four all-too-brief years in the NFL, rushing for 2,782 yards and 16 touchdowns on just 515 carries. Had Jackson qualified, his 5.4 yards per carry would stand as the highest in league annuals; in three of his four seasons, Jackson had the longest run of the year.
A hip injury suffered in the 1990 AFC Divisional Playoffs ended his football career, but Jackson did return to play several seasons with the Chicago White Sox, whom he helped to capture the 1993 American League West title. A Tecmo Bowl legend, Jackson's gridiron exploits remain some of the most breathtaking moments in NFL history.
15. Billy Sims, RB, Oklahoma (Detroit, 1980)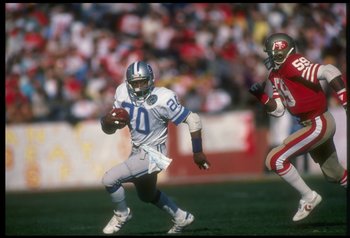 Getty Images/Getty Images
The 1978 Heisman winner quickly revived the lagging fortunes of the Lions, rushing for 1,303 yards and 13 touchdowns while winning rookie of the year honors. Sims followed up with 1,437 yards and 13 scores in 1981 and appeared to be on his way to a Hall of Fame career.
Sims was on his way to what looked like a career year in 1984, rushing for 687 yards in just eight games, but it was the eighth contest at Minnesota where he suffered a career-ending knee injury on an afternoon where he carved up the Vikes for 103 yards and a touchdown on 22 carries.
The two-time All-Pro still holds several franchise records, but it would be another Heisman winner from an Oklahoma school that would redefine the Lions less than a decade later in the form of future Hall of Famer Barry Sanders.
14. Mario Williams, DE, North Carolina State (Houston, 2006)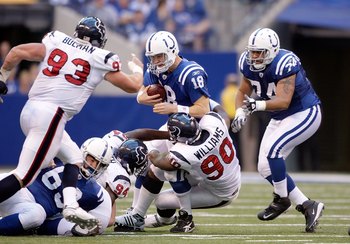 Andy Lyons/Getty Images
Then-general manager Charlie Casserly was roasted by fans and media alike when he chose the 6'6, 290-pound Williams over reigning Heisman winner Reggie Bush and Houston prep icon Vince Young, who had just come off of taking Texas to the national championship.
Look who's laughing now.
Williams had just 4.5 sacks as a rookie, but has since emerged as one of the game's top pass rushers, recording 43.5 sacks since 2007. He had a career-high 14 QB sacks in a 2008 season that saw him reach the first of his two trips to the Pro Bowl and has been very durable, starting in 77 of a possible 80 games.
Still in the prime of his career, Williams' best days could be ahead of him once the Texans add quality defenders that can help enhance the worst defense in the NFL last season.
13. Jake Long, OT, Michigan (Miami, 2008)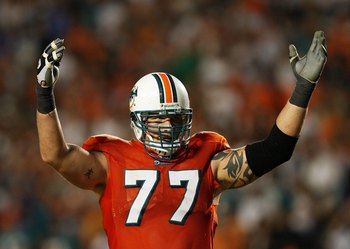 Doug Benc/Getty Images
In just three seasons, Long has become one of the game's premier linemen, earning Pro Bowl nods after each campaign and received his first All-Pro kudos last season.
The 6'7, 315-pound Long has been the one constant of a Dolphins offense that has seen its share of highs and lows since his arrival, but there is no question Long is on the fast track to reaching the heights of some of the game's greatest linemen.
12. Vinny Testeverde, QB, Miami (Fla.) (Tampa Bay, 1987)
Doug Pensinger/Getty Images
Golden-armed Testaverde, who won the 1986 Heisman Trophy, was expected to be the franchise savior for the Buccaneers, but his six-year stint in Tampa was defined by interceptions....lots of interceptions.
Winning only a third of his 72 starts with the Bucs, Testaverde had a woeful 77-112 TD-INT margin and appeared to be on his way to becoming yet another flop.
Escaping the wrath of the Culverhouse dynasty proved to be a tonic for the 6'5, 235-pounder, who slowly revived his career in Cleveland before heading to Baltimore with the vagabond Browns. He achieved his greatest success in New York, where he led the Jets to the 1998 AFC title game while throwing 29 touchdowns and going 12-1 as a starter.
Testaverde remained in New York through 2003 before closing out his 21-year career with stops in Dallas, a return to the Jets, New England and Carolina. He is seventh in career passing yards (46,233) and eighth with 275 touchdowns.
11. Carson Palmer, QB, USC (Cincinnati, 2003)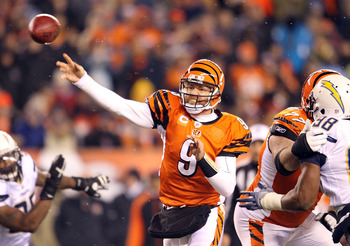 Andy Lyons/Getty Images
Whether the 2002 Heisman winner has played his final game with the Bengals remains in question, but there is no denying Palmer has been one of the league's more effective quarterbacks despite playing under less than ideal circumstances when it comes to Cincy's management and their inability to surround Palmer with quality talent.
A bustout 2005 season (3,836 yards, 32 TDs) was derailed when Palmer was injured early in the Bengals' AFC Wild Card loss to the eventual Super Bowl champion Steelers. The torn knee didn't keep him from starting all 16 games in 2006, where he threw for 4,035 yards and 28 scores.
The two-time Pro Bowler has thrown for nearly 23,000 yards and 154 touchdowns with Cincinnati; at 32, the 6'5, 230-pound Palmer is hoping a fresh start will revitalize a career that still has several productive seasons left in his strong right arm.
10. Drew Bledsoe, QB, Washington State (Patriots, 1993)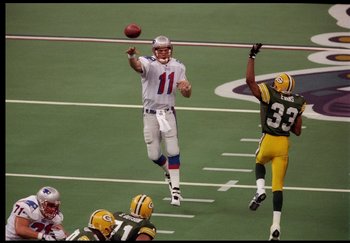 Stephen Dunn/Getty Images
From 1994 to 1998, few quarterbacks were as prolific as the 6'5, 240-pound Bledsoe, who earned three Pro Bowl nods while leading the Patriots to 45 regular season wins, three playoff appearances and an AFC title.
Bledsoe threw for 29,657 yards and 166 touchdowns during his nine seasons with New England, but Pats fans felt their rugged field general was missing that something extra that kept them from reaching greater heights. He did give New England fans their wish, albeit inadvertently, when his injury early in the 2001 season opened the door for Tom Brady to embark upon a journey that saw the Patriots capture three Super Bowl titles in a four-year span.
Traded to Buffalo in 2002, Bledsoe spent three years with the Bills before ending his career with the Cowboys, where—like with the Patriots—he opened the door for a youngster (Tony Romo) to take the franchise to the next level.
Sixth on the all-time list in completions, Bledsoe is also eighth in career passing yards (44,611) and 14th in touchdown passes (251).
9. Michael Vick, QB, Virginia Tech (Atlanta, 2001)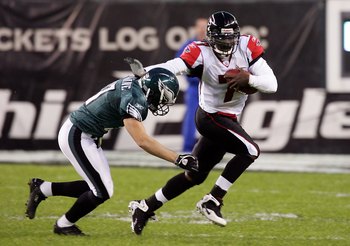 Jim McIsaac/Getty Images
Perhaps the most physically gifted quarterback in NFL history, Vick has also become one of the most polarizing players as well. The only QB to rush for over 1,000 yards in a season, Vick led the Falcons to a pair of playoff appearances, including a trip to the 2004 NFC title game while amazing fans and foes with a dizzying array of offensive skills.
Of course, his career reached rock bottom when he was suspended for two seasons while serving jail time as part of leading a heinous dog fighting ring. Banished from Atlanta, Vick resurfaced in Philadelphia in 2009 and took major strides toward vindication when he overtook starter Kevin Kolb and led the Eagles to the 2010 NFC East title by throwing for a career-best 3,018 yards and 21 touchdowns while bedazzling defenses with his running to the tune of 676 yards and nine scores.
Only 31 at the start of the 2011 season, Vick is in the prime of his career and could certainly work his way up this list over the next few seasons.
8. Keyshawn Johnson, WR, USC (New York Jets, 1996)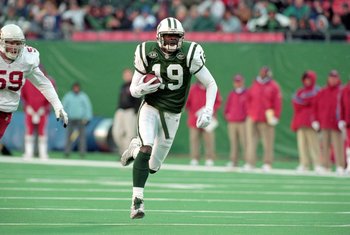 Ezra Shaw/Getty Images
Never at a loss for words, Johnson caught 814 passes in a 11-year career with the Jets (1996-99), Buccaneers (2000-03), Cowboys (2004-05) and Panthers (2006), earning three Pro Bowl trips and a Super Bowl title in the process.
The 6'4 212-pounder's biggest on-field contribution may be that his brash style helped pave the way for a generation of smack-running wideouts whose vocal chords often exceeded their production. Randy Moss, Terrell Owens, Chad Johnson (Keyshawn's cousin) and Santonio Holmes are just four of several top-tier receivers who helped elevate the position to an even bigger prima donna status.
A fringe Hall of Fame candidate who will be eligible after this season, Keyshawn Johnson scored 76 touchdowns via the air while pulling in 10,571 yards in receptions.
7. Eli Manning, QB, Mississippi (New York Via San Diego, 2004)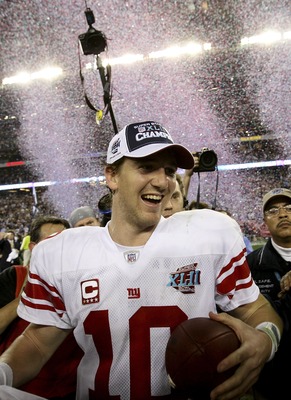 Andy Lyons/Getty Images
Oh, not to worry. Eli's big brother will appear shortly.
His controversial hissy fit led him from the Chargers to the Giants, but four playoff appearances and a Super Bowl title have squelched the majority of his detractors. The youngest of pro football's Royal Family of quarterbacks, Manning has recorded consecutive 4,000-yard seasons en route to passing for 156 touchdowns since wresting the job away from Kurt Warner late in the 2004 campaign.
The 6'4, 218-pounder turned 30 early this year and has a lot of football left in him. Chances are pretty favorable Big Blue could hoist another Lombardi Trophy or two with Manning under center before he calls it a career.
6. Irving Fryar, WR, Nebraska (New England, 1984)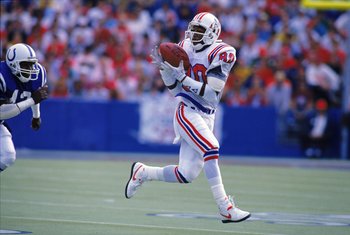 Rick Stewart/Getty Images
When it comes to the best receivers over the last 30 years, Fryar's name tends to fall off the list, which is a shame, considering he ranks among the top 20 in career receptions (851), yards (12,785) and touchdowns (84).
Fryar's first nine years were spent with the Patriots, where his numbers were hampered by poor quarterback play. Still, he averaged 15 yards per catch and scored 38 touchdowns before hitting his career stride with the AFC East rival Dolphins (1993-95). Fryar scored 20 TDs while pulling in 199 passes in his time with Miami and then moved to Philadelphia, where he recorded consecutive 1,000-yard seasons to go along with 17 touchdowns in 1996-97.
Jettisoned from the Eagles after 1998, Fryar's 17-year career ended with two seasons in Washington, where he served as a slot receiver; at age 38, he still displayed the downfield speed that made him one of the most explosive players in college history by averaging a respectable 13.4 yards per catch in 2000.
5. Orlando Pace, OT, Ohio State (St. Louis, 1997)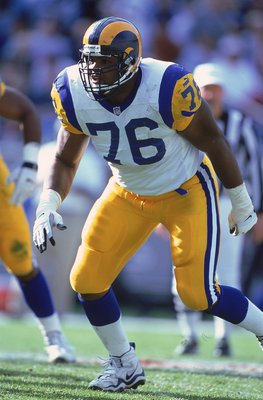 Al Bello/Getty Images
Kurt Warner, Marshall Faulk, Issac Bruce and Torry Holt were the stars of the "Greatest Show on Turf", but their success would not have been possible if the mammoth 6'7", 300-pound Pace wasn't anchoring the offensive line.
Pace started 154 of his 158 regular season games with St. Louis, earning seven straight Pro Bowl trips (1999-2005) and three All-Pro bids. Regarded as one of the greatest tackles of all-time, Pace retired with the Bears after the 2009 season and could well join Warner as a first-ballot Hall of Famer when the two become eligible for induction in three more years.
4. Bruce Smith, DE, Virginia Tech (Buffalo, 1985)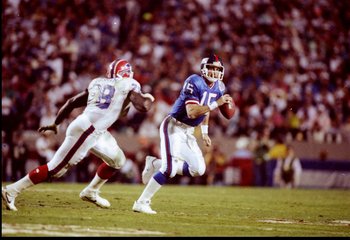 Stephen Dunn/Getty Images
The seeds of the Bills glory days were first sown when Smith was selected. The 6'4", 262-pound manchild gave the franchise a needed shot of intensity and attitude, which translated into in a 15-year run that saw him earn 11 Pro Bowls, eight All-Pro nods (including five straight from 1993-97) and four trips to the Super Bowl.
Smith had 12 years of at least 10 sacks, including a career-best 19 during Buffalo's first AFC title run in 1990. After playing in only five regular season games in 1991, he embarked on a six-year run of double-digit takedowns en route to finishing his Bills career with 171 sacks.
Taking his pass rush terror to the nation's capital, Smith closed out his Hall of Fame career with four seasons with the Redskins, where he recorded 29 more sacks. A two-time NFL Defensive Player of the Year (1990, 1996), Smith remains the league's all-time leader in sacks, a mark that appears to be safe for the immediate future.
3. Troy Aikman, QB, UCLA (Dallas, 1989)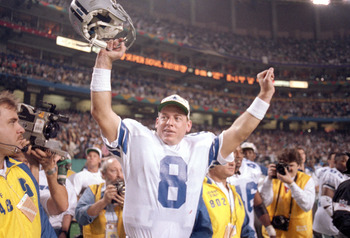 George Rose/Getty Images
No quarterback won as many games as Aikman in the 1990s, as the cool-handed field general authored 90 regular season victories, but it was in January where the 6'4", 218-pounder was at his best.
Aikman guided the Cowboys to three Super Bowl titles and four NFC championship appearances, finishing his career with a stellar 11-4 mark in the postseason. While his career numbers weren't as gaudy as contemporaries like Favre, Young and Marino, Aikman's impressive playoff resume trumped them all.
The six-time Pro Bowler holds a host of Cowboys career records and was an easy choice when the Hall of Fame called him in his first year of eligibility in 2006.
2. Peyton Manning, QB, Tennessee (Indianapolis, 1998)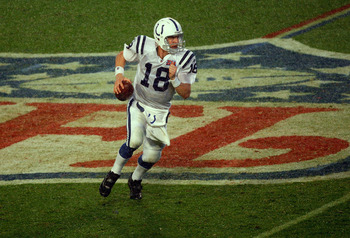 Eliot J. Schechter/Getty Images
Think the Colts are glad they chose Manning over Ryan Leaf?
Five-time All-Pro. 11time Pro Bowler. Pop Icon. Super Bowl champion. Virtually indestructible. Have we left something out?
There's no stopping Manning; at 35 and still in peak health, chances are pretty good that Brett Favre's impressive career marks may have a brief shelf life. Entering this season, the 6'5", 230-pounder trails only Favre and Dan Marino in completions (4,682), yards (54,828) and touchdown passes (399). About the only knock on Manning is that he has just one Super Bowl crown, and even that is nitpicking.
Why just second on this list?
Because.....
1. John Elway, QB, Stanford (Denver Via Baltimore, 1983)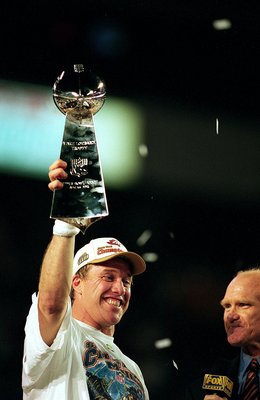 Andy Lyons/Getty Images
Why Elway over Peyton Manning? Simple. Elway has two Super Bowl rings, while Manning (for now) has one.
Perhaps the greatest quarterback of all-time, Elway forced a trade from the woeful Colts to the Broncos, where he helped redefine the franchise and the position during his 16-year career in the Mile High City. No quarterback has won more regular season games than the 148 Elway amassed, including 50 of the comeback variety. He added 14 more victories in the postseason, where Elway guided Denver to nine playoff appearances and five AFC crowns.
A nine-time Pro Bowler, Elway overcame three Super Bowl failures and ended his career by twice hoisting the Lombardi Trophy, with the second coming in his final game in Super Bowl 33 after he carved up the Falcons for 336 yards and a touchdown to earn Most Valuable Player honors.
Elway was inducted into the Hall of Fame in 2004. The 6'3", 215-pound is fourth in career passing yards (51,475) and completions (4,123) and is fifth with 300 touchdown passes.
Keep Reading