2011 NFL Mock Draft Picks 1-16: Carolina Panthers Selecting Cam Newton?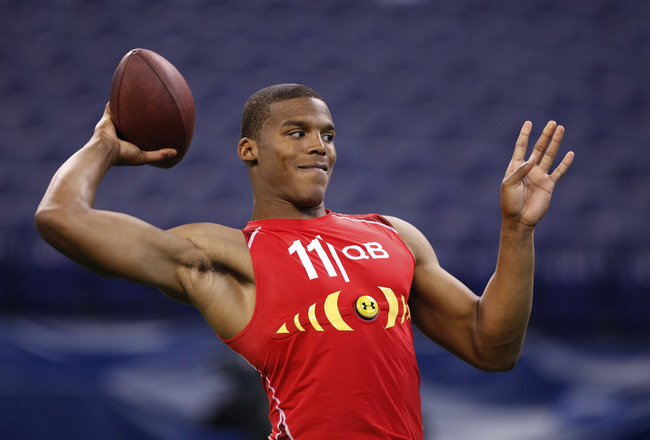 Joe Robbins/Getty Images
Yet another update on my mock draft, I have now conceded that the Panthers will take a quarterback, but which one will it be?
Ron Rivera is apparently in love with Newton, but Blaine Gabbert's Pro Day is being compared to Sam Bradford's.
It's a tough decision, but if I were the Panthers I would be taking Marcell Dareus, no question.
However, the Panthers need a franchise quarterback and they have a new regime, so that will likely be the pick.
Here we go.
1. Carolina Panthers: Cam Newton QB, Auburn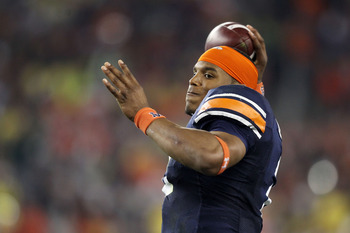 Christian Petersen/Getty Images
He's got the perfect build for a quarterback, a solid arm and incredible athletic ability. However, I question his accuracy, decision making skills for the next level and the fact that he played in a gimmick offense at Auburn.
He has been working very hard this offseason to improve his accuracy and it showed at his Pro Day, where he improved on his bad throwing combine.
One thing I will give him is he seems to have the "It" factor, meaning he makes everyone around him better and has a will to win. He was a winner at every level so far, so maybe he can continue that to the NFL.
2. Denver Broncos: Marcell Dareus DT, Alabama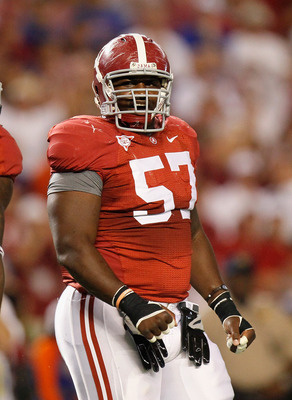 Kevin C. Cox/Getty Images
The Broncos definitely need help on the defensive side of the ball.
They were just terrible last season, and getting Elvis Dumervil back that helps them with their need of a pass rusher, but they desperately need some defensive tackles that can play the 4-3 scheme that John Fox uses.
It starts with Marcell Dareus, who is the third best player in the class in my opinion, behind AJ Green and Patrick Peterson.
The Broncos don't need either of those positions, so Dareus is the pick.
3. Buffalo Bills: Von Miller OLB, Texas A&M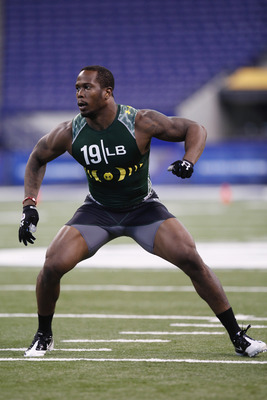 Joe Robbins/Getty Images
Chan Gailey apparenty told ESPN's Chris Mortenson that he believes they could win a championship with Ryan Fitzpatrick.
I won't go that far yet, but I don't believe they need to take a QB here. Their defense was terrible rushing the passer last season; Aaron Maybin just has not worked out thus far.
Von Miller is the best pass rushing prospect in the class; as a former student of Texas A&M I can attest to the fact that he was a beast in college.
He may be small in stature, but he has elite strength despite that. He gets great leverage at the point of attack and has blazing speed to go around guys.
4. Cincinnati Bengals: A.J. Green WR, Georgia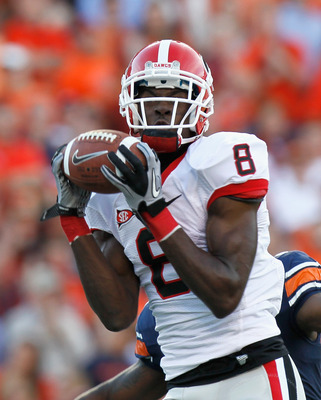 Kevin C. Cox/Getty Images
AJ Green is the best player in the class in the opinion of many draft gurus, he is one of the more talented athletes at the position to come out since Calvin Johnson, and we all know how he has done.
Julio Jones may have looked better at the Combine, but that doesn't change the fact that Green looks better on film, which is what teams should be looking at.
Green has vacuums for hands, a big body and great top-end speed.
His leaping ability allows him to be a terrific red zone prospect and with the Bengals losing both Terrell Owens and Chad OchoCinco, probably, they need a wide receiver.
5. Arizona Cardinals: Patrick Peterson CB, LSU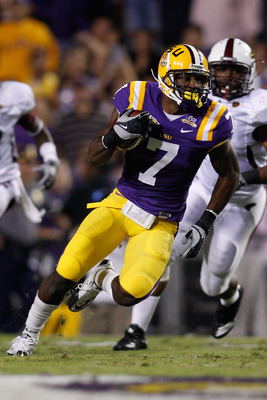 Chris Graythen/Getty Images
Perhaps the best corner to come out of the draft since Champ Bailey, Peterson adds another element to his game that makes him such a sexy option; he's also a return specialist.
He can play both defense and return punts at a high level. His coverage skills are not matched and his size is incredible for the position.
Despite being 6'0'', 220 lbs he is still one of the fastest corners in the class. That's impressive.
I realize the Cardinals need a quarterback, but I believe they will trade for Kevin Kolb if possible, they don't want to upset Larry Fitzgerald and he told the Cardinals that's who he wants.
6. Cleveland Browns: Julio Jones WR, Alabama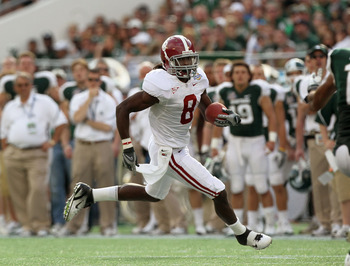 Mike Ehrmann/Getty Images
I don't know if anyone made more money for himself than Jones did at the Combine. He went from a pick in the 14-17 range to a possible top five selection.
The Browns need to get a pass rusher or a defensive tackle, and Nick Fairley could be the pick, but his stock is dropping and they could find a defensive tackle in the second round since this class is so deep along the defensive line.
Colt McCoy needs weapons.
7. San Francisco 49ers: Blaine Gabbert QB, Missouri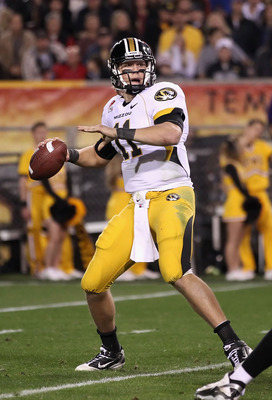 Christian Petersen/Getty Images
New coach Jim Harbaugh attended Blaine Gabbert's Pro Day and also recruited him while at Stanford. I have a hard time believing the 49ers will pass on him if he is available.
They need a quarterback and could go after a free agent or pursue a trade option, but with a new coach at the helm I believe he will want to find a young franchise QB to take him to the top.
John Harbaugh took Joe Flacco in the first round of his first draft, and maybe brothers think alike.
Robert Quinn is a very likely possibility, especially if Gabbert is gone.
8. Tennessee Titans: Nick Fairley DT, Auburn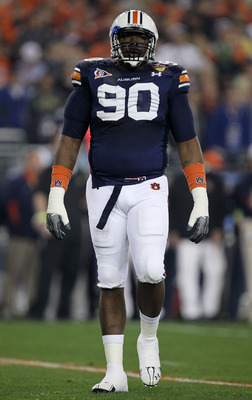 Ronald Martinez/Getty Images
Nick Fairley was a monster for Auburn's defense, without them against Alabama they were awful, and he came back in the second half and they held Alabama to three points, allowing Cam Newton to make the incredible comeback.
The difference he makes to a defense is just like Dareus, everyone behind him instantly becomes better as a result of him dominating the middle of the line of scrimmage.
He is very athletic for his size and can get pressure up the middle.
He faced double teams all the time at Auburn and consistently plowed through them and stuffed the run.
Chris Johnson recently said he would love the Titans to draft Cam Newton, so we have a potential trade scenario with Carolina here, but I don't see it happening.
9. Dallas Cowboys: J.J. Watt DE, Wisconsin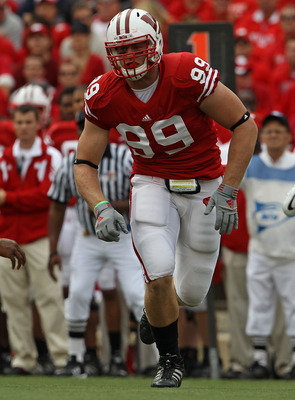 Jonathan Daniel/Getty Images
Anthony Spencer is a free agent and while this may not be as sexy of a pick as Tyron Smith or Prince Amukamara, the Cowboys need a player who can play the five technique in their 3-4.
Watt was way better than anyone expected him to be at the combine, he shined among the defensive lineman.
He was smooth and athletic in the drills and showed off some great strength on the bench press.
He is probably the best 3-4 defensive end in the class.
10. Washington Redskins: Robert Quinn DE, North Carolina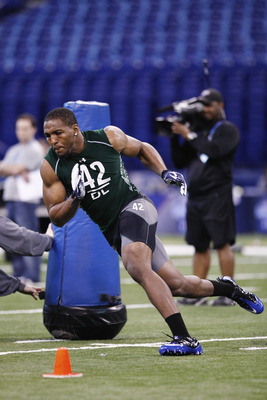 Joe Robbins/Getty Images
The Redskins do have Brian Orakpo, but Robert Quinn is such a talented pass rusher that I don't see him falling out of the top 10, especially if Julio Jones is gone by this pick.
Quinn did not play the 2010 season because of some ridiculous NCAA rulings, but prior to that he was considered a top five lock.
The Redskins need to be able to get to the three great quarterbacks that they face in their division, especially Michael Vick, who has blazing speed.
11. Prince Amukamara CB, Nebraska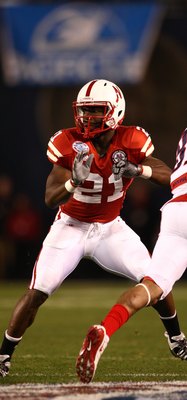 Donald Miralle/Getty Images
I'm tired of people telling me the Texans don't need a corner when I have made these mock drafts. They were dead last in pass defense.
Yeah, they need a safety, but there are none available at this juncture and they don't need to get in to the business of reaching.
They could get a 3-4 OLB to rush the passer, but they are a dime a dozen in this draft and they can find one in the second round.
They drafted DeMeco Ryans in the second round and how did that turn out?
They cannot keep putting Glover Quin at corner, he is better suited as a safety and Amukamara can come in and instantly be the No.1 corner, he has that type of ability.
Kareem Jackson was inconsistent in his rookie season, but I didn't see anything that makes me think he can be a viable No. 1.
12. Minnesota Vikings: Cameron Jordan DE, California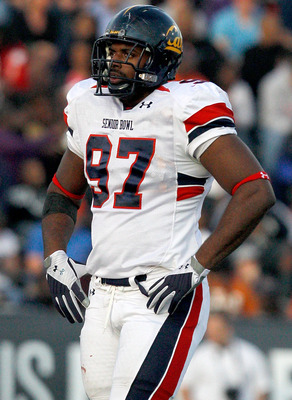 Sean Gardner/Getty Images
Jordan looked great at his Pro Day and the Vikings need someone to replace Ray Edwards, who is a free agent and will be looking for big money that I'm not sure the Vikings would spend on him.
Everson Griffen seems to be trying to set the record for most arrests during the lockout and he may not be on the team next year, or even be eligible to play if Roger Goodell suspends him.
Jared Allen is a great pass rusher and Cameron Jordan is an elite run stopper from the end position. It would be a match made in heaven.
13. Detroit Lions: Tyron Smith OT, USC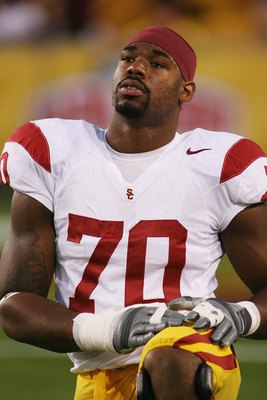 Jeff Golden/Getty Images
Tyron Smith has bulked up all the way to 310 pounds, and if the Cowboys and Vikings both pass on him there is no way he gets passed by the Lions.
They have expressed a desire to protect franchise QB Matthew Stafford and Smith is the best tackle in the class.
14. St. Louis Rams: Daquan Bowers DE, Clemson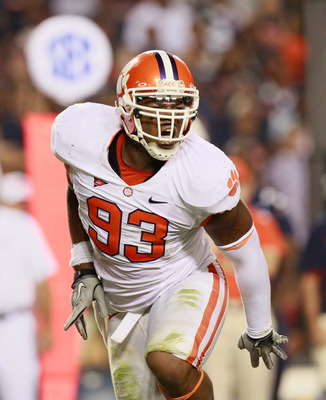 Kevin C. Cox/Getty Images
If Julio Jones has made the most money, Da'Quan Bowers has definitely lost the most since the draft process began.
Most people had him as a top three lock, and now it looks like he could potentially fall out of the first round altogether.
He has knee problems and looked bad at his Pro Day, but with how much he dominated last season I'm not sure Steve Spagnuolo would pass up an opportunity to pair Bowers with Chris Long on their defensive line.
**TRADE** 15. Tampa Bay Buccaneers: Aldon Smith DE, Missouri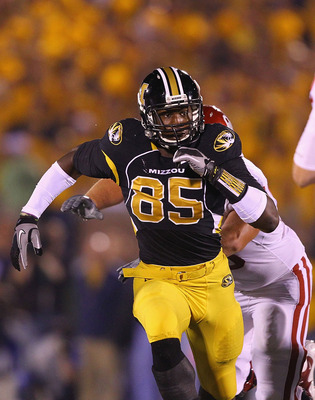 Dilip Vishwanat/Getty Images
Trade:
Miami Dolphins get: 20th, 84th, and 148th pick
Tampa Bay Buccaneers get: 15th pick.
This trade works out pretty nicely in the trade value chart, with a difference of only 2.2 points (15th pick = 1050 points, three from Tampa Bay are 850 + 170 + 32.2)
Both the Dolphins have been linked to wanting to trade down and the Buccaneers have said they may trade up to get either Aldon Smith, Cameron Jordan or JJ Watt.
With Smith available here I have to believe the Bucs and Dolphins would work out some sort of deal.
They could also swap first round picks and Tampa Bay could give up their second and Miami would give up their third rounder for an even trade.
The Buccaneers feel they are a couple of players away from contending in their division, and wouldn't mind giving up a third and fifth rounder to move up.
16. Jacksonville Jaguars: Ryan Kerrigan DE, Purdue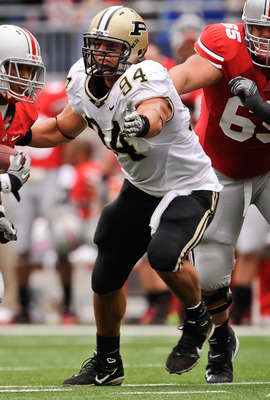 Jamie Sabau/Getty Images
The Jaguars need to upgrade their pass rush, especially considering they play in a division with great passing offenses from the Colts and Texans.
They were one of the worst teams last season in terms of sacks, and Kerrigan was a sack artist at Purdue.
He is a blue collar hard working guy who goes 110 percent on every play.
The Jags were ranked in the bottom of the league in pass defense last year, and the way to correct that starts up front.
Keep Reading