2011 NFL Mock Draft: Washington Redskins 7-Round Predictions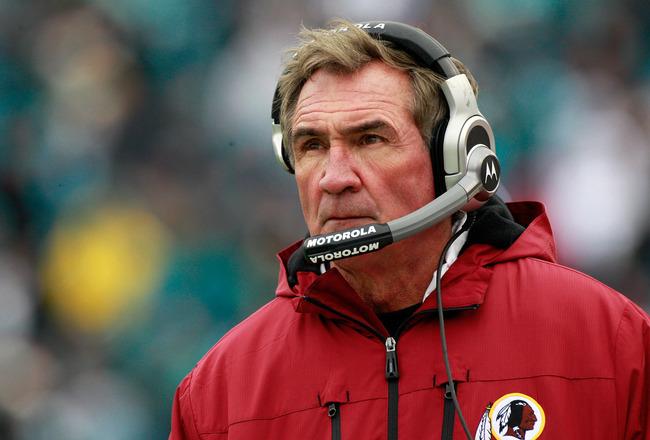 Sam Greenwood/Getty Images
The 2011 NFL draft is right around the corner, and no fanbase should be looking toward the draft more than that of the Washington Redskins.
There are two reasons why fans in Washington should be looking forward to this year's draft.
First, the Redskins have eight picks for the first time in more than a decade. Second, they've only drafted one Pro Bowler in the past six years (Brian Orakpo).
With the following picks in order, there is still little to work with: Round 1 pick 10, Round 2 pick nine, Round 5 pick 13, Round 5 pick 24, Round 6 pick 12, Round 7 pick 10, Round 7 pick 21 and Round 7 pick 50.
To make matters worse, there is a vast amount of needs across the board and both head coach Mike Shanahan and general manager Bruce Allen will look to improve a team that finished 6-10 last season.
Due to the lack of production from many positions and on both sides of the ball, this year's draft isn't going to push the Skins into the playoffs by season's end.
For starters, there's room for improvement at almost every position and the following are the most important: defensive tackle, right tackle, quarterback, wide receiver, running back, defensive end/outside linebacker and cornerback.
This rebuilding process is going to take one of life's greatest virtues. Patience will be key for the Redskins and their fans these next couple of seasons.
But hopefully, it will all ultimately result in not just a playoff appearance, but a playoff run and an eventual Super Bowl victory.
Inside we will break down the Redskins' upcoming draft and discuss who should be selected with each pick.
Round 7: Noel Devine, RB, West Virginia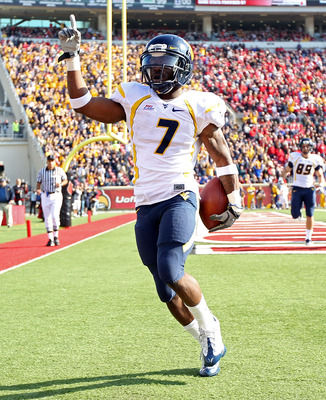 Andy Lyons/Getty Images
It's no secret the Redskins need a change-of-pace running back, and what better way to do that than by drafting speedster Noel Devine?
During his time at West Virginia, Devine was known for his break-away-from-the-pack speed, and was a home-run threat every time he touched the ball.
Now, if the Redskins were to make this pick, fans should realize and understand that we still need an offensive line to put in front of our running backs...
Round 7: Caleb Schlauderaff, G, Utah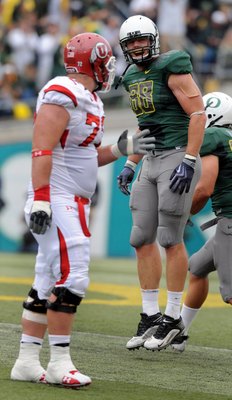 Steve Dykes/Getty Images
As stated in the previous slide, Washington needs to continue to beef up the offensive line in order to get a running game established.
Cue guard Caleb Schlauderaff, who was named a third-team AP All-American last season.
Adding another solid player from a recently established college football program wouldn't be a terrible selection with such a late pick.
Round 7: DeAndre Brown, WR, Southern Miss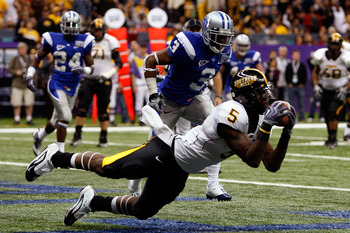 Chris Graythen/Getty Images
Standing 6'6" and weighing 233 pounds, wide receiver DeAndre Brown is a very interesting prospect.
He was once thought to be a human doppelganger of Randy Moss, but that was before his lack of production these past two seasons.
However, the Redskins have not had a big receiver for quite some time, and Shanahan is known to take on projects. Brown could be that project this year.
Round 6: Chris Neild, NT, West Virginia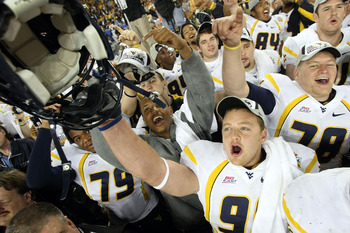 Stephen Dunn/Getty Images
With the whole Albert Haynesworth saga, many fans are still wondering how the Redskins can make this situation right if the big guy decides to continue his immature antics.
There is a solution to this problem. It might not be a long-term fix, but drafting a guy like Chris Neild, who has experience in a three-set defensive line, wouldn't be a bad pick here.
He has a solid frame for the position, being listed at 6'2" and weighing 319 pounds. Neild could add depth to the Skins defensive line.
Round 5: Richard Sherman, CB, Stanford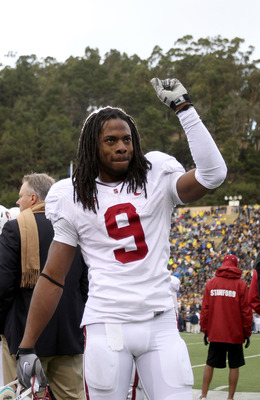 Ezra Shaw/Getty Images
With Phillip Buchanon and/or Carlos Rogers having the potential to leave via free agency, Washington needs to address its secondary.
Drafting a lanky cornerback like Richard Sherman (6'3") would give the Redskins some height on the defensive side of the ball. His 38" vertical doesn't hurt, either.
Sherman won't be the fastest player on the field, and could eventually move to free safety—another position where the Redskins need an upgrade.
Round 5: K.J. Wright, OLB, Mississippi State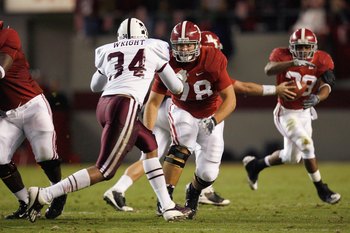 Kevin C. Cox/Getty Images
Brian Orakpo could use some help on the opposite side. K.J. Wright may be the guy to take some attention away from "Sackpo."
Wright has the ability to get into the backfield effectively, and with some added strength, he could be a solid addition to the defense.
Round 2: Phil Taylor, NT, Baylor
Jamie Squire/Getty Images
This pick is wishful thinking.
It is my hope that Phil Taylor would still be available with the 41st pick in this year's draft. Most would say Taylor will be off the board here. However, stranger things have happened.
Taylor would give the Redskins a very big (6'3", 334 pounds) nose tackle who possesses the size and skill set to anchor a 3-4 defensive scheme.
If this pick is to happen, Washington could get the steal of the draft and give owner Dan Synder a good reason to get rid of Albert Haynesworth.
Round 1: Tyron Smith, OT, USC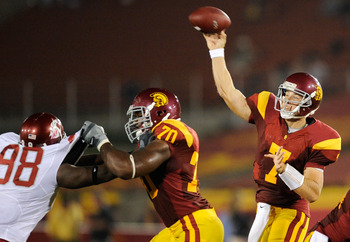 Kevork Djansezian/Getty Images
I refuse to put quarterback Jake Locker here.
Sorry if that's disappointing, but I just don't like what he has to offer and don't think he can mentally handle the NFL quarterback job like a top-10 pick should.
Assuming both Blaine Gabbert and Cam Newton are off the board, I like the Redskins solidifying their offensive line by drafting Tyron Smith—that's as long as he gets past the Cowboys at pick No. 9.
If the top offensive tackle in this year's draft is available at No. 10, the Redskins would be foolish to pass on a great athlete who can give depth to a depleted offensive line.
Standing in at 6'5" and weighing 307 pounds, the young lineman has excellent size and could be a force to be reckoned with for opposing defensive linemen if he adds some bulk to his frame.
Keep Reading

Washington Redskins: Like this team?