2011 NFL Draft: Latest Risers and Fallers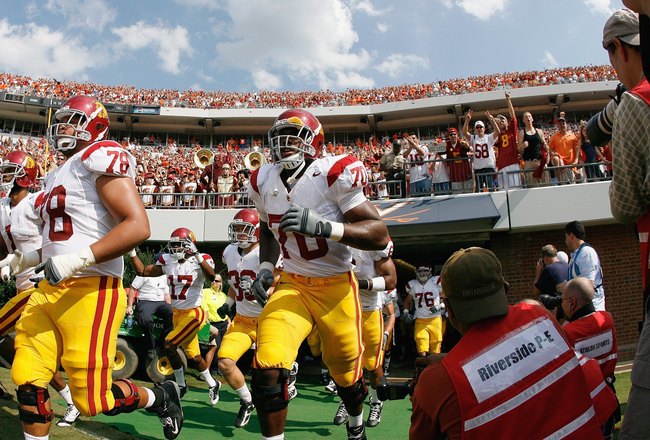 Kevin C. Cox/Getty Images
Well, it's just about two weeks away from the 2011 NFL Draft and rumors are being spread like a healthy dose of cream cheese on a bagel.
Distinguishing the rumor or smokescreen from actual information about a player is a trying ritual, but I think several factors have come to light recently to make an educated guess about players whose draft stock is on the uptick and whose is headed downward.
These factors include but are not limited to medical results, multiple visits with a team or teams, and fresh information on the player's talent or attitude.
What is far less likely to be believed is a coach, GM, or team-issued, on-the-record statement about a prospect, not that most organizations are willing to comment that frequently anyhow. Truth is that if a coach such as Chan Gailey were to talk about Cam Newton's tremendous talent, then I would be less likely to believe that Bills would select Newton if available.
Here are the latest risers and fallers in the upcoming 2011 NFL Draft.
Riser: Jake Locker, QB, Washington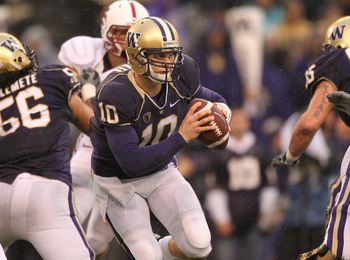 Otto Greule Jr/Getty Images
Earlier this week, ESPN draft analyst Todd McShay suggested that Locker is intriguing to certain members of the Tennessee Titans' organization, and although its a longshot, could be the team's pick with the eighth pick in the first round.
This is surprisingly consistent with what I am hearing. Remember, it only takes one team to be enamored with a player and the quarterback position is clearly one of the most tempting treats for NFL teams.
Locker has all the physical skills necessary to play the position and while I don't think he'll go eighth overall, I firmly believe he will go somewhere in the first 20 selections with Washington at pick 10 and Minnesota, who holds the 12th pick being the most likely destinations.
It's also important to note that Nolan Nawrocki of Pro Football Weekly, one of the best draft experts in the business today, has put together an exclusive draft value chart (click http://www.profootballweekly.com/2011/04/12/pfws-exclusive-draft-value-chart-5 ) and Locker is now listed as a middle first round selection based on feedback gathered from NFL teams.
Faller: Da'Quan Bowers, DE, Clemson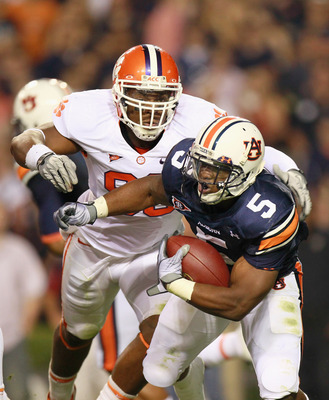 Kevin C. Cox/Getty Images
By now you have probably heard that there are severe medical questions regarding the health of Bower's left knee. According to NFL.com, Bowers' medical re-check in Indianapolis showed weakness in the knee and potential long-term arthritis.
Both Pro Football Weekly and profootballtalk.com cited one anonymous team official as saying, "our doctors said (Bowers) would be lucky to play out his rookie contract."
You can read more about the uncertainty regarding this player here: http://aol.sportingnews.com/nfl/feed/2011-01/2011-nfl-draft/story/mixed-reports-on-severity-of-daquan-bowers-knee-injury#ixzz1JQbTuXBo.
The bottom line is that despite attempts from Bowers' representation to assuage fears about his medical condition, there is clearly a concern with this player.
His situation brings to mind the plight of the Baltimore Ravens' Sergio Kindle last year. Kindle was seen as a first round pick by many sources, yet he slid into the second round because of medical red flags. This was before he fell down a flight of steps, cracking his skull and putting his career in doubt.
I think there will be a team to gamble on Bowers in the first round, but I believe that team will be somewhere in the second half of the round. New England, which is multiple picks in this draft, could try Bowers as an outside linebacker.
Riser: Ras-I Dowling, CB, Virginia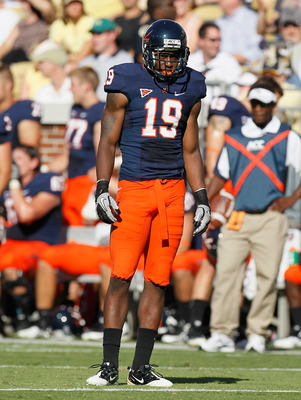 Kevin C. Cox/Getty Images
Dowling has flown under the radar for most of the draft process. But at this pro day, he showed his superior athletic ability by running a 4.37 40-yard dash, posting a 38-inch vertical jump, and broad jumping 10'8".
There are rumblings that the former Virginia Cavalier won't make it past the first half of the second round and I think he slides into the end of the first round. He's had a history of injuries, but he is a legitimate 6'1", 200-pound corner with big-play ability and NFL coverage skills.
I think his skill set will be preferable to some teams over the likes of Miami's Brandon Harris and especially Aaron Williams of Texas. .
Faller: Tyron Smith, OT, USC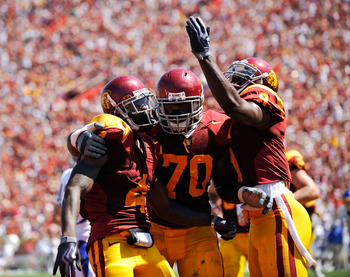 Kevork Djansezian/Getty Images
This one is a little hard to figure because so many draft experts are convinced that Dallas is enamored with Smith at pick number nine.
However, Nawrocki has reported Smith received a low grade on his medical re-check due to meniscus surgery on his right knee.
Nawrocki also reported these comments from an NFL executive "We've had (Smith) at the bottom of the first all along," he said.
"The media has pushed him up. The medical could push him out of the first, no question. I would love for him to go in the top 10, but I'd be shocked if he came close."
To Read More click here. http://www.profootballweekly.com/2011/04/12/combine-re-check-raises-flags-for-bowers-smith.
I've always had concerns with Smith because I don't trust a projected left tackle that is undersized or that hasn't played the position in college. Smith played right tackle exclusively for the Trojans and won't play in the NFL at a listed weight of 307 pounds. The abuse of training camp (again if there is one) will drop Smith closer to his college weight of about 285 pounds. That has to be a huge concern for NFL teams.
Riser: Marvin Austin, DT, North Carolina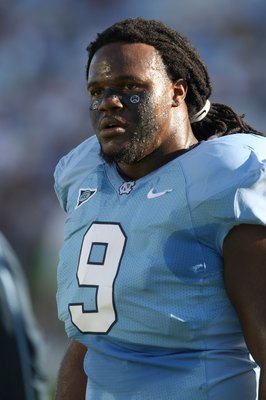 Streeter Lecka/Getty Images
I have been a card-carrying member of the Marvin Austin fan club for awhile and its been a pretty lonely experience till now.
Michael Lombardi of the NFL Network had this to say during a conference call with various reporters today, ""This (Austin) is a big man with great athleticism, the ability to play on all 3 downs and impact the game."
Lombardi had a lot of interesting tidbits to share which I'll address in a bit, but his assessment of Austin is on target.
I'll go on the record that Austin will be taken over more highly touted defensive tackles Muhammed Wilkerson, Stephen Paea, and possibly Phil Taylor and/or Corey Liuget.
Taylor is the only highly rated pure nose tackle in this draft (apologies to Kendrick Ellis), so I think his value will be a bit inflated but I see Austin as maybe the second or third best overall defensive tackle in this draft and I sense that NFL teams might be coming around to this conclusion.
I know that Austin has had draft visits with the Patriots and Saints and I don't think its a coincidence that they pick late in round one.
Faller: Mark Ingram, RB, Alabama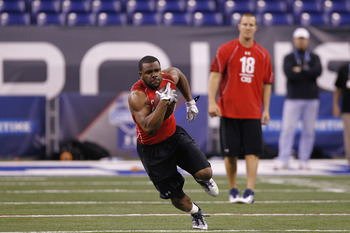 Joe Robbins/Getty Images
For a couple of months, there have been whispers of injury issues with Mark Ingram. There weren't many sources that were incredibly specific, but I had questions simply based on the physical punishment he took from the rest of the SEC while at Alabama.
Then Lombardi dropped this bomb about Ingram, "(He is) not a lock to be a first rounder," he said. Lombardi also put forth that NFL teams are growing concerned about Ingram's knee that was scoped before the 2010 season and that has the beginning of an arthritic condition.
The NFL Network's Charlie Casserly, who joined Lombardi on the conference call piled on. "Ingram is not a power back," he said. Casserly classified Ingram as a "one-cut runner" which means that he would be a better fit in a zone blocking running attack. The problem with this is that a lot of teams run power schemes which would make Ingram less valuable.
Several draft experts have talked about the value at the running back position in the drafts' third through fifth rounds which figures to push the former Heisman Trophy winner down even more.
Update: According to profootballtalk.com, on Wednesday night's edition of the NFL Network's Path to the Draft, Lombardi went even further on Ingram.
"I've had two teams tell me the knee is very bad," said Lombardi. "He won't be on their boards. These are teams that need running backs."
Riser: Ryan Mallett, QB, Arkansas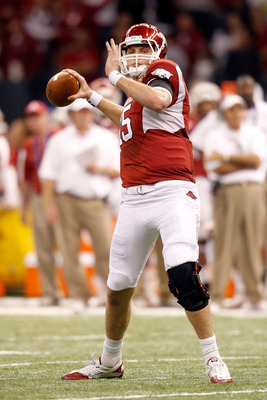 Matthew Stockman/Getty Images
I'm going to go out on a limb of sorts here. I think the amount of interest a few teams have shown in Ryan Mallett, specifically the Miami Dolphins and Seattle Seahawks, is a clear indicator that Mallett will be a first round pick in two weeks. What's more, I think I know where he is going. More on that in a little bit.
The more you talk to people, the more you realize that Mallet has the most NFL caliber arm of all the quarterback prospects. His maturity is a significant question, but NFL teams just have tendency to believe that they can be the one to turn a guy around. I questioned his mobility, but now I am hearing that while he'll rarely run for a first down, he can slip and slide well enough to elude some pass rushers.
Also, there are people out there who have a more positive view of Mallett than others, including former teammate D.J. Williams, who is considered to be one of the players with the best character in the draft.
Teams can fake interest in a player but Miami will reportedly meet with Malllett for a fourth time and I have heard repeatedly that the Seahawks are extremely interested at number 25.
Even a few weeks ago, I never would have thought that a Miami Dolphins organization, with general manager Jeff Ireland and coach Tony Sparano under pressure to win now, would draft a rookie quarterback.
But, this is not a typical draft and there isn't a whole lot of surefire talent at the top of this draft. Teams are hesitant to trade up because of growing uncertainty about whether a new rookie wage scale will be implemented.
I am penciling in Mallett to the team from South Florida at pick 15. A darkhorse for Mallet would be the Washington Redskins, especially if Dan Snyder is calling the shots over Mike Shanahan, who prefer a more mobile signal caller.
Faller: Brandon Harris, CB, Miami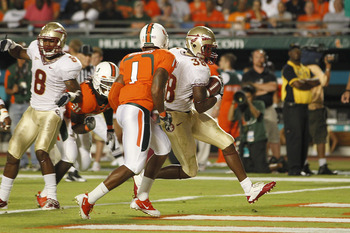 Joel Auerbach/Getty Images
Brandon Harris is 5'10". He can't change that and I feel bad for putting him on the list, but the more and more I hear, his size and lack of dominant play at Miami is going to push him down well into the second round.
Keep in mind, that of the top 15 cornerbacks in this draft according to NFLDraftScout.com, only USC's Shareece Wright, Clemson's Marcus Gilchrist, and Louisville's Johnny Patrick are also under 6'0" and have similiar frames to Harris. None of these other cornerbacks are ranked anywhere close to Harris in terms of their draft stock.
Harris has had just four interceptions in his career and he doesn't project as a playmaker.
The positive label that you hear most often around Harris is "could develop into a solid starter". That's not exactly a ringing endorsement. One of the most recent mock drafts from a reliable source that I have seen has Harris going at pick 40.
I don't know if that's accurate or fair, but I do believe Harris has been passed in the cornerback order for the final time by a troubled, but talented Jimmy Smith out of Colorado and the aforementioned Dowling.
Riser: Mason Foster, LB, Washington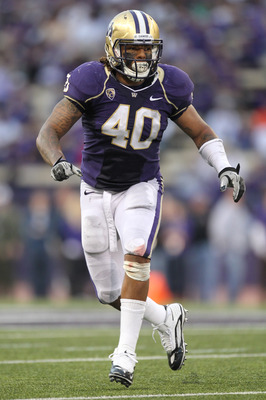 Otto Greule Jr/Getty Images
There have been far more publicized prospects at outside linebacker, including UCLA's Akeem Ayers, Nevada's Dontay Moch, Fresno States' Chris Carter, Georgia's Justin Houston and recently Arizona's Brooks Reed, but just in the last week I've heard a lot of buzz around Washington's Mason Foster.
Seems that people are all of sudden remembering that the former Huskie had 163 tackles in 2010, including 14 for a loss and also 6.5 sacks.
There are reportedly teams that love Foster and ones that clearly don't but he has the athletic ability to play multiple spots and recently he seems to be moving into the second round. A month ago, a lot of sources had him labeled as a fourth or fifth round pick.
Foster has been in demand with visits to the Rams, Saints and Dolphins. According to the Detroit Free Press, the Lions are thought to have interest in Foster, and their current tight ends coach, Tim Lappano, was the former offensive coordinator at Washington and recruited Foster for the Huskies.
I have heard from multiple sources that Foster is superior to former Huskie linebacker Donald Butler who was drafted by the San Diego Chargers in the third round in 2010.
Faller: Nick Fairley, DT, Auburn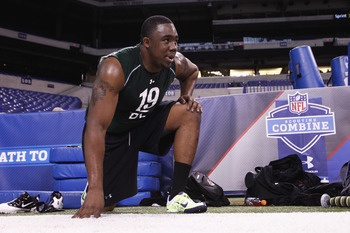 Joe Robbins/Getty Images
I saved this one for last because I have always questioned Fairley as a one-year wonder and his performance at the NFL combine clearly raised several red flags about his "preparedness and motor", and lowered his stock.
Now, instead of being selected late in the top ten, there are several individuals who believe Fairley will slip even further.
Just about one hour ago, RavensInsider Aaron Wilson, citing three sources, tweeted that Fairley skipped a scheduled dinner with Miami GM Ireland and coach Sparano following Auburn's March 8 Pro Day.
ESPN's Adam Shefter has previously suggested that Fairley is seen as "irresponsible and unreliable".
As of this minute, Fairley might just be that solemn player that the cameras focus on during the draft, as he waits seemingly endlessly in the green room to be selected.
Keep Reading