Complete Seven-Round Miami Dolphins Mock Draft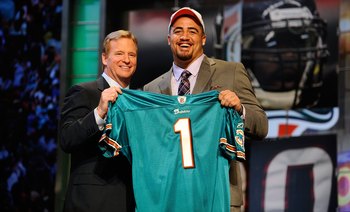 Miami solidified it's defense in last years draft. Now they must focus on the offense
Jeff Zelevansky/Getty Images
The Miami Dolphins are rolling along in the new post-Bill Parcells era like a prize fighter who has taken one too many punches.
In an off season mired with players publicly lashing out against management, an owner reaching out to a head coach while currently employing another; and the team hiring of an offensive coordinator who ran one of the two offenses ranked lower than theirs, the Dolphins are looking for a bright light at the end of the tunnel.
In 2010, Miami used seven out of their eight draft selections on the defensive side of the football.
Now it's time to focus on the offense.
In a season in which the offense ranked 30th in points per game, even with newly acquired WR Brandon Marshall, the Dolphins failed to keep pace with the blossoming Patriots and the loud-mouthed Jets.
After extensive research and cataloging several players hoping to be drafted in this year's draft, the Miami Dolphins would be best off using the 15th overall pick in the draft on ...
Round 1, 15th Overall Pick: Mike Pouncey, G, Florida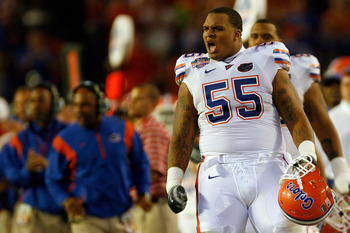 Eliot J. Schechter/Getty Images
In 2009, Miami's rushing attack was one of best in the league. In 2010, it was one of the worst.
So what changed that caused this shift in the numbers?
Miami definitely improved at the wide receiver position, adding Brandon Marshall. The quarterback didn't change and neither did the running backs.
On offensive line, though, was where the difference in the two years occurred. Last year's Dolphins offensive line played hot potato with who started where due to nagging injuries all season.
Even newcomer John Jerry could only start two games all year after being selected in the third round of the 2010 draft.
Miami's running attack only had five carries of over 20 yards in 2010, good for third-worst in the league.
Miami averaged 139 rushing yards per game in 2009, compared to 102 rushing yards per game in 2010.
By adding Pouncey to a unit with Pro-Bowler Jake Long, Vernon Carey and with hopeful improvement from John Jerry, Miami could solidify it's front line and certainly contend to be one of the elite amongst the league.
While most fans would like to see Mark Ingram at this pick, there simply isn't enough value to select him with the 15th overall pick while running back is such an interchangeable piece in the NFL.
Consider this: Last year, Arian Foster, Jamaal Charles and Michael Turner finished as the top three running backs in total rushing yards for the 2010 season.
None were drafted higher than the third round and Foster, who led the league with 1,616 yards, was undrafted.
Round 3, 79th Overall Pick: Jerrel Jernigan, WR, Troy
Jerrel Jernigan is one of the wild cards of the NFL Draft.
He played in the Sun Belt conference in college, but his speed is something Miami severely lacks.
Jernigan is simply the play-maker Miami has lacked for years. While not a vertical threat, he is extremely elusive and a nightmare for a defender to take down, especially in one-on-one situations.
In his junior and senior seasons with Troy, Jernigan caught over 155 passes for over 1,900 yards.
Brandon Marshall and Davone Bess possess the hands for the Dolphins receivers, and Jernigan would possess the speed.
Jernigan ran a 4.46 at the combine, but what is even more impressive is on film. He has instant acceleration off the line and is adept at finding open areas, especially in zone coverages.
The best part about Jernigan is his ability to be utilized in different facets of the game.
Jernigan can returns kicks and is a former quarterback who has been utilized in the wildcat formation in college.
His combination of speed, kick-return ability and flexibility in the wildcat formation make him an ideal target for Miami in the third round.
Round 4, 111th Overall Pick: Shane Vereen, RB, California
Over the last decade, the University of California has put out some studs in the NFL at the running back position: J.J. Arrington, Marshawn Lynch, Justin Forsett and just recently, Jahvid Best.
Now comes Shane Vereen.
Vereen would bring consistency to a Miami Dolphins squad that hasn't had much to cheer about at the running back position for years, save for two Ricky Williams monster seasons, which caused him to temporarily retire.
Vereen averaged over five yards a carry all three seasons he played at Cal, and the wear and tear is not too significant since he only carried the ball over 200 times this past season, when he was the primary back.
Vereen is a north-south runner who waits patiently for his blocks to set up and hits the hole with above-average speed. Since he is only about 5'10", he has a low center of gravity, making it harder for defenders to get a big hit on him. Vereen also excels at the kick return game.
Surprisingly, Vereen also packs a punch, as he led all running backs with 31 reps of 225 pounds at the combine.
While Vereen wouldn't necessarily be the ideal workhorse to start off, the NFL has become a league in which teams sometime feature three prominent running backs to complement each other.
Shane Vereen would fit this system perfectly as he learns the NFL game and would be a perfect fit for a Miami team that desperately seeks productive inventory in its backfield.
Round 5, 146th Overall Pick: Roy Helu, RB, Nebraska
Going with the theme that Miami practices in the draft every year, it would be ideal to take two running backs this year.
Roy Helu is overlooked too often amongst scouts. Although he played in a system geared toward running over at Nebraska, Helu excelled with unheralded success.
Helu slips down many draft board simply because Nebraska's style of play did not include passing the ball too often; therefore, Helu gets knocked as an underachiever in the pass-blocking and receiving game.
Against Missouri in 2010, Helu totaled over 300 yards on fewer than 30 carries.
At the combine, Helu measured with the largest hands for a running back and had the fastest 20-yard shuttle, and a 10-yard split of 1.51 seconds.
Helu totaled over 2,300 yards and 20 touchdowns his junior and senior season with Nebraska.
His patience and ability to accelerate through the hole make him one of the fiercest runners when he gets to his top speed. It will be harder for him to tackled by one defender, and he can shed arm tackles with ease.
By pairing Helu with Vereen, Miami will revive a lackluster 2010 rushing performance and make it twice as hard on opposing defensive coordinators to game-plan for what could surely be a potentially dangerous backfield.
Round 6, 179th Overall Pick: Robert Housler, TE, Florida Atlantic
On an offense that lacks play-makers and open-field threats, adding the fastest tight end at the combine couldn't hurt.
Robert Housler, who played for the Owls of Florida Atlantic, ran a 4.55 40-time at the combine and immediately started climbing draft boards around the league.
Housler's speed combines with his pure ability to get off the line of scrimmage and down the field rather well.
Housler averaged 16.2 yards a catch in 2008 and 16.1 yards a catch in 2010 after sitting out the 2009 season.
Housler can pluck a ball right out of the air and created match up problems while playing under Howard Schnellenberger.
With the proper tutelage in pass protection, and if he can add some bulk to his frame to keep up with NFL-sized defenders, Housler could be a steal in Round 6 and a gem among a tight-end class that is lacking in top-heavy talent.
Round 7, 217th Overall Pick: Tori Gurley, WR, South Carolina
Having too many wide receivers who can produce at high levels is an issue the Dolphins haven't had to deal with much over the last decade.
Tori Gurley stands at 6'4" and has 35" long arms.
He is a physical wide-out that has no problems playing in the middle of the field or running a vertical route down field. In the red zone, Gurley is dangerous and has shown tremendous ability to shield defenders from the ball.
In 2010, he didn't drop a pass and while he only played two years at the wide receiver position for the Gamecocks, he is a raw prospect who could learn under the best (Marshall and Bess) and provide better depth at the wide receiver position.
Gurley possess average speed at best, so he is a possession wide receiver. He could have used another season in school but declared for family reasons.
Taking a chance on another skill position player would be wise for Miami even if only to pad their depth at positions of need.
Round 7, 218th Overall Pick: Mark Herzlich, LB, Boston College
Picking up a player in the seventh round with intensity like Herzlich is almost unheard of.
Herzlich plays with a fire and a passion that fuels his firecracker playing style. He never shies away from contact and his intuition on the field matches that of Casey Matthews of Oregon.
Herzlich overcame Ewing's sarcoma to come back and play in the 2010 season after having a monster 2008 season at BC in which he tallied 110 tackles and six interceptions.
Herzlich can play in either a 3-4 or a 4-3 scheme in the NFL, so playing under Mike Nolan and providing much-needed depth at the linebacker position would be the recipe for success.
His speed is an issue and he needs to learn not to rely on only his strength when tackling.
He would be a project pick, that is for sure; but the upside to Herzlich can't be overlooked, and his availability in the seventh round is almost guaranteed.
Round 7, 235th Overall Pick: Colby Whitlock, NT, Texas Tech
Another pick based on depth, and Whitlock could challenge Chris Baker for the backup NT position.
Whitlock has good push and gets under the opposing lineman's pads. His over arm move is impressive and very instinctive. He can switch from attacking to running down the quarterback like he is flipping a switch.
He was selected All-Big 12 first team for the 2010 season and started all four years for Texas Tech.
Whitlock muscled his way to 17 tackles for loss in his last two seasons.
If he could add some more size to his frame, he would be a prototypical A-gap nose tackle and would be a developmental project hoping to make the roster or practice squad in his rookie season.
Keep Reading

Miami Dolphins: Like this team?