Philadelphia Phillies: 10 Bold Predictions for the Rest of the Team's Season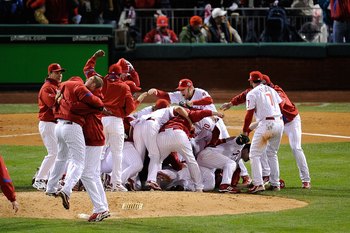 Jeff Zelevansky/Getty Images
Well, we are nine games through the season for which we all waited for so long. As we stand right now, the Phillies are 7-2 and in first place in the National League East. Having said that, after all the buzz that soaked Philadelphia since that cold winter night they re-acquired Cliff Lee, their record and standing is of little surprise. They became the odds-on favorite to win the 2011 World Series that night and, even with injuries to Chase Utley, Brad Lidge, and Dom Brown, are still most people's pick to be triumphant in the Fall Classic.
It is for this reason that none of my ten predictions will concern overall wins and losses in the standings. In contrast, my list will address some twists and turns I can see happening throughout the season (Don't worry, though...I will put my guesses for the playoffs and World Series in my epilogue for the final slide).
Some of these are wilder than others, but anybody who has been around this wonderful game long enough knows that the only guarantee is that there are none. So sit back and enjoy the ride. It should be a good one.
10. Joe Blanton Will Have a Consistent, Productive Year on the Mound.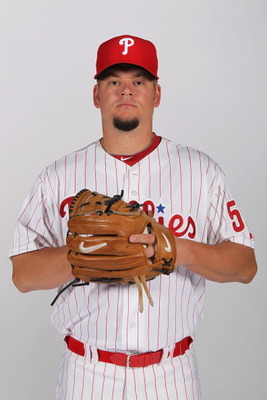 The forgotten man alongside the Fearsome Foursome.
Nick Laham/Getty Images
Roy Halladay won 21 games and a Cy Young Award playing for the Phillies in 2010.
Cliff Lee won the city's heart in 2009, left town in a controversial trade, then became the biggest story of the last offseason when he chose to take a pay cut to come back to Philly.
Roy Oswalt was acquired at the trade deadline in 2010 and played a big part in lifting the Phils from the middle of the standings to the best record in baseball. He also made a heck of a play in left field.
Cole Hamels is the homegrown heart-throb who was MVP of the 2008 NLCS and World Series.
If you haven't heard about these things, then you either don't follow the Philadelphia Phillies or you have been in a coma since the days of Omar Daal and Joe Roa anchoring the Phillies' starting rotations. The fact is that the "Phour Aces" have been the biggest story in sports for all of 2011 with many outlandish predictions. Well here is mine: Joe Blanton will have a great year.
Sometimes you just feel things, and I feel like the huge overlooking of Big Joe will give him the opportunity to back into a lot of wins. The entire NL is going to be so afraid of the aces that they will consider Blanton an automatic victory, and this can only help #56.
I can see something like 15-10 with a 3.55 ERA this year for the forgotten man.
9. John Mayberry, Jr. Will Be the Starting Right-Fielder in September.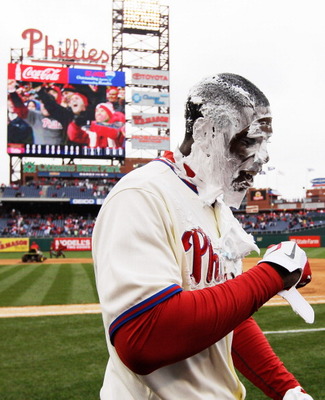 Rob Carr/Getty Images
John Mayberry is 6' 5", plays right field, and has a quirky swing that somehow manages to produce hits. Does this sound like anybody else we are familiar with?
I'll give you a hint...he plays for the Nationals now.
While I like Ben Francisco and I think he also has a nice swing, I think his lack of height will hurt him too much in the outfield and Charlie will be starting Big John by September, possibly in a platoon situation with Dom Brown if he is ready.
8. Ryan Madson Will End the Season with 30 Saves.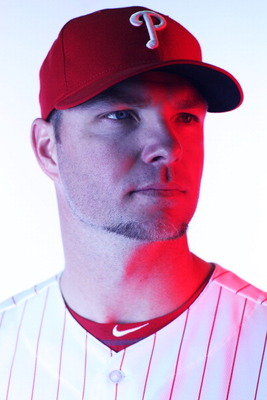 Nick Laham/Getty Images
With the recent reports coming out that Brad Lidge will be out until at least the All-Star Break, I think it is very possible that the man who was El Perfecto in 2008 has thrown his last pitch as a Phillie.
There were also reports this past March that Ryan Madson wants to be a closer, if not on the Phillies then on another team.
The Phillies and Ruben Amaro are not a stupid lot. They know that they have one of the best relievers in baseball in Ryan Madson and they want to keep him, whether he's coming out to the bump in the eighth or ninth inning.
Even though Jose Contreras was the Phillies opening day closer, the team will realize that Ryan is their closer of the future and the ninth inning job will be his by the All-Star Break.
Just to throw a shameless stat line in, I will say that Madson will end the year 32-for-39 in save opportunities with a 3.01 ERA.
7. Raul Ibanez Will End His Season, and His Career, on the Disabled List.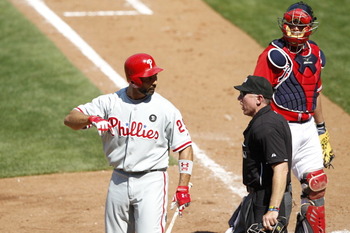 Joe Robbins/Getty Images
Raul Ibanez is a fine man.
He was also a terrible signing by the Phillies organization in December 2008.
The Phillies needed a successor to Pat Burrell after the 2008 season ended and decided to sign a proven veteran who could step right into the five-hole and pick up where Pat left off. In his first 68 games as a Phillie, he made the front office look like geniuses by posting a .315 average with 25 home runs and 68 RBI.
In his last 230 games since then, Raul has been the picture of inconsistency. In that span, he has hit .259 with only 26 home runs and 114 RBI. There have been points since the middle of 2009 that he has looked completely gassed, and it is pretty obvious he is past his prime. I think this will be the year that his age catches up to him for good, and he will suffer a season-ending injury around August.
6. One of the Four Aces Will Spend Significant Time on the DL.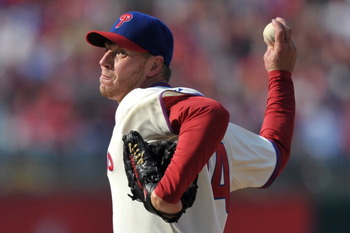 Drew Hallowell/Getty Images
Injuries are a fact of sports, and there seems to be a supernatural force that makes injuries more common among the most hyped players.
Maybe it is just that we care more.
A starting pitcher going on the DL obviously doesn't hurt the team as much as an offensive star since they only are relevant every fifth game. Nevertheless, I think one of the Fearsome Foursome will be bitten by the injury bug and will spend between 60 and 80 days on the DL.
My guess as to which one it will be would be Roy Halladay, only because of how tough it would be to follow up his brilliant 2010.
5. Ryan Howard Will Hit .300, but with Less Than 30 Home Runs.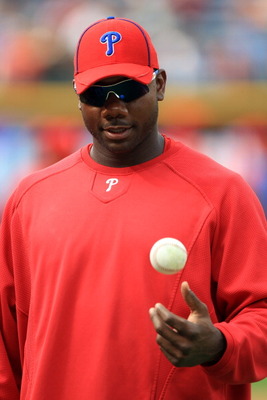 Streeter Lecka/Getty Images
Many of this game's great hitters hit a lot of home runs but had a low batting average early in their careers. As they got older, their average got sharper, but their power numbers dwindled. The reason for this is simple: Young hitters come to the plate wanting to hack at everything, resulting in a lot of strikeouts. As they age, they learn patience, pitch counts, and how to outsmart a pitcher.
Ryan Howard has shown flashes of this trend since the beginning of last year. This year, it will materialize.
I expect a stat line of something like .305/27/103 for the Big Piece.
4. Shane Victorino Will Lead the Team in RBI's.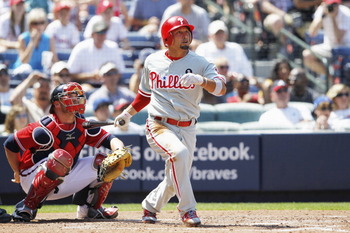 Joe Robbins/Getty Images
This is one of those shots in the dark. I feel like Shane is going to have a career year, since he made a lot of mistakes last year and is seeking redemption.
Shane is going to have a lot of different opportunities in the lineup, and he will be playing angry by his own admission. I predict a stat line somewhere around .289/20/108 this season.
3. Chase Utley Will Hit .300 on a Shortened Season.
Nick Laham/Getty Images
Chase has a history of lightning fast starts, then gassing himself by the All-Star Break and having a quiet second half of the season. The word is that he will probably be back between July 1st and the All-Star Break, which would give him a two-and-a-half to three month season. I can see him coming out to his usual great start, especially since he will be extra-focused after watching his buddies play all that baseball without him.
Chase's line: .310/16/54
2. Wilson Valdez Will Make the All-Star Game.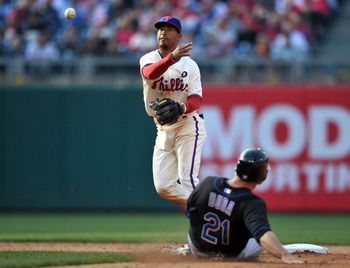 Drew Hallowell/Getty Images
Wilson Valdez has spent most of his career in the minors.
I don't know why.
Valdy can loop a ball into the outfield almost as good as anybody on the team, and he has looked like a great fielder last season and in these first nine games. He looks happy as my dog with a bacon treat to be playing as a starter, and it's showing in his superb play so far.
I just see this guy piling on base hits as the games go on, and his high batting average combined with his great fielding might make him one of the best second baseman in the game come July.
1. The Phillies Trade Cole Hamels at the Deadline.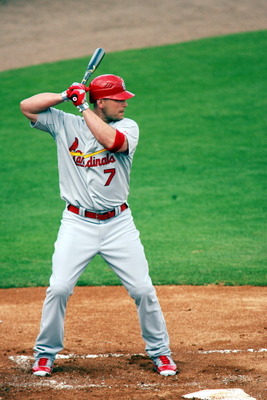 Marc Serota/Getty Images
Cole Hamels is in a contract year.
In the game of baseball, the words "contract year" equal "trade bait" in the month of July. While there are other players in contract years, notably Jimmy Rollins, Brad Lidge, and Raul Ibanez, I don't think any of these players will be on the market, all three for very different reasons.
Jimmy Rollins will be having a productive year and be a big part of their offense.
Brad Lidge will be hurt in July.
Raul Ibanez will be 39 and slumping, and no team in the majors would be willing to give anything up for him (He doesn't get hurt until August, remember?).
Because of these three reasons, I believe Hamels will be the talk of this organization come trade time. While I think Chase Utley, Ryan Howard, Shane Victorino, and Jimmy Rollins will all be cooking at this time, the Phillies will have drama in the corners of the outfield.
My prediction: The out-of-contention Cardinals will want to assemble a three-headed-monster of Wainwright, Carpenter, and Hamels for 2012. The Phillies will want a bat to take them to their third World Series in four years.
Cole Hamels for Matt Holliday.
Keep Reading

Philadelphia Phillies: Like this team?