Colt McCoy: Eight Predictions for His 2011 Season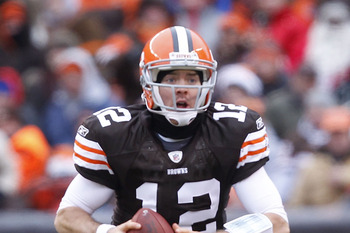 Colt McCoy
Matt Sullivan/Getty Images
In 2010, things didn't exactly go according to plan for the Browns in terms of their use of Colt McCoy.
The third-round draft pick and quarterback of the future wasn't even supposed to play during his rookie season. This was supposed to be a year of learning by observation for him, a time to watch from the bench as Jake Delhomme and Seneca Wallace taught him how to be an NFL quarterback by example.
But thanks to untimely injuries to both Delhomme and Wallace, McCoy's season of observation from the sidelines was not to be, and he was thrown right into the fire just six weeks into his rookie year, against uber-talented, hated rival Pittsburgh, no less.
It wasn't exactly the way anyone would script it for their team's brand spanking new, fresh-out-of-college quarterback, but football has a nasty way of forcing you to play the hand you're dealt.
So it was for McCoy who, considering the adverse circumstances under which he made his debut, actually did a darn good job in his rookie effort for the Browns. There were some pleasant surprises in what he showed on the field as well as some major letdowns, but all in all, it left Browns fans feeling pretty good about their future under McCoy at the close of the season.
There are probably more surprises in store from McCoy in 2011, some good and some bad, but here are eight predictions for the Browns' young gunslinger that should be pretty safe to bank on.
1. McCoy Will Have a Positive Touchdown-Interception Ratio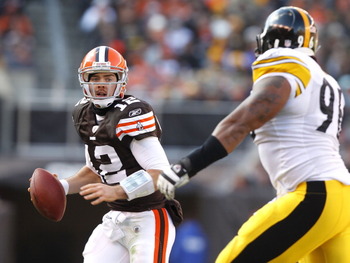 Colt McCoy
Matt Sullivan/Getty Images
In his rookie campaign in 2010, McCoy finished the season in the negative on his touchdown-interception ration with six TDs and nine interceptions. This was partly due to the simple fact that interceptions are prevalent for first-year quarterbacks (especially those with a weak offensive line, which will be discussed later in this piece).
This season, his numbers should end up in the black instead.
Sheer experience should help McCoy lower his interception totals. Better receivers (also discussed later in this article) will raise his touchdown totals. And that's just the improvements that we can expect due to general rules of thumb in football. McCoy's own ability to learn quickly and adjust and adapt will only serve to further this.
Watching McCoy throughout last season, it already started to become apparent that he was learning from his mistakes as time passed. His decisions were better and better as the season progressed, and the high interception totals in the last two games of his season were more a result of desperate last-ditch attempts to salvage games than of McCoy actually making purely mental or physical errors.
2. A Better Receiving Corps and a Revamped WCO Will Make McCoy's Job Easier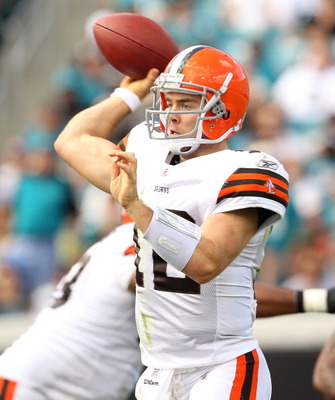 Colt McCoy
Mike Ehrmann/Getty Images
All of McCoy's numbers as a passer suffered last season due to a lack of weapons at his disposal in terms of who was on the other end of his throws. Mohamed Massaquoi and Brian Robiskie are both also young and made mistakes as a result of that, which had a trickle-down effect for McCoy.
In the new, revamped West Coast Offense the Browns are planning to employ this season, both of those receivers should fare better. The more traditional West Coast Offense that we expect to see in 2011 is better suited to the types of receiver Massaquoi and Robiskie are. Shorter passes and sideline routes will help them improve their game and consequently help McCoy's numbers as well.
Add to that the fact that frequent pass-dropper Chansi Stuckey will likely be gone and that the Browns will be bringing in new talent at receiver (likely through both the draft and free agency), which should also serve to improve the passing game overall.
3. A Better O-Line Will Result in Fewer Mistakes and Less Chance of Injury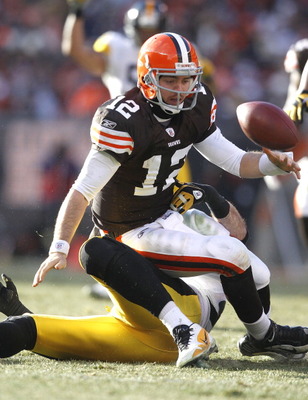 Colt McCoy
Matt Sullivan/Getty Images
Going back to the negative touchdown-interception ratio McCoy posted in 2010, we can discern that at least part of the reason for this was due to an offensive line that was seriously weak on the right side. McCoy was sacked 23 times last season. That is a lot for a guy who only played in eight games.
It's also a lot for a guy who scrambles pretty well and does a good job of getting rid of the ball when he's under pressure. That means that a problematic O-line is largely to blame for this statistic.
Granted, quarterbacks with great lines still suffer their share of sacks. But obviously, those throwing from behind a line that has a lot of weaknesses will take far more hits.
The Browns have a stellar left side on their O-line, but the right side was a mess in 2010. This is one of the Browns' top priority spots for repair this offseason, so we can expect that through either the draft or free agency, McCoy's line will be much improved when the 2011 season starts.
And it's a good thing too; McCoy won't last long if he takes that kind of a beating every year this early in his career. Colt may be a really tough guy, but he's also not very big. At just 6'1" and 216 pounds, you can only have so many 300-pound defensive linemen fall on you before it starts to take a permanent toll on your body.
4. McCoy Will Remind You of Kosar in His Ability to Make Things Happen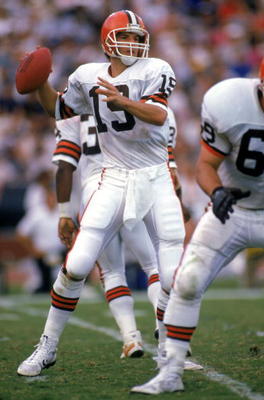 Bernie Kosar
George Rose/Getty Images
Bernie Kosar is one of the most beloved quarterbacks in Browns history. It's largely due to how much success he brought to Cleveland during his time under center, but it isn't because he was exceptionally talented.
Sure, Kosar had plenty of skill, but as a pure passer, he ranks nowhere near the top quaterbacks in history. No, what Bernie had that made him so adored by Cleveland fans was a different sort of skill that wasn't just about pure passing talent.
It was about the ability to make things happen on the field.
Take a moment and remember what it was like to watch Kosar in action. Many of his passes were wobbly, sloppy and just looked downright ugly, as did his movement in the pocket. But no matter how vulgar they looked getting there, his passes found their man, especially when the game was on the line and it was absolutely critical that they do so.
What Kosar lacked in technical skill, he made up for in heart, football instincts and exceptional field vision. Colt McCoy is a quarterback cut from the same cloth.
He's never going to be the biggest, strongest, most accurate or prettiest passer. But you can bet he'll find his man when he needs to. Because like Bernie, Colt reads defenses well, can keep a cool head in a high pressure situation, is bulldog-like in his determination and just plain old knows how to get it done for the win.
Yeah sure, we all wish he looked as pretty out there as Dan Marino, but as long as he makes good things happen on the field (and he WILL make good things happen on the field), we won't wind up caring if things look a little rough around the edges in the process.
5. McCoy Will More Than Double His Passing Yardage Totals from Last Season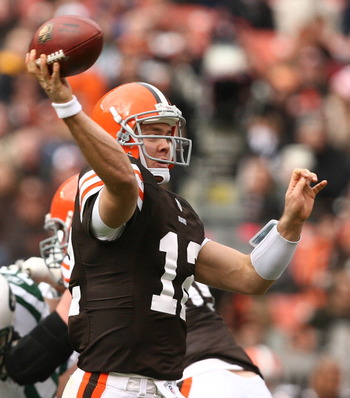 Colt McCoy
Matt Sullivan/Getty Images
In 2010, Colt McCoy ranked 32nd among all NFL quarterbacks in passing yards with 1576. Ranking 32nd isn't exactly great. But consider that much of McCoy's lack of yardage is the result of playing in just eight games. Of the quarterbacks ranked above him in yardage, just one had fewer attempts than he did and most had twice as many.
Further, his 7.10 yards/attempt ranked him ahead of the likes of Drew Brees and Peyton Manning, indicating that with more attempts, McCoy will undoubtedly put up very respectable yardage totals.
With just eight games played last season, we can expect his yardage total to at least double in 2011, assuming he plays all 16 games. That would give him at least 3,152 yards on the season and probably more given that we can expect his play to improve with a year of experience under his belt. Not too shabby.
6. McCoy Will Emerge as a Leader on Offense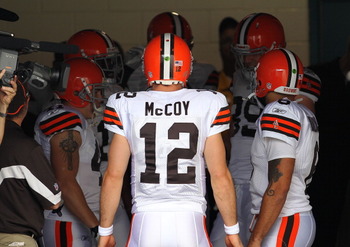 Colt McCoy
Mike Ehrmann/Getty Images
Before he was drafted, scouting reports showed criticisms of McCoy in a number of categories, from questions about his arm strength to concerns about his small size.
But one thing no one has ever doubted about McCoy is his character and leadership ability.
Those qualities were, of course, tough to discern in his rookie campaign. Certainly, we saw plenty of signs of McCoy's drive and toughness, but it's very tough for a rookie to shine as a leader no matter how successful he is in other areas of his game.
This year though, that should start to change. Even in his second year, many a quarterback still won't emerge as a bona fide top-tier leader, but McCoy will do as well as anyone in this area. It will certainly take some time before he'll have the credibility and influence of a five-year veteran gunslinger, but a natural ability to lead makes a big difference for a quarterback early on in his career, and McCoy definitely has that kind of innate talent.
7. There Will Still Be a Learning Curve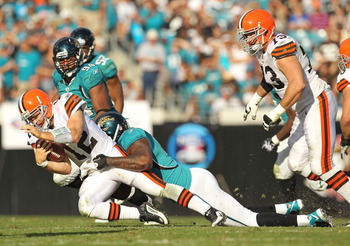 Colt McCoy
Mike Ehrmann/Getty Images
For all the improvements we can expect to see in McCoy's game this year, it will still be very apparent that he's got a lot to learn.
McCoy has just eight games of professional experience, and while he may be a quicker study than most, he will still show the effects of having just half a season of experience on the field.
While his numbers should improve in nearly every category, and with them the team's overall success, McCoy is not going to turn into a premier NFL quarterback overnight.
There will still be mistakes, missed opportunities, and errors both mental and physical. McCoy is 24 years old and still learning the ropes of NFL football. It may be four or five years into his career before he's completely got it down pat.
What McCoy has to offer is certainly a reason to get excited about the Browns' passing game this season, but Cleveland fans would also be foolish not to expect a decent number of mistakes resulting from their team employing a quarterback who is still relatively new to all this.
8. McCoy Will Be a Major Factor in How Successful the Browns Are in 2011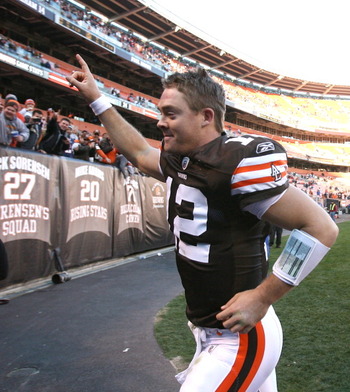 Colt McCoy
Matt Sullivan/Getty Images
On a team engineered to have success because it operates as a unified, well-oiled machine rather than because it employs a couple of standout players, it's easy to forget how much any one person matters.
We've designated Peyton Hillis as an exception to this rule, but beyond that, we're mostly trained to see this team as a singular unit. While it's true that McCoy's role as a quarterback in this sort of system is more as a cog in the machine than as the guy operating the gears, his own individual successes or failures will still be a major factor in how well the machine runs overall.
Much like Hillis, McCoy will be one of the most important pieces in the machine the Browns are building. He may not be the only thing that matters, but he'll be one of the few players on the team whose personal success will be hugely important for the team as a whole.
Keep Reading

Cleveland Browns: Like this team?