Seattle Mariners Opening Night: 10 Unique Ways to Enjoy the Game

Otto Greule Jr/Getty Images
It's Opening Day, which means it's time to put the spreadsheets away and head out to the ballpark for pampered grass, the smell of garlic fries and a rousing nine innings of pure bliss.
What better way to enjoy this event than sharpening your pencil and getting lost in a baseball game by keeping score?
That may not be for everyone. Perhaps you're more into chatting, watching the Hydro Races and anticipating the start of The Wave.
Each fan has a unique way of enjoying a ballgame. We all have our own special love for the game. Some refuse to miss a pitch or leave early, and some just want to hang out and beat the traffic in the eight inning.
So for those of you who want to try something new this season at Safeco Field, this slideshow is for you. From food to views to people. This your guide to enjoying a unique experience at the House That Griffey Built.
Food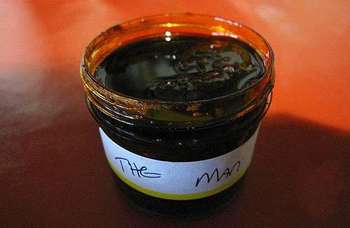 I'm a hot dog kind of guy all the way.
To me, it's just not a game without a dog covered in mustard and relish with a cold microbrew to wash it down.
However, if you're into something different, Safeo Field has a lot of fare to enjoy during your nine inning visit. Check out some of these options.
Garlic Fries
When I stray from my hot dog, this is where I go. This one shouldn't be a mystery to most as it's one of the more popular foods in the park. If you haven't had it for fear of stinky breath, make sure to get a couple apple slices from the cashier. They work a special kind of magic that reduces the chances of your wife pushing you away during a kiss cam.
Find this treat at sections 106, 149 and 325 under the Kidd Valley banner. While you're there, try a chili cheese dog or garlic chicken tenders. In sections 325 and 335 you can get them from Grounders Garlic Fries.
Ichiroll / Intentional Wok
Perhaps one of the more creative food stands in baseball collides with an aptly named tummy pleaser. The Ichiroll is spicy tuna sushi and is, obviously, named after right fielder Ichiro Suzuki.
The Intentional Wok, located near section 133, also offers Thai Ginger pad Thai, garlic beef, chicken curry, cashew chicken and Thai iced tea.
Dixie's BBQ / Porter's Place
Have you met "The Man?"
If you're into hot stuff, this is your destination. I'll be nice enough to forewarn you, though. The thick and dark sauce in the small container on the counter has more heat than a Felix Hernandez fastball. Use it in moderation. If you use too much, you will be in tears, you will feel like you're on fire and you will not enjoy the game. Heed this advice from someone who was tricked into eating a large amount of it.
Go to sections 119, 349 or the The Pen and try a pulled pork or chicken sandwich.
The 'Pen
New for 2011, the old Bullpen Market has been renamed as 'The Pen. The chain link fence by the bullpens has been removed and fans will now have an unobstructed view of the playing field while in the area.
From mariners.com:
Features of The 'Pen:
A cozy fire pit at the entrance just inside the Center Field Gate
Caught Looking Lounge, a full service cocktail lounge
The Rail open air bar featuring local craft beers on tap and wine
Four destination concession stands:

Ethan Stowell's Hamburg + Frites and La Crêperie authentic Parisian crepes,
New Haven-style pizza at Apizza by Bill Pustari
Authentic Mexican Tortuga sandwiches at the Tortugas Voladoras, or Flying Turtle Cantina.

Good Stuff, Mariners merchandise
Gates open 30 minutes before other ballpark entrances.
Diamond Club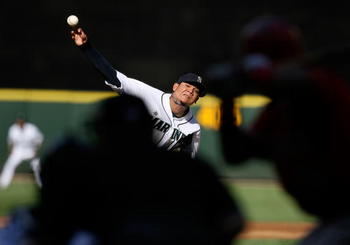 Otto Greule Jr/Getty Images
If you want a truly exciting experience watching a ballgame, and have the cash to spare, little tops the Diamond Club.
You're so close to the action that if you're in the first couple rows you are actually closer to the catcher than the pitcher.
You'll hear all the little things of a baseball game that you just don't get on TV or from other field level seats. Player chatter, umpire interaction and loud pops of the mitt.
Plus, if a ball is fouled straight back, you'll be that silly person on TV we all laugh at that spills their beer forgetting that a protective net is there for your safety. Hey, it's all reactions.
Areas for Kids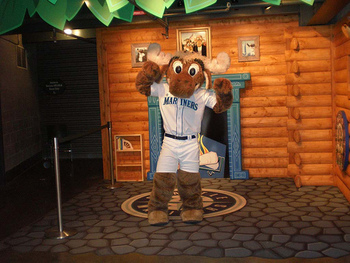 Beyond center field and the beer garden is an area great for kids.
There's a playground and the Moose Den, an area where you and the kiddos can pose for photos with the Mariners lovable mascot.
It's not the best spot to be if you want to watch the game, but your kids will be able to make it through the three hours at the park a lot easier with a quick distraction.
Mariners Hall of Fame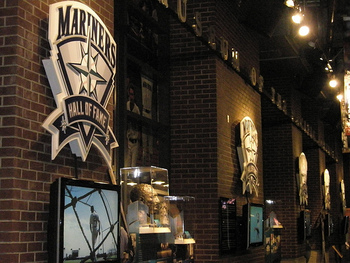 If you'd like to see some artifacts and information on the members of the mariners Hall of Fame, head over to the third base side of the main concourse.
Combined with the Pacific Northwest Baseball Museum, the Mariners HOF has four members: Alvin Davis, Dave Niehaus, Jay Buhner and Edgar Martinez.
Beer Garden
If you're under the age of 25 (at-heart included) this could be the spot for you.
Beyond the spacious lands of center field, behind the green wall, you'll find the beer garden. The young crowd gathers here and has more fun drinking and socializing than watching the game at times.
You'll want to get there early if your desire is to lean against the wall to heckle the opposing outfielders or have a close up view of Franklin Gutierrez snaring a would-be home run ball. Often times there will be private parties in this area before a game. Hang out and wait for the barriers to come down so you can snag a good spot.
On your right is the Mariners bullpen. While you're not allowed to ask for autographs, you're a mere few feet away from the relief corps and sometimes get lucky with some interaction.
The bullpen guys also tend to be bored in the first few innings of the game, so you may catch some fun shenanigans.
Lookout Landing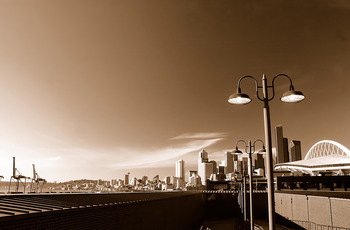 The inspiration for one of the best Mariners related blogs, Lookout Landing is situated in the 300 level beyond left field.
Look one way from your perch and you're staring at the on-field action. Turn the other way and you have a sweeping view of downtown Seattle and Elliott Bay.
Grab some food and a drink and take in a ballgame from of the most beautiful vantage points in baseball.
People at the Park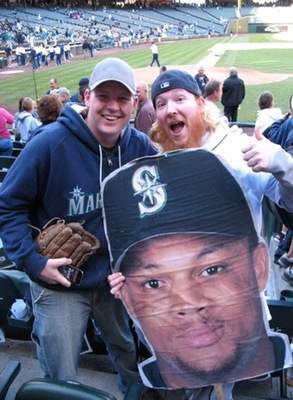 Wander around Safeco Field and see if you can spot some of the more recognizable fans.
The Moose Man is a really cool guy and is always willing to snap a photo. Before each game, he adds another mini plush to his collection that strings around his neck.
If you're at a game against the Rangers, you'll surely find Red. He's the guy with (lots) of red hair and Adrian Beltre's number one fan. You can't miss him, as he'll likely have his giant Beltre head-on-a-stick. That's me in the photo with him after Beltre's final game as a Mariner.
Want to bust a move? Join the bad dancer guy up in the 300 level during the seventh inning stretch. Just don't try to do the waltz up there. It's steep.
The Peanut Guy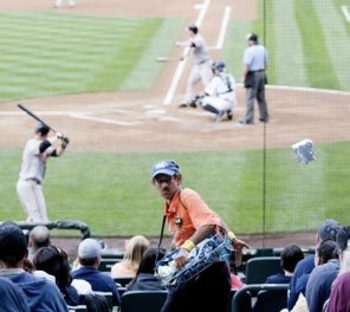 Rick Kaminski has become something of a Seattle Mariners legend.
Since the Kingdome days, Kaminski has been entertaining crowds with his behind-the-back peanut bag delivery. At times, the throw spans several rows, soaring over the heads of others and more often than not resulting in a direct hit to the patron who ordered them.
Sometimes he misses, or the bag explodes as you catch it. No worries, Rick will toss you another one.
He roams all over the lower level sections. Be careful of imitators who have also picked up the gimmick. They aren't as good at the delivery and aren't as friendly or showy as Kaminski.
If you're sitting on the aisle, wait until he gets to the other side of the section or you'll be left with a lackluster two foot toss.
Batting Practice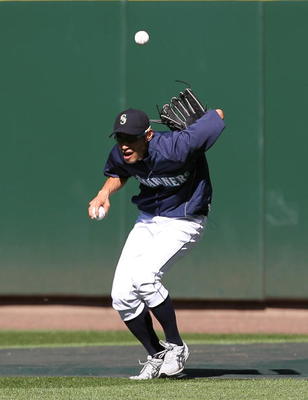 Otto Greule Jr/Getty Images
If you haven't been to batting practice in the past 10 years, make it a point to do so.
If you are of the feeling that when you've seen one, you've seen them all, you're missing out on one of the great attractions in baseball.
Ichiro.
This is of course a thing of legend. The slap-hitting-infield-single-machine Ichiro is not known for his power. However, during batting practice, Ichiro will turn on a few pitches and watch them ping off the glass of the Hit it Here Cafe.
This is why every year in July you start to see people suggest Ichiro take part in the Home Run derby at the All-Star Game. To see such a small man hitting balls as far as the lumbering sluggers is quite the site.
That's not all, by the way. When he's not putting on a fireworks show, Ichiro is shagging balls in the outfield. After roaming over to camp under a fly ball, he catches it behind his back with perfect execution.
Bullpen Pub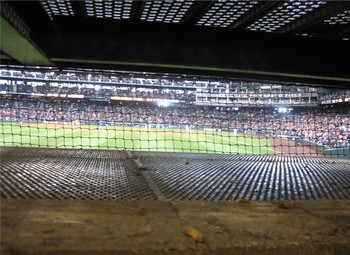 Grab a brew and a burger and watch the game from the most unique vantage point in the ballpark.
You have to get there early as the bar stools fill up fast.
You'll see the action from a space under the hand operated scoreboard. While you'll have trouble seeing fly balls, you may get the left fielder crashing up against the screen in front of you to make a spectacular catch.
To the left of these seats is a peephole that let you look into the visiting team's bullpen.
Keep Reading

Seattle Mariners: Like this team?