2011 MLB: Power Ranking the Best Rookies To Make MLB Opening Day Rosters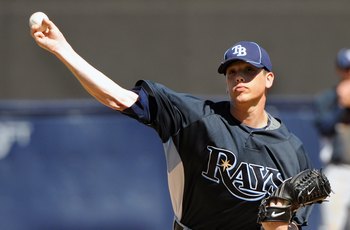 Al Messerschmidt/Getty Images
One day you're a minor league star and you're being called the future of the organization; the next you're no longer the future, but now you're the present. What's changed? Your location, your teammates, the competition, among other things, but you're still the same player you were the other day.
It's amazing how much pressure fans have begun to put on their team's rookies but, nonetheless, it's how things are. Nowadays, not only are top rookies expected to make massive impacts for teams, but their development period in the minors is shorter than ever.
Of course, you can't blame the fans, or even organizations, for this change; we've seen it before and we'll see it again—rookies who come up and have hugely positive impacts for their teams. And 2011 will be no exception to this.
In this article, I've ranked the top rookies to make their team's Opening Day rosters. The ranking is reflective of both their talents coming into the season and the impact I believe they will have on their team's success.
10. J.P. Arencibia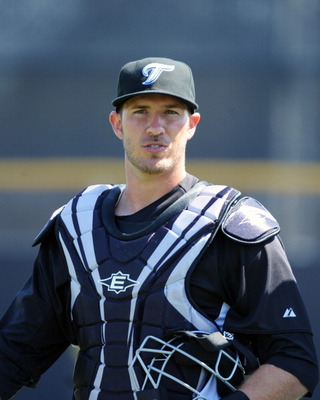 Al Messerschmidt/Getty Images
J.P. Arencibia is the future catcher for the Toronto Blue Jays. The Blue Jays' organization loves this 25-year-old kid and for a lot of good reasons. Although Arencibia's mechanics behind the plate are less than perfect, to be kind, Arencibia is the real deal when it comes to power. His ability to drive the ball is impressive, to say the least.
In the two games he's appeared in this season, Arencibia has already amassed a triple and two home runs.
The biggest hole in Arencibia's game is his plate disipline. In order to effectively use his power and have a reasonable batting average, Arencibia will have to recognize pitches better as well as laying off pitches outside of the strike zone.
Ultimately, the Blue Jays think they've found a guy who can hold down the middle of their lineup for years to come and, with the power he possesses, it's certainly possible.
9. Mike Minor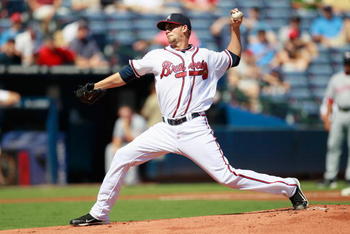 Kevin C. Cox/Getty Images
The left-handed starting pitcher who will be the fifth starter for the Atlanta Braves this season, Mike Minor sports a 90 to 95 mph fastball with two plus off-speed pitches: a change-up and a curveball.
Minor pitched 40.2 innings for the Braves last year and finished the year with a 5.98 ERA and a 1.574 WHIP. While those numbers are not the best, it's important to remember Minor is only 23 years old. Ultimately, Minor's poor numbers result from him seeming to nibble too much at the corners and missing, as well as an unusually high flyball percentage; about 50 percent of the balls put into play against Minor were flyballs.
For Minor to be successful, that number will have to come down by a significant amount. While Atlanta's home field is a big park, he will not be able to survive in other, smaller parks, with such a massive amount of flyballs being given up.
As the fifth starter for the Braves—a team I have predicted to make it to the World Series this year—Minor will be a big part of their success. One of the biggest assets the Braves have this year is their young, and very talented, core (we'll see more of this core on this list soon) and Minor is a huge part of that.
So far, Minor has yet to pitch for the Braves in 2011. This is not uncommon in the beginning of the year because typically the fifth starter will not pitch till the second or third week of the season, because of how the schedule is designed.
8. Kyle Drabek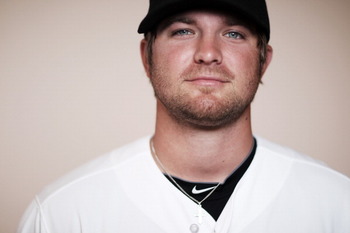 Nick Laham/Getty Images
Another Toronto Blue Jay graces our list, but this time the player is a pitcher. Kyle Drabek is a name many baseball fans have heard of and for good reason.
Drabek won't overpower hitters; he has a low-90s fastball and a 12-6 curveball—but he is a wizard in pitching knowledge; Drabek is the kind of player who will make a lot of hitters look foolish by keeping them off-balance and guessing rather than throwing the heat by them.
Drabek is the complete opposite of the Atlanta Braves' pitcher Mike Minor in that 60-plus percent of Drabek's batted balls came in the form of groundballs. A good, modern-day example of Drabek would be someone like Tim Hudson.
With a star pitcher and star catcher in the making, the Toronto Blue Jays certainly have a few cornerstone pieces to build a franchise around.
Drabek has already pitched his first major-league game and he did not disappoint: Drabke pitched seven innings, gave up only one hit, one earned run, three walks and struck out seven. Seems like the jitters weren't an issue for Drabek...
7. Zach Britton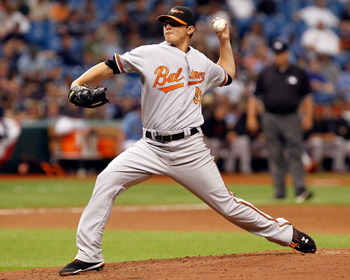 J. Meric/Getty Images
The Baltimore Orioles are a dark horse in the AL East. In a division with both the Red Sox and the Yankees, it's tough to be a favorite but the Orioles certainly have the talent to compete. For the Orioles the difference between a mediocre season and a season in which they are competing for a playoff spot will be their starting pitching. Zach Britton, the 23-year-old left-hander, is a huge part of the pitching equation for the Orioles.
Britton is a low-90s fastball pitcher, but it has a lot of sink on it, and he also has a very good slider.
In his first start of his major-league career, Britton went six innings, giving up three hits and three walks, one earned run and he struck out six. Just like Drabek, it seems Britton was completely in control in his start this year.
6. Brandon Beachy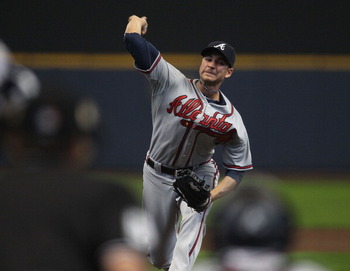 Jonathan Daniel/Getty Images
As I wrote before, I picked the Atlanta Braves to make the World Series this year in no small part because of the amazingly talented young core the team has. Mike Minor, the No. 5 starting pitcher for the Braves, is obviously a part of that but, Brandon Beachy, the No. 4 starting pitcher, is even more so.
Beachy is a command pitcher who can use any of his four pitches at any time. He made a start in 2011 and, much like Drabek and Britton, Beachy was very solid in his outing: Beachy went six innings while giving up four hits, no walks, one earned run, and striking out seven.
When a pitcher has as much command of his pitches as Beachy does, he is always going to be a problem for hitters. Being able to control the ball as well as Beachy does allows for a player to move the ball all around the strike zone and keep the hitter 'honest' at the plate; it also makes the hitter have a hard time knowing what to look for and allows a pitcher like Beachy to paint that fine line between a hitter's cold spot and hot spot.
Definitely keep your eye on Beachy as his success will directly spell success for the Atlanta Braves in 2011 and beyond.
5. Danny Espinosa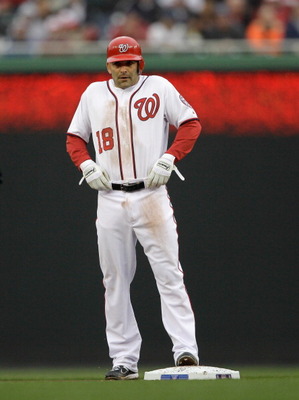 Rob Carr/Getty Images
The Washington Nationals' second baseman, Danny Espinosa, has a lot of tools that has everyone in the Nationals' organization excited, including his power and his speed. His rare combination could seem him develop into a 20/20 or, do I dare say, a 30/30 guy (meaning 30 home runs and 30 stolen bases).
The biggest downside to Espinosa's game is his lack of contact when at the plate; he's not a player who will hit for a high average.
So far, in three games this year, Espinosa has a .444 average with two doubles, one RBI, and a run scored. He also, however, has struck out three times already.
With all the young talent the Nationals have coming into their own, Espinosa included, the future looks extremely bright. It should not surprise baseball fans to see this team winning the NL East in a few years.
4. Brandon Belt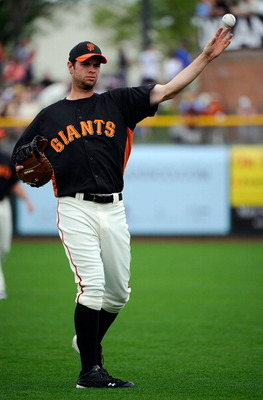 Kevork Djansezian/Getty Images
The San Francisco Giants are so high on Brandon Belt that they moved Aubrey Huff, who had a huge part in the Giants' championship run in 2010, to right field.
Belt had a phenomenal year in the minors last season accumulating stats, such as: a .352 average, .455 OBP, 23 home runs, and 22 steals. In addition to his impressive offensive stats, Belt is also a very talent defensive first baseman.
Although Belt's batting average at this point in the 2011 season isn't high, with only 13 at-bats there isn't any need to read into this. In fact, I would argue that his .353 OBP is the most important stat because it shows that Belt is showing plate discipline and not chasing pitches he shouldn't be.
If the Giants want to repeat in 2011, Belt will need to be a major source of offensive production for them and, with his talent, it's not unreasonable to expect that to happen.
3. Freddie Freeman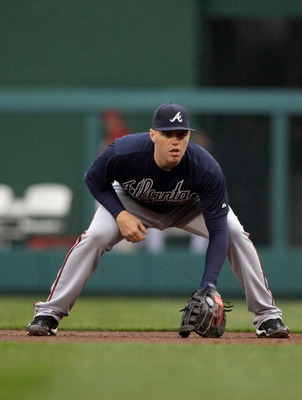 Rob Carr/Getty Images
Another piece of the puzzle that is the Braves young core I have been talking about is Freddie Freeman, the firstbaseman for the Braves.
Freeman is off to a slow start his year but he has all the tools to become a superstar; in fact, the Braves' organization is even higher on Freeman than they were on Heyward last year. Freeman drives the ball well, especially into the gaps, has excellent bat speed, and is an above-average defender.
The Braves will look to Freeman for offensive production this year, no doubt, and, with the right protection, he can certainly succeed. He's probably not going to hit 20 homeruns just yet, but that number is definitely not the ceiling for him in the future.
Don't let his early season struggles disway you, Freeman is the real deal and will be a big force in the Braves' lineup this year and for many years to come.
2. Jeremy Hellickson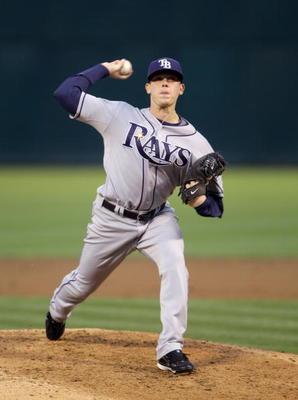 Ezra Shaw/Getty Images
Another name baseball fans have been hearing all winter and spring is Tampa Bay Rays' starting pitcher, Jeremy Hellickson. At only 23 years old, Hellickson already seems like a well-polished pitcher.
Much like Mike Minor of the Braves, Hellickson has yet to pitch in 2011 because he is the fifth starter and the Rays have been going with a four man rotation for a the beginning of the season.
The biggest thing to watch with Hellickson is his high flyball percentage and his 1.2 hr/9 rate.
Hellickson can definitely be a major force in the Rays' rotation this season but, in a few years, the 1-2 punch of Price and Hellickson will be a hard duo to beat for any team in the AL East.
You can bet that when Hellickson makes his first start the entire baseball world will be watching. To keep him on schedule, the Rays have let him pitch in the minors, rather than having him sit in the bullpen, and he continues to look sharp.
1. Craig Kimbrel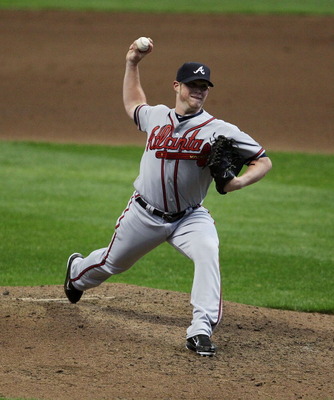 Jonathan Daniel/Getty Images
And the best rookie to make his organization's major league team is...Craig Kimbrel. Kimbrel is the 22 year old closer for the Atlanta Braves and he, obviously, is another major part of the the Braves' young core that, I believe, will help carry the Braves to the World Series in 2011.
Kimbrel actually pitched in 2010 for the Braves and, to say he did well would be an understatement. During the 2010 regular season, in 21 games, Kimbrel posted a .44 ERA, a 1.210 WHIP, and a K/9 ratio of 17.4. In the post season Kimbrel pitched in four games posting a 2.08 ERA, a .462 WHIP, and a K/9 ratio of 14.5. Finally, another amazing stat is 96% - that's the percentage of runners he stranded in 2010! He certainly seems to have figured out the big leagues fast, hasn't he?
Kimbrel also has carried his 2010 success over into 2011; so far, he has converted both of his save opportunites and has yet to give up a hit or a walk and has struck out 5 in 2 innings!
One thing to keep an eye on with Kimbrel is his high flyball percentage, although that is not unusual with pitchers who throw as hard as he does.
Ultimately the power fastball and the devastating slider of Craig Kimbrel is what makes him the most talented, and valuable, rookie to make the roster out of spring training in 2011.
Keep Reading

Atlanta Braves: Like this team?