2011 MLB Predictions: Breaking Down Each Division Top to Bottom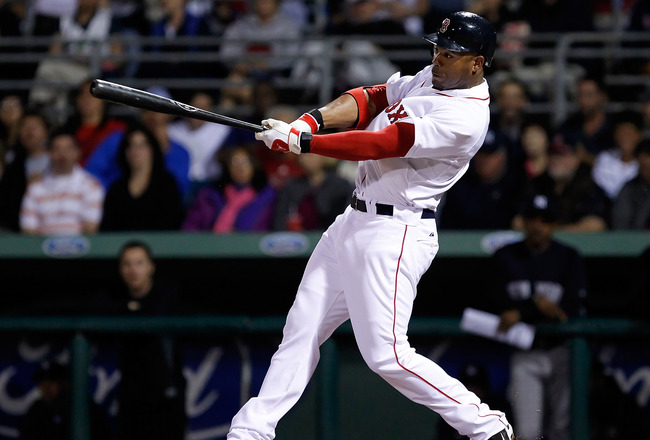 J. Meric/Getty Images
Predicting who will win the World Series is tough enough in September let alone in March before the regular season has begun. A lot of thought has to go into the predictions and, quite frankly, a lot of luck as well.
Nonetheless, just about this time last year, on baseballchatter.net, I predicted the Giants would win the 2010 World Series on the back of their stellar starting pitchers. While I had no way of knowing just how good, and how important, players like Buster Posey and Cody Ross would be (and there is no doubt that the Giants don't win without them), the Giants main reason for success came from none other than the starting rotation - just as I had said.
In order to give yourself the best opportunity at predicting an upcoming season's final standings, and the playoffs, you have to factor in a plethora of variables: from the starting lineup and the rotation to the depth of the team and the likelihood of injuries, especially to key players.
With that, this slideshow is dedicated to analyzing each division and predicting its outcome, as well as the final outcome of the all the playoff matchups that would result from my regular season predictions.
A quick note before you move on: I am not traditional in my predictions; by that I mean I do not pay attention to any other writers predictions and nor do I conform to popular thought. As you read on you may be surprised with some of my picks and that directly reflects my independent thinking. I urge you to challenge me. Nothing is more thought-provoking then getting to hear other people's predictions. Ultimately, no one knows what is in store for the 2011 season but it's certainly fun to debate the points and, usually, along the way, we all tend to learn something new.
With that said, here are my predictions and analysis for the 2011 Major League Baseball Season. Enjoy.
Standings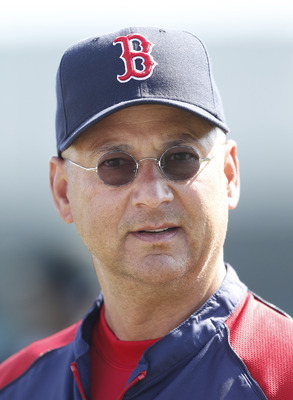 Joel Auerbach/Getty Images
Here is the quick look at my predictions for the regular season (A * symbol shows which teams will make the playoffs):
AL East
Red Sox*
Yankees
Rays
Orioles
Blue Jays
AL Central
Tigers*
Twins*
White Sox
Indians
Royals
AL West
A's*
Rangers
Angels
Mariners
NL East
Braves*
Phillies
Marlins
Mets
Nationals
NL Central
Brewers*
Reds
Cardinals
Cubs
Pirates
Astros
NL West
Rockies*
Giants*
Dodgers
Padres
Diamondbacks
AL East: Red Sox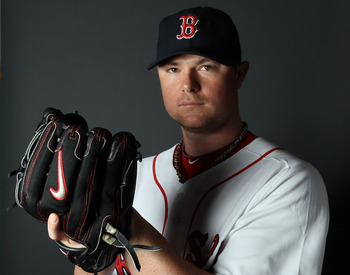 Elsa/Getty Images
The Boston Red Sox had an offseason for the ages bringing in two of the best players in the game: Adrian Gonzalez and Carl Crawford. With a deep rotation and, what seems to be, a healthy starting lineup, the Red Sox are poised to win the division. All of the teams in the AL East are, at the minimum, pretty strong but no one in the division will be able to keep up with the Red Sox (assuming they stay healthy). I know the Red Sox had some issues with health last year but, I believe, that is behind them.
Furthermore, Jon Lester is my pick for the AL Cy Young Award in 2011. Expect Crawford, Gonzalez, Ortiz, and Ellsbury to all have big years this year. The biggest question regarding the Red Sox, for me, is what they'll do with Jonathan Papelbon. I'm not a big Papelbon fan, I think he's WHIP is consistently rising and a closer, especially in the AL East, cannot afford to put runners on base in close games. The question becomes will Daniel Bard get a chance or not. I say no; they'll stick with Papelbon this year, but I think it'll be Bard's chance after that.
Yankees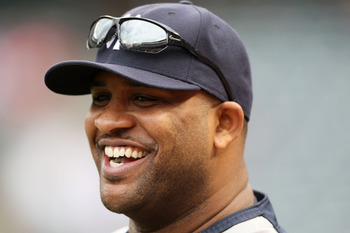 Elsa/Getty Images
Everyone knows that Yankees issue: their pitching. After C.C. Sabathia there is no real stability in the rotation. I wouldn't underestimate Phil Hughes though. The Yankees know how to win and have a ton of talent on the offensive side so, even with questionable pitching, they're likely to win games. However, even with all the offensive power they have, I do not see the Yankees winning enough games to take the division, or even the Wild Card. As you'll read later on, I see the Wild Card going to the Minnesota Twins. The question for the Yankees will be: does Sabathia opt out of his contract after the year?
Rays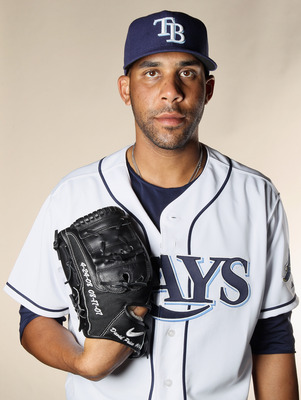 Elsa/Getty Images
The Tampa Bay Rays lost two really important players this offseason (Carl Crawford and Carlos Pena). They still have a lot of tremendous talent, especially in young players, so they'll still compete. I'm particularly excited to see David Price and Jeremy Hellickson pitch this year. Ultimately, the Rays are a good team but they're not deep enough to compete in this division right now.
Orioles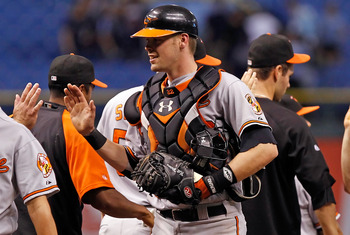 J. Meric/Getty Images
I love what the Orioles' GM did this winter when he added a few bats (Derek Lee, Mark Reynolds, Vladimir Guerrero) to protect his young players (Matt Wieters and Adam Jones). I think Wieters is going to have a break out year so if he's available in your fantasy league keep an eye on him. Also, keep an eye on the Orioles' pitching staff because if they perform better than the expectations the Orioles might take third place in the division.
Blue Jays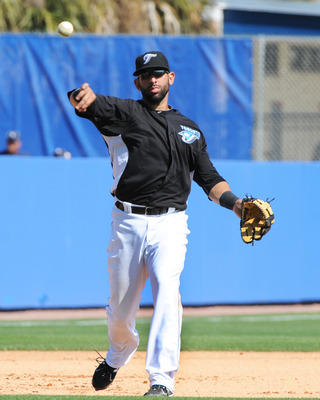 Al Messerschmidt/Getty Images
Normally finishing at the bottom of your division isn't very respectable but, in the AL East, it's a whole new story. This is a really tough division and, although the Blue Jays have some good talent (especially some superb young pitching), they won't be able to keep up. Story for the Blue Jays this season has to be their young pitching and I'm sure everyone will be keeping an eye on Jose Bautista's HR total this year.
AL Central: Tigers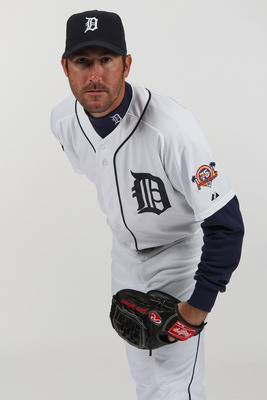 Nick Laham/Getty Images
The Tigers, in my opinion, are going to be a fantastic team this year. I know they aren't a very popular choice among writers but neither were the Giants last year and I still went with them. The reason I like the Tigers so much is because of their balance in pitching and hitting. As I see it, the Tigers are going to have three great starting pitchers (Verlander, Scherzer, and Porcello) and hitting that includes Miguel Cabrera (I'm not concerned about his off-the-field issues), Victor Martinez, and Magglio Ordonez. You read it here, don't be surprised when this team wins the division and starts winning games come October.
Twins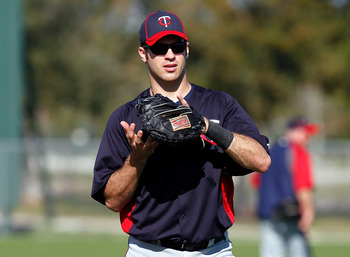 J. Meric/Getty Images
The Twins, again, have another solid team this year. Although Mauer and Morneau have been have been banged up a bit I think they'll return to form and be fine throughout the season. Furthermore, Michael Cuddyer and Delmon Young could be ready for a big season. Finally, the Twins pitching is always a source of strength for them; it's one of the reasons they are always competing for a playoff spot. I know the Yankees are the popular choice but I don't see them getting the Wild Card. The Twins will be playing come playoff time and it won't be because they won the division.
White Sox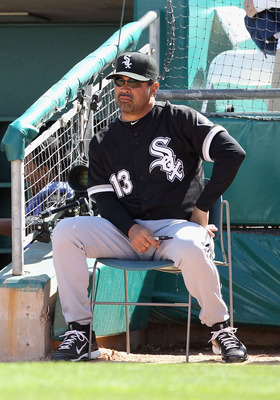 Christian Petersen/Getty Images
The White Sox have a quality team and you can certainly argue they will do better then third in this division but I just don't see it. The pitching is a bit of a concern for me; is it deep enough? I just don't know. I like some of the cornerstones for the White Sox's future (Alexi Ramirez) but the Twins pitching and the Tigers being poised to have a fantastic year I think the White Sox will be the odd team out in the AL Central.
Indians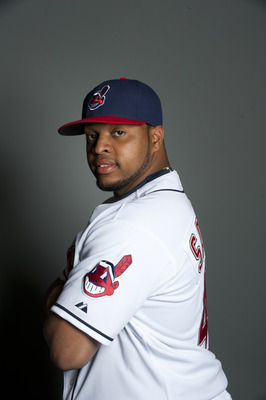 Rob Tringali/Getty Images
The Indians obviously need to rebuild, as they will not be competing this season. All eyes are guaranteed to be on their rookie catcher, Carlos Santana. What an amazing talent and I look forward to seeing what kind of player he turns into – he certainly has a lot of potential. Also, another thing Indians' fans are sure to be watching is what happens with Grady Sizemore. Will he continue to be on the team? How will he perform this year? It's anyone's guess.
Royals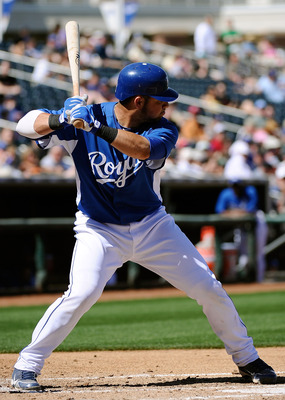 Kevork Djansezian/Getty Images
The Royals will be going into the season without their familiar ace (Greinke) who is now on the Milwaukee Brewers. Like a lot of teams in the bottom of their division, the Royals have a lot of young talent that could make them very competitive in a couple of years; the question with small market teams, like the Royals, is if they can hold onto these prospects long enough to allow other prospects to develop and make the major league team.
AL West: A's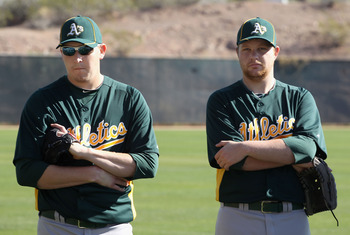 Christian Petersen/Getty Images
Pitching, pitching, pitching. The A's have four guys that could all be very good this year and that's why they'll win the division. A young team that plays with that grit fans love to see is a big plus when trying to make the playoffs. The Rangers are a tough team but they've lost some key players and the A's are sitting with the pitchers necessary to win the division. They'll still be playing come playoff time.
Rangers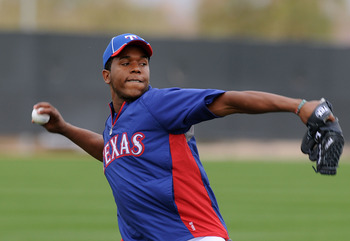 Norm Hall/Getty Images
The Rangers had a great run in 2010 but they won't be repeating any of it this year; in fact, they're going to miss the playoffs. The loss of Cliff Lee and without having the huge bat of Vladimir Guerrero in the lineup will be too much to overcome. I love all the young talent they have on the team but their starting pitching will not be as good this year and that's going to be a huge problem for them. As I've said, they have a lot of young players so they will be competing every year in the near future.
Angels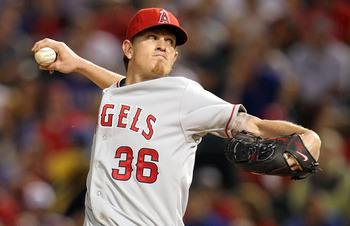 Ronald Martinez/Getty Images
The Angels could have a really talented rotation this year. Both Haren and Weaver can compete for a Cy Young; in addition to them, Kazmir and Santana have shown the ability to be good (despite their recent woes), so it's possible they're much better than expected this year. One issue I have with their team is the centerfielder. Peter Bourjos plays some amazing defense, and is obviously extremely fast, but his inability to get hits and get on base could be a big problem for them – especially if they want him to hit at the top of the order.
Mariners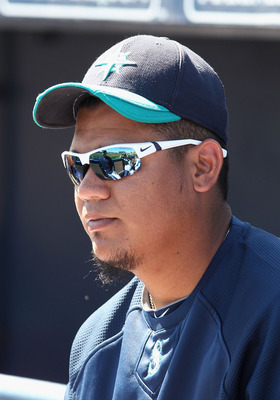 Christian Petersen/Getty Images
It's unfortunate as to how far the Mariners have fallen in such a short period of time. I remember this time last year everyone was discussing how great of a team they had; especially because they had Figgins now to hit at the top of the order. Although Figgins had a very bad year in 2010, bet on him to rebound nicely. Also, Felix Hernandez is always a fun player to watch and will obviously be the focal point for the Mariners in 2011. They certainly have a few players with exceptional talent, but the Mariners 2011 season it's going to be one that will continue into the playoffs by any means.
NL East: Braves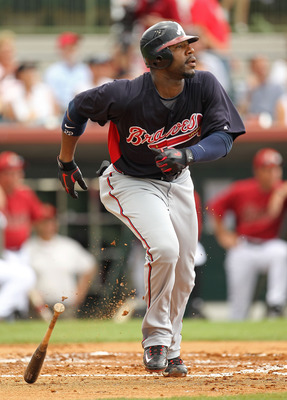 Mike Ehrmann/Getty Images
No you didn't miss a slide and yes you are seeing this correctly; the Braves will be winning the NL East this year, not the Phillies. The Braves have an amazing group of young players that are going to carry them to a very successful season this year. Furthermore, don't be so quick to blow off the Braves starters they're going to perform better than they're being predicated to.
Phillies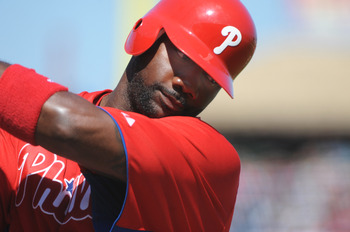 Al Messerschmidt/Getty Images
The Phillies will finish second but here's an even bigger shocker for some of you baseball fans out there – they won't make the playoffs. That's right I'm predicting the Phillies don't win the NL East nor do they even win the NL Wild Card. First of all, I love Cole Hamels and Roy Halladay; what great players they are. On the other hand, I don't have nearly as much faith in Oswalt or Lee. Despite Lee's track record, I think he is overrated and will ultimately be a disappointment for Phillies' fans this year. Furthermore the team is old and is already getting into injury trouble (Chase Utley and Brad Lidge). The Phillies have the oldest team in all of baseball and don't think it's not going to have an impact on the outcome of their season.
Marlins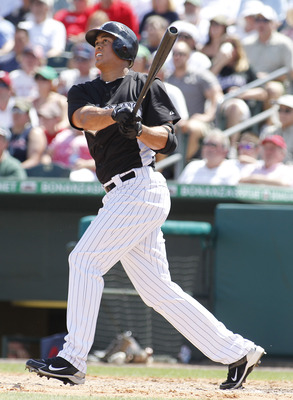 Joel Auerbach/Getty Images
Young superstars in the making - that should be the nickname of this team. There is not any other player I am more excited to see than Mike Stanton; someone with his power is always a fun player to watch. The Marlins aren't quite ready to compete in the NL East but they're certainly getting close. This is going to be a really good team in a couple of years.
Mets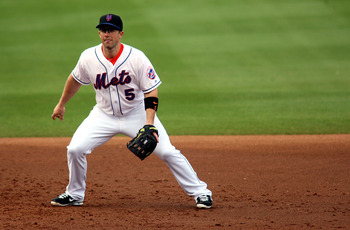 Marc Serota/Getty Images
Yes the Mets are having a ton of off-field troubles but the organization is moving in the right direction by emphasizing younger, home-grown talent, and by parting ways with Luis Castillo and Oliver Perez. I don't think the Mets are being given enough credit this year as far as predictions go. If nothing else, the Mets have a lot of talent playing on their contract year and players tend to have some of their best seasons on contract years. Still the Mets need to rebuild but they won't finish last this year. Fourth is where they'll be coming in at by the end of the season.
Nationals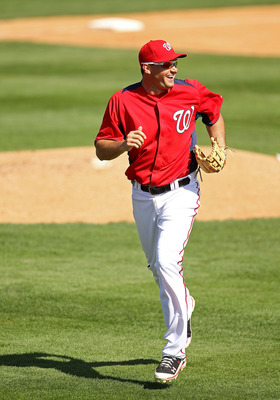 Mike Ehrmann/Getty Images
In a few years this could very well be the team to be in the NL East, maybe even in the entire National League. However, as far as 2011 goes, they're still not quite there. They've got some of the biggest prospects in the game coming up and as soon as these players mature and get healthy they're going to an amazing team. National fans – hold out for just a bit longer because your time is coming.
NL Central: Brewers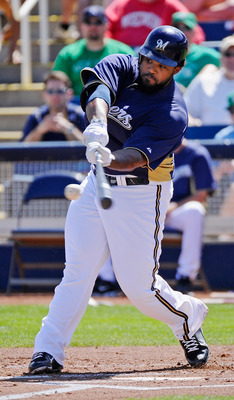 Kevork Djansezian/Getty Images
The NL Central is going to be a dogfight between the Brewers and the Reds but, ultimately, the Brewers will pull it out. With Fielder and Braun holding down their offense (and Fielder is on a contract year), and Gallarado, Marcum and Greinke holding down the Rotation the Brewers will be winning the division (yes, I know Greinke and Marcum are hurt right now but they'll get better relatively quickly and be fine for the season).
Reds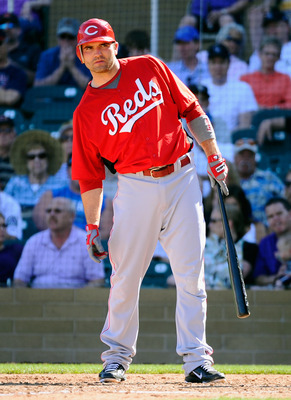 Kevork Djansezian/Getty Images
The Reds have a great team, and a lot of young players that will keep them competing for years to come, but they're lack of depth in the pitching staff will cost them the division this year. Maybe they address this mid-season or a player really steps and performs beyond expectations but, otherwise, they're going to lose the dogfight with the Brewers for the division. If nothing else, it will be fun to watch the Reds and Brewers battle it out all year long.
Cardinals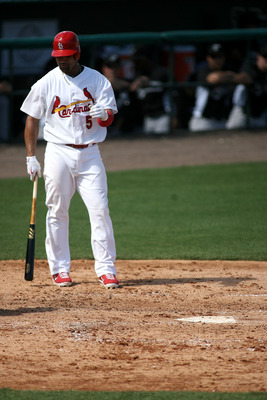 Marc Serota/Getty Images
Had the Cardinals not lost Wainwright for the year I would have said they were going to win the division but, of course, it didn't turn out that way. Losing Wainwright was a huge blow to the Cardinals and will ultimately cost them their season (I wonder if it'll cost them Pujols too – will he be frustrated with the organization if they don't do well this year?). Carpenter is likely to have a good season and, it goes without saying, Pujols might put up historic numbers this year. It'll help keep the Cardinals from really falling off the table, but it won't be enough to get them competing for the division.
Cubs
Kevork Djansezian/Getty Images
The Cubs having some quality players but the team is still missing all the pieces required to be a contender. I like them adding Garza to the rotation but Zambrano has to be one of the biggest question marks in 2011 – who knows how'll do this year. Pena and Ramirez should help provide a lot of power in the middle of the lineup and Fukudome is good to get on base but they still won't be able to enough runs across to win the games. Finally, I'm also interested to see how the return of Kerry Wood goes down for the Cubs. I'm certainly rooting for him to succeed there.
Pirates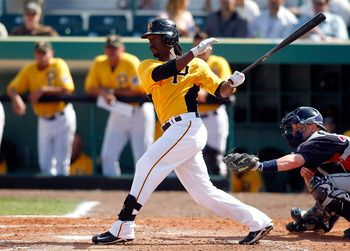 J. Meric/Getty Images
Another losing season is in store for the Pirates. McCutchen is obviously the one to watch on this team, as his talents are tremendous, but the baseball community will also be keeping an eye on Pedro Alvarez. I really want to see the Pirates succeed; maybe in a few more years, with the development of a few prospects, the Pirates can turn the franchise around? It'd be nice to see a change of pace and see them competing for a playoff spot in September.
Astros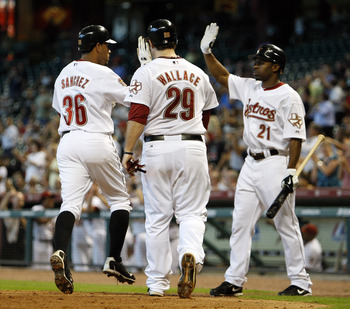 Bob Levey/Getty Images
The Astros season is looking really bleak. There are two players I'll definitely be keeping my eyes on from the Astros organization – the firstbaseman, Wallace, and their number five pitcher, Figueroa. Wallace is a good prospect for them so it'll be interesting to see if he is the heir to the Jeff Bagwell thrown; Figueroa is a journeyman pitcher who, for the first time in his career, is guaranteed a rotation spot out of spring training. He's a fun guy to root for and he's worked hard his whole career so it's nice to see him reward with a spot in a major league rotation.
NL West Rockies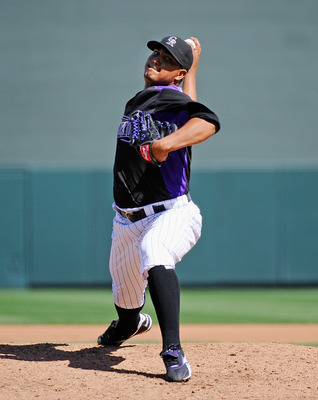 Kevork Djansezian/Getty Images
Surprised again? It won't be the Giants winning the NL West this year. While I have my concerns with the Rockies pitching staff, I really like their number three guy – Chacin. After falling short last year, this is the year will be different for the Rockies. They've got a great blend of veteran and young talent to go along with an attitude that says they can win. I love how every year this team fights and ends up competing for a playoff spot at the end of the season; determination like that is a huge factor. This year, they'll be the ones being chased as the NL West will be theirs.
Giants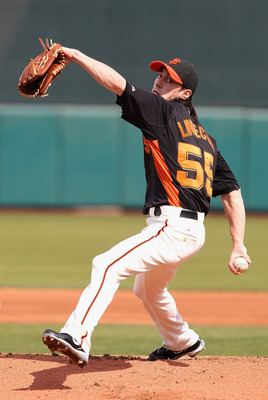 Christian Petersen/Getty Images
I've got a soft spot for this team since, after all, they made me look really good last year by winning the World Series when I had predicted they would back in April of 2010. That said, their pitchers threw a lot of innings last year and we are already seeing the signs and tolls that has taken on them (both Wilson and Cain have been hurt this spring). Furthermore, I don't see the Giants finding the offense needed to win the division again. Between their timely hits and fantastic pickups (Burrell, Ross, etc.) the Giants were able to generate enough offense when it counted; you can't count on that again this year. With that said, I believe the Giants do still have enough talent to get in the playoffs as, I believe, they will beat out the Phillies and Reds to win the Wild Card.
Dodgers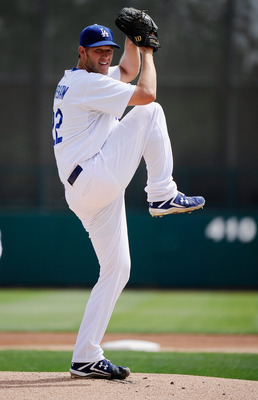 Kevork Djansezian/Getty Images
The Dodgers have a few really talented players but the shinning star for this organization is Clayton Kershaw; he's going to win the Cy Young this year. Having such an amazing pitcher, and who is so young, the future certainly looks good for the Dodgers. A few more pieces and this team will be back on top. In my opinion, they need to refocus their attention on a few positions: mainly shortstop and catcher. Furcal is too much of a health risk and Barajas is not good enough if you want to be competing for a division title.
Padres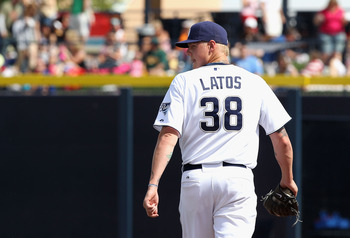 Christian Petersen/Getty Images
Yeah, Adrian Gonzales makes that much of a difference. Just last year this team almost won the division but now they're going to fall back toward the bottom. Between losing Adrian Gonzales, possibly losing Heath Bell mid season, and Latos being hurt things are not looking good for the Padres. Furthermore, I don't see the Padres' pitchers having the same season as they did last year. Time to rebuild.
Diamondbacks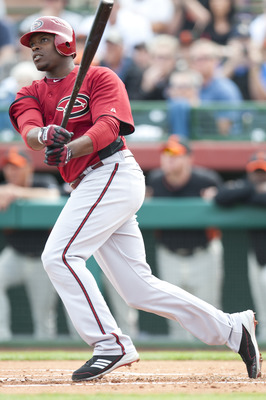 Rob Tringali/Getty Images
The Diamondbacks are another young team that has a few really young, really talent players. Unfortunately, it's not enough to compete. Give the team a few years to develop and scout more players and, with a streak of good luck and some good decisions, they could be competing again. Justin Upton, obviously, is a guy to watch on the Diamondbacks; at such a young age, the future looks really bright for him.
American League Division Series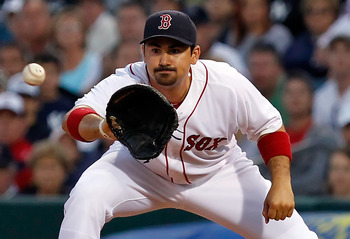 J. Meric/Getty Images
Red Sox vs. Twins
I hate to do this to the Twins because their M.O. seems to be making, but then losing, in the first round of playoffs. Unfortunately, it's going to be another season of just that for the Twins. They'll get the Wild Card but having to play the Red Sox will be the end of their season. Red Sox will advance to the ALCS.
Red Sox win in 3 games.
American League Division Series
Jim McIsaac/Getty Images
Tigers vs. A's
The A's have some great young pitchers but it won't be enough to take down the Tigers. Between the Tigers pitching and potent offense, this will be a quick series.
Tigers win in 3 games.
National League Division Series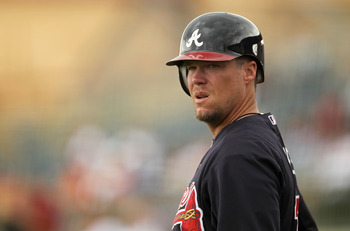 Mike Ehrmann/Getty Images
Braves vs. Giants
A rematch of last year's NLDS, however the outcome will not be the same. The Giants will make the playoffs via the Wild Card but the Braves will take care of business in this matchup. Good pitching and a solid young core will make this team a real threat to all NL teams.
Braves win in 4 games.
National League Division Series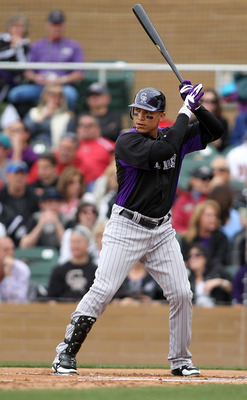 Jonathan Ferrey/Getty Images
Rockies vs. Brewers
This is the Rockies time as they'll be moving on to the NLCS. I like the Brewers rotation a little better but the Rockies offense and determination will be the deciding factor here.
Rockies win in 5 games.
American League Championship Series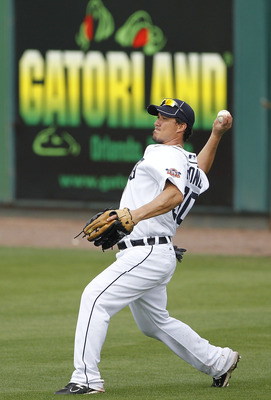 Leon Halip/Getty Images
Red Sox. Vs. Tigers
What a great matchup this will be. Both teams have great pitching and great hitting, it'll truly be one of the best matchups all season. Ultimately, though, I think the Tigers will pull it out. I love Jim Leyland's attitude he has instilled in this tem and if the Tigers are able to overcome all the adversity they are having right now not much will be able to stop them. Lester is good but, again, I really believe the Tigers first three starters (Verlander, Scherzer, and Porcello) are going to be aces this year. As far as hitting goes I think both teams are pretty even and the Tigers ultimately have Cabrera who is probably the second best hitter in baseball.
Tigers win in 6 games.
National League Championship Series
Mike Ehrmann/Getty Images
Braves vs. Rockies
The Braves will not be denied as they will be moving on to the World Series. It'll be a good series but the Braves will be coming at the Rockies from too many directons; they'll out-hit, out-pitch, and, ultimately, out-play the Rockies.
Braves win in 5 games.
The 2011 World Series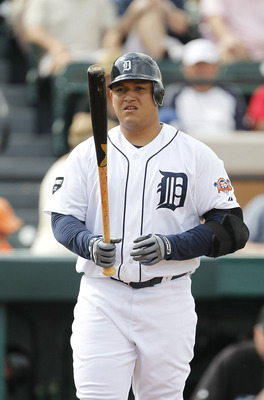 Leon Halip/Getty Images
Tigers vs. Braves
You've read it right, the 2011 World Series will be between the Detroit Tigers and the Atlanta Braves. I love the young talent of the Braves but the Tigers will be the winners in this matchup. Again, the offense and the pitching of the Tigers is going to be fantastic this year and it will spell a World Series championship for them. The Braves will put up a fight because they're not a team to just go down easily, but they will fall in this series.
Tigers win in 6 games.
Keep Reading

Detroit Tigers: Like this team?