Cincinnati Reds: 5 Burning Questions Following Opening Weekend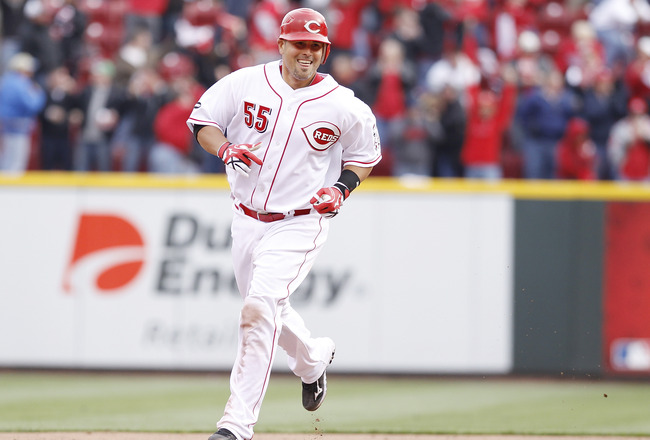 Joe Robbins/Getty Images
Simply put, it's a good time to be a Reds fan.
Can anyone remember a better Opening Weekend than the one we just witnessed? Short of a no-hitter or someone hitting for the cycle, the last three Reds games took us on all-stops tour of baseball delicacy, somehow managing to deliver us home safely on Sunday, happy and full.
Between Ramon Hernandez' walk-off homer on Opening Day, to Travis Wood serving notice to the baseball community on Saturday("Yo…I'm pretty FREAKING good."), to Sunday's lopsided artillery display Sunday(the Reds pounded out 12 runs on 19 hits), the weekend's action was as diverse as it was satisfying.
While it's obviously true that three games are, well, JUST three games, we'd be remiss as baseball fanatics if we didn't break from recharging our batteries to take a quick inventory.
Here are a few questions to ponder as we await the Houston series…
Has It Clicked for Drew Stubbs?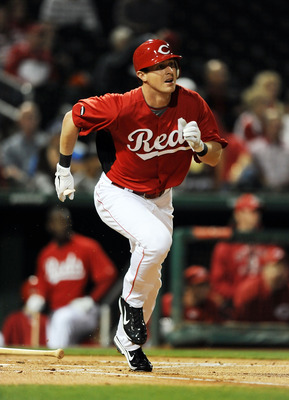 Norm Hall/Getty Images
I'll say this now so I don't have to say it again: I'm completely aware that three games is a TINY sample. Please don't assume I am trying to make definitive statements here, or that I think we can even begin to understand the make-up of this team, simply by watching a weekend of baseball.
We can't.
With that said, HOW ABOUT DREW STUBBS?
Three games, five hits, and a slugging percentage of 1.000. However, it's not even his numbers that impress me, it's his approach.
More often than not, in 2010 Stubbs would seem lost at the plate, especially in the leadoff role. However, so far he is settling into the role, taking more pitches, and making better decisions. We don't need Stubbs to morph into a Juan Pierre-type leadoff guy who slaps singles and otherwise just runs fast. Instead, Stubbs is showing what he can do just by being HIMSELF, and so far it's been scary.
Stubbs has always been a "toolsy" type player who would one day get it. No one thought that day would come so soon, and it's still hard to know if it has. Yet, is anyone upset about Stubbs in the 1 hole tomorrow night?
I'm not.
Volquez: Should We Be Worried?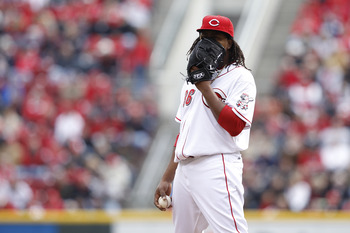 Joe Robbins/Getty Images
In a word, YES.
I was concerned when it was reported that Dusty Baker handed Volquez the Opening Day start. I had my reasons, all of which remain valid today, but the most pressing was that Volquez got blown to smithereens last time he took the mound.
Without regurgitating the sour, rancid mess that was the NLDS Game One (where the Phillies jumped on Volquez like hyenas on a bleeding gazelle), suffice it to say that Volquez hadn't done anything lately to DESERVE the start, but Dusty gave it to him anyway.
So, like the rest of Reds Nation, I approached Opening Day with the same why-do-I-still-have-any-faith-in-this-guy trepidation I had in October, and the results were virtually the same.
No command, no poise, NO-GOOD.
It's entirely possible that Volquez shakes off the Opening Day jitters, pulls his flat-billed hat on straight, and pumps out 17 wins like a few years back. However, I'll go on record and say he won't.
My guess is it takes this year and possibly next for Volquez to truly figure out how to harness his stuff – which, to be fair, is nasty. Luckily for the Reds, they have others vying for the ace slot. One of those guys pitched Saturday night and ohbytheway…he's pretty good.
Is Jonny Gomes Really Our Left Fielder?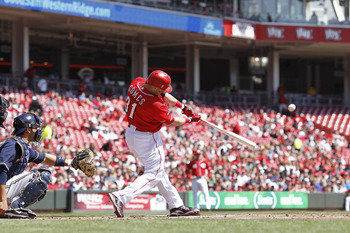 Joe Robbins/Getty Images
Jonny Gomes, Cincinnati's helmet-adjusting, crazy-eye-blinking, powder keg of enthusiasm hit a home run Sunday and immediately quelled all Dave-Sappelt-for-Mayor chants throughout the greater Cincinnati area.
Ok, not quite.
Gomes did pick up his first homer of the young season Sunday, but it comes attached to two legitimate disclaimers. First, the right-handed Gomes has been known to maul the left-handed Randy Wolf, historically. Also, the Reds whole lineup treated Wolf like a piñata all afternoon, so celebrating Gomes' good day would be like high-fiving any guy in the world for bagging Snookie.
Gomes DID, actually have a good first series, when you consider his team-leading five walks. However, questions must still remain about Dusty's decision to anoint Gomes the everyday starter, send white-hot Sappelt to Louisville, and let all-I-do-is-win right hander Chris Heisey twiddle his thumbs on the bench.
Both Sappelt and Heisey would be better leadoff options right now than Stubbs, and a Heisey/Sappelt-Stubbs-Bruce defensive outfield would just be ridiculous.
My head tells me Jonny isn't the answer in left field – my heart tells me Dusty will start him there for the next two years.
Paul Janish: The Consummate Underdog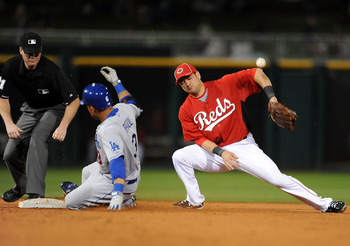 Norm Hall/Getty Images
Pretend you're Paul Janish.
You're pretty darn pumped for the start of the 2011 season. You know you are the best defensive infielder on the team, possibly the best defensive shortstop in all of baseball, and you know you've been out-hitting your abilities ever since, well, you've been hitting.
So, FINALLY you were given the chance to not be "that 9th-inning defensive replacement guy" for the start of 2011, and it felt great!..............for all of one game.
Little did you know, your manager looooves to fiddle with his lineup based on matchups, so after your triumphant Opening Day start, you have to tell all 356 relatives you bought tickets for that you'll be respectfully playing the role of "prankster who puts the bubble gum balloon on people's hats during interviews" while a 50 year old starts Game 2.
Then, after Old Man Winter goes 0 for 3, you continue to "over-achieve" in the series finale by going 2 for 5, and your whole family cheers.
Sorry Paul, but despite being the "starter", and despite being able to turn double plays quicker than your competition can sneeze, you'll most likely be riding pine again on Tuesday.
So…what, you ask, is the question here?
I think we all know there is none.
Which Starter Will Emerge?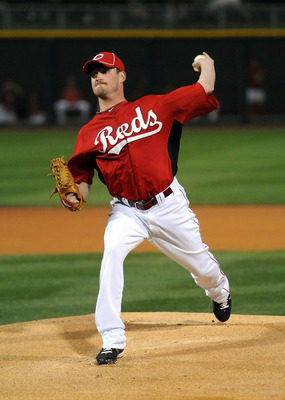 Norm Hall/Getty Images
If you haven't already noticed, I'm not exactly riding shotgun on the Volquez train just yet.
That being said, I think it's well within every fan's right to wonder who will emerge this year as the Reds' ace.
Every team needs a stopper, someone who, when they take the hill, makes you forget about the previous three nights of crap salad, served up by Eric Milton or Aaron Harang or Jimmy Haynes or Paul Wilson or Ramon Ortiz or Dave Williams or Gary Coleman.
(Get it??? Yeahhhhh...the Reds haven't always had the best pitcherrrrs...)
So, with Cueto and Bailey starting the season on the shelf and Volquez continuing his streak of playing for the other team while pitching for Cincinnati, the Reds look to start the season searching for an answer at the top.
I've made no bones about anointing Travis Wood since I started writing for Bleacher Report, and his seven-inning, effortless performance Saturday has me feeling pretty good about that prediction.
Bailey, Cueto, and Mike Leake all have the talent to wrack up some wins in any given season, and Arroyo could easily Frisbee his way to another 17, but when the series is on the line and I want to make the other team weak in the knees, my choice is T-Wood.
Keep Reading

Cincinnati Reds: Like this team?