MLB Trade Talk: 10 Deadline Targets for New York Yankees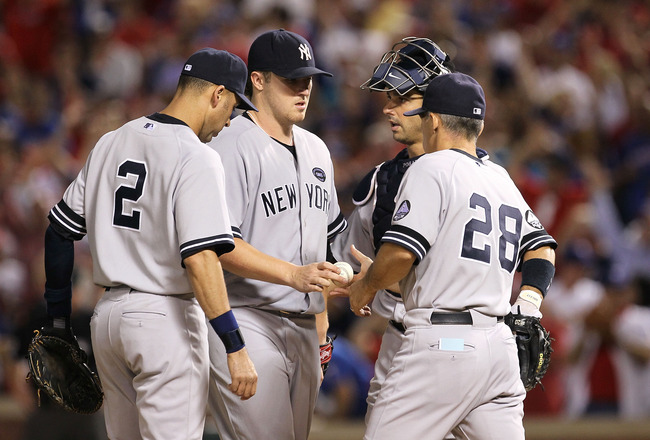 Stephen Dunn/Getty Images
It was a tough offseason for the New York Yankees.
They lost Andy Pettitte to retirement, had contract disputes with star player Derek Jeter, and were not able to sign any big-name free agents such as Cliff Lee or Carl Crawford.
Their potent offense still intact, the Yankees (as usual) should be playoff contenders again. But their starting pitching is very suspect aside from ace CC Sabathia.
For these reasons, many analysts are already predicting the Yankees to be active in trade discussions.
With a large payroll and a number of talented prospects to trade, the Yankees have the pieces to offer to acquire an All-Star caliber player for the home stretch.
With a focus on starting pitching, here are 10 possible players who could be wearing pinstripes before the year is over.
1. Mariners P Felix Hernandez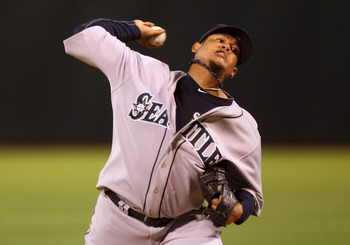 Jed Jacobsohn/Getty Images
Last Year's Stats: 13-12 record, 2.27 ERA, 232 SO
Hernandez would certainly be the top player on the market—if the Mariners are willing to trade him.
Hernandez has signed an extension with Seattle, and appears happy there.
But if the losing continues, will Hernandez grow unhappy? Certainly nothing is imminient, but if Seattle management is wowed by an offer by the Yanks, perhaps they would consider getting something in return for a player they may foresee problems with.
New York would get a great one-two punch in Sabathia and Hernandez, which would be very helpful come playoff time.
2. Brewers 1B Prince Fielder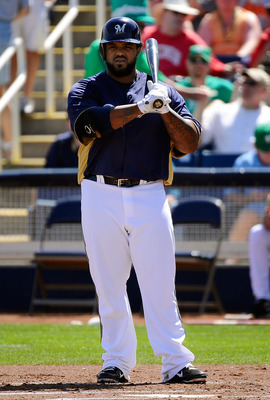 Kevork Djansezian/Getty Images
Last Year's Stats: .261 BA, 32 HR, 83 RBI
Fielder certainly had a drop-off last season after his 46 HR, 146 RBI performance of 2009. But he is still one of the premier first basemen in the league.
New York also has a great 1B in Mark Teixeira, but Fielder would fit in very nicely in the DH role switching to the American League (he's not a good fielding first baseman) to add more power to an already great lineup.
And Fielder has not yet signed a contract extension with the Brewers, leading some to speculate whether money is an issue.
New York certainly has the players to acquire Fielder; the pieces may well fall into place for New York to acquire him.
3. Athletics P Brett Anderson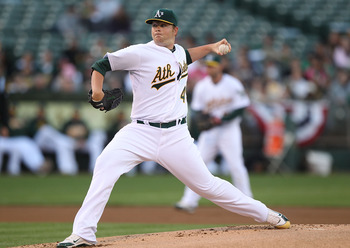 Jed Jacobsohn/Getty Images
Last Year's Stats: 7-6 record, 2.80 ERA, 75 SO
Anderson missed some time last year, but was impressive when he was in the lineup, with only six home runs allowed in 112 innings pitched.
He is a borderline No. 2 starter (he still needs more experience), but he would balance out New York's rotation, putting less pressure on Ivan Nova, allowing him to return to the fifth starter spot.
Oakland manager Billy Beane has never shied away from making big trades, and New York would get a talented young pitcher in return.
4. Nationals RF Jayson Werth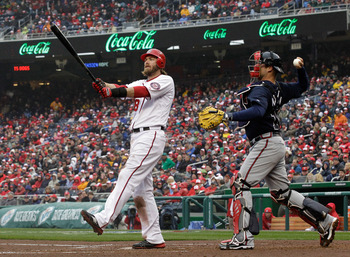 Rob Carr/Getty Images
Last Year's Stats: .296 BA, 27 HR, 85 RBI
Werth lead the National League in doubles last season, cashing in on a great year by signing a massive contract with Washington.
But while Werth is a great player, Washington clearly gave him too much cash. Washington is still a couple of years away from contention, and Werth will be getting old by that time.
Washington should realize their bad investment and look for any takers for Werth.
New York may be far behind Boston by the trade deadline, and may look to acquire talent of any kind, and Washington would gladly accept an offer from a team willing to take on Werth's contract.
5. Padres P Mat Latos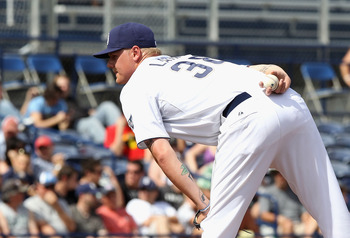 Christian Petersen/Getty Images
Last Year's Stats: 14-10 record, 2.92 ERA, 189 SO
Latos is a great young pitcher for a surprisingly good Padres team, but he also has injury concerns.
He missed time last year, and now missed the start of this season.
If New York puts forth a good offer, San Diego might be tempted to trade Latos away.
6. Cubs P Carlos Zambrano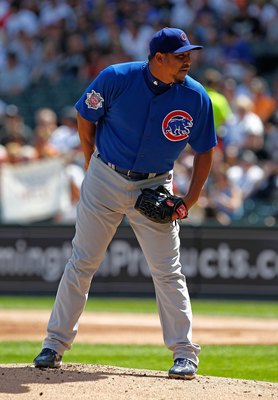 Jonathan Daniel/Getty Images
Last Year's Stats: 11-6 record, 3.33 ERA, 117 SO
Zambrano also missed time last season, both with injuries and personal matters.
A dugout brawl with Derrek Lee sent the volatile Zambrano to anger management, and his future with the Cubs is uncertain.
Upon returning, he pitched very well. But that was for a team already out of playoff contention with little pressure on them.
Zambrano has had a history of angry behavior, and Chicago may have finally head enough of his antics.
New York would get a great veteran pitcher who still has plenty left in the tank. The only question is whether they will be willing to take on a player with character issues as bad as Zambrano's.
7. Florida C John Buck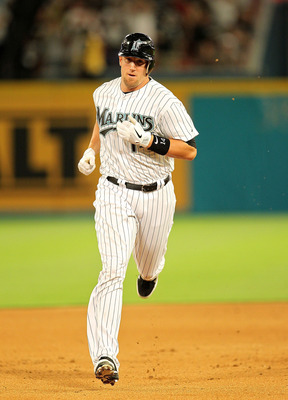 Mike Ehrmann/Getty Images
Last Year's Stats: .314 BA, 20 HR, 66 RBI
Buck has quietly turned into one of the better offensive catchers in the league, and had his best season ever last year, with a career-high 20 home runs.
Florida has a good young nucleus on their team, but is still a while from serious contention.
Jorge Posada can still hit, but is getting up there at 39 years of age. Injuries are always a concern with aging catchers, and even with a switch to DH, the Yankees may need an insurance policy for Posada.
If the situation does arise where Posada is seriously hurt, Buck would be the best available player to trade for.
8. Twins P Carl Pavano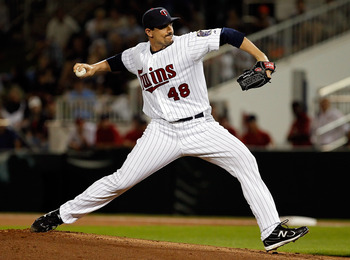 J. Meric/Getty Images
Last Year's Stats: 17-11 record, 3.75 ERA, 117 SO
New York tried (unsuccessfully) to reacquire a pitcher from their past in Javier Vazquez, and could do the same with Pavano.
He is not a top-tier starter, but has had a career revival playing for the Twins.
New York may be able to acquire him for relatively little, so the interest could be there. With a starting rotation as questionable as New York's, a trade is certainly a possibility.
9. Giants P Barry Zito
Kevork Djansezian/Getty Images
Last Year's Stats: 9-14 record, 4.15 ERA, 150 SO
Zito had a great start to last season, but really struggled down the stretch, so much so that he was left off of the Giants' playoff roster.
He is back in the rotation this season, but the Giants clearly do not have complete faith in Zito. A rough start could open up trade discussions.
Zito underperformed in San Francisco, but had some great years in Oakland. Perhaps a new pitching coach could bring out some of his better stuff from his Oakland days.
If he is available, interest would be high for New York.
10. Dodgers P Ted Lilly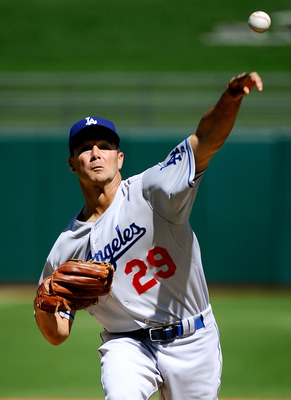 Kevork Djansezian/Getty Images
Last Years Stats: 10-12 record, 3.61 ERA, 166 SO
Lilly performed very well in Chicago and LA since coming to the National League from Toronto.
He can be prone to giving up the long ball, but has great command of his pitches.
The Dodgers are a team with an unknown identity right now, and may look to sell at the deadline if things aren't looking good.
New York would love to acquire a quality, veteran pitcher in Lilly for the home stretch.
Keep Reading

New York Yankees: Like this team?